Make your money grow faster

*Scroll down for info on Annual Percentage Yield (APY)¹, average interest rate², fees³ and features⁴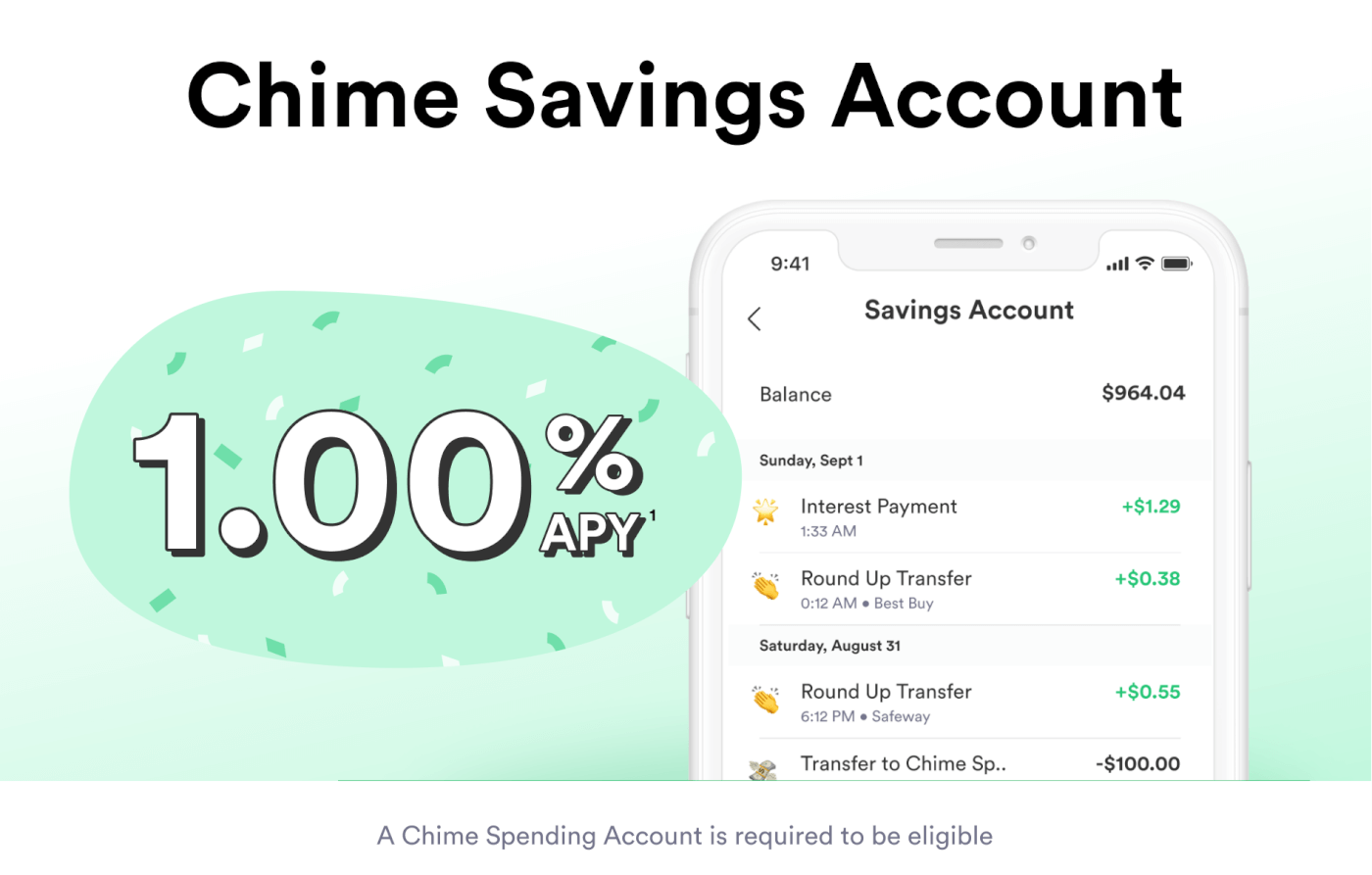 Banking services provided by The Bancorp Bank or Stride Bank, N.A.; Members FDIC
250,000+ 5-Star app reviews
"WILL NEVER TURN BACK!"
With Chime you get updates via notifications every time you spend, you get PAID TWO DAYS EARLY, and they never let you overdraft.
Grace S
, App Store Review
"Best bank account I've ever had"
I love the savings account, the roundups, and the 10% savings from each check. Chime is the best bank account ever I swear!
"Best App & Best Bank Account"
Amazing. The best part about this app is that I get paid two days early. My coworkers didn't believe me when I told them!
Gr8ness25
, App Store Review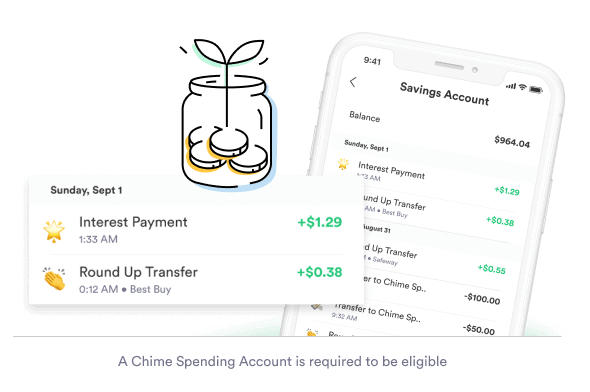 Earn more on every dollar
We offer 1.00% APY¹ on your savings, plus Automatic Savings features without fees!

No fees. No catch. No worries.
No minimum balance requirement, no maximums on interest earned. And no fees³.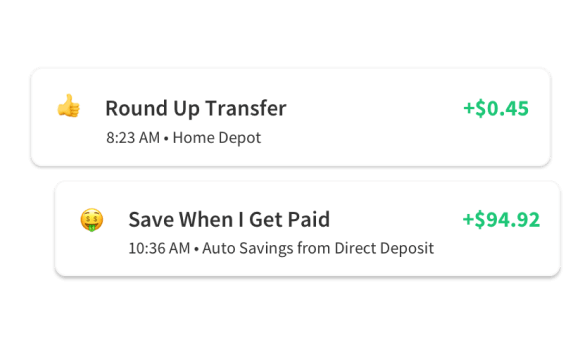 Grow your savings automatically
With Round Ups, you save the change on every purchase. And Save When I Get Paid helps you automatically save a percentage of every paycheck⁴.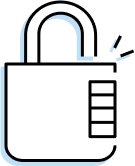 Secured and FDIC Insured
We use encryption and secure processes to help ensure your money is safe. Deposits are insured through our partners, The Bancorp Bank or Stride Bank, Members FDIC.
Banking services provided by The Bancorp Bank or Stride Bank, N.A., Members FDIC. The Chime Visa® Debit Card is issued by The Bancorp Bank or Stride Bank pursuant to a license from Visa U.S.A. Inc. and may be used everywhere Visa debit cards are accepted. Please see back of your Card for its issuing bank.
¹ The Annual Percentage Yield ("APY") for the Chime Savings Account is variable and may change at any time. The disclosed APY is effective as of June 10th, 2020. No minimum balance required. Must have $0.01 in savings to earn interest.
² The average national savings account interest rate of 0.06% is determined by FDIC as of June 1st, 2020 based on a simple average of rates paid (uses annual percentage yield) by all insured depository institutions and branches for which data are available. visit https://www.fdic.gov/regulations/resources/rates/historical/2020-06-01.html to learn more.
³ There's no fee for the Chime Savings Account but a $2.50 cash withdrawal fee is applied to the Chime Spending Account for out of network ATM withdrawals and over the counter "OTC" withdrawals. You must have a Chime Spending Account to open a Chime Savings Account.
⁴ Round Ups automatically round up debit card purchases to the nearest dollar and transfers the round up from your Chime Spending Account to into your savings account. Save When I Get Paid automatically transfers 10% of your direct deposits of $500 or more into your savings account.
© 2013-2020 Chime. All Rights Reserved.