Whether you're the bride-to-be or a BFF planning a bachelorette party, there's one major concern for party attendees: the cost. 
Indeed, attending a big bachelorette party can be hard on your wallet. According to UpgradedPoints, the average cost of a three day bachelorette party is around $1,400. 😦😦
Instead of spending thousands of dollars on a bachelorette party – which can last for a weekend or more – why not make it more affordable for everyone? Plus, you can do this without sacrificing the fun.
Here are 15 fun bachelorette party ideas that won't break the bank. 
1. Have a potluck
A bachelorette party is all about connecting with your closest friends and celebrating the bride to be. Hosting a potluck with friends can be a cost-effective way to have a bachelorette party and bring your friends together. You can even upgrade your potluck by asking everyone to bring their favorite gourmet dish, wine or cheese platter. You can host it at your house or a local park. 
2. Have a beach day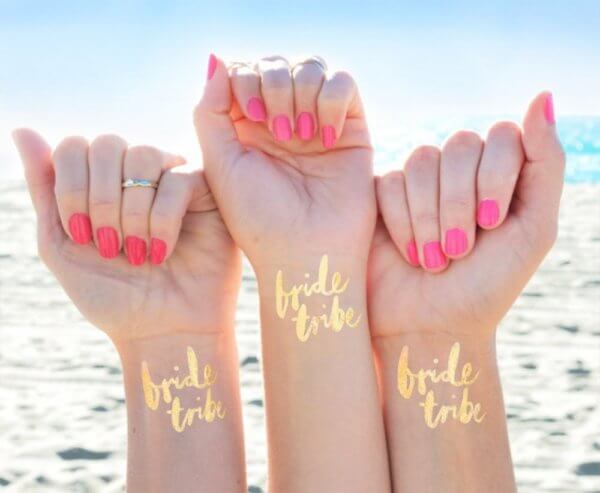 If it's the right season or you're blessed to live in California or Florida, one of the best cheap bachelorette party ideas is to head to the beach. The beach has sun and fun and is super frugal. So, get your gals together and head to the beach for lounging around, catching some waves and chatting in the sand. You can even uplevel your beach party by turning it into a potluck as well. 
3. Go to karaoke
One of the most fun things you can do with a group of ladies is head to karaoke. For your bachelorette party, choose a karaoke joint that can accommodate your group. You can choose a private room or go to your local dive with an audience. Sign up to sing "Girls Just Want to Have Fun" or "Don't Stop Believing" and sing your heart-out.
4. Host a girls' night sleepover
Remember when you were a kid and looked forward to sleepovers with your friends? You can still do that now, but as an adult. Bring your best gal pals to your place, and ask them to bring their sleeping bags or favorite comforter and pillow. Pull out the wine, put on some music and stay up late talking about your deepest darkest secrets and future desires. The good thing about having a sleepover is you can all let loose and have fun – without spending a lot of money. 
5. Watch cheesy movies
Another cheap bachelorette party idea is to host a movie screening and binge on cheesy rom-coms. Watch "When Harry Met Sally", "Bridesmaids" and more. Bring the popcorn and have everyone choose their favorite movie to watch. It'll be a fun way to get everyone together and enjoy some cinema magic. 
6. Go to an escape room
Want some fun and adventure as part of your bachelorette party? Why not go to an escape room? An escape room is a room where you gather a group of people to get clues and solve mysteries in order to "escape." You can find escape rooms in various cities and they may offer group pricing or party packages. For example, here are the options for escape rooms in New Orleans for $34.99 per person. 
Escape rooms are all the rage these days, so bring your group of gals and have fun figuring out the mystery and trying to escape!
7. Head to a bowling alley
If you're looking for cheap bachelorette party ideas that are also wholesome and involve physical activity, try out bowling. Bowling can be a fun group activity and oftentimes there are food and drink options available that are pretty affordable. Splurge on a couple of rounds and make it a competition. 
8. Take a class together
Another fun option for a bachelorette party is to take a class together. Consider taking a group cooking class, a pottery class, a glass-blowing class, or Beyonce-themed spin class. Doing something together that ignites your senses, keeps you moving or teaches you new skills can all be good options. 
9. Attend a wine and paint event
Have you ever seen photos from a wine and paint event? They're very popular and lots of fun! You can even be a total beginner with no artistic experience. What could be better? So, check out local wine and paint events and see if they offer group discounts. If not, see if you can find a Groupon or coupon code online before booking. You can also find paint events on Yaymaker.com, which was the Original Paint Nite. Likewise, you can also check out various locations for Pinot's Palette.
10. Go to goat yoga
If possible, attend goat yoga with your friends as part of a bachelorette party. The last bachelorette party I went to included goat yoga at a farm in Oregon for $30 and everyone loved it. It was unique, fun and photo-opp friendly. 
11. Play games
Thinking about bachelorette party game ideas? Go the traditional route and play board games with your friends. You can bring out Cards Against Humanity or Monopoly or any of your favorite games. It's cheap and easy fun!
12. Make stuff
If you want some more hands-on and creative bachelorette party ideas, consider making jewelry like necklaces or earrings. You can also work on an arts and crafts project or do a puzzle together. Get creative and have fun!
13. Go to a local winery
Ok, so if you want cheap bachelorette party ideas Napa is out of the question. But that doesn't mean you can't have some fun going wine tasting in your own area. To do this, plan a night at a local winery or wine bar. You can each get a flight to taste the various wines and bring home your favorite bottle to share. 
14. Create your own photoshoot
Tell your gal pals to bring their best outfits and bring the glamour! You can set up your own photoshoot with your friends. Think of places in your neighborhood and your home that would be a good backdrop. Given that most phones have great cameras these days, you can take good quality photos in most settings. Pro tip: pick out your favorite photo and get it physically printed and framed. You can get cheap frames at a local dollar store and print out photos on the cheap at Walgreens. 
15. Go for a mani or pedi 
Maybe you can't splurge on a whole spa day with a facial and massage. But why not have some spa fun with a mani or pedi? This way you can indulge in some pampering for a fraction of the cost. 
Keep it frugal 
Bachelorette parties can be expensive. 
But as you can see, there are plenty of ways to plan a fun and frugal day. Using these 15 fun bachelorette party ideas, you're bound to find something that works for you. 
And here's a pro tip: Make it clear whether you're paying for everything or your guests will be sharing the costs. Then, let them know how much they can expect to pay. This way everyone is on the same page and there won't be any drama. Only fun! 

---
This page is for informational purposes only. Chime does not provide financial, legal, or accounting advice. This material has been prepared for informational purposes only, and is not intended to provide, and should not be relied on for financial, legal or accounting advice. You should consult your own financial, legal and accounting advisors before engaging in any transaction.