Do you want to "be better with money" in the new year? Welcome to the club.
This resolution is understandably popular — and also tough to achieve. So whether you want to save more money or finally pay off your debt, you're going to need something that keeps you on task. Something like an app.
While Mint and You Need a Budget are great starting points, they're far from the only financial apps available. Here are 6 more innovative apps that could transform your relationship with money.
Joy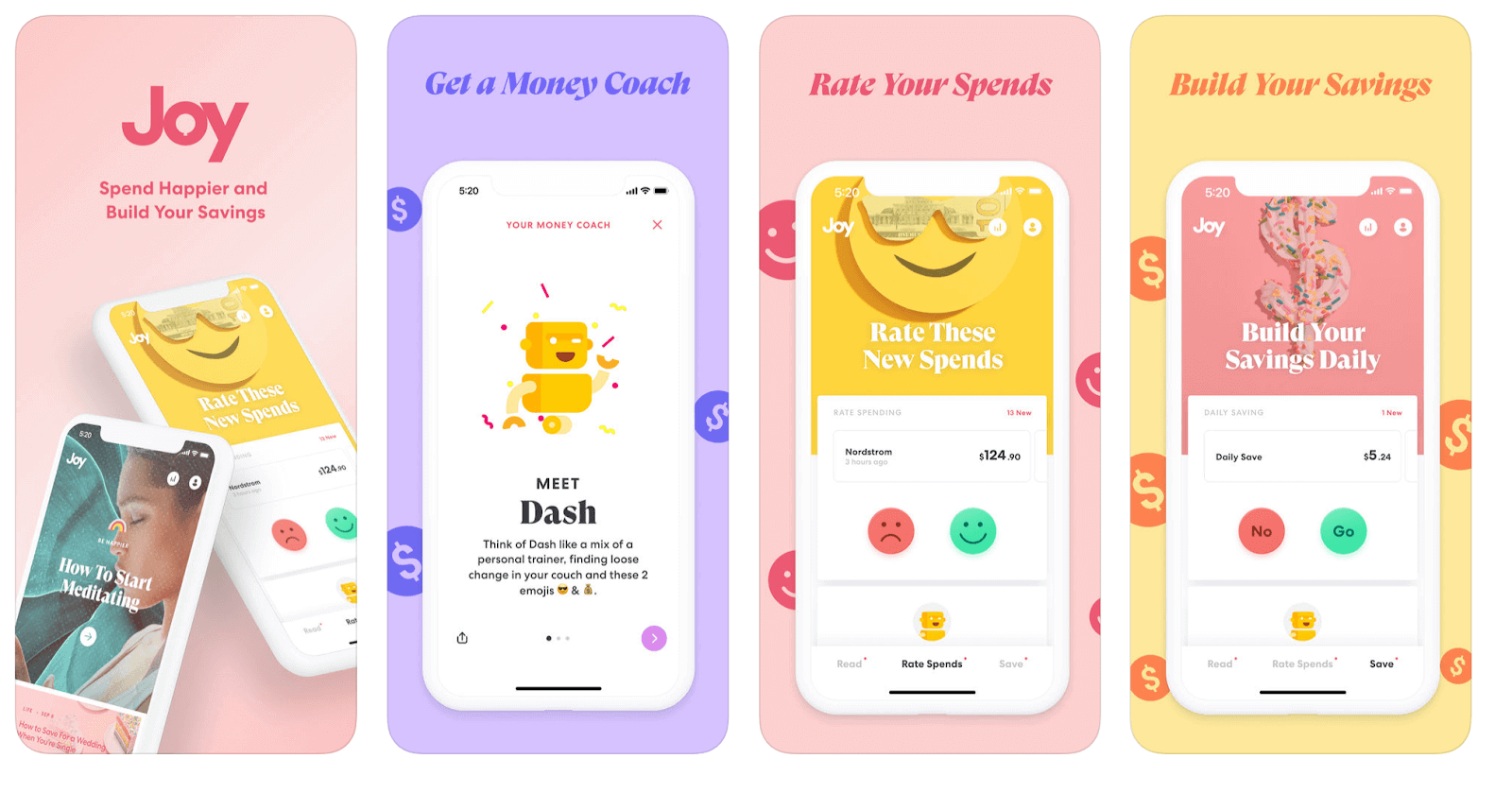 When you think about personal finance, "joy" probably isn't the first emotion you feel. But Joy wants to change that. It uses psychology, data and neuroscience to help "you make smarter spending decisions over time."
After signing up, you'll complete a science-based assessment that determines your money personality. The app will then assign you an AI-powered "money coach" who offers tips for changing your financial behavior.
Whenever you make a purchase, Joy will prompt you to rate it as a "happy spend" or a "sad spend." The goal is for you is to examine which expenditures bring fulfillment to your life (and which don't.) In addition, the app will analyze your finances to find a "safe" amount of money to save each day.
In a review for MagnifyMoney, Brittney Laryea writes that, while she didn't save much money overall, the app "forced me to get face-to-face with my spending habits and and decide if they (really) made me 'happy,' or, um … not so happy."
Chime
 
You can think of Chime's mobile banking app as a guardian for your hard-earned dough.
It sends instant alerts whenever your debit card is used, plus you'll get daily notifications that help you keep track of your balance. If your card goes missing, you can block transactions with a simple toggle.
You can also deposit checks through the app — and if you use direct deposit, you can even get your paychecks two days early. Like all Chime products, including it's peer-to-peer payment features are totally free.
Credit Karma

Your credit scores are vital to so many different parts of your life: They help you get loans, apartments, mortgages, and even jobs. So, it's no surprise that monitoring and improving your credit is key to getting a handle on your money.
To start tracking your credit scores, download the Credit Karma app (iOS/Android), which has a clean and comprehensive interface. The app also monitors your personal information, alerting you to any suspicious activity and potential data breaches.
"I regularly use Credit Karma because its consolidates all your credit information into one easy-to-use free app," says Lou Haverty, a chartered financial analyst and founder of Financial Analyst Insider.
"Seeing negative impacts on your credit scores helps you correct bad financial habits." Plus, he says, credit notifications can help you prevent identity theft.
Charlie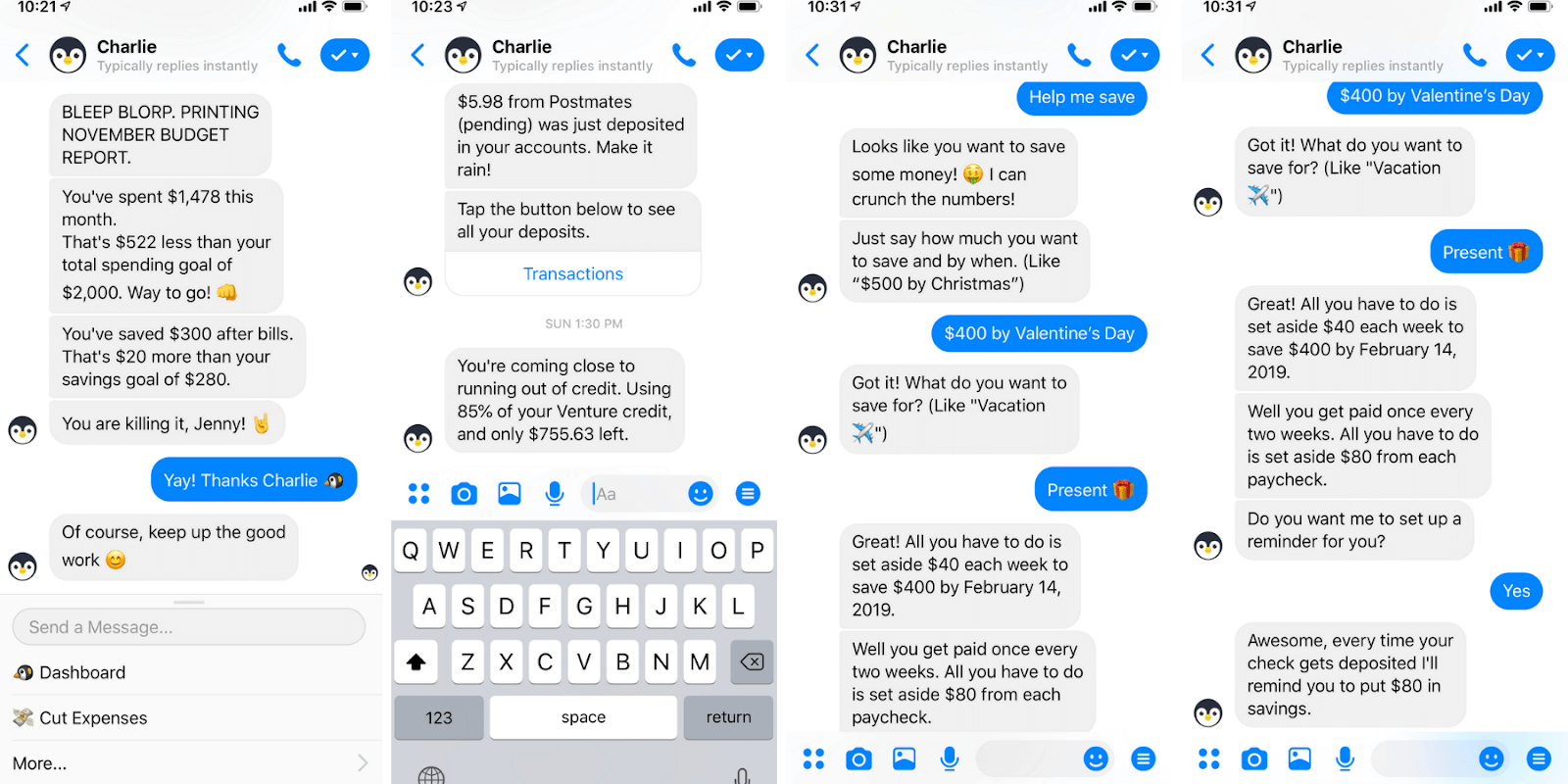 Although Charlie isn't technically an app, it works in similar ways. Instead of downloading software, you'll sign up for the service via text message or Facebook Messenger.
Then, after connecting it to your bank accounts, this AI-powered money manager will take care of the rest. Its slew of services includes:
Analyzing spending and recurring charges
Negotiating bills
Helping you save for goals
Alerting you of expenses and fees
For example, it might remind you of an upcoming bill, or it might share real-time, data-based observations about your financial habits. You can even ask the platform questions like, "How much have I spent on groceries this month?" and receive an immediate answer.
"It's given me great insight I would have never been able to tease out of my banking info," writes Sasha Wilson in a TrustPilot review. "And it has given me clarity on how to improve my daily financial performance."
Honeyfi
 
If you're in a relationship, Honeyfi might be the app for you. It's targeted specifically to couples — and the unique challenges of managing money with another person.
Once you and your partner sync your accounts, the app automatically suggests a household budget based on your spending history. Going forward, you can tag transactions as "yours," "mine," or "ours," and write comments for your sweetheart to see. If you want to keep certain elements of your finances separate, that's totally fine; you choose how much you want to share.
"I especially recommend this app for partners trying to keep (a) budget and hold each other accountable," writes reviewer Kyle Conniff. "It is really helping us be more transparent with each other, and keep us both on the same page financially."
Wealthfront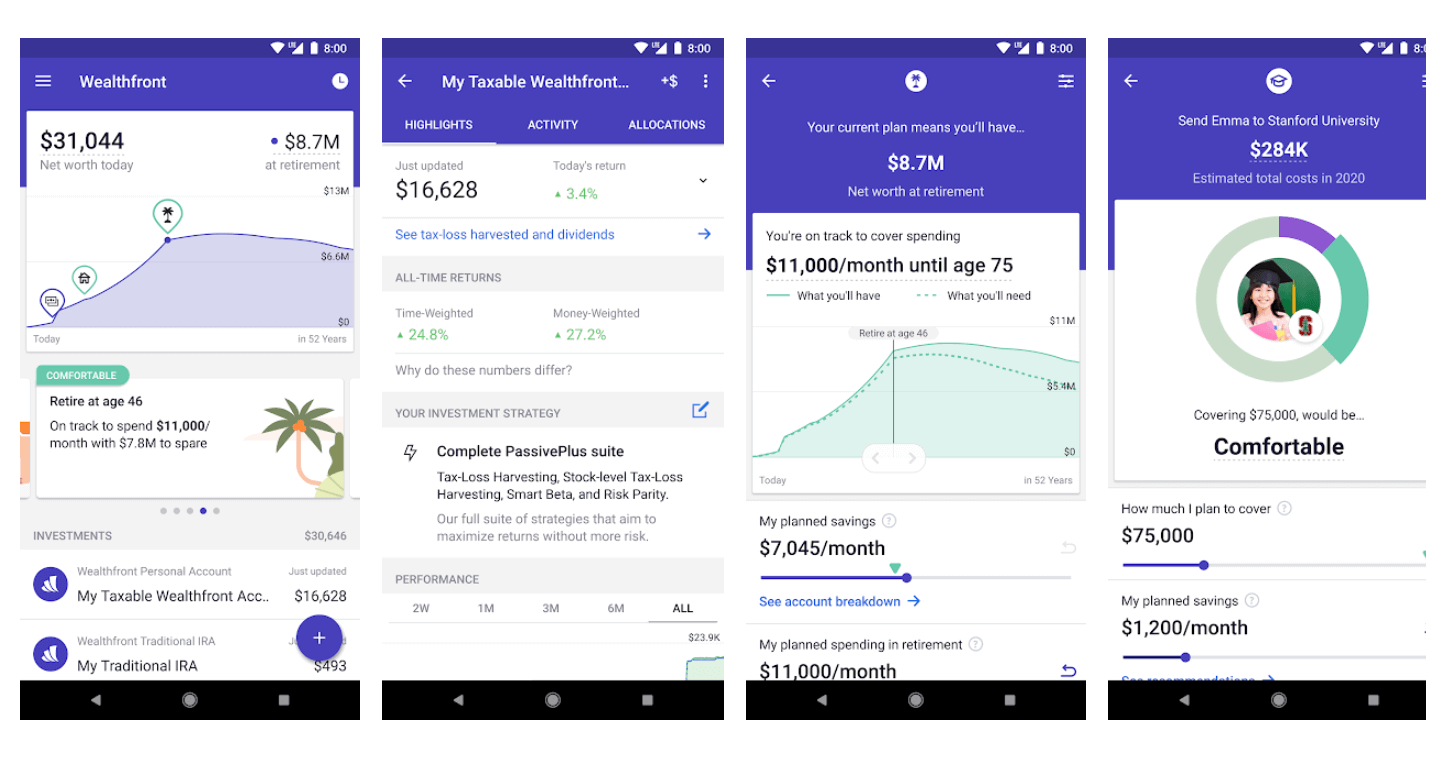 Are you ready to start investing in your future? Cough, retirement, cough?
Then check out Wealthfront, a robo-adviser that helps you plan, track, and manage your investments. (Full disclosure: I sometimes write for Wealthfront's website, but am not being paid to recommend it here.)
The app offers a holistic view of your finances. Once you sync your accounts, it will calculate how much you must save to achieve your financial goals. It will then recommend the right investment accounts for each goal, and help you open and manage them.
"Wealthfront is a really innovative platform that brings some of the latest algorithmically-based technology to smaller investors," says Haverty.
"It offers a really nice combination of budgeting combined with goal setting, as well as low-cost investing."
Will This Be the Year You Get Better With Money?
To truly improve your finances — and your relationship with money — you can't go it alone.
You'll need support from your peers, your loved ones, and, yes, your mobile devices. Using one or more of the apps above, you can make this the year that you finally develop better money habits.
---
This page is for informational purposes only. Chime does not provide financial, legal, or accounting advice. This material has been prepared for informational purposes only, and is not intended to provide, and should not be relied on for financial, legal or accounting advice. You should consult your own financial, legal and accounting advisors before engaging in any transaction.