Among Americans who made New Year's resolutions for 2020, nearly half (49 percent) listed saving money as a top priority, according to a YouGov poll. 
Whether your goal is to create a rainy day fund, pay for your dream vacation or upgrade your car, a savings challenge is a great way to stay motivated throughout the year. 
With this in mind, did you know that the 52-week savings challenge can help you save up to $1,378 by Christmas?
If you want to boost your bank account and get closer to your money goals, take a look at how to get started with the savings challenge.
5 Ways to Dominate the Savings Challenge in 2020
Take Small Steps Daily
If saving almost $1,400 this year sounds like a big task, that's because it is. But the good news is that with the 52-week saving challenge, you can take it one week at a time, making it much easier to accomplish.  
Here's how the 52-week savings challenge works:
During the first week of the year, you'll save one dollar. 

During the second week, you'll save two dollars. 

During the third week, you'll save three dollars. 
Get the idea? 
If you keep adding a dollar to each week of the year, by the last week of the year, you'll be sending $52 to your savings account for a total of $1,378.
Don't Be Afraid to Personalize It
The great part about this savings challenge is that you can make it your own! 
If you have an aggressive savings goal that you want to hit this year, you can consider doubling the challenge and saving two dollars in the first week of the year until you get to $104 in week 52 – for a total of $2,756. Or, you could consider reversing the order of the weeks so that you save less as the year progresses. 
The best method is the one that will keep you motivated. 
Get Visual With it
Seeing your progress is one of the best ways to stay excited about your goals. 
To help you stay on course, we've put together a printable chart for you to track your savings every single week throughout this challenge. You can post it to your vision board or better yet, share it on social media to stay accountable.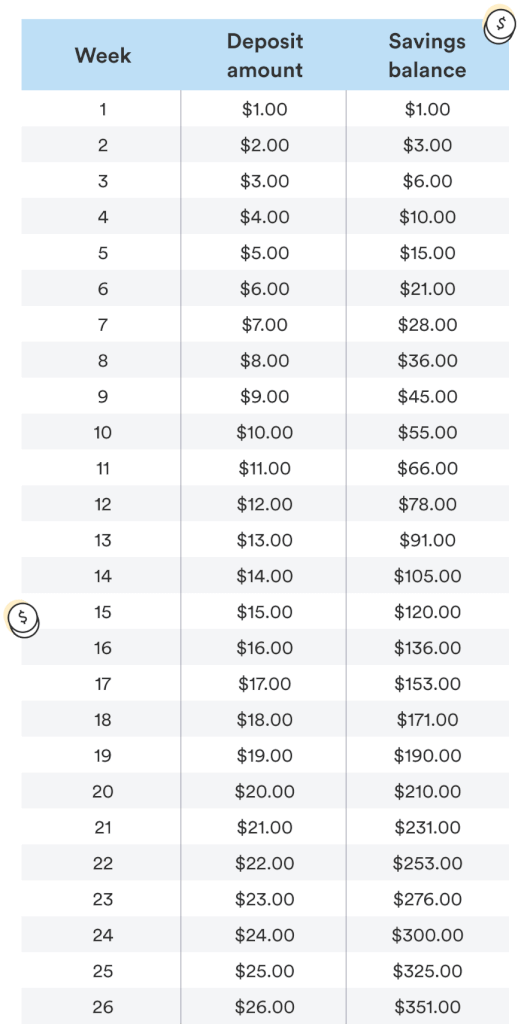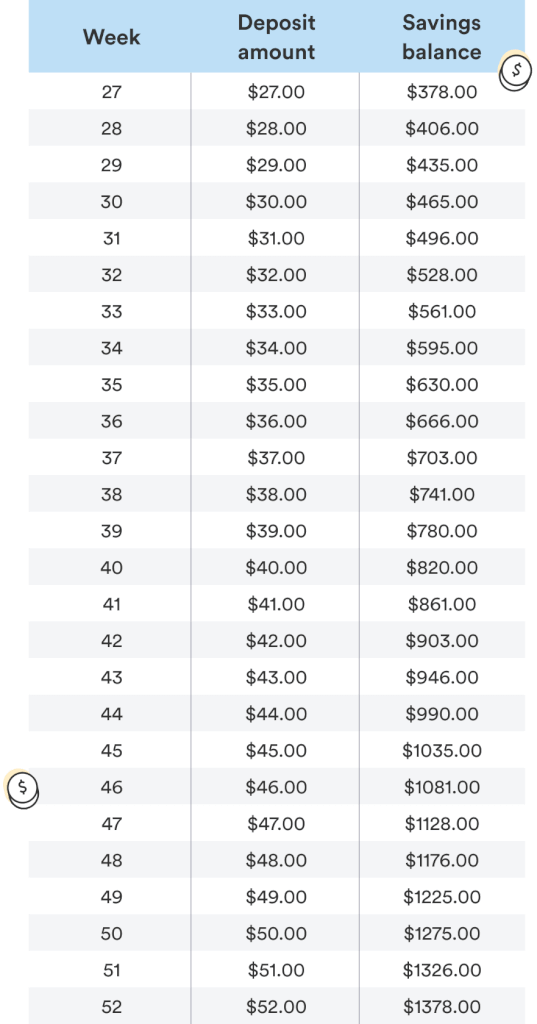 Set Weekly Reminders
Jackie Jones, founder of Sugar and Money, set weekly reminders to help her save $1,275 in 2019. 
"I made sure to schedule the drafts to my savings account the day after payday Thursdays to stay on target with the challenge," Jones explains. 
In the end, she used some of her savings to ensure she had a debt-free Christmas. The rest went toward medical expenses.  
Just Keep Going 
Let's face it: there will be some weeks where unexpected expenses might prevent you from saving as much as you planned. If you have to miss a week because of a real financial emergency, don't beat yourself up. Instead, just double up your savings goals for the next week. 
You can also find new ways to cut back, like trying out a no-spend weekend, working overtime or ramping up your side hustle earnings. 
You've got this! 
Bonus: Put Your Savings on Autopilot
Trying out a savings challenge is a great way to build healthy financial habits this year. But if you really want to boost your savings account and get even closer to achieving your financial goals, we recommend automating your savings. 
Join the Savings Club
With these tips in mind, you're now ready to join our savings streak and watch your bank account (and your motivation) grow! Happy New Year!