When you help someone out, it boosts your spirits. Well, that's the spirit behind SpotMe Boosts: Chime's unique way of helping you, help others. 
Why SpotMe Boosts?
SpotMe was originally created to help members handle life's financial curveballs, avoid overdraft fees, and help take care of everyday essentials. Now with SpotMe Boosts, we're giving eligible members the chance to share the love with other Chime members. It's just another way Chime is committed to Building More for You. 
How SpotMe Boosts Work
SpotMe Boosts are temporary increases to a person's SpotMe limit that you can send someone through the Chime app. Every month, you'll get SpotMe Boosts to send people you know on Chime, to increase their SpotMe limit. To be clear, Boosts never come out of your own limit.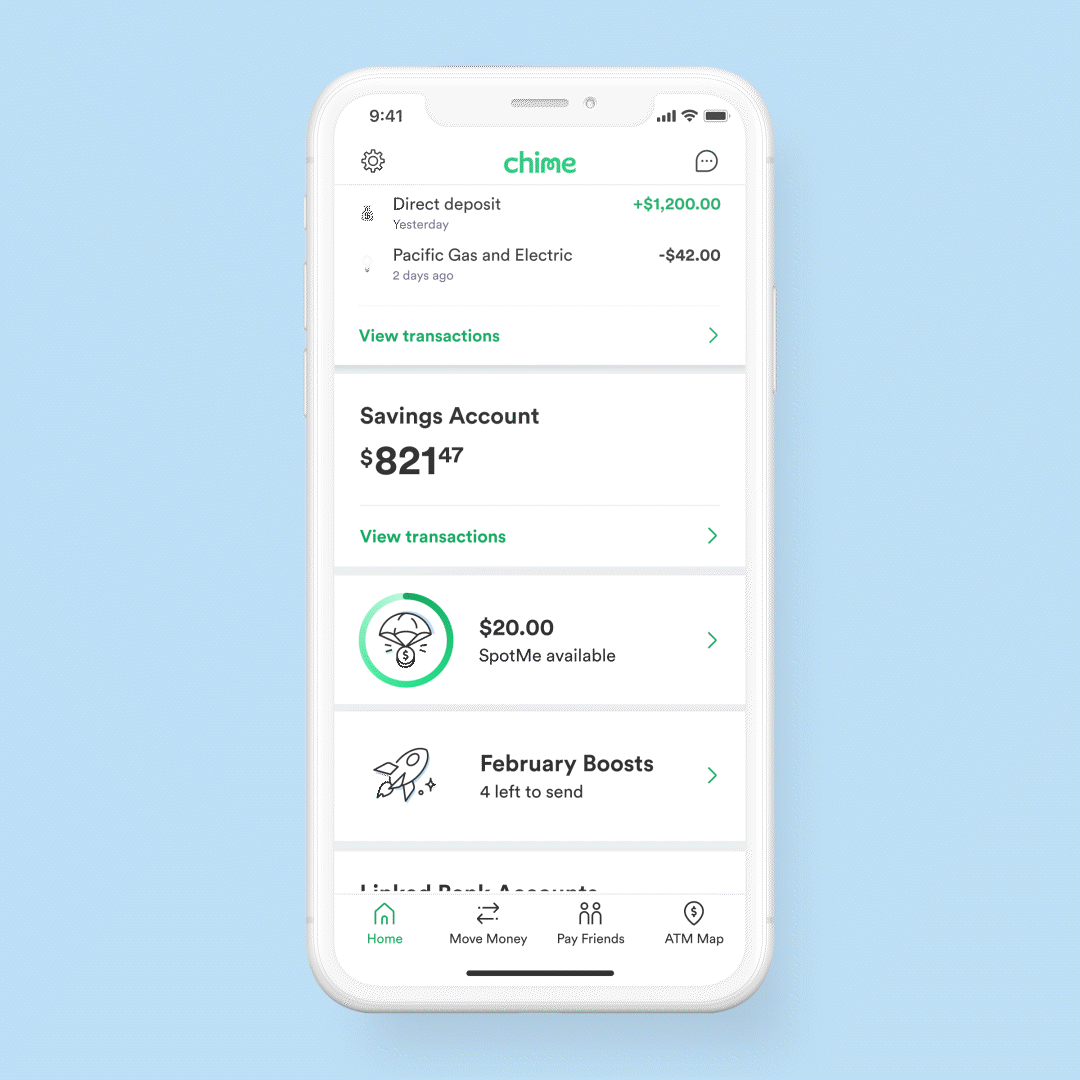 Chime Gives You New Boosts Every Month
You'll get a fresh batch of Boosts on the 1st of every month. Just head to the "friends" tab to see how many boosts you have available to send.
Pick a Friend and Hit "Send $5 Boost" Next to Their Name
Since SpotMe Boosts don't come out of your limit, you don't have to be picky. Find a friend and brighten their day, the boost way.
Your Friends and Fam Can Boost You Back
Like a boost boomerang, what goes around comes around. When you boost someone, they can return the favor and love by boosting you back. 
When Do You Send SpotMe Boosts?
Whenever you want to help someone out! Got a Chime friend that's running low on funds? Boost 'em. Know someone that's having "one of those days?" It's boost time! And yes, when you need a hand, they can boost you back. Check out the ways members have helped boost each other's SpotMe limit.
SpotMe Boosts FAQ
Here are some SpotMe Boosts-related questions that may be orbiting around your mind: 
Is there a fee for using SpotMe Boosts?
Fees? Are you serious? SpotMe Boosts are a no-fee zone. For instance, if you send a $5 Boost to someone, they get a temporary $5 Boost to their SpotMe limit.
Can SpotMe Boosts increase my SpotMe limit on Chime?
Yup! Your SpotMe limit temporarily increases when someone boosts you back in the Chime app. 
Does the person you're boosting need to be a Chime member?
Yes. If they're not a Chime member, nothing says "Join Chime now" like a $100 bonus! You and your friend can both get $100 when they enroll for a Chime Checking Account using your referral link, and receive a qualifying direct deposit of $200 or more within 45 calendar days of enrolling¹.
Does my friend or family member need to be eligible for SpotMe?
 No, they don't need to be eligible for SpotMe² to receive a Boost, and they can boost you back!
How do I know if I'm eligible for Boosts?
Simple, if you're currently eligible or already enrolled in SpotMe², you're eligible for Boosts. If you're enrolled in SpotMe, head over to your friends tab to see how many boosts are available to send. Remember, they reset every month, so check back monthly to boost friends and family.
Try SpotMe Boosts. It's just another way we are looking out for you and those you care about.