Chime is a financial technology company, not a bank. Banking services provided by The Bancorp Bank or Stride Bank, N.A.; Members FDIC
Chime Debit Card
Chime Spending Account and Visa® Debit Card
Your Chime Spending Account comes with a debit card, no monthly fees or maintenance fees.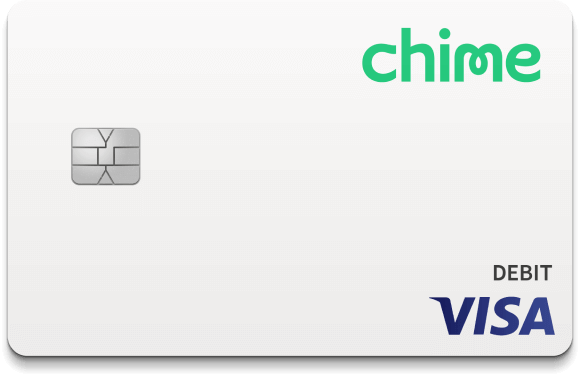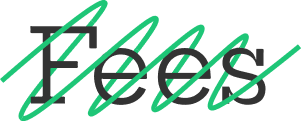 Forget about confusing fees for using your Debit Card or Spending Account
Our debit card works everywhere Visa debit cards are accepted. And unlike some prepaid cards and traditional bank accounts, there are no monthly account fees and minimum balance requirements. Out-of-network cash withdrawal fees apply.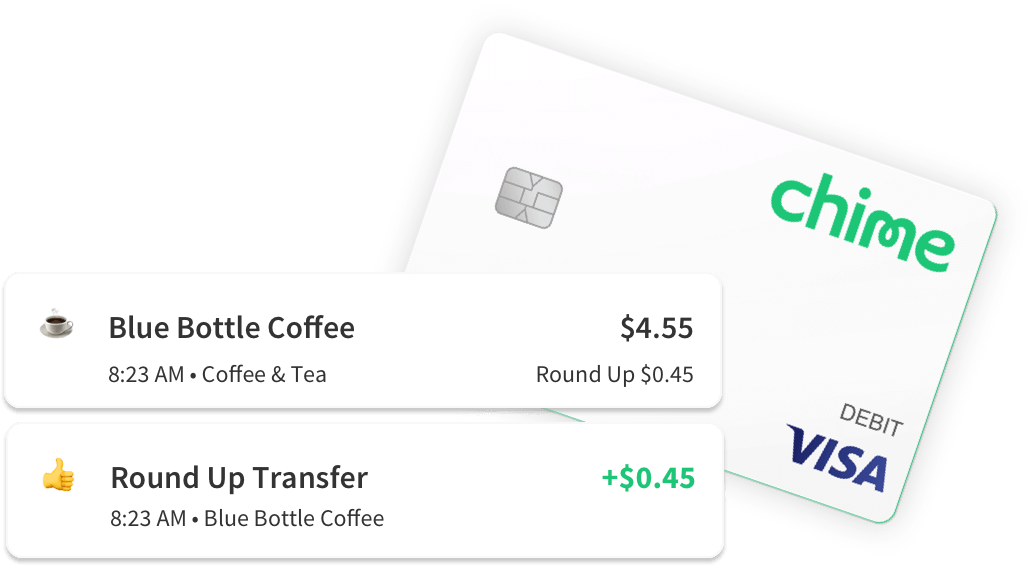 Grow your savings as you spend
Saving money is a no-brainer through Chime online banking. Every time you swipe your debit card, we round up to the nearest dollar and transfer the round-up from your Spending Account straight into your Savings Account. A magical, little way to make your money grow over time.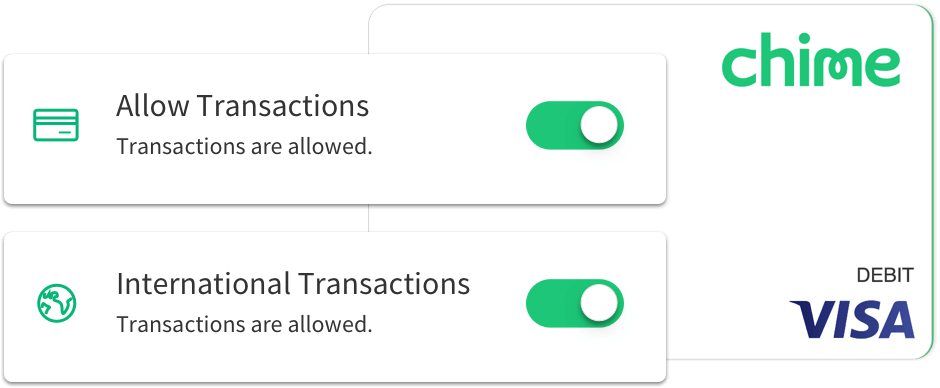 You're always in control
Can't find your Chime debit card? No worries. You can instantly disable transactions in the app. No need to call us or explain yourself. And if you need a replacement card, just let us know. Debit card replacement is always free!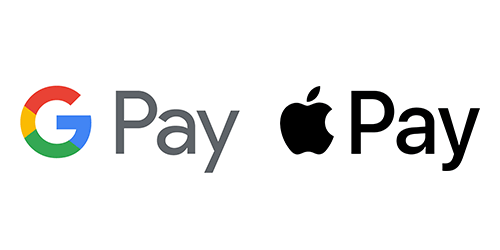 We love mobile payments
We support mobile payment platforms including Apple Pay™ and Google Pay™. Combining your Chime debit card with mobile pay means you can leave your wallet at home.
Learn more about our other banking features
Get fee-free overdraft with SpotMe. Eligibility requirements apply¹

Direct deposits arrive up to 2 days early²

Grow your savings, automatically

Access cash at 38,000+ fee-free ATMs
Get Started Today
Applying for an account is free and takes less than
2 minutes with no impact to your credit score.
Questions?
Chime Debit Card
How do I open a Chime Spending Account and get a Visa® Debit Card?
Opening a Chime Spending Account is free and it takes less than 2 minutes. Here's how to apply online:
Visit chime.com

and enter your personal info and complete the enrollment.

Once enrollment is completed, we'll send a Chime Visa® Debit Card in the mail to the address you provided. Your new debit card typically arrives in 7-10 business days.
Download our mobile banking app, and log in. You can connect your existing bank account to transfer funds or set up direct deposit to your Spending Account. You can also login to online banking at chime.com whenever you need it.
Do I need a credit check to apply for a Chime Spending Account or to get a Chime debit card?
Chime does not require a credit check to open an account and receive a Chime debit card.
Does the Chime debit card have a chip?
Your Chime Visa Debit Card comes equipped with the latest EMV chip technology to make your debit card more secure.
How many ATMs accept the Chime debit card?
You can get cash at over 38,000 MoneyPass® and Visa Plus Alliance ATMs throughout the United States. 
Where will my Chime debit card work?
Your Chime Visa Debit Card debit card works everywhere Visa debit cards are accepted.
What if my Chime debit card if lost, stolen, or misplaced?
If you need a new debit card, tap the "Replace My Card" button in the Card Settings of your Chime app! You will be asked whether your card was Lost, Stolen, or Damaged. After confirming your address a replacement card will arrive within two weeks. Keep an eye out for a green envelope with a Salt Lake City, Utah return address!
Does Chime offer prepaid debit cards?
Chime does not offer a prepaid debit card, however, Chime offers a full-featured deposit account that is a great alternative to prepaid cards. Your account can receive direct deposits and it supports pre-authorized withdrawals and interbank transfers through the Automated Clearing House (ACH) Network. Deposits are FDIC insured to at least $250,000 through The Bancorp Bank or Stride Bank, N.A., Members FDIC.
Debit Cards 101
What is a debit card?
A debit card is a card issued by a bank and is used to make in-person and online purchases. It's linked to your checking account and withdraws money directly.
Every debit card comes with security and privacy features, including a unique ID number, security code, expiration date, magnetic strip, and often an embedded chip. Some debit cards also have a four-digit pin number that can be used when making purchases for added protection.
What is the difference between a debit card & a prepaid card?
The difference between a prepaid card and a debit card can be confusing. Prepaid cards let you spend the money that has been preloaded onto the card, while debit cards draw funds from a linked bank account. Both prepaid cards and debit cards may have limitations and often come with fees. Chime offers a full-featured deposit account and debit card. Your account can receive direct deposits and it supports pre-authorized withdrawals and interbank transfers through the Automated Clearing House (ACH) Network. Chime accounts are insured up to the standard maximum deposit insurance amount of $250,000 through our partner banks, The Bancorp Bank and Stride Bank, N.A., Members FDIC.
What is a chip card?
Chip cards come with an embedded metal microchip that encrypts customer information by using a one-time code during every purchase to complete the transaction. 
Can you use a debit card for online purchases?
Typically debit cards can be used for online purchases with any merchant that accepts the network name on your card.  When you make a purchase online with your debit card, you'll need to provide the 16-digit card number that's located on the front or back of your card, the expiration date, and your billing address. You'll likely also be asked for a CCD, CVV or 'security code,' which is a three or four-digit number found on the back of the card.