Chime is a financial technology company, not a bank. Banking services provided by The Bancorp Bank or Stride Bank, N.A.; Members FDIC
Banking made awesome
Welcome Cushion Users! Cushion will credit $50 to your Cushion account when you receive a qualifying direct deposit of $200 or more into your Chime Spending Account within 45 days of signing up for Chime. Chime will notify Cushion that your new Chime Spending Account received a qualifying direct deposit.*
Chime offers a beautifully designed mobile banking app.
✓ Get paid up to 2 days early with direct deposit1
✓ Fee-free overdraft with SpotMe2
✓ No hidden fees3
✓ Grow your savings automatically
✓ Free to apply and only takes 2 minutes!
Learn how we collect and use your information by visiting our Privacy Policy›
Chime is a financial technology company, not a bank. Banking services provided by The Bancorp Bank or Stride Bank, N.A., Members FDIC.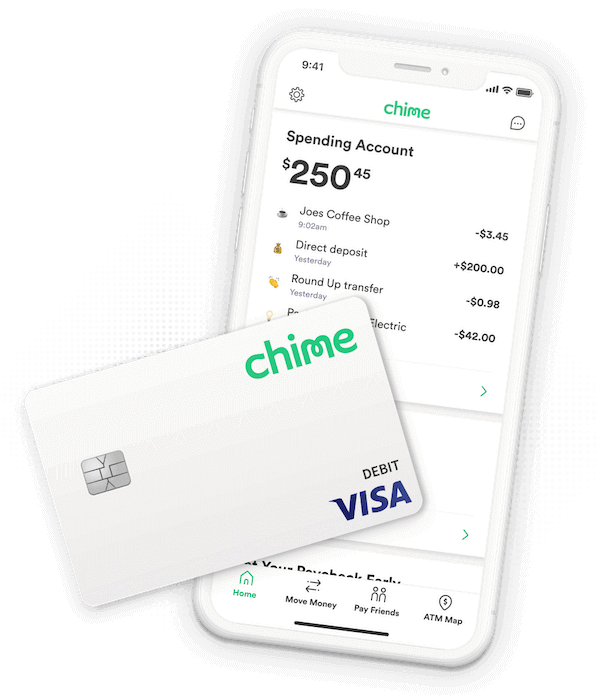 Finally, a banking app built by a tech company
Chime is one of the fastest growing mobile banking apps in the U.S. with over 8 million accounts opened to date. With Chime, you get a Spending Account and an optional Savings Account – all managed through a beautifully designed banking app that gives you complete control of your money everywhere you go.
150,000+ 5-Star Google Play and Apple App Store reviews
"Chime really does have your back!"
Chime is amazing! The spot me feature helped me with paying my insurance bill that couldn't be postponed. Without this feature my insurance would have been canceled. Thank you!!
Allyson
, App Store Review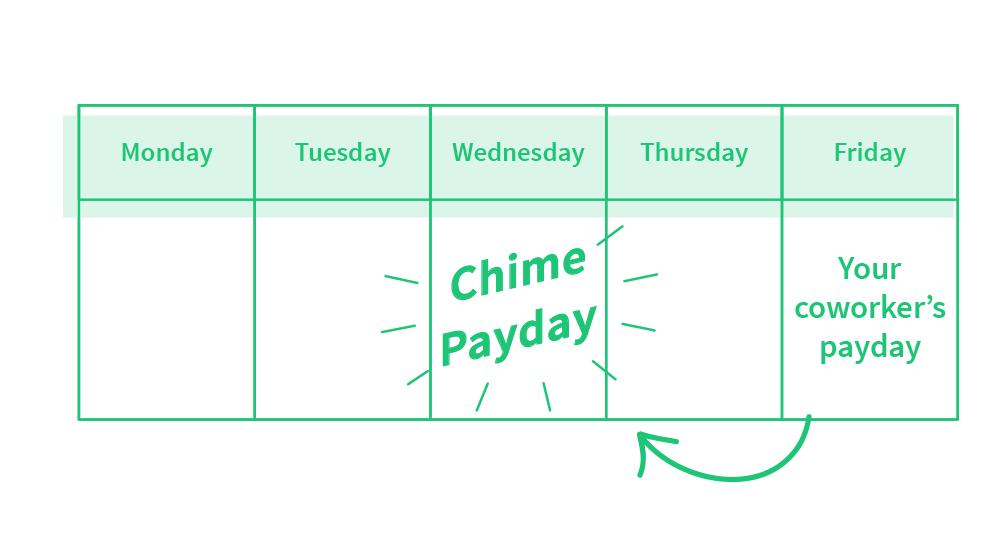 Get your paycheck early.
Set up Direct Deposit and receive your paycheck up to 2 days early!1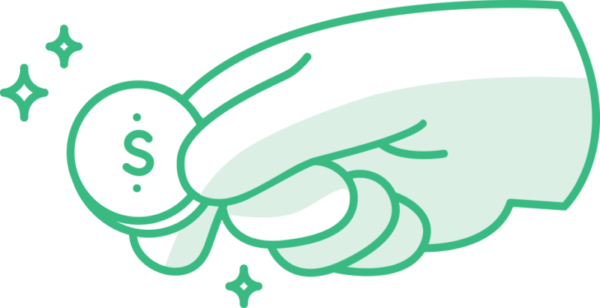 Fee-free overdraft with SpotMe
We'll spot you with no overdraft fees on debit purchases. Eligibility requirements apply.2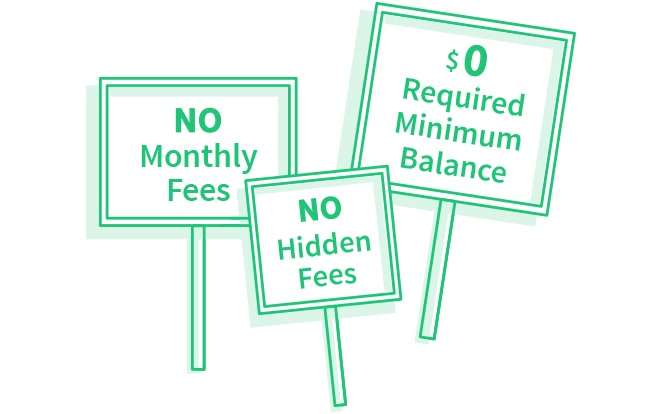 Say goodbye to hidden fees.
No overdraft fees. No minimum balance fees. No monthly service fees. No foreign transaction fees. Over 38,000 fee-free MoneyPass® and Visa Plus Alliance ATMs. Out-of-network fees may apply.3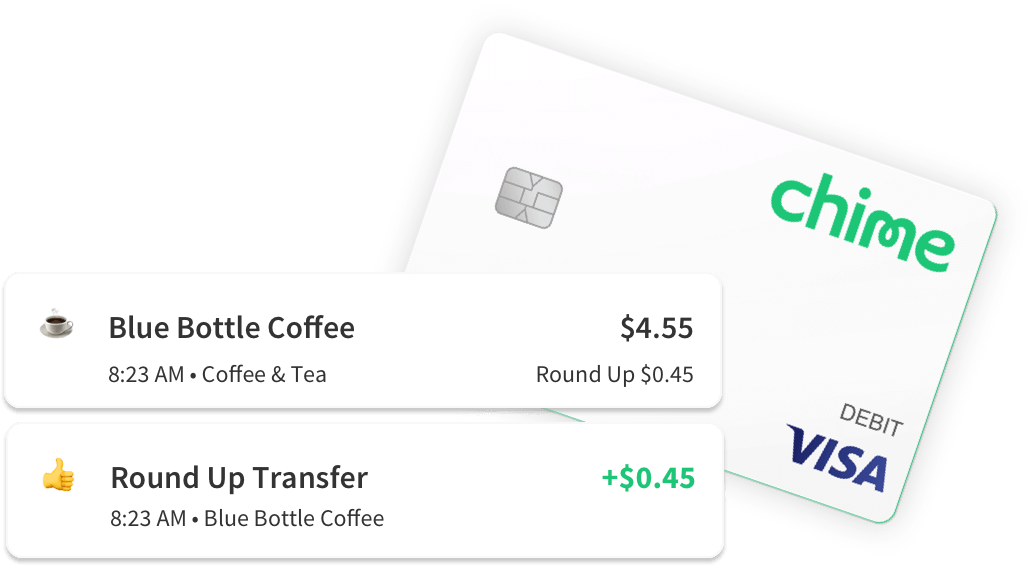 Grow your savings, automatically.
Reach your goals faster by saving money automatically. Our Automatic Savings features help you save money any time you spend or get paid. Learn about our Savings Account.
Security and control on the go.
Chime is one of the best ways to manage, save, and spend your money.




Real-time alerts for every banking transaction.

Automatic Savings takes the effort out of saving.

No minimum, monthly, or overdraft fees.
Banking services provided by The Bancorp Bank or Stride Bank, N.A., Members FDIC. The Chime Visa® Debit Card is issued by The Bancorp Bank or Stride Bank pursuant to a license from Visa U.S.A. Inc. and may be used everywhere Visa debit cards are accepted. The Chime Visa® Credit Builder Card is issued by Stride Bank pursuant to a license from Visa U.S.A. Inc. and may be used everywhere Visa credit cards are accepted. Please see back of your Card for its issuing bank.
By clicking on some of the links above, you will leave the Chime website and be directed to a third-party website. The privacy practices of those third parties may differ from those of Chime. We recommend you review the privacy statements of those third party websites, as Chime is not responsible for those third parties' privacy or security practices.
* By signing up for Chime through this offer, you consent to share the following personal information about your Chime account with Cushion: Chime will notify Cushion of your enrollment only; however, if you receive a single Payroll Direct Deposit or cumulative deposits not traditionally classified as Payroll Direct Deposit from gig platforms and/or their payment facilitators (including DoorDash, Lyft, Postmates, Bird, Hyperwallet, Juno, StyleSeat, Stripe, Caviar, and other new similar platforms that Chime identifies in its sole discretion) of $200 or more within the first 45 days of enrollment, Chime will also notify Cushion of that fact. Payroll Direct Deposit must be made by an employer or payroll provider by an ACH deposit (bank ACH transfer, Pay Friends transfer, verification or trial deposits from financial institutions, transfers from PayPal, Zelle, Venmo, Square and cash loads do not qualify as payroll direct deposit). Chime will not disclose the direct deposit amount to Cushion. Chime retains full discretion to determine qualification for the reward from Cushion. Once earned, the $50 reward will be credited to your Cushion account.
1 Early access to direct deposit funds depends on the timing of the submission of the payment file from the payer. We generally make these funds available on the day the payment file is received, which may be up to 2 days earlier than the scheduled payment date.
2 Chime SpotMe is an optional, no fee service that requires $500 in qualifying direct deposits to the Chime Spending Account each month. All qualifying members will be allowed to overdraw their account up to $20 on debit card purchases initially, but may be later eligible for a higher limit of up to $200 or more based on member's Chime Account history, direct deposit frequency and amount, spending activity and other risk-based factors. Your limit will be displayed to you within the Chime mobile app. You will receive notice of any changes to your limit. Your limit may change at any time, at Chime's discretion. SpotMe won't cover non-debit card purchases, including ATM withdrawals, ACH transfers, Pay Friends transfers, or Chime Checkbook transactions. See terms and conditions
3 Out-of-Network cash withdrawal fees apply. Third-party and cash deposit fees may apply.
4 You must notify your financial institution immediately of any unauthorized use. For specific restrictions, limitations and other details, please consult your issuer
© 2013-2021 Chime. All Rights Reserved.