Chime is a financial technology company. Banking services provided by The Bancorp Bank or Stride Bank, N.A.; Members FDIC
---
You've probably heard the adage Nothing in Life is Free. Well, we're here to debunk this. Did you know that you can get a free Chime checking account with no hidden fees?
Chime is a mobile-only bank account that helps you save money automatically and manage your finances from anywhere. Chime offers members a Spending Account, an optional Savings Account, and a Chime Visa® Debit Card. Rated the "Best Free Checking Account of 2018" by NerdWallet, Chime is on a mission to eliminate bank fees while empowering you to take control of your finances and save money.
Those pesky fees add up – fast. Did you know that the average U.S. household pays over $329 in bank fees annually, and that most Americans haven't switched to a checking account with no fees? Pretty remarkable, right? If you're ready to make the switch and kiss those fees goodbye forever, take a look at why Chime offers a no fee checking account, and how you can benefit.
Chime is committed to helping you get ahead financially
When you have to pay monthly fees just for having a checking account, this doesn't help you pocket your hard-earned cash. Instead, banks profit off of you and Chime would rather profit with you. So, instead of charging you fees – like most traditional banks – Chime has turned the banking industry on its head. It makes no money off your no fee Spending Account, allowing you to keep all of your cash. How does Chime make money? Good question. Here's the answer: Every time you use your debit card, Chime earns a small amount from Visa (paid by the merchant.)
Chime offers an awesome banking alternative to big banks
Did you know that the five largest banks in the U.S made more than $34 billion in overdraft fees alone in 2017? Chime, along with other challenger banks, want to change this with no fee checking accounts and debit cards that empower you to save money. Yet, regardless of where you bank, here's a tip from Chime: Be sure to learn about any fees you may have to pay, including overdraft fees, savings account fees, account maintenance fees, foreign transaction fees, and more. And if you want a bank that will never rely on unfair bank fees for profit, Chime is here for you.
Chime offers a Spending Account that suits your lifestyle
With a Chime no fee checking account, you can do all of your banking right from the modern and intuitive mobile app. This includes depositing checks on the go, paying friends, transferring funds, paying bills and even mailing checks. Here's how these main features work:
To deposit a check, all you need to do is snap a quick photo with Chime's mobile banking app, and then sit back and watch your account balance grow. No need to fill out a deposit slip, go to a brick-and-mortar bank or ATM, wait in a bank teller line, and write out a paper check and put it in the mail. You can deposit checks from anywhere in the world. Easy peasy.
With a Chime Spending Account, you can send money instantly to friends and family, even to those that aren't yet Chime members! Using the Pay Friends feature, you can divide up rent payments or split the bill when out to dinner with friends. And, you'll never pay fees.
Now that you love your Spending Account, it's time to automatically grow your savings with the Save When I Get Paid or Save When I Spend features. Automatically save a percentage of your paycheck into your Chime Saving Account with Save When I Get Paid. You can also automatically round-up your purchases and save the difference into your Savings Account with Save When I Spend.
Using Chime's bill pay feature, you can pay your bills, track your expenses, and keep tabs on your balance from the mobile app on any device. You can even leave your wallet at home when you go shopping as Chime supports mobile payment apps like Apple Pay, Google Pay, and Samsung Pay.
We know mailing checks is old school. But, sometimes you gotta do it and Chime makes this task simple. It even puts the check in the mail for you. That's right. If you have to mail a check, you can do this through the mobile app. All you have to do is let Chime know who to send a check to and for how much. Chime will then make sure your check gets to where it needs to be. Now this is what we call the best kind of virtual personal assistant.
Chime offers easy access to your money
While Chime is a mobile-only bank with no brick-and-mortar locations, this doesn't mean you're limited when it comes to ATMs. In fact, just the opposite is true. You can use your debit card to withdraw money from your no fee checking account at over 38,000 fee-free ATMs. In addition, you can use 30,000 plus cash-back locations.
Chime is part of the MoneyPass® ATM network, with locations throughout the United States. You can use the mobile app to find an in-network free ATM and then use your debit card to withdraw cash without fees. Now that's convenience to the max.
Chime helps you save automatically
Now that we've explained Chime's mission to help you save money with no fee bank accounts, it's time to break down some of the key ways in which you can keep more of your money, while boosting your savings. And, remember, these money-saving features from Chime cost you nothing in fees and will help you save money without even thinking about it. Take a look:
Save When I Spend
With Chime, you can save money every time you make a purchase or pay a bill with your Chime debit card. The Save When I Spend feature automatically rounds up your transactions to the nearest dollar and transfers the round-up from your Spending Account into your Savings Account.
Save When I Get Paid
 This automatic savings feature allows you to save money with every paycheck. This way you can reach your financial goals faster. If you're a Chime member, you can automatically transfer a percentage of every paycheck directly into your Savings Account.
Get paid up to two days early with early direct deposit 
Getting your paycheck early means you'll have two more days to do more with your money. When you open a no fee checking account with Chime, you can set up direct deposit two ways: you can request an email with a pre-filled direct deposit form that you can give to your employer, or set it up yourself using the Account and Routing numbers listed in your Chime app. No waiting for your money while it sits in some mysterious electronic limbo, and no more worrying about lost paper checks. You'll get your cash two days before most other traditional banks make the funds available to you. The waiting game is over!
Are you ready to open a no fee checking account?
If you're currently paying bank fees, this means you are paying your bank for the right to hold onto your money. Ridiculous, right?
Yet, you have a choice. You can switch to a no fee bank account. Signing up for a Chime account takes less than two minutes and there is no minimum balance required to open a no fee checking account. What are you waiting for?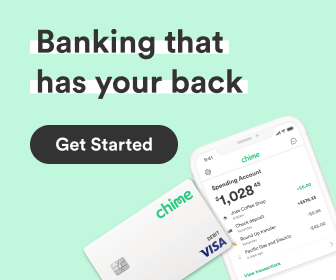 ---
This page is for informational purposes only. Chime does not provide financial, legal, or accounting advice. This material has been prepared for informational purposes only, and is not intended to provide, and should not be relied on for financial, legal or accounting advice. You should consult your own financial, legal and accounting advisors before engaging in any transaction.