Chime Banking
Banking made awesome
Get paid up to 2 days early¹ with direct deposit and grow your savings. No hidden fees. No surprises.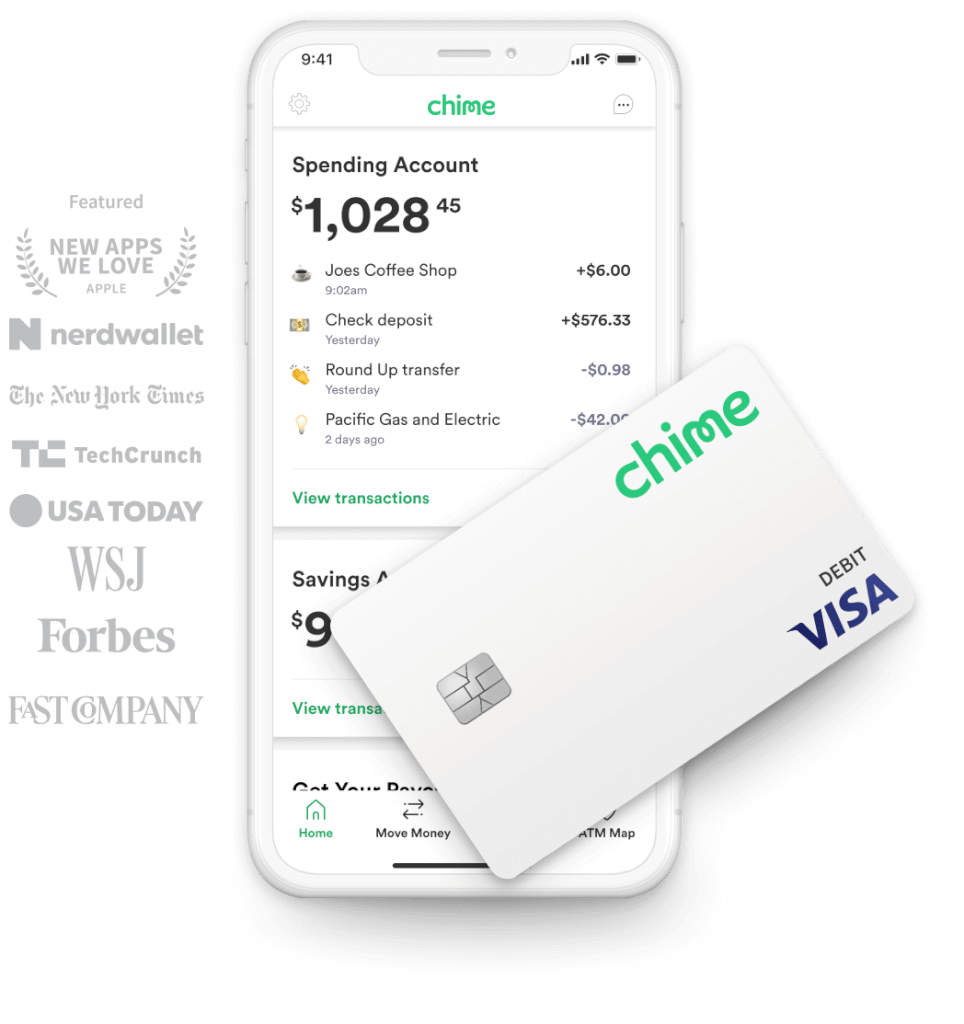 Chime is one of the fastest-growing bank accounts in America
When you open a bank account online with Chime, you get a Chime Visa® Debit Card, a Spending Account, and an optional Savings Account – all managed through a beautifully designed mobile banking app.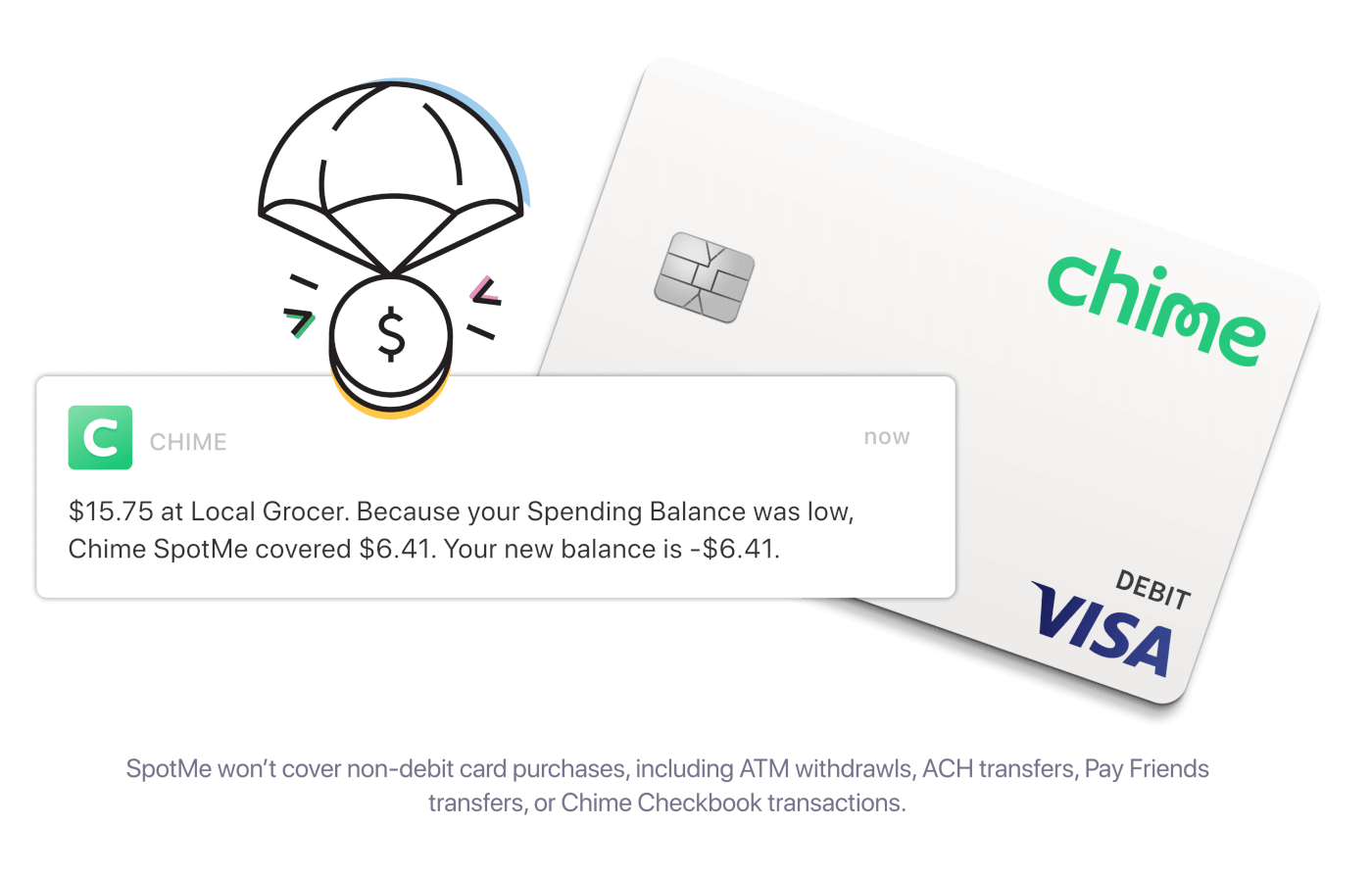 Fee-free Overdraft with SpotMe
We'll spot you on debit card purchases with no overdraft fees. Eligibility requirements apply.2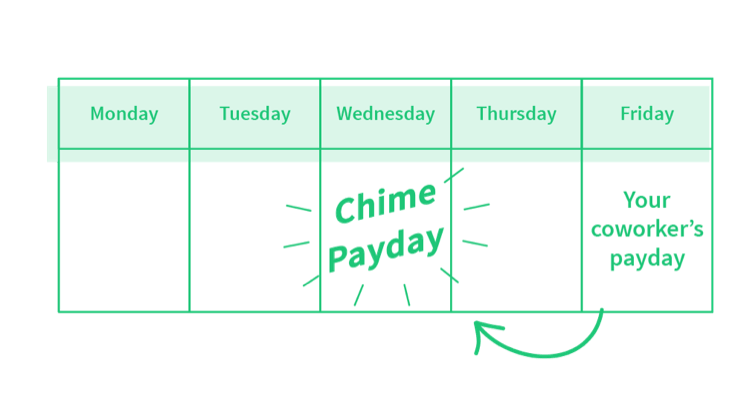 Get paid early
Set up direct deposit and get your paycheck up to 2 days earlier than your co-workers!¹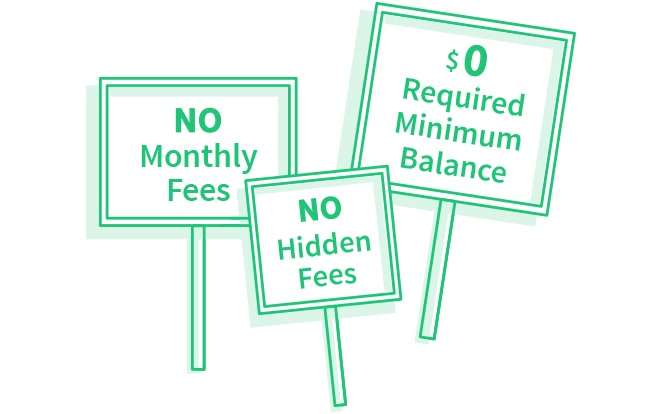 Say goodbye to hidden fees
No overdraft. No minimum balance. No monthly fees. No foreign transaction fees. No transfer fees. Over 38,000+ fee-free MoneyPass® and Visa Plus Alliance ATMs. Out-of-network fees may apply.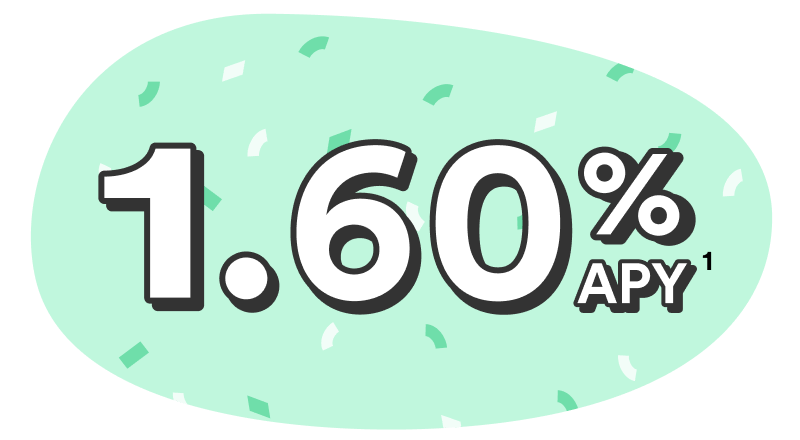 Make your money grow faster
Earn 1.60% Annual Percentage Yield (APY)3. Set money aside with Automatic Savings features. And never pay a fee on your Savings Account.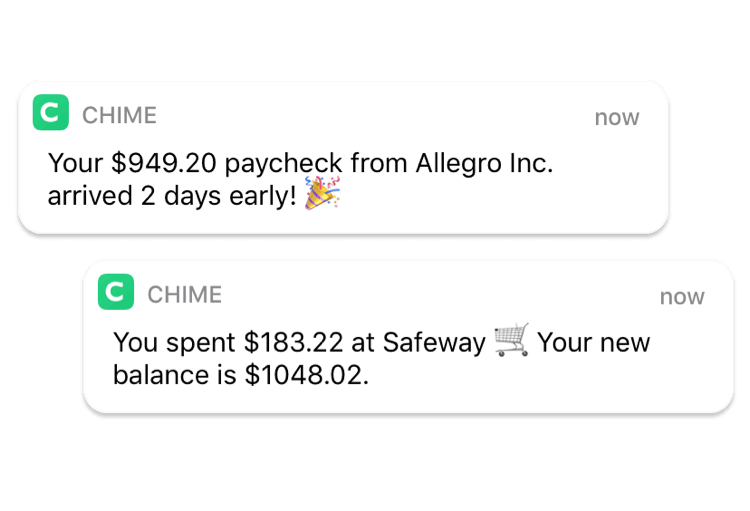 Stay in control with alerts
You're always in-the-know with daily balance notifications and transaction alerts.
135,000+ 5-star reviews
On the Apple App and Google Play Stores

What our members are saying
"The best online bank account! "
Chime is the bomb !!! Very secure and problem free. I highly recommend this bank account!! The service is above the rest. Excellent customer service and support!! You can save money easily with their round up to your savings account!! Try them! I guarantee you'll love them!
hotironmaiden
, App Store Review
"WILL NEVER TURN BACK!"
With Chime you get updates via notifications every time you spend, you get PAID TWO DAYS EARLY, and they never let you overdraft.
Grace S, App Store Review
"Best App & Best Bank Account"
Amazing. The best part about this app is that I get paid two days early. My coworkers didn't believe me when I told them!
Gr8ness25
, App Store Review
"Best bank account I've ever had"
I love the savings account, the roundups, and the 10% savings from each check. Chime is the best bank account ever I swear!
"I love it"
Mobile banking really is coming to life in the future. This app helps me save money from round up feature and the 10% of paycheck earnings deposited to my checking account .
OffRadarr, App Store Review
"Absolutely love Chime"
I absolutely love Chime. I like getting my paycheck 2 days early, like not paying any fees, like the taking a percentage out of my check and putting in my saving along with the roundup feature. Out of the few debit cards I've tried, Chime is by far the best.
Karnehm
, App Store Review
"Great app and online bank"
Great app and online bank, easy to use plus it helps me save money. Alerts are right on time and all my transactions are right there. My direct deposits are on time as usual. Would highly recommend.
Blessed Kingz
, Play Store Review
"The best online bank period."
The best online bank period. Easy to use and simple wow love it
Roland Cain
, Play Store Review
"I love chime"
I love chime, by far the best online account of ever had. They have so many cool and useful features. Me and Chime go way back like Cadillac seats 😎💳💰🏦🏧🚗💺
Jon Proffitt
, Play Store Review
"Great online bank"
Chime is a great online bank. Has tools to save automatically, and the app is beautifully designed. No problems so far and it's my main bank.
Hector Garza
, Play Store Review
Security you can trust. Support when you need it.

Serious Security
Chime uses bank-level security to protect your sensitive information and prevent authorized use.

Privacy and Protection
Your deposits are FDIC insured up to $250,000 through The Bancorp Bank or Stride Bank; Members FDIC.

Friendly Support
Have a question? Send a message to our Member Services team in our app, or check out our Help Center.
Get Started Today
Applying for an account is free and takes less than
2 minutes with no impact to your credit score.