Banking that has your back
Get paid up to 2 days early with direct deposit.¹ Say goodbye to hidden bank fees². Grow your savings, automatically.
Chime is a financial technology company. Banking services provided by
The Bancorp Bank or Stride Bank, N.A.; Members FDIC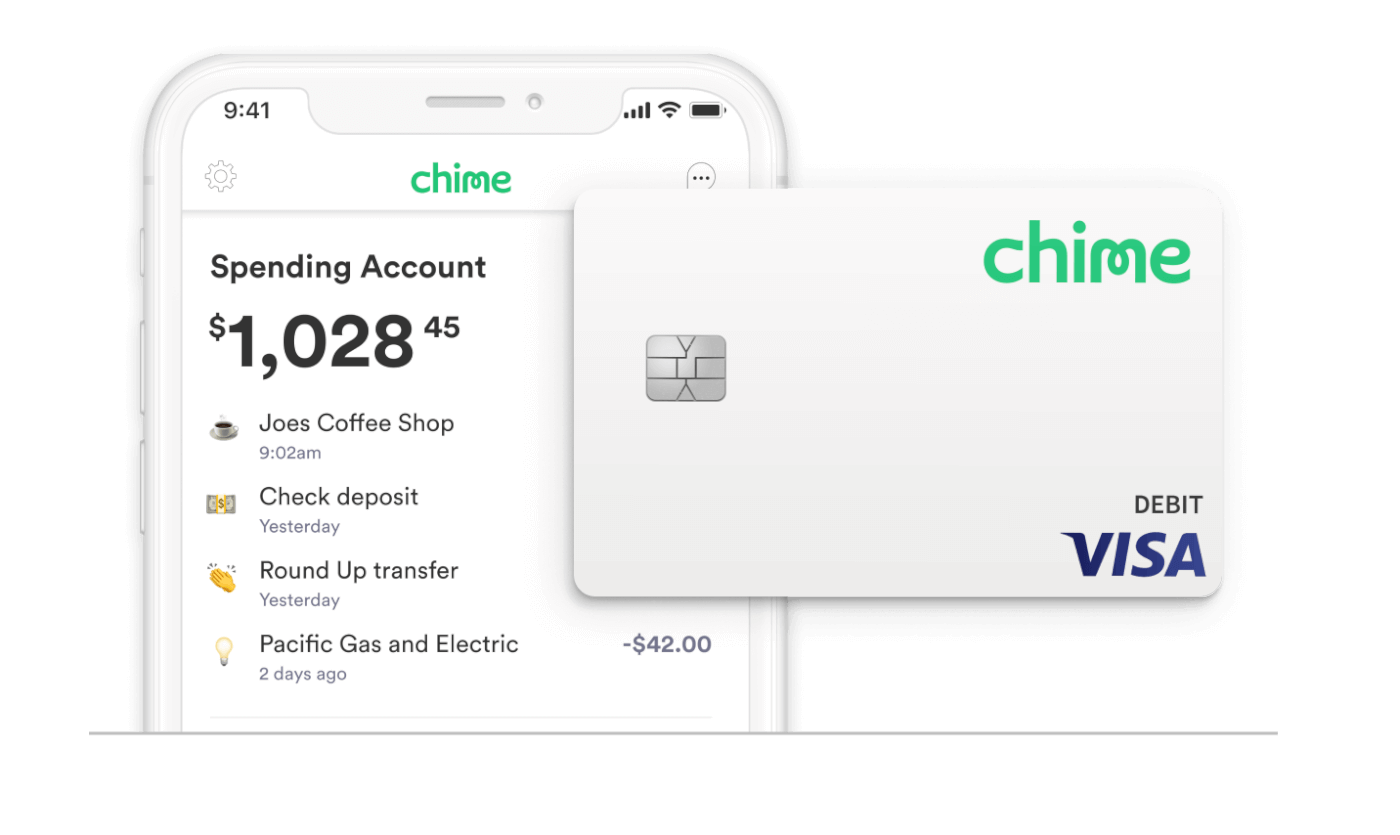 Frequently Asked Questions
The Basics
What is Chime's mission?
Our mission is to make financial peace of mind a reality for everyone. We're doing that by changing the way people feel about banking. Chime's business was built on the principle of protecting our members and making managing your money easy. We'll never profit from your misfortune or mistakes and everything we build is focused on improving our member's lives.
So, how does Chime make money?
Unlike traditional banks that may charge consumers fees left, right, and center, Chime makes money from "interchange." Every time you use your Chime Debit Card or Credit Builder Secured Credit Card, Visa processes the transaction and charges an interchange fee for the service. We get a percentage of that interchange fee every time you use your Chime cards, which means we never have to charge you those unnecessary fees to run our business. It's a win-win for everyone!
Who can use Chime?
U.S. Citizens 18 years and older are welcome to apply! While Chime cards work all over the world, currently we can only offer accounts to members with a valid SSN, living in the United States and District of Columbia.
Does Chime charge any fees?
We don't believe in unnecessary fees or profiting from our members' misfortune. We have no fees to sign up, no overdraft, no monthly or service fees, no minimum balance fees, no transaction fees, and no card replacement fees either. We do charge one fee ($2.50) when you get cash from either an over the counter withdrawal, or an out-of-network ATM that is not part of Chime's fee-free network of 38,000+ ATMs.
Please note that third-party money transfer services used to deposit or withdraw funds to your Chime Spending Account may impose their own fees per transaction.
Does Chime have Fee-Free Overdrafts?
Yes! Chime's SpotMe feature lets you make debit card purchases that overdraw your account with no overdraft fees.3  Limits start at $20 and can be increased up to $100.  We'll spot you when you need that little extra cushion to cover an expense. Learn more here!
What type of cards does Chime offer?
When you open a Chime Spending Account you get a Chime Debit Card that can be used at any merchant that accepts Visa. Your Chime Debit Card can also be used with mobile-payment providers such as Apple PayTM, Google PayTM or Samsung PayTM. Other features our members love about our Chime Visa Debit Card are instant transaction notifications anytime your card is swiped, the ability to instantly block your card and order a replacement Debit Card all from within the Chime mobile app.
The Chime Credit Builder Visa® Credit Card is our no fee, no interest, secured credit card that helps you build your credit. Unlike traditional credit cards, Credit Builder helps you build credit with no fees and no interest. There's also no credit check to apply.  The money you move into Credit Builder's secured account is the amount you can spend on the card. Unlike other secured credit cards, that money can be used to pay off your monthly balances. Since Credit Builder doesn't have a pre-set limit, spending up to the amount you added won't contribute to a high-utilization record on your credit history. Learn more about how Credit Builder works.
When do I receive my Chime Visa Debit Card after I open a Chime Spending Account?
After you open a Spending Account, we get started on personalizing your new Chime Visa Debit Card. Your Chime Visa Debit Card is usually placed in the mail within one (1) business day after you open your Spending Account. It can take 5 to 10 business days for your Chime Visa Debit Card to arrive at your home address.
If you don't have your Chime Visa Debit Card within 10 business days after opening your Spending Account, please contact our Member Services team at: support@chime.com
Getting Started
How do I add money to my Chime Spending Account?
Direct deposit is the easiest way to add funds to your account. Enrolling in direct deposit with Chime has an added benefit too: you are automatically eligible to receive your paycheck up to 2 days early!¹
We also support mobile check deposit and electronic transfers from other institutions by linking an external bank account and in the Chime mobile app.
Cash deposits can also be made to your Chime Account at over 90,000 retail locations such as Walgreens, CVS and 7-Eleven using the Green Dot® Network.4
Can I send money to family/friends?
You can use our Pay Friends feature to send money to Chime members instantly, and free! To use the Pay Friends feature, simply log into your Chime mobile app and select the 'Move Money' tab, then select 'Pay Friends'. You will then be prompted to enter in either the receiver's name, phone number or email, or you can select them from your contacts.
What is Chime's ATM Network?
We have a network of 38,000+ fee-free ATMs for Chime members through MoneyPass® or Visa® Plus Alliance. To find a fee-free ATM near you, download the Chime mobile app and tap on ATM map. You can also search our ATM network.
Can I send paper checks?
Although fewer checks are being written these days, we understand that some bills like rent, credit cards, student loans, and other payments sometimes require you to pay with a check.
To assist our members in these situations, we offer the Chime Checkbook feature!
Can I deposit paper checks with Mobile Check Deposit?
Chime will determine if you are eligible for the Mobile Check Deposit feature based on the history of any Chime-branded accounts you have, direct deposit history, and direct deposit amounts and other risk-based factors.
How do I pay bills using my Chime Spending Account?
You can set up direct debit payments with billers who offer this option by providing your account and routing number to the merchant.
Direct debits are immediately removed from your Spending Account when requested by a biller and do not place any hold on your funds. If your balance is not sufficient to cover the payment, it will be declined. There are no limits or fees associated with direct debits.
How do I invite friends to join Chime?
We currently offer a referral bonus every time you refer someone new to Chime using your referral link, and they receive a single qualifying direct deposit of $200 or more! Your friend must enroll and complete a single direct deposit of $200.00 or more from their payroll provider within 45 days of opening their new account. If the terms are complete,  both you and your friend will get $50 each! You can find the link for inviting everyone you know in your Chime app!

You can also copy-and-paste your invite link and share on Facebook, Instagram, or Twitter.
Also, keep an eye on Chime on our Instagram, Facebook, Twitter, and Youtube to hear about new offers!
Referral Incentives
Occasionally, we'll offer incentives to invite your friends to join Chime. We'll notify you through email or in the Chime mobile app when a referral offer is available.
Chime Customer Service
Our Member Services team is always happy to help! You can reach us 24/7 via the customer support tab in the Chime app, or by email at support@chime.com.
Our phone specialists are available through our customer service number at 844-244-6363. Our hours of operations are:
Monday-Friday: 6am-10pm CST
Saturday – Sunday: 7am-9pm CST
Security
What is your security policy?
Our top priority is protecting our members. We use 128-bit AES encryption, access control, and security processes to ensure your money is always safe with Chime.  If you notice an unauthorized transaction, you can disable transactions on your Chime card immediately in the settings section of the Chime app and website to prevent further unauthorized card transactions.
Are my deposits insured by the FDIC?
Chime bank accounts are insured up to the standard maximum deposit insurance amount of $250,000 through our partners, The Bancorp Bank or Stride Bank, N.A., Members FDIC.
Can you use your Chime Visa Debit Card in other countries?
You can use your Chime Debit Card anywhere Visa cards are accepted, including outside the U.S. and with no foreign transaction fees! International transactions can be enabled or disabled in the settings menu found in the Chime mobile banking app.
What do I do if I don't recognize a transaction in my Spending or Savings Account?
If you do not recognize a transaction in your Spending or Savings Account, we ask that you temporarily block your card:
Use the Chime mobile app or by log in to your account at

www.chime.com.

Go to

Settings

and turn off

Chime Card Transactions

.




This feature immediately prevents new purchases and ATM transactions on your Chime Visa Debit Card account.

Contact us immediately in one of several ways:
Call us at

1-844-244-6363

Use the

Chime mobile app

to contact our support team

Email

support@chime.com
What type of account is my Chime account?
Chime is a full-featured deposit account. Your account can receive direct deposits and it supports pre-authorized withdrawals and interbank transfers through the Automated Clearing House (ACH) Network.
Chime gives you:
A Chime Visa® Debit Card

An FDIC-insured deposit account that can be managed entirely from your smartphone

An optional Savings Account that helps you save money without thinking about it
Chime bank accounts are insured up to the standard maximum deposit insurance amount of $250,000 through our partners, The Bancorp Bank or Stride Bank, N.A., Members FDIC.
Where can I find more information on your policies?
You can check out our privacy practices, Account Agreement, and all the legal information pertaining to your account here: Privacy Policies
Get Started Today
Applying for an account is free and takes less than
2 minutes with no impact to your credit score.