Chime is a financial technology company, not a bank. Banking services and debit card provided by The Bancorp Bank, N.A. or Stride Bank, N.A.; Members FDIC.
Bank of America Fees1

Bank of America, like most of the top US banks, charges various fees for its accounts. These fees may include overdraft fees, monthly maintenance fees, checking account fees, savings account fees, wire transfer fees, foreign transaction fees, and ATM fees for using a non-Bank of America ATM.
Read on for an overview of the fees you can expect at Bank of America.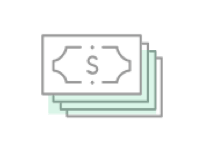 Checking account fees
Advantage SafeBalance Banking®
Bank of America has three checking accounts – each with a different monthly maintenance fee:
Bank of America Advantage SafeBalance Banking
Bank of America Advantage Plus Banking
Bank of America Advantage Relationship Banking
Bank of America Advantage SafeBalance Banking has a $25 minimum opening deposit and a $4.95 monthly maintenance fee which is waived if you do one of the following:
Are a student under age 25 enrolled in a school, educational or vocational program,
Are under the age of 18,
Enroll in the Bank of America Preferred Rewards® Program.
It does not require a minimum daily balance.
Advantage SafeBalance Banking does not offer personal checks. Checks you write will be returned unpaid, even if you have enough money in your account.2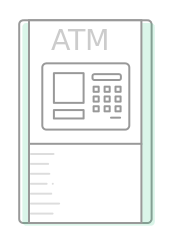 ATM Transactions
ATM transactions at Bank of Americas ATM network are free for account holders. Use of a Domestic non-Bank of America ATM will result in $2.50 fee per transaction. This is in addition to any charges that the ATM operator may add. For foreign non-Bank of America ATMs there is a fee of $5 per transaction. In addition, there is an "International Transaction Fee" of 3% for each ATM withdrawal converted into local currency. The issuing bank may also charge a transaction fee.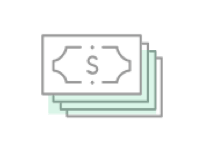 Check fees
Ordering checks for a personal account costs on average $30.If a customer requires a cashier's check, usually needed for real estate purchases or brokerage transactions, these carry a fee of $10 per check. Account holders are able to place a "stop payment" on any checks they have issued. Each request carries a charge of $30.

Wire Transfers
Wire transfer fees with Bank of America depend on a number of factors such as whether it is incoming, outgoing, is it a domestic or foreign transfer and what currency the wire needs to be sent in. These are outlined in detail below.
Incoming domestic wire transfer

fees

are $15 per transaction.

Incoming foreign wire transfer

fees

are $16 per transaction.

Outgoing domestic wire transfer

fees

are $30 per transaction.

Outgoing foreign wire transfer sent in foreign currency

fees

are $35 per transaction.

Outgoing foreign wire transfers sent in U.S. Dollar

fees

are $45 per transaction.
Customers should be aware that other banks may also charge additional fees for both incoming and outgoing foreign transfers made in any currency. If a deposited transfer is returned there is a fee ranging from $12 to $15.

Card replacement
To replace a lost, damaged or stolen debit card that has not expired, Bank of America charges $5. Rush delivery incurs an extra $15 charge.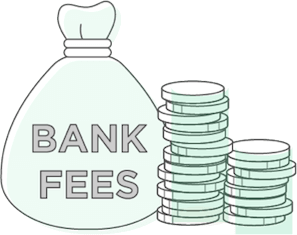 How to Minimize Fees at Bank of America
There are ways to reduce the overall amount of fees associated with Bank of America accounts.
Open only the appropriate type of account.
Use online banking.
Avoid overspending.

Only use Bank of America ATMs.

Link checking and savings accounts.

Sign up for paperless statements.
Get Started Today
Applying for an account is free and takes less than
2 minutes with no impact to your credit score.