An overdraft fee is the fee your bank charges when you make a purchase with insufficient funds in your account.
For all the convenience checking accounts offer, the last thing you need is to get stuck paying high fees. Overdraft fees can be one of the most expensive charges banks can tack on. 
Here's what to know about overdraft fees—and how to avoid them.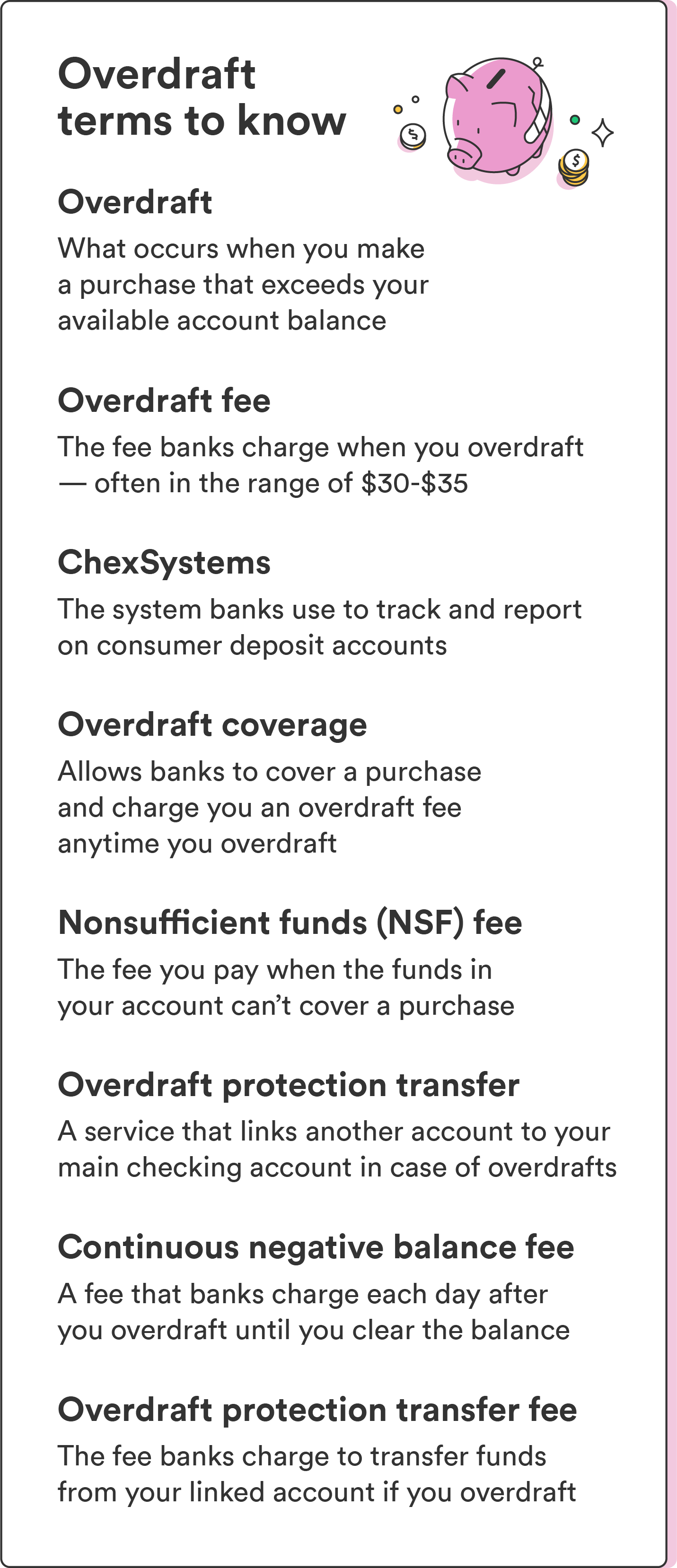 Overdraft fees occur when you make a purchase that costs more than what's available in your checking account. When this happens, some banks will use their own funds to cover the expense and charge you a fee. You are on the hook for paying back the overdrawn amount and the overdraft fee. 
If you don't pay, the bank will deduct the amount you owe from your next deposit. Additionally, if too much time passes before you add more money to the account, your bank could close it and transfer your debt to a collection agency.
Overdraft fee example:
Say you spend $125 on groceries, but you only have $100 in your checking account. The bank will cover the $25 difference so you can complete your transaction. Say your bank charges $30 per overdraft. You now owe a $30 overdraft fee plus the $25 you overdrew, bringing your account balance to -$55. 
How much do overdraft fees cost?
The average cost of overdraft fees is $19.72 as of 2023, down from about $22.42 the year before.¹ That's no insignificant sum — and if you overdraft your account often, it can add up fast. 
The exact amount you'll pay for an overdraft fee varies. Here's a quick look at what an overdraft fee may cost:
Checking Account
Overdraft Fee
Chase

²

$34 for each item that overdraws your account by more than $50 (max of 3 fees/business day, up to $102)

Wells Fargo

³

$35, no more than three overdraft fees per business day and no overdraft fee on items that are $5 or less

Bank of America4

$10 each item over $1.00

Capital One5

$0

Discover6

$0 (bank declines payments if you have insufficient funds)

USAA7

$0 (bank declines payments if you have insufficient funds)

Chime8

$0

Ally Bank9

$0
Overdraft Fee Calculator
*Amount varies based on individual SpotMe limit. Estimate is based on The New York Times' 2023 Overdraft Fee Study. https://www.nytimes.com/2023/06/16/your-money/overdraft-fees-banks.html
How to avoid overdraft fees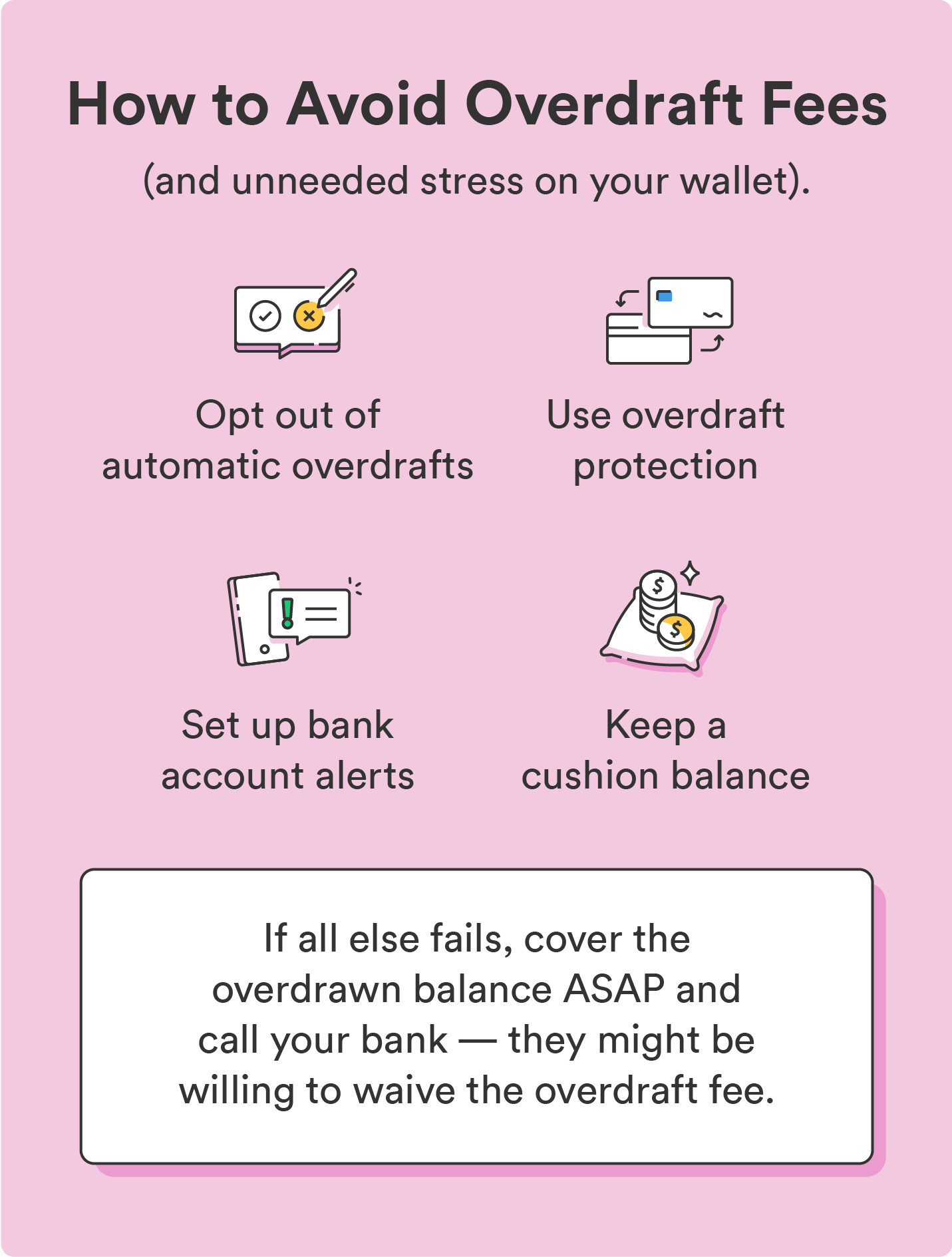 Avoiding overdraft fees is fairly simple if you're proactive with your account and budget. Use the tips below to avoid paying overdraft fees.  
1. Opt out of automatic overdrafts
When you open a checking account, banks may give you the option to opt-in for automatic overdrafts. That means you can reject automatic overdrafts, preventing you from ever having to pay an overdraft fee in the first place. 
This disclosure is usually in the paperwork the bank provides when you open the account — look for it in the section covering account opening disclosures. 
The caveat to this method is that if you opt-out, you'll have no way to cover a purchase exceeding your available balance. The bank will return any failed payments to you as "unpaid" — unless you sign up for overdraft protection, which we'll discuss below. 
2. Use overdraft protection (link to a secondary account)
If you have a savings account or a second checking account tied to your main account, consider signing up for overdraft protection if your bank offers it (not all do). But what is overdraft protection? 
Overdraft protection is a service that allows you to link your main checking account to another account, like your savings or a secondary checking account. This way, the bank will pull funds from your secondary account to cover an overdrawn charge — and help you avoid an overdraft fee. 
That said, there may still be a fee for this service, but it's likely lower than the cost of an overdraft charge.
3. Set up account alerts
One common reason people wind up with overdraft fees is that they carry a low account balance. An easy solution is to set up account alerts so you always know when your balance drops past a certain amount. 
4. Use a service that doesn't charge overdraft fees
While some banks still charge overdraft fees, plenty have eliminated them. If you're prone to frequent overdraft charges, consider switching to a bank with lower or no fees to eliminate the issue. 
5. Cover the overdrawn charge as soon as possible
It's best to cover overdrawn charges as soon as possible — especially if you bank somewhere that will dismiss the overdraft fee if you pay the negative balance within a business day. Check with your bank to see if they offer this. 
If you can't find an answer on their website, call customer service — even if your bank doesn't officially offer this service, it's worth asking if it may get your overdraft fee cleared.
How to get overdraft fees waived
If you rack up an overdraft fee or two, don't panic. Your bank might waive or reduce the fees if you ask. 
You can call the bank to ask about reducing fees or visit a branch to make your case. Whether the bank agrees to your request can depend on factors like: 
How long you've had your account

Whether you've ever run into trouble with overdrafts before

The amount you've overdrawn
For example, if you've had your account for five years, and this is the first time you've ever been in overdraft, the bank might be more understanding about waiving the fee. On the other hand, getting a fee waiver might be more difficult if you've only had your account for a few months and you've had returned items or overdrafts before.
FAQs about overdraft fees
Still wondering, "how do overdraft fees work?" Find more answers to your questions below.
Do overdraft fees hurt your credit?
Overdraft fees won't directly impact or harm your credit score. Banks don't usually report checking account information to the major credit bureaus. Overdrawn charges usually won't appear on your credit report unless they go unpaid and end up in collections. 
How long do overdraft fees stay on your record?
The only way an overdraft fee would be on your record in the first place is if you were charged an overdraft fee that you never repaid. In this case, it could go to collections—and anytime an account goes to collections, it remains on your credit report for seven years. 
Are overdraft fees the same as a nonsufficient funds (NSF) fee?
No. Overdraft fees are charged when banks accept and pay the transaction that overdraws the account. Banks charge non-sufficient fund fees when the funds in your account can't cover a payment, like a check or electronic payment. 
What are continuous/daily overdraft fees?
Continuous day overdraft is when a bank charges an overdraft fee each day an account remains overdrawn. These charges typically continue up to a maximum fee, which varies by bank. 
Make moves to avoid overdraft fees
The less you have to worry about overdraft fees, the more you can focus on building the lifestyle of your dreams. While paying a one-off overdraft fee isn't a huge cause for concern, frequently racking them up can put a serious dent in your wallet — and hinder your savings goals. 
Be sure to take the precautions above to avoid them, and above all, continue to practice smart financial habits to overcome any obstacles along the way.
For more peace of mind about overdraft fees, enroll in Chime's SpotMe® service if you have a Chime Checking Account and a minimum $200 qualifying direct deposit. We've got your back on up to $200 on debit card purchases and cash withdrawals with no overdraft fees.10