Chime is a financial technology company, not a bank. Banking services and debit card provided by The Bancorp Bank, N.A. or Stride Bank, N.A.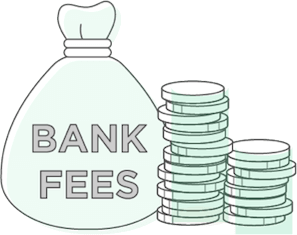 If you are considering a new online bank account, it is important to research the bank account's requirements and the bank fees and charges you may be asked to pay once you open a new account.
Many banks charge fees for requirements and behaviors many customers did not even realize they were being charged for. In fact, the top 5 largest banks in the United States made over $34 Billion in overdraft fees alone in 2017.  Financial technology companies such as Chime are trying to change that with access to bank accounts with no hidden fees and offer a great banking alternative to many of the fee-riddled big bank accounts.
Below is a list of resources that describe each type of bank fee and how many banks compare on their fees.
Types of bank fees to look out for:
Comparision of bank fees for the largest banks in the United States:
Bank fees for the largest banks by city and state:
Get Started Today
Applying for an account is free and takes less than
2 minutes with no impact to your credit score.