With the steady rise of online banking services, transferring money has never been easier, quicker, or safer. The days of having to physically go to a bank to transfer and send money are gone. Now, many online options allow you to transfer funds instantly to other people, companies, banks, merchants, and more. All you need is access to a computer or a smartphone. 
If you're looking to transfer money, here are some of the most convenient ways to do it.
Better banking for everyone
Fee-free overdraft up to $2001
No hidden fees2
Get paid up to 2 days early with direct deposit3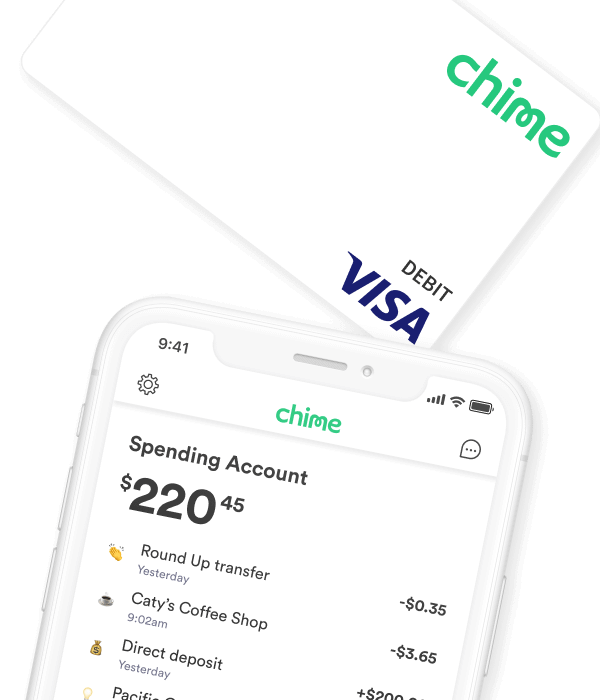 Bank account payment apps
Many online and traditional banks have their own payment app features for sending and transferring money to friends and family. In many cases, sending money is free, and the funds are available almost instantly. The app is built into your mobile banking account and allows you to send money directly from your account so you don't need to take the extra step of connecting to an external money transferring app. For example, when you open a checking account through Chime, you can conveniently send money to other Chime members using Pay Anyone.
Online bill pay
If your bank offers online bill payment, you can usually make payments for free. Just add the name and address of the person or business you want to send money to. The service sends your funds electronically or prints out a paper check and mails it to them, so you won't have to pay for postage. Of course, this is only free if you can avoid paying monthly fees for your checking account, and if your bank truly sends those payments at no charge. Check with your bank or credit union to see what types of features it offers.
Peer-to-peer payment apps
Peer-to-peer payment systems (also referred to as P2P payments) allow users to send and transfer money from their mobile devices through a linked bank account or card. This make splitting bills fast and painless and are relatively easy to set up. You choose who you are sending money to, the amount of the transaction, and the  reason for payment, then send. Depending on which P2P payment service you use, the time it takes for money to transfer can range anywhere from a few seconds to three business days. Some of the most popular P2P options are PayPal, Venmo, Zelle, Google Pay, and Cash App.
1. PayPal
👍 Benefits:
PayPal offers many different functions – with the most popular being payment services for online merchants and buyers. But PayPal also offers P2P money transfers for registered users. It's free to send and receive money when you link a bank account, debit card, or prepaid debit card. 
👎 Drawbacks:
Transfers can take some time to move to and from your bank account to your PayPal account. Free transfers from PayPal to your bank account usually take one business day, but can take up to three to five business days depending on your bank's clearing process.
2. Venmo
👍 Benefits:
Venmo is owned by PayPal, however the two apps are very different. Venmo is designed primarily to send money to friends, with an embedded social aspect. And, while you can sign in and access your account on the internet, it is a mobile-first experience.
👎 Drawbacks:
There are a few types of fees: one to send money via credit card, one e for instant cash-out transfers to your bank account, and a 1% fee if you want to transfer your Venmo funds instantly to your bank account. Otherwise, you'll have to wait one to three business days to receive your funds for free.
3. Zelle
👍 Benefits:
Zelle can send and deliver money within minutes between bank accounts at different financial institutions. And unlike other P2P apps listed, Zelle's service might already be on your smartphone. If your bank isn't part of the network, Zelle is also available as a standalone app.
👎 Drawbacks:
You can't send money to international bank accounts because Zelle only works with domestic banks. You also can't use a credit card to send money –  a feature that's available with other   P2P payment apps.
4. Google Pay
👍 Benefits:
Google Pay is unique in its integrations with other Google products, including Gmail. If you have a Google account, you are essentially already signed up for Google Pay. The app can be downloaded to Android and Apple devices and allows users to send each other money as well as pay retailers for goods and services.
👎 Drawbacks:
Google Pay doesn't allow users to link credit cards as a form of payment and is only available in the United States. For U.S. territories, Google Pay is only supported if a linked debit card is issued by a U.S.-licensed bank.
5. Cash App
👍 Benefits:
Cash App has a wallet feature that allows you to send money from a linked account without holding funds in your digital wallet. Cash App recently added the ability to buy and sell bitcoins to the app as well, which gives it a unique feature compared to other P2P apps.
👎 Drawbacks:
There's a 3% fee to send money via credit card and a fee for instant deposits. Cash App offers free standard cash outs — which take one to three business days to deposit to your linked debit card — but if you want an instant cash out deposit, Cash App will charge a 1.5% fee.
Social media money transfers
Some social platforms and communication networks now allow users to send online money transfers to other users. This provides a convenient and free way to pay other people. You can start sending and accepting payments by connecting your debit card to your social profile. For example, Facebook Messenger allows friends on Facebook to make payments to each other using a browser or the messenger app. Skype also has a similar feature that allows people to send, request, and receive money via linked bank accounts.
International money transferring services
If you're looking to send money internationally through online methods or via cash pickup, the above services might not work for you. The best thing to do is to look for an international money transfer provider such as Wise, MoneyGram, or Xoom. When selecting a service to send cash internationally, it's important to pay attention to exchange rates and fees charged by the service, as not every service charges the same amount. Also, be sure to look at the amount of countries they operate in and how fast and intuitive their mobile app interface is. Consider each of these to find the best international money transferring option.
Safety tips for sending money online
Before transferring your hard-earned cash, practice the following safety measures.
Make sure any payment apps and websites you use are secure and that your banking and personal information are encrypted.

Find out if the FDIC (Federal Deposit Insurance Corporation) insures the money you send. 

If possible, only send and receive money from people you know.

Keep a record of all your money transfers. 

Always verify that the recipient successfully received the money you sent. 
FAQs
How can I send money to someone?
In addition to the mobile apps and online payment services listed above, consider other ways to send money to people. You can use your bank's wire transfer service to send and receive money, just be aware that most banks charge a fee to use wire transfers. Also consider non-online methods, such as gift cards, cash, and checks.
How do I send money to a bank account?
To send money to someone else's bank account via your bank, make sure you have the recipient's account number and transit routing number. Plug that information into your bank's online money transferring service to send money to their bank account. You can also easily transfer money between your own accounts via your bank's portal.
What's the most secure way to send money online?
Most apps and web services for sending money are relatively secure. Security features such as two-factor verification, personal data encryption, and firewalls are just some of the ways these services protect your money. But the most secure method would be either an ACH payment (Automated Clearing House payment) or wire transfer. 
Both ACH payments and wire transfers electronically move money from one financial institution to another. Wire transfers move money directly from one bank to another, so there's no third-party service handling your information. And ACH payments are processed automatically through a clearinghouse. Because of clearinghouse rules, ACH payments are very secure.
Final thoughts
There are several ways to send money online. Finding the best option for you depends on where your money is going, how much money you are sending, and what your needs are. Consider the speed, cost, security, and destination of your transfers (i.e., domestic or international). With all the options available to you, sending money is a breeze.