Nowadays you have a lot of options when it comes to choosing a financial institution to help you manage and store your money. In addition to a traditional bank, you also have two other notable alternatives: credit unions and online banks. Both are steadily growing in popularity, and it's not hard to see why. Credit unions and online banks both tout enhanced customer service, lower fees, and other perks that you won't find at your average big bank.
Choosing where you should store your hard-earned cash is not a decision that should be taken lightly. Although both banks and credit unions have similar offerings, there are some important distinctions between these two types of institutions. Read on to learn more about how credit unions, traditional banks, and online banks differ.
Chime® Credit Builder Secured Visa® Credit Card
A New Way to Build Credit
No Credit Check to Apply1
No Annual Fees
Learn More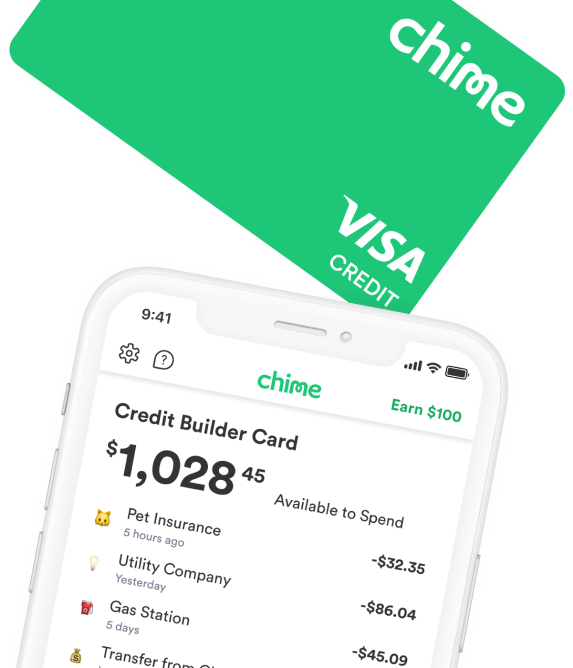 What is a credit union?
A credit union is a non-profit organization owned by the members of a particular community. It might be residents of a specific region, members of a certain faith, employees of a particular business, or other groups. They're similar to a traditional bank, but membership is required to join, and they're often smaller in scale and have fewer in-person locations. 
While credit unions typically offer their members the same type of products and services as a traditional bank, they tend to have lower fees and higher interest rates compared to traditional banks.
How do credit unions work?
The rates and fees offered by credit unions tend to be more competitive than the ones offered by a for-profit traditional bank. Like banks, credit unions charge interest and account fees, but they reinvest those profits and use them to help members. Examples include low-interest loans and other financial services, whereas banks give these profits to their shareholders.
Credit unions also have eligibility requirements for opening accounts, and these requirements differ across credit unions.
Eligibility requirements
Each credit union has its own requirements, but in general here are some of the ways you can become a member of a credit union.
You may qualify if:
You work with an eligible employer or you live in a certain area

You're affiliated with a participating organization, such as a labor union or school 

Someone in your family is a current member
A membership fee and a small deposit to open your first account may also be required.
Differences between credit unions and banks
Now that you know what a credit union is and how they operate, let's explore how credit unions and banks differ.
Ownership
Banks: Banks are for-profit organizations owned and run by shareholders. The main goal of banks is to maximize profits for their shareholders.
Credit Unions: Credit unions are owned by their members, making them not-for-profit. The primary goal of credit unions is to promote the financial welfare of their members and to return profits to them.
Membership
Banks: Both individuals and companies can open an account with a bank.
Credit Unions: You must be eligible to become a member. Some credit unions are very restrictive about who can join, while others are open to anyone willing to pay a membership fee.
Products and services
Banks: Banks offer an assortment of personal and commercial banking services. Some product offerings you can expect to find at a bank include: loans, credit cards, and investment accounts like certificates of deposit and individual retirement accounts (IRAs).
Credit Unions: Credit unions tend to offer fewer products than banks, especially when it comes to commercial banking products, like commercial loans. Credit unions also typically offer fewer investment products limited to checking and savings accounts and credit cards.
Rates and fees
Banks: Banks typically have higher interest rates on loans and lower interest rates on deposit and savings accounts. Traditional banks also tend to have more and higher fees on accounts and services than credit unions.
Credit Unions: Credit unions typically offer low- or no-fee banking accounts and services. Credit union-loan interest rates tend to be lower, yet their interest rates on savings products are typically higher than banks.
Deposit insurance
Banks: Banks are insured by the Federal Deposit Insurance Corporation (FDIC), which provides deposit insurance for up to $250,000 per depositor, per account.
Credit Unions: Credit unions are insured by the National Credit Union Administration (NCUA). Like FDIC insurance, NCUA insurance guarantees up to $250,000 per person, per account.
Credit union vs. traditional bank vs. online bank
While an online bank shares many of the same features as a traditional bank, there are some key differences that make online banks stand out. In order to understand the full breadth of how credit unions differ from banks, we have to look at banks within two distinct lenses: traditional banks and online banks.
Keep in mind that some financial institutions might differ, but the following table provides a general comparison of credit unions, online banks, and traditional banks.
| Aspects | Credit Union | Traditional Bank | Online Bank |
| --- | --- | --- | --- |
| Profit status | Not-for-profit | For-profit | For-profit |
| Branch network | Usually only a handful of branches in a limited area | Large, sometimes national brick-and-mortar branches available | No physical locations |
| Interest rates | Higher rates on deposit and savings accounts; lower rates on loans | Higher rates on loans; lower rates on deposit accounts | Higher rates on savings accounts and sometimes on checking accounts |
| Fees | Lower account fees | Higher fees and more additional fees | Lower fees or no fees |
| Deposit insurance | NCUA insured | FDIC insured | FDIC insured |
| Ownership | Owned by members  | Owned by shareholders & investors | Owned by shareholders & investors |
| Online accessibility and tech services | More limited | Offers the basics | Wide variety |
When to consider choosing between a traditional bank, credit union, or online bank
Before choosing one financial institution over the other, ask yourself the following questions:
How many locations do they have? Focus your energy on institutions that have local branches if you want to be able to access services in person. If you're just looking for a way to deposit and take out cash, many online banks offer their customers access to a broad network of ATMS. 
Are their interest rates competitive? Compare interest rates between traditional banks, online banks, and credit unions. You are most likely to find the best rates with credit unions and online banks.
What fees do they charge, and how much are they? Do your research on the fees a traditional bank, credit union, or online bank might charge you. Most credit unions and online banks are able to offer low- to no-fee accounts due to the fact that credit unions 

are owned by members rather than shareholders, and online banks don't have the operational expenses that come with maintaining physical locations.

What features and services matter the most to you?

Make note of what you want from a financial institution when it comes to services and simplicity. Consider things like

mobile banking apps

and

automatic savings accounts

when making your decision.  
FAQs
Are credit unions better than banks?
This depends on what you are looking for in a financial institution. Credit unions, traditional banks, and online banks each have their respective pros and cons. 
Credit unions and online banks will likely offer you lower-cost services and better interest rate options, while traditional banks will likely provide more commercial services and products. Take all factors into consideration before deciding which type of institution is better for you.
Are credit unions safer than banks?
As long as a financial institution is backed by insurance, your money will generally be safe at either type of institution. Accounts in banks and credit unions are both insured for amounts up to $250,000 via either the FDIC or the NCUA. 
What are the pros and cons of credit unions?
Consider some of the following advantages and disadvantages of credit unions.
| Pros | Cons |
| --- | --- |
| Lower fees | Eligibility requirements to become a member |
| Higher savings rates  | Fewer financial products available |
| Offers more local and personal customer service | May have fewer branches and ATMs |
| Lower interest rates on loans  | Less access to online technology and services |
| May be easier to obtain a loan with a credit union than a large bank | |
Final thoughts
Ultimately, both credit unions and online banks are viable choices when it comes to better banking. But, before you choose which option is best for you, examine your financial situation and ask yourself what you want in a new banking provider. Consider the products and services, rates and fees, and overall accessibility of each institution before making your decision.