Online banking has quickly become a staple for many. Online banking is defined as accessing a bank's or financial institution's services through your computer or mobile device. With just a few clicks, you can pay bills, get account balance alerts, send money to friends, and transfer funds – all from the comfort of your home or on the go. 65% of Americans were projected to be using online banking last year, but some might wonder: are financial institutions that offer online banking safe?¹ 
Users that access their banking online are expected to grow to almost 217 million by 2025.2 If you're still on the fence about the safety of online banking, keep reading. We'll shed some light on how financial institutions keep your data and money safe, common risks to know, and steps you can take to protect your information when banking online.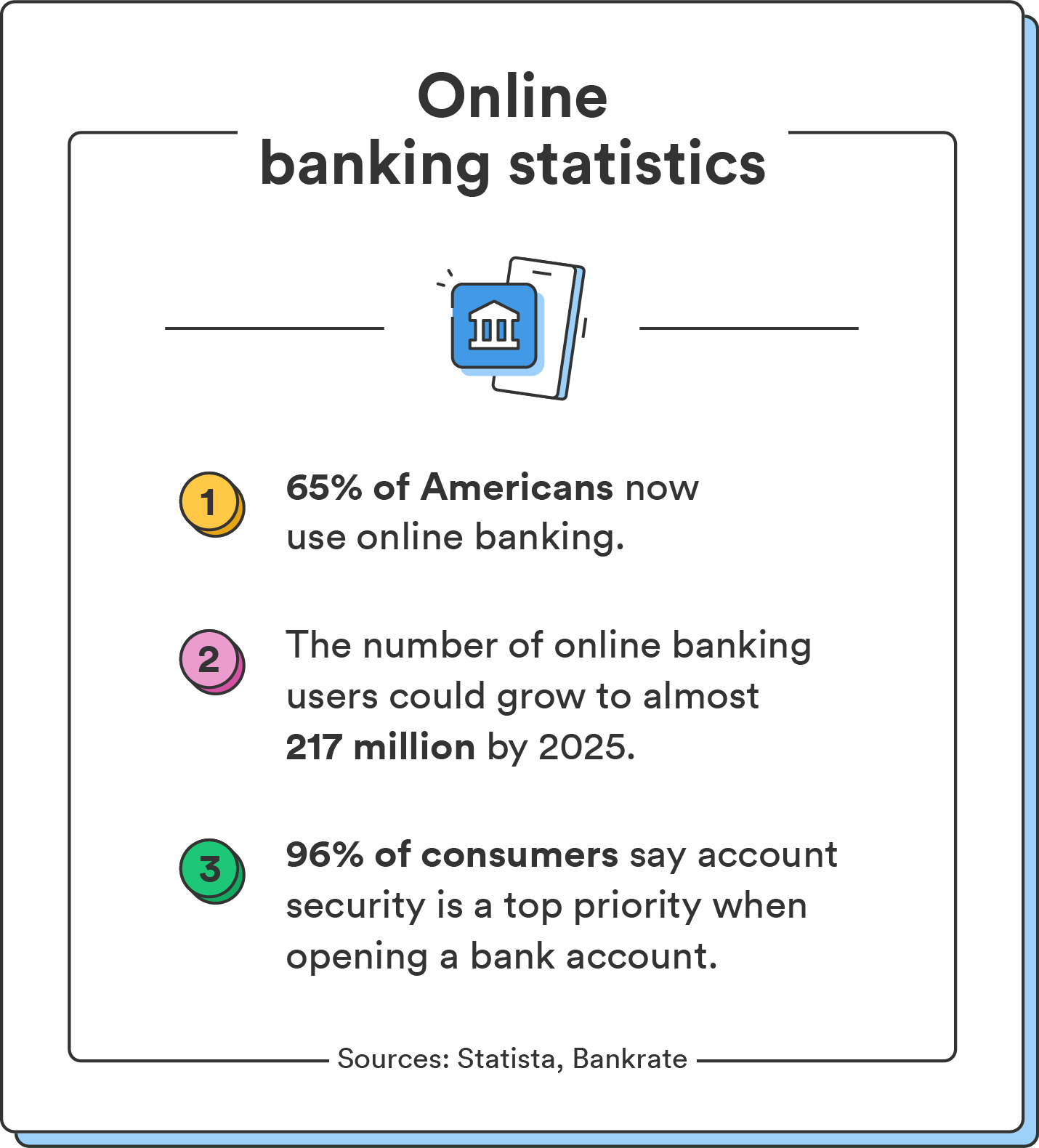 Sources, 1,2,3
How safe are online banks?
Just like traditional brick-and-mortar financial institutions, online and mobile banking platforms have security measures in place to keep your information safe. Here are some of the most common: 
Encryption and data protection:

Encryption ensures your data is transmitted securely online by scrambling sensitive information – like login credentials, passwords, and any other account data – to make it unreadable by unauthorized users. 

Multi-factor authentication (MFA):

MFA requires you to provide multiple forms of identity verification to prevent unauthorized access to your account, even if someone somehow gains access to your login credentials. 

Fraud detection systems:

Fraud monitoring and prevention software uses algorithms and pattern recognition to identify suspicious account activity. 
While the specific security protocols can vary, always look for an FDIC-insured online institution. The Federal Deposit Insurance Corporation (FDIC) will insure your funds up to $250,000 per account. 
Chime tip: Use the FDIC's BankFind tool to check whether an institution is FDIC-insured or not.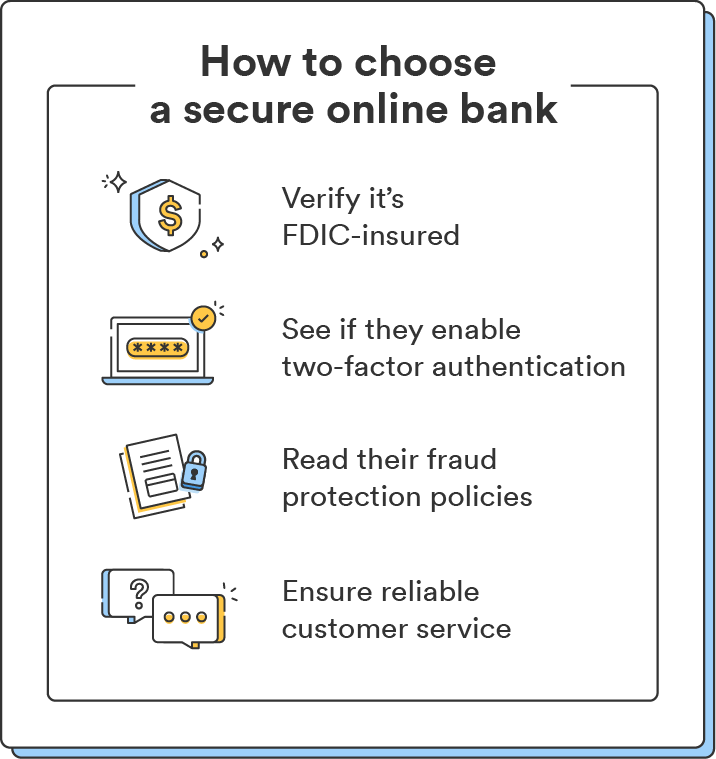 Risks of online banking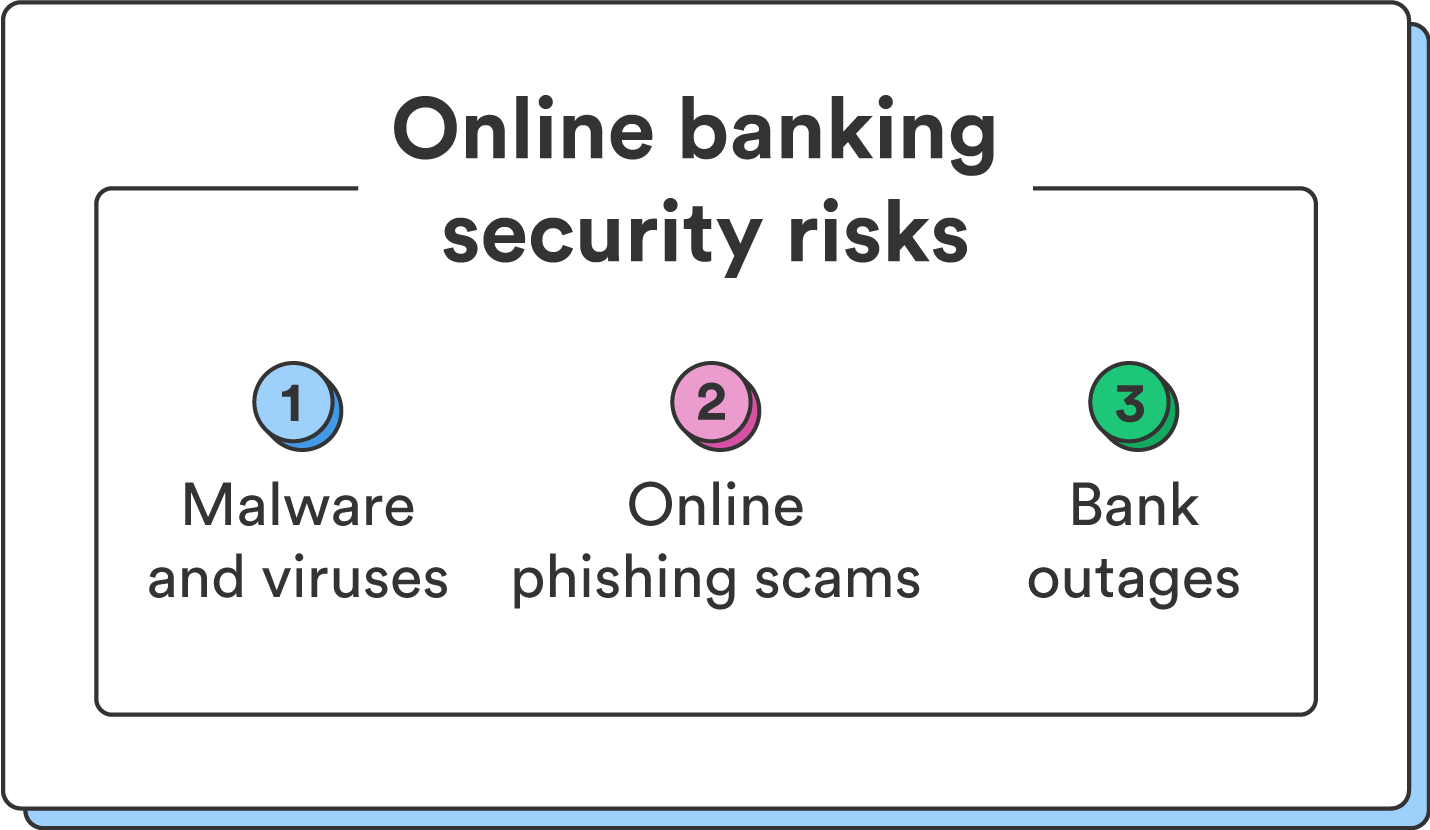 While most online banks have robust security measures and policies to keep users' information safe, take ownership of your online security. You can take the right precautions and prevent some issues by simply being aware. 
Here are some common risks to be mindful of: 
Phishing:

Phishing is a scamming technique that uses fake or fraudulent emails or messages that look legitimate to trick users into handing over their personal information. 

Malware and viruses:

Malware is malicious software that can compromise your devices if your phone or computer becomes infected. 

Identify theft:

If your information falls into the wrong hands, cybercriminals can use it to complete unauthorized transactions from your accounts or open fraudulent accounts in your name.

Wi-Fi security:

Wi-Fi networks play a big role in hackers' ability to access your data. Accessing your account while using an unsecured or public Wi-Fi network can

expose your data

and make it easier for hackers to intercept it. 
Practicing standard security measures and online safety habits go a long way in preventing these issues. Below, you'll find tips on how to protect your information from online scammers to ensure a safe online banking experience. 
5 security tips for safe online banking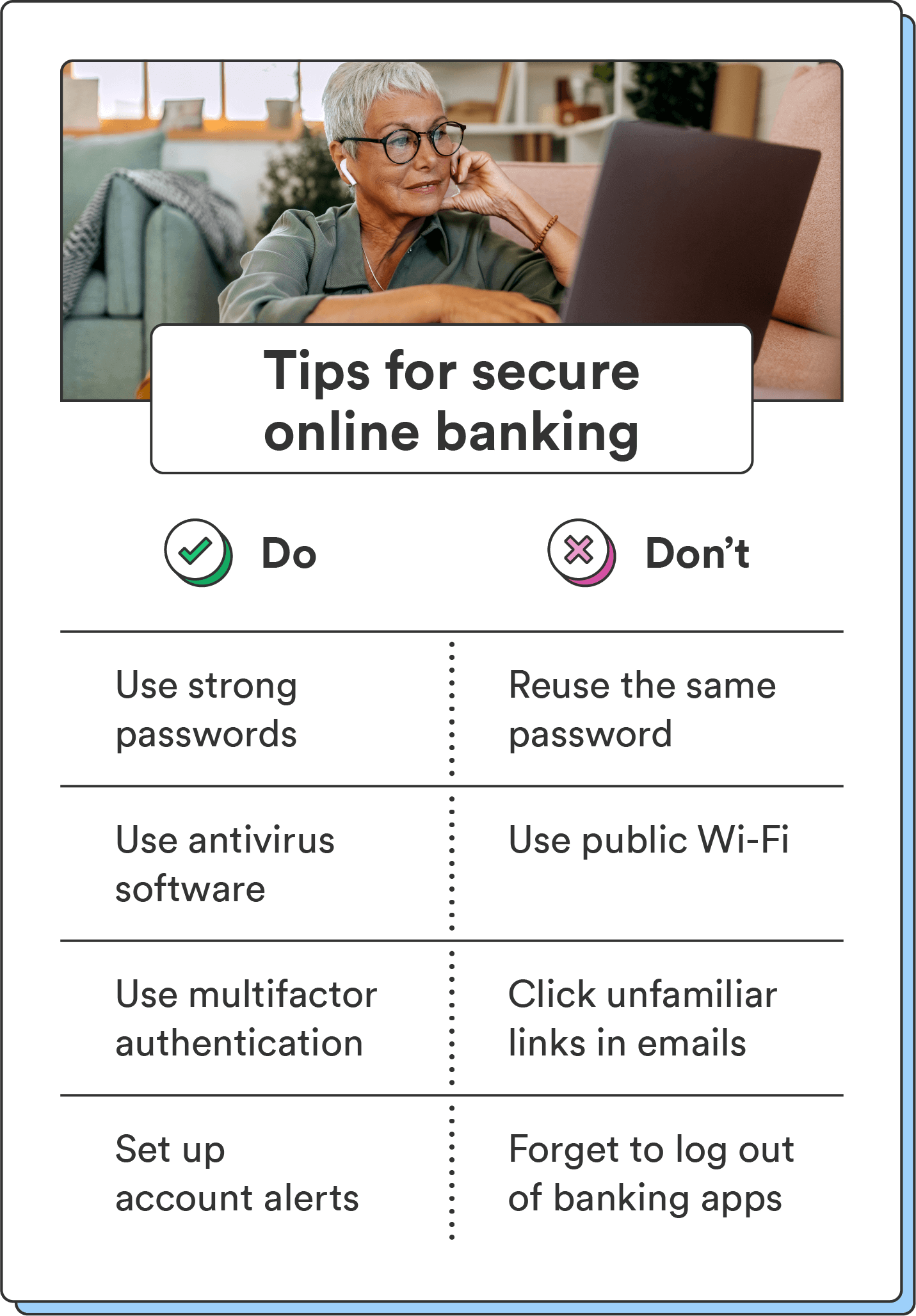 Ensuring a secure experience online isn't only up to your financial institution. The tips below cover a few easy ways you can ensure your data stays protected. 
1. Choose safe passwords
Your password is one of the first lines of defense securing your personal information, and a 12-character password takes 62 trillion times longer to hack than a six-character password.4  
Use complex passwords with a variety of letters, numbers, capitalization, and punctuation. Make it at least 12 characters, and include random words or phrases that aren't tied to personal information (like your birthday or home address). If you have multiple bank accounts, use a unique password for each one. You can use a password manager to store and track your passwords. 
2. Use antivirus software
Installing antivirus software across your devices can help safeguard your data. Your phone may already have antivirus protection built-in, but downloading additional software creates an added layer of security. 
Look for antivirus software bundled with other security features, like password management, firewalls, and a VPN.
3. Use multi-factor authentication (MFA)
MFA requires an additional form of verification in addition to your login credentials, providing extra security to your accounts. This additional verification could come in the form of a unique code sent to your mobile device or biometric data that requires your fingerprint. 
MFA is an easy way to boost your security when banking online. Enable MFA across your accounts, which can usually be done in your account settings.
4. Avoid public Wi-Fi
Public Wi-Fi networks are often unsecured and may be prone to interception from hackers. While there's less cause for concern when surfing the web in a coffee shop or browsing social media at the airport, accessing your online bank account is a different story. 
Avoid logging in to your account when connected to a public Wi-Fi network. Always connect to a secure, password-protected Wi-Fi network instead. If you must access your account on the go, opt for your phone's cellular data to connect instead of Wi-Fi, if available. You can also use a virtual private network (VPN) to encrypt your Wi-Fi connection and secure your data while you're away from home. 
5. Opt in to bank alerts
Many financial institutions allow you to receive alerts via email or text message when your balance dips below a certain amount or if a large purchase is made. When you opt in to these alerts, you can immediately report any potential fraud, scams, or unauthorized purchases on your account. 
If your online financial institution doesn't offer account alerts (although most of them do), keep a close eye on your account activity by periodically checking your transaction history. This way, you can proactively spot any unfamiliar account activity and report it immediately.
Practice safe online banking habits to stay secure
Online banking has become a popular option for those looking for a more convenient banking experience. While security risks exist with any online activity, implementing simple security measures can help prevent them. 
Remember to play an active role in protecting your data online. By proactively practicing security best practices, you can embrace the benefits of online banking while minimizing security risks. 

FAQs about safe online banking
Still have questions about opening a bank account online? Find answers below.
What are the risks of online banking?
Some of the main data security risks of online banking include phishing attacks, malware and viruses, data breaches, and identity theft. Using unsecured public Wi-Fi can also make your information vulnerable when banking online. 
How do I know if an online bank has strong security?
To assess the security of a financial institution, look for things like encryption technology, multifactor authentication, secure login methods, and clear privacy and fraud protection policies. Read reviews for online banks and the fine print to determine how extensive their security measures are. 
What is data security at banks?
Data security at banks refers to security measures implemented to protect customer data from breaches, unauthorized access, or other forms of misuse. Security measures may include encryption, firewalls, fraud detection systems, and robust security protocols. 
What is the safest way to bank online?
The safest way to bank online includes using strong and unique passwords, enabling multi-factor authentication, regularly monitoring your accounts, avoiding public Wi-Fi for sensitive transactions, keeping devices and software updated, and being cautious of phishing attempts.
How safe is online banking on a mobile phone?
Online banking on a mobile phone can be safe if you take the necessary precautions. Ensure your device has up-to-date security software, only download apps from official app stores, use secure and trusted networks, enable biometric authentication if available, and be cautious of clicking on links in text messages or emails. 
How do I know an online bank is legitimate?
To determine if an online bank is legitimate, confirm whether or not it's FDIC-insured. You can also research the bank's reputation, verify its contact information and physical address, and read customer reviews or seek recommendations from trusted sources.
Are online banks riskier than brick-and-mortar banks?
Online banks are not inherently riskier than brick-and-mortar banks – both have security measures and vulnerabilities. Online banks often employ advanced security technologies and have dedicated fraud prevention systems, making them generally safe when proper security practices are followed.