It seems like every year there's some new three-syllable Japanese concept that everyone's obsessed with. First it was KonMari, the Japanese art of tidying up. Now it's kakeibo, the Japanese art of budgeting. 
Kakeibo, which has been around since 1904, is a pen-and-paper system of budgeting that promises to make you more mindful about your spending and saving. If you've been struggling to find a money management system that works for you, it might be worth a shot. It's free, after all, and it's worked in Japan for more than a century. 
Here's everything you need to know about kakeibo: what it is, whether it's right for you, and how to get started. 
What is Kakeibo?
Simply put, this Japanese saving method involves recording your expenses and goals by hand, forcing you to think intentionally about where your money is going. 
It was invented by Hani Motoko, Japan's first female newspaper reporter, to help Japanese housewives with their household budgets. The Japanese government heavily encouraged using this method over the past century, and even today it remains a common form of budgeting in Japan. 
In the rest of the world, kakeibo's boost in popularity can likely be traced to 2017, when Fumiko Chiba published a book introducing the concept to English-speaking readers. 
How does Kakeibo work?
According to the most recent iteration of her journal, Chiba says the "kakeibo cycle" can be summed up with four questions: 
How much money do you have available?

How much would you like to save?

How much are you spending?

How can you improve?
Answering these questions on a monthly basis will give you a birds-eye view of your finances, thereby allowing you to determine where and how you can do better. 
"With apps linked to our bank cards, it's never been easier to see where our money is going, but often this only shows us where we are going wrong," Chiba writes.
"This kakeibo will show you the bigger picture and allow you to plan your spending more wisely." 
Is Kakeibo a Good Idea? 
With all the other budgeting apps and techniques out there, you might be wondering why people are paying attention to the old-fashioned practice of kakeibo. 
Here are three factors that set it apart:
It forces you to be mindful about your spending:

While many apps will automatically track your spending, kakeibo's power lies in the fact you have to write down every expense by hand. There's something much more painful about writing down that $48 dinner and $14 mascara than simply seeing it as a line item in Mint. 

It asks you to set

SMART goals

:

Instead of vaguely saying you want to "save more" this year, you'll need to determine an exact savings goal at the beginning of each month, greatly increasing your likelihood of accomplishing it. 

It highlights wants versus needs:

As you'll see below, traditional kakeibo demands you separate expenses that are required for "survival" from expenses that are "optional." Doing this on a daily basis will force you to acknowledge the difference between the two. 
Faith Archer, the financial blogger behind Much More With Less, tried kakeibo for a month. She recommends it to "anyone on a tight budget who loves stationery, journaling, or scrapbooking," and anyone whose money "normally slips through (their) fingers."
So, if you've tried other budgeting apps (to no effect) or wonder where your money goes, kakeibo is probably worth a look. 
That said, it's not a great fit for everyone, especially freelancers, gig workers, or others with a fluctuating income. That's because the entire kakeibo process is based on how much you'll earn over the next month — which, for certain individuals, can be hard to predict. If you fall into that camp, you might look into "paying yourself first" instead. 
How to Get Started with Kakeibo
As you're researching kakeibo, you'll likely come across slightly different translations and budgeting categories. 
It all boils down to the same skeleton, though, so don't worry about the details too much. (In this article, we've outlined Chiba's process, since her original book bore kakeibo founder Motoko's name as its co-author.)
To start practicing kakeibo, you'll first need a good notebook. While you'll find kakeibo templates and kakeibo journals, any notebook will do. Cheap three-column ledgers work especially well. 
Once you've got that in your possession, you're ready to begin. 
1. Take stock of your finances 
On the first day of any month, write down the answers to the following questions: 
How much money do you have coming in?

Record your predicted income for the upcoming month, including your take-home pay at your job, plus an estimate of any additional income or government benefits. 

How much money do you have going out?

Record all of your fixed expenses, such as rent, car insurance, phone bill, etc. 

How much money do you have available to you?

Subtract your fixed expenses from your total income; the result is your disposable income. 

How much money do you want to save?

Decide how much of your disposable income you'd like to save. Start small; it's better to let this number grow over time than to get discouraged and give up. If you'd like, you can also add a line about what you're saving for. 

How much should you spend?

Subtract your savings goal from your disposable income to see how much remains for discretionary spending. Divide this number by four to get your weekly budget. You'll aim to keep all of your additional expenses under this amount.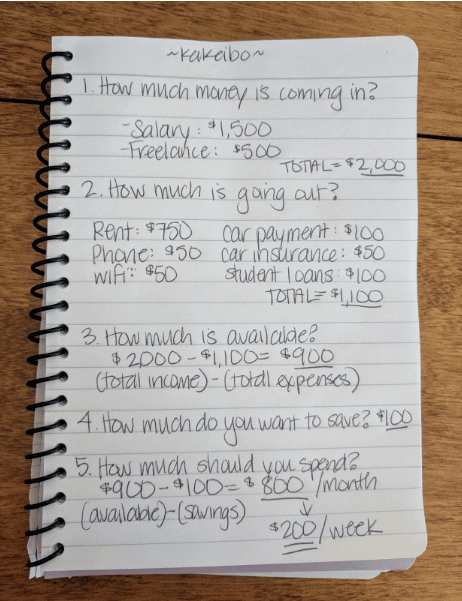 2. Record every expense
Moving forward, you'll note every single time you spend money. To do so, you can either collect receipts throughout the day or carry your notebook with you.
You'll categorize each expense into categories — traditional kakeibo only has four:  
Survival:

Things you need, but that don't have a fixed cost (ie: groceries or public transportation)

Optional:

Extra stuff, like manicures, restaurant tabs, or lottery tickets (ie: wants)

Culture:

Items like museum tickets or a New York Times subscription, which aren't necessary (but make life a lot better)

Extra:

One-time costs, such as medical bills or a replacement water heater
With just four categories, "you have to be critical of how you define and justify your spending," Lisa Rowan writes at Lifehacker. 
"As you progress through the month tracking your daily spending, you'll have to consider which category you select for each, and perhaps why you count it that way."
While Rowan makes a good point, you don't have to stick to this rigid form of kakeibo if it doesn't fit your needs. In fact, Chiba recommends using a wider range of budgeting categories, such as groceries, gas, entertainment, etc. So choose the route that works for you.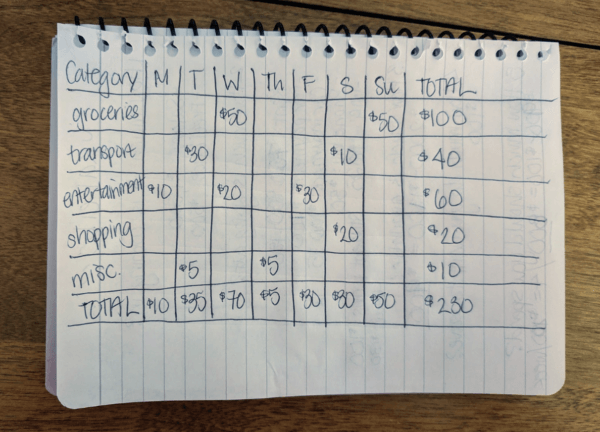 3. Reflect on how you can improve
At the end of each day, week, and month, you'll tally up your spending and compare it to your weekly and monthly goals. 
Now is the time to ask yourself the more ambiguous questions, such as: Why did you meet or not meet your goals? Where did you do a good job of saving? Where did you spend too much? What lessons will you carry with you into the next month? 
"Completing your kakeibo will keep your savings target at the forefront of your mind, allowing you to painlessly achieve your goals," Chiba writes. 
The Life-changing Magic of Kakeibo?
Although Archer didn't stick with the hand-written aspect of kakeibo for long, she continues to track her spending — and says that if you've never kept a spending diary before, kakeibo "could massively change your approach to money." 
"Kakeibo makes you much more conscious about managing your money," she says. 
"Rather than blindly writing down what you spend, after you've spent it, kakeibo encourages you to plan how much to save and spend — and then review your progress afterwards." 
Or, as Chiba concludes in her book: "Often when we think about saving money, the emphasis is on what we cannot spend. This makes saving money a chore and prevents us from making it a long-term lifestyle change. The key to saving is to instead start thinking about it in terms of spending money — but spending it well."
Whether you stick with kakeibo for a month or a decade, we'd say that sounds like a pretty solid reason to give it a try.
---
This page is for informational purposes only. Chime does not provide financial, legal, or accounting advice. This material has been prepared for informational purposes only, and is not intended to provide, and should not be relied on for financial, legal or accounting advice. You should consult your own financial, legal and accounting advisors before engaging in any transaction.