Note: the pricing and subscription details in this article are accurate as of May 3, 2023. Check the latest user agreements from each provider before signing up for a new service. Third-party trademarks are referenced for informational purposes only.  Chime is not affiliated with any streaming services.
Over the past decade, many viewers have cut the cord and replaced cable and satellite with streaming services. Today, countless shows and movies are spread across different providers, and subscription fees can add up quickly.
If you're looking to spend less money on streaming and put more into your savings account, it's possible. With some planning and select streaming bundles, you can save big without giving up your favorite shows.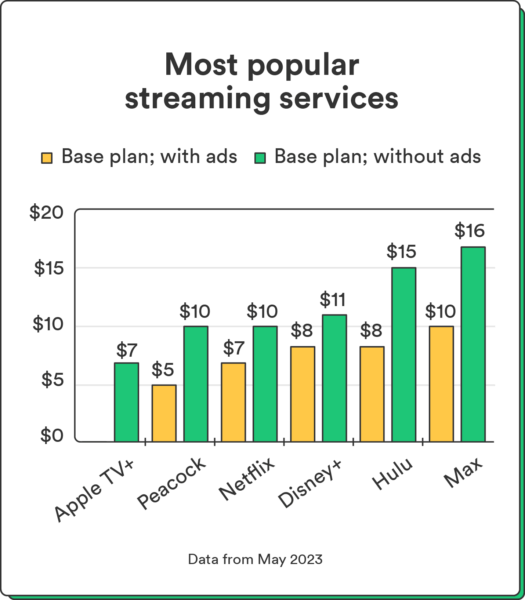 The cost of streaming services
Most streaming services offer a tiered pricing structure. You can get a basic plan for the lowest price, usually supported by ads. If you want to forgo the ads, it will cost extra. Many providers offer streaming bundles of two or more streaming services at a discounted price.
Here's a breakdown of the costs associated with some of the most popular streaming services:
Cost of basic streaming services per month
Streaming service
Base plan

(with ads)

Base plan (no ads)
Free trial

Apple TV+

®1

None

$6.99

7 days

Disney+

®2,3

$7.99

$10.99

7 days

Max

®4

$9.99

$15.99

One free show

Hulu

®5

$7.99

$14.99

30 days

Netflix

®6

$6.99

$9.99

None

Peacock

®7

$4.99

$9.99

None

Prime Video

®8,9

None

$8.99

30 days
Apple TV+

. Apple TV+ is one of the cheapest streaming options on the list, coming in at $6.99 per month with no ads. If you already have other Apple subscriptions, you can look at AppleOne, which bundles up to five other Apple services into one monthly subscription. The Apple Music Student Plans also come with a free subscription to Apple TV+.

Disney+

. In addition to its basic ad and no-ad options, Disney+ offers streaming service bundles. The 'Duo Basics' bundles Hulu (with ads) for $9.99 per month. The Trio Basic includes Hulu (with ads), Disney+ (with ads), and ESPN+ (with ads) for $12.99 per month. The Trio Premium is the same bundle with no ads for Hulu and Disney+ for $19.99 per month.

Max

. The basic plan with ads will cost you $9.99 per month or $99.99 per year, a 16% cost savings. The ad-free plan is $15.99 a month or $149.99 per year, a savings of 20%. Note: HBOMax is officially Max as of May 23, 2023.

Hulu

. A base plan with ads is $7.99. If you want no ads, it's $14.99. Hulu also offers a Student plan (with ads) for only $1.99 per month. Hulu partners with SheerID

®

to verify your student status.

10

The Hulu + Live TV plan includes Hulu, Live TV, Disney+, and ESPN+

®

, all with ads, for $69.99 per month. Hulu also offers the same bundles as Disney+, the Duo Basic for $9.99, the Trio Basic for $12.99, and the Trio Premium for $19.99.

Netflix

. A basic ad-supported plan is $6.99. The basic no-ads plan is $9.99 a month. The Standard plan is $15.49 for ad-free streaming, and the Premium plan is $19.99.

Peacock.

This is the cheapest option on the list at $4.99 per month for a basic ad-supported plan and $9.99 for no ads. If you opt for an annual plan, it's $49.99 for ad-supported and $99.99 for no-ads, a 17% savings.

Prime Video. Prime Video is included in your Amazon Prime membership if you are already an Amazon Prime member for $14.99 per month or $139 per year. Otherwise, you can pay $8.99 per month for a separate subscription. New student members who are enrolled in at least one class and have an "edu" email address can take advantage of a six-month trial of Amazon Prime (including Prime Video) courtesy of Sprint.11 Once the trial ends, the student fee is $7.49 per month or $69 per year.
Save with multiple user profiles on a plan
Many streaming services will allow multiple profiles and simultaneous screens so you can share your account with family and members of your household, like roommates. If you and your family want to collectively save on your streaming bill, you can take ownership of certain services and share them as a group. Based on the maximum amount of profiles per streaming service below, limit your amount of profiles to 5 or fewer.
Streaming service
Max user profiles
Max screens at the same time

Apple TV+

12

6

6

Disney+

13

6

4

Max

14,15

5

3

Hulu

16

6

2

Netflix

6,17

5

4

Peacock

18,19

6

3

Prime Video

20,21

6

3
Tips to save on the cost of streaming services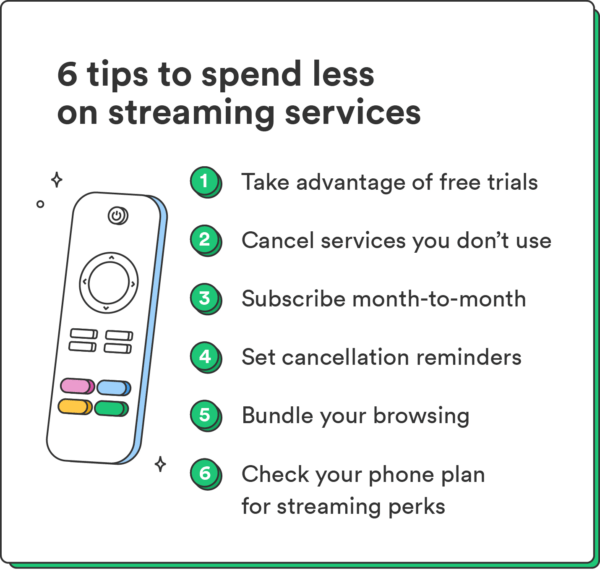 In addition to opting for ad-supported streaming plans and taking advantage of multiple user profiles, there are other tips you can try implementing to save more money on streaming.
Test it out with a free trial.

Most streaming services offer a free trial, typically ranging between seven days and an entire month. If you're strategic about when you use your free trial, you can probably fit in a new season (or two) of your must-see shows before canceling.

Say goodbye to one of your streaming services.

Take inventory of the services you have and determine if you are even using all of them. If you haven't logged in to a stream in a month or two, get rid of it. It doesn't have to be forever, and taking a break can help you save.

Subscribe month-to-month

. An annual subscription can save you money if you plan to keep the service year-round. However, with month-to-month, you can decide which streamers you want to pay for based on when the shows you're into are available. While you're waiting for the next season of "Euphoria" or "Yellowjackets," you can cancel your subscription and pick it back up when the new season is available.

Set calendar reminders.

If you plan on rotating in and out of streaming services, make sure you set calendar reminders so you cancel before you're billed for the next month.

Bundle your browsing.

Look for streaming bundles that give you access to multiple streaming services for a lower price than buying each separately. For instance, Disney+ bundles include Hulu and ESPN

®

.

Take advantage of cellular perks.

Many cell phone companies offer streaming service deals, such as free access to a streaming service when you purchase a new phone or plan. For instance, any time you purchase a new Apple

®

device, you get three months of Apple TV+ for free.

1

Similarly, you can get the Disney Bundle for free through Verizon

®

 on eligible plans.

22
The $61 case study

If you want to lower your streaming costs without sacrificing your TV options, it is possible. For instance, if you have a few family members who have their own profiles on various accounts, you can access seven or more streaming services for less than $61 a month per person.
Let's say you subscribe to Max (ad-free) for $15.99 per month so you can tune in to "The Last of Us." You add a profile for your brother and access his Prime Video account. You also include your sister since she has set up profiles for both of you on Peacock and Apple TV+.
In addition, you take advantage of your eligible Verizon cell phone family plan and split the cost between you three and your parents on the 5G Play More plan, for a base price of $45 per line.23 This gives you access to the Disney+ bundle and includes Hulu and ESPN. 
In this scenario, you only have to pay around $61 monthly for access to 7 streaming services and a phone plan.
Are you ready to spend less on streaming?
If you want to avoid saying goodbye to your favorite shows, there are ways to find streaming deals and reduce the amount you spend. By incorporating some of our money-saving tips, you can continue binging your shows for a fraction of the cost.
We've teamed up with Experian Boost® to offer a free and easy way you can raise your FICO® Score with eligible bills you're already paying through Chime.24,25 When you switch your streaming bills over to Chime, you get credit for the qualifying bills you're already paying. Qualifying bills include Netflix, Disney+, Hulu, and more. Check it out in the app today!