While scrolling through real estate sites and rental listings, you may wonder, "How much should I spend on rent?" Beginning your search and determining a rental budget can be difficult without knowing how much rent you can afford. 
Rent affordability varies and depends on your income and lifestyle, but it's still possible to calculate your ideal rent range. To help you determine the best rates for you, use our rent calculator to estimate your payment options based on your gross income and current spending. 
To use our rent affordability calculator, enter your preferred pay period, gross income, and how much you pay toward debt, regular expenses, and savings based on your selected pay period.
Rent Calculator
Field inputs are based on the selected pay frequency
Budget renter
$XXXX-$XXXX
or 15-20% of your estimated income
A budget renter allocates 20% or less of their income toward rent payments
Average renter
$XXXX-$XXXX
or 25-30% of your estimated income
An average renter allocates 25-30% of their income toward rent payments.
High-End renter
$XXXX-$XXXX
or 25-30% of your estimated income
A luxury renter allocates 35% or more of their income toward rent payments.
This calculator is for educational purposes only. It calculates estimated monthly payments based on the information you provide. Your estimated monthly payment may change if any of the information varies.  You should enter figures that are appropriate to your individual situation. This calculator is not intended to offer any tax, legal, financial or investment advice.
How much should I spend on rent?
On average, experts recommend spending 30% or less of your gross income on rent.1 This is not a hard and fast rule, but it is a great guide when you're unsure how little or how much to budget for your rent.
Our calculator offers three different rental views – budget, average, and high-end – while calculating rent ranges to see the whole picture while deciding how much rent you can afford.
What should I consider for how much rent I can afford?
With rental prices climbing, there are a few things to consider before deciding how much to spend on rent. First, think about:
Miscellaneous rental costs:

Factor in utilities, Wi-Fi, subscriptions, and potential HOA and bank fees when determining your rental budget.

Lease length:

Shorter lease lengths – including month-to-month, three-, and six-month leases – are usually more expensive than twelve- or eighteen-month leases.

Location:

More desirable locations can be pricey. Your neighborhood can affect your rent rate.

Quality:

Recently renovated or updated rentals can be more expensive, especially if the unit received costly repairs.

Size of space:

Studio and one-bedroom rentals are usually a more economical option than apartments or homes with two or more bedrooms.

Restrictions:

Many renters must adhere to rental restrictions like pet policies, property alteration restrictions, and parking expectations.
While these considerations may not make or break your rental budget, they can substantially impact how much you're willing to spend during your decision process.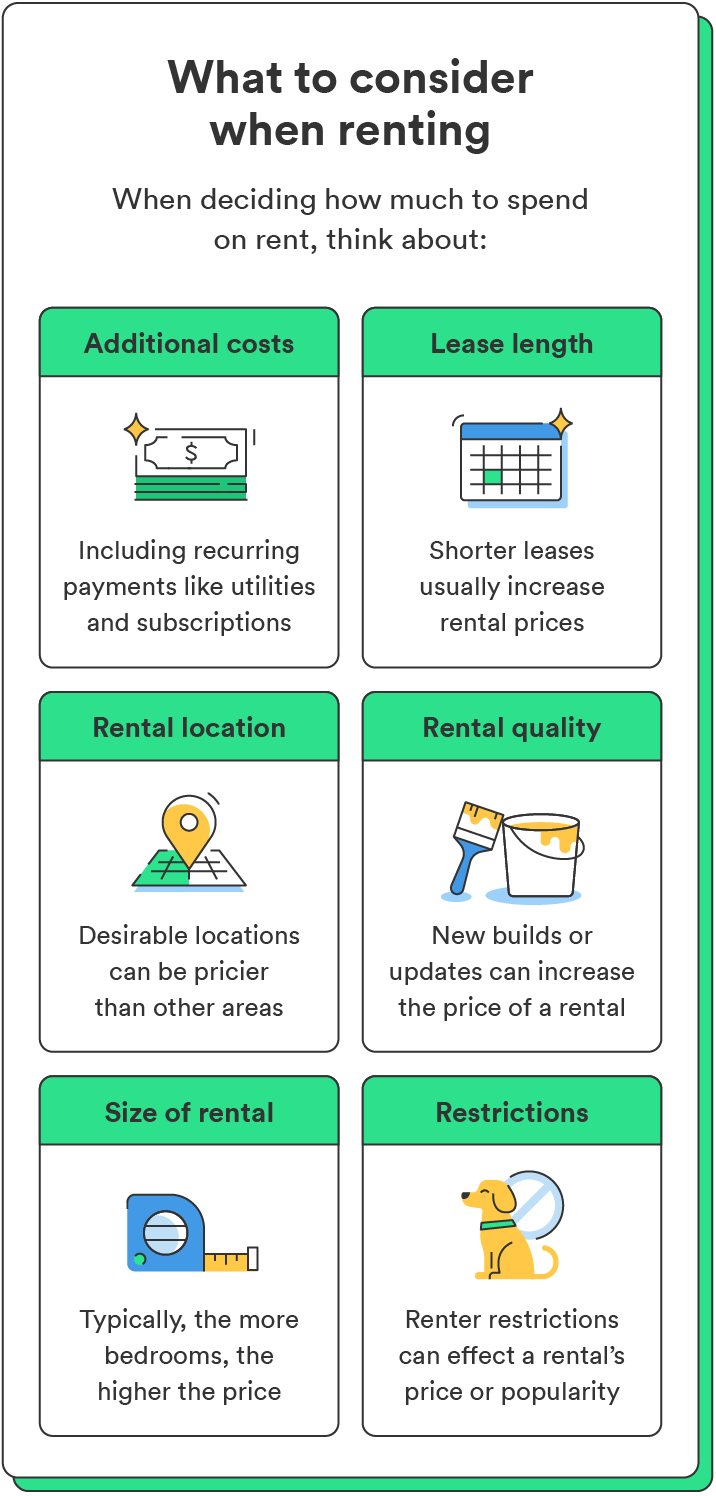 Manage your money with confidence
When trying to answer "How much should I spend on rent?" you need to consider more than just your gross income. While the 30% guideline is a general starting point, our rent calculator offers insight into various ways you can manage your finances as a renter. 
FAQs about rent affordability
Get answers to a few frequently asked questions concerning rent affordability.
How much rent can I afford on my salary?
How much rent you can afford on your salary depends on your budget and how much you earn. If you are using the  expert recommendation to spend 30% or less of your gross income on rent, your ideal rent price is:
$500 on a $20,000 salary

$750 on a $30,000 salary

$1,000 on a $40,000 salary

$1,250 on a $50,000 salary

$1,500 on a $60,000 salary

$1,750 on a $70,000 salary

$2,000 on an $80,000 salary

$2,250 on a $90,000 salary

$2,500 on a $100,000 salary
What rent can I afford on $50k?
If you earn a $50,000 salary, your ideal monthly rent would be about $1,250. This is 30% of your pretax salary, which is a general guideline when determining how much to spend on rent.
How much rent can I afford on minimum wage?
If you make the federal minimum wage of $7.25 an hour and work 40 hours a week for 52 weeks, you can afford to spend about $375 on rent when considering the 30% rule.∀ Programs like the Rental Assistance Program can help provide financial assistance for rent, utilities, and other home energy costs.
How should I split my rent with roommates?
You can split your rent with roommates using various methods, including:
Even split:

In this method, the total rent – including utilities and miscellaneous household expenses – is divided evenly between each roommate.

Income split:

If roommates have substantially different salaries, it may make sense to split the rent based on each person's monthly income. By adding every income together and finding each person's income percentage, roommates can determine what percent of the rent they should be responsible for.

Square foot split:

If bedrooms, bathrooms, closets, and common areas vary significantly in size, roommates may decide to split the rent based on the amount of space each occupies. Simply divide the square footage of a living space by the total square footage of the home, and multiply that percentage by the total rent payment.
What is the 50/30/20 rule?
The 50/30/20 rule is a budgeting strategy to help you manage your finances responsibly. This strategy encourages you to separate your after-tax income into three categories: needs, savings, and wants. In this case, you'll set aside 50% of your after-tax income for needs, 30% for wants, and 20% for savings.