Saving money may be at the top of your financial to-do list. 
The challenge is figuring out how to save money from salary while covering your basic living expenses, paying down debt or working toward other financial goals. 
If you're looking for tips on how to save money, you're in the right place. Take a look at 6 strategies that can help you save money from your salary paycheck.
1. Break Your Paychecks Down
First things first, go over your paycheck to see how much take-home pay you have to work with. Your take-home is what's left after your employer takes out taxes, insurance and any other deductions, like 401(k) plan contributions from your salary. 
Speaking of 401(k) contributions, an easy way to boost savings is to notch up your contribution rate. 
If you're wondering how much to save monthly, there's a simple rule you can follow. At the very least, it's good to save enough of your salary to get the full employee match into your retirement plan if your employer offers one. 
So, as you're looking over your paycheck, figure out what your current contribution rate is and see whether you can bump that up by a percentage or two. Even a fractional increase can make a difference in how much you're able to save long-term. This paycheck impact calculator can help you gauge how your take-home pay would be affected by upping your 401(k) savings rate. 
2. Find Money in Your Paycheck to Save
If you've been struggling to save so far, this is where you'll need to dig into your budget to see where you may be able to free up extra cash. 
"When it comes to saving money from a paycheck as a salary employee, it all comes down to keeping a good budget," says David Pipp, founder of finance blog Living Low Key. 
"If you have money to cover your cost of living and a little money for fun, everything after that should go towards savings."
For example, one of your biggest budget expenses may be food. If you're dining out a lot, you could look for money-saving hacks to cut down on the cost. Or, eliminate some meals out and eat more often at home. 
Here are some helpful tips for how to save money on groceries:
Plan meals for the week, based on what's on sale. 

Create menus that are designed to minimize food waste.

Shop with a list and stick to the list.

Consider using your grocery store's pickup service if it's free to avoid making impulse buys. 

Use coupons and cash back apps to earn cash rewards or discounts on groceries.

Check for bargains at your local farmer's market if you have one. 
Other expenses you may want to downsize include utility bills or subscription services you don't use. You could also find savings in your budget by switching to a bank account with no fees. 
🤑 Want a super simple way to save money? Download the free Ibotta app and get real cash back when you shop for groceries, essentials, clothing, and more.
3. Make Your Debt Payments Less Expensive
Consider how you can make your debt payments less expensive. Refinancing student loans, for example, can help you get a lower rate. This can also lower your monthly payment, giving you more money in your budget to save. The same is true for transferring high-interest credit card debt to a new card with a 0% introductory promotional rate. 
4. Make More Money Than Your Salary Paycheck
If you're falling short of your savings goal, maybe it's time to earn more.
"There are two ways to save more money: earn more or spend less," says Ben Watson, CPA and personal finance expert at DollarSprout.
"The best way is to do both at the same time: take on extra hours, start a side hustle, mow lawns or go crazy selling unused items on Facebook marketplace while taking a hard look at your budget to see what you've been wasting money on," says Watson.
5. Automate Savings From Your Salary Paycheck
Once you know how much you need to cover your bills and expenses, you can set money aside from your paycheck to put toward your savings.  
There are two simple, yet highly effective ways to do this:
Set up

direct deposit

into your savings account from your paycheck. This way, the money goes straight to savings every payday. 

If your employer doesn't offer direct deposit, you can set up an

automatic savings transfer

from checking to savings each time you're paid. You just choose the amount to save and the frequency you want money transferred and you're done. 
These two savings hacks can also be a great way to build your emergency savings fund or add money to savings for a long-term goal, like a down payment on a home. 
6. Consistency Can Be Your Ace in the Hole For Growing Your Money 
Here's how this works. You figure out what you need (or want) to save each month. Instead of putting it into the bank right away, you keep it in cash at home. You do this for a month or two to see if you ever have to dip into your savings for any reason. After that, move the cash to a bank account. 
If you're totally new to the saving habit, considering giving this strategy a test run, says Eric Holland, founder of family finance blog High Five Dad. 
"If you had to dip into savings, evaluate the reasons why," Holland says. 
For example, it might be due to poor planning or an emergency. Trying this little experiment can help you decide if there are any changes you need to make to your savings strategy.
How Much Should You Save Each Month?
That's a great question and it's an important one to ask if you're hoping to stretch your salary paycheck as far as possible. 
The answer for how much to save monthly ultimately comes down to how much you're taking home, what your expenses are and how much, if anything, you're paying toward debt. 
But if you're looking for some specific numbers to work from, the 50/30/20 rule is a good place to start. 
The 50/30/20 rule advocates putting 50% of your income toward your essential expenses each month, spending 30% and then saving the remaining 20%. You can do the math on your own or run the numbers through a simple calculator.
Biweekly paycheck amount: $2,653.85

50% allocation to essential expenses: $1,326.93

30% allocation to discretionary spending: $796.16

20% allocation to savings: $531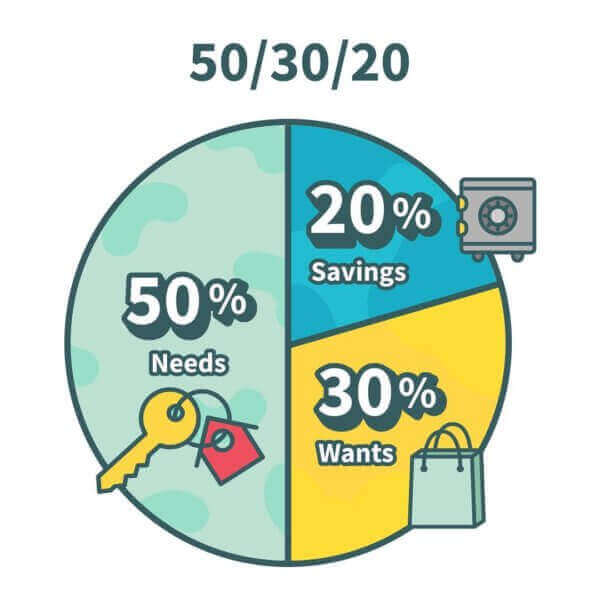 Using these numbers, you should be putting $531 away into savings every two weeks. Over a year, that adds up to $13,800. 
That number can include the 401(k) plan contributions mentioned earlier if you have an employer plan. So, let's say you contribute 6% of your salary to your 401(k). Your employer matches 50% of your contribution. This means $6,210 is going into your plan each year, based on the $69,000 
median salary number mentioned earlier.
If you're basing your savings on biweekly salary paychecks, you'd have to save $291.92 every payday after your retirement contributions are taken out to hit the 20% total savings target. 
The next step is to make sure you actually have that amount of money in your budget to save. 
Are You Ready to Save Your Salary?
Have you established a regular savings habit yet? If not, there's no time like the present. 
And as you start saving, remember to give those dollars a job. Having a clear financial goal or purpose in mind for the money you save can help motivate you to stay the course.