A credit card can make paying bills or shopping for the holidays super convenient. But getting approved for one isn't always a lock if you don't have years of responsible credit use under your belt.
According to Experian, 62 million Americans have a thin credit file. Essentially, this means that they don't have enough information on their credit report to calculate a credit score. Experian also found that 37 percent of Americans have credit scores that put them in the fair or very poor borrower category. And, a poor credit score can indeed can lower your odds of getting approved for a credit card.
Fortunately, you're not completely shut out of the credit card game if you have thin or poor credit. Secured credit cards can give you purchasing power, while also helping you build your credit score.
What's a Secured Credit Card?
It's simple. A secured credit card is a card that requires you to offer up a cash deposit as collateral. The deposit is an insurance policy for the credit card company in case you default on paying back your balance.
The amount of the deposit varies, depending on the card. Typically, your deposit doubles as your credit limit. So, if you open a secured credit card account with a $500 deposit, your credit limit would be $500.
As you make purchases against that limit, your available credit shrinks. There are some secured credit cards that allow you to put down a smaller initial deposit. Some also let you increase your credit limit by adding to your deposit after opening your account.
But Wait…What Happens to Your Deposit?
After you make your deposit, the credit card company holds onto it. There are two ways you can get it back.
The first way to get your deposit back is to graduate to an unsecured credit card. Your credit card company may review your secured card account periodically. If you've established a record of using your card responsibly, it may switch you to an unsecured card. In that case, your deposit is refunded.
The other way to get it back is to close your account. But, you'd have to pay off your balance first. Otherwise, the credit card company could keep part or all of your deposit as payment.
Secured Credit Cards vs. Unsecured Credit Cards
The biggest difference between secured credit cards and unsecured cards is the cash deposit, mentioned earlier. Unsecured credit cards don't require one.
Secured cards and unsecured cards work the same in terms of how you use them. When you make a purchase with an unsecured card, your credit limit is reduced by that amount. Your available credit increases when you make a payment.
Whether a card is secured or unsecured doesn't matter to the credit reporting bureaus. Your account activity can still show up on your credit reports.
Also, it is important to note that typically, unsecured cards have a higher credit score requirement.
Building Credit With a Secured Credit Card
Secured credit cards can be a great starter option when you're trying to establish your credit score. They're also helpful for rebuilding credit if your score takes a serious hit because of something like bankruptcy or foreclosure.
FICO credit scores, which are most often used by lenders, are based on five factors:
Payment history (35%)
Amounts owed (30%)
Length of credit history (15%)
Applications for new credit (10%)
Types of credit used (10%)
That's pretty straightforward. So how do you use a secured credit card to build (or rebuild) your score?
It's all about your habits. Based on those five factors, the two most important things you can do with your secured card are:
Pay your bill on time each month
Keep a low balance
Making sure you pay on time is as easy as scheduling payments through the Chime mobile banking app. You just need to give your credit card company your Chime Spending Account number and routing number to set up an ACH payment.
Staying on top of your balance is simple too if your secured card has an alert feature. This lets you set a balance threshold you want to stay under. The alert lets you know when you're getting close to that amount and this way you can pause any new charges.
Those are two easy peasy ways to give your credit score a boost. Another pro tip: The longer your account stays open, the longer your credit history grows. This can also help your score.
Using other types of credit, like a personal loan, is another way to boost your credit. Just don't go overboard applying for new credit, since inquiries can take a few points away from your score.
Secured Credit Card APR and Fees
Every secured credit card is different when it comes to the fees and APRs they charge. Here's a good rule of thumb to remember: lower credit scores usually equate to higher interest rates. If you're starting from scratch with credit, you may be looking at a higher APR.
Remember, secured cards can come with more than one APR, and you may have different APRs for:
Purchases
Balance transfers
Cash advances
The fees you pay can also vary. Some secured cards charge an annual fee; others don't. Some may also charge a monthly service fee, or a fee for increasing your deposit.
The takeaway? Read the fine print on secured card fees, rates and terms so you know exactly what you're paying.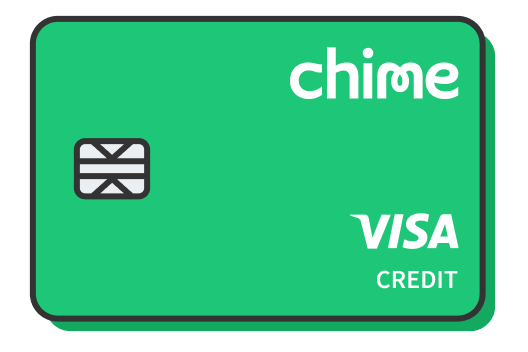 Did you know that Chime's Credit Builder secured card has no fee, no interest, and helps you build your credit?
Do Secured Credit Cards Come With Any Extras?
Some secured cards come with perks. Some don't.
There are some secured credit cards, for example, that let you earn rewards when you spend. Some offer cash back, some offer points and others give you travel miles.
Secured cards can also come with features like free fraud monitoring or monthly credit score access. Some even waive late fees the first time you miss your due date.
Make sure you read all of the fine print and know what the benefits are. This way you'll be informed.
Alternative to traditional secured credit cards
If you're still looking to build your credit but a secured credit card doesn't sound like a fit for you, there are alternatives! Unlike traditional secured credit cards, Chime's new Credit Builder card does not check your credit at application and has no minimum security deposit.
Chime's new Credit Builder is a secure credit card with no annual fee or interest that allows you to build your credit. Chime reports payments to major credit bureaus so everyday purchases like gas, groceries, bills, and subscriptions can all count towards your credit score. Apply today!
Find the card that best fits your needs
If you're ready to improve your credit score, a secured credit card can help you do this. These cards can also potentially help you earn rewards as you spend. But remember, they're not all the same. Take time to compare different options carefully to make sure you're choosing the secured card that best fits your needs and spending style.