When it comes to prepaid, debit, and credit cards, it's important to note that these cards are not the same thing. While they all may show a network logo like Visa, MasterCard, American Express, or Discover, these three types of cards are actually quite different.
With that said, these cards do have one thing in common: if you're not using cash, you're likely using one of them to make your purchases.
Read on to learn more about the differences between prepaid cards, bank-issued debit cards, and credit cards, and find out which card type is the best option for you.
Chime® Credit Builder Secured Visa® Credit Card
A New Way to Build Credit
No Credit Check to Apply1
No Annual Fees
Learn More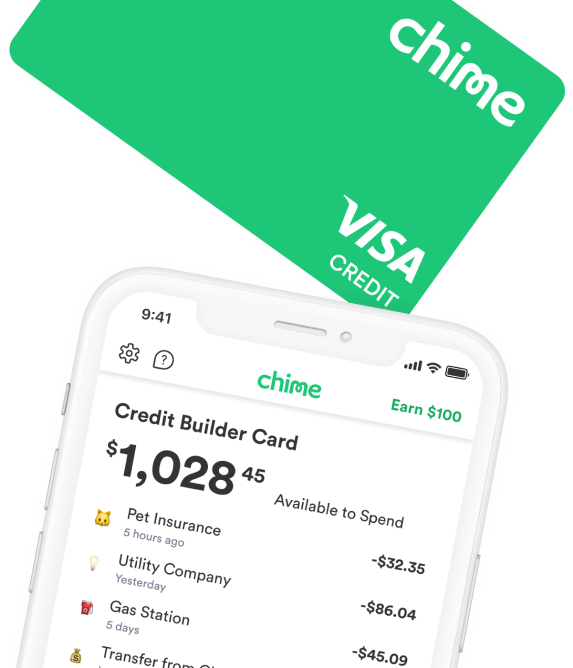 What is a prepaid card?
 A prepaid card is a card that can be loaded with funds that aren't linked to a bank account. The user can spend up to the amount of money on the card. These prepaid forms of payment are often used as gifts and rewards, but people with limited access to standard banking options as well as those with limited budgets often use them in lieu of a checking account. Just like credit cards and debit cards, prepaid cards have their own pros and cons. With a prepaid card, you load money onto the card and then use it to make purchases or withdraw money from an ATM. You can put money onto your prepaid debit card with any of these options:
Arrange for a paycheck to be directly deposited onto the prepaid card.

Add funds to your card at retailers or financial institutions like a Walmart or currency exchange location

Use a reload card which works just like a gift card (it contains a code that becomes linked to the amount of money you paid the cashier. You can then load the card over the phone using your code)

Transfer funds onto your card from an existing bank account
Note: Be mindful that some loading methods may come with a small fee.
There are different types of prepaid cards to choose from: free prepaid debit cards, reloadable prepaid cards with no fees, and no limit prepaid debit cards, to name a few. Make sure you understand the terms and limits of this type of card before you use one.
Benefits of the prepaid card
A prepaid card is different from a debit card based on the fact that you don't need a bank account to have a prepaid card. And, when you get a prepaid card you won't be subject to any credit checks or inquiries into your banking history because you are using loading your cash onto the card. Prepaid cards are often a good option if you don't have access to a credit card or bank account or you're trying to budget using mainly cash. Another perk, you may be able to deposit your check right onto your prepaid card, which is the case for RushCard.
Disadvantages of the prepaid card
While many turn to prepaid cards for convenience, these cards have some significant limitations. The most important disadvantage is that prepaid debit cards tend to include a lot of fees. For example, you'll often be charged fees for initial setup, monthly maintenance, reloading your card, using an ATM, and more. Fees can also vary based on the plan you select, like with the Netspend prepaid card.
If you have bad credit, keep in mind that these cards also won't help you rebuild your credit. You also won't have access to banking services or the ability to stop payments. Banking options such as Chime provide a great alternative to prepaid cards and allow you to open a bank account with bad credit and require no deposit. 
Are prepaid cards safe to use?
While prepaid cards can look and feel like debit cards, they aren't as safe as debit cards. Why? Since debit cards are connected to your checking account, you can easily monitor your account and spending online for free. Your money will also generally be protected if your debit card gets lost, stolen, or wrongfully charged. Prepaid cards don't offer fraud protection like a typical debit or credit card, and if your card is stolen, there is no requirement for the issuer to replace the funds.
Even with the rollout of the new Consumer Financial Protection Bureau (CFPB) rules, in 2019, prepaid cards that aren't registered with your name and personal information won't be required to offer this protection.
What is a debit card?
A debit card is one of the most used bank cards around. Debit cards are connected to your personal bank (checking) account. When you swipe them, the money is taken from your checking account; so basically you're paying with money that you already have. Debit cards make transactions faster and give you the option to get cash back from purchases you make with your checking account without having to go to an ATM.
Debit cards have numerous features that make them convenient. They also have downsides like:
Limited security

ATM use and bank fees

Potential overdraft fees
With a Chime Visa debit card, you can bypass most fees and easily save money. Learn how Chime debit cards differ from prepaid cards.
What is a credit card?
A credit card is separate from your bank account and allows you to make purchases by borrowing from a credit limit, which is based on your credit score and other factors. Credit cards offer increased security, robust features, longer term payment options but have downsides too. You'll want to read our details below to decide if a credit card is an option. It's also important to note that you'll receive a certain limit when approved for a card. You can then spend up to this amount regularly so long as you make your minimum card payments on time.
For example, if you get a credit card with a $1,000 limit, this means you can spend up to $1,000 on the card. While you can carry your remaining balance over to the next month, you will be charged interest on the card balance until you pay it off. This is why it's recommended to purchase only what you can afford to pay for within a short period of time – preferably during that same billing period.
A good rule of thumb is to only borrow up to 30% of your credit limit and try to pay the bill off in full each month. So, instead of spending your entire $1,000 credit, you may want to spend $300 or less and pay the bill off in full at the end of the monthly billing cycle. According to Experian, this is called credit card utilization and it's a common factor when determining your credit score.
Credit cards can help you build your credit and demonstrate that you are a trustworthy borrower. In fact, credit card companies report your borrowing and payment history to the three major credit bureaus and this helps shape your credit score.
One final note about credit cards: when you decide to apply for one, make sure you understand all the fees and terms.
Prepaid card vs. debit card vs. credit card
As you can see, there are quite a few key differences between the three cards above,
which we will discuss in more detail, but first check out the summary table below for a line-by-line comparison.
| | Prepaid Card | Debit Card | Credit Card |
| --- | --- | --- | --- |
| How do I get money on it? | Money is loaded onto card | Tied directly to your checking account | Line of credit you can access with your card |
| Where can I use it? | Prepaid cards that are linked to a specific business can only be used at that place of business or one of its affiliates | Can be used in any store or place of business that accepts Visa or Mastercard | Can be used in any store or place of business that accepts Visa or Mastercard |
| Will I be charged interest? | No | No | Likely, if you don't pay your bill in full every month by the due date |
| Are there other fees? | Various fees may be charged depending on the type of card, such as fees for initial setup, monthly maintenance, fees for reloading your card, ATM fees, etc. | Fees include overdraft and out-of-network ATM fees, monthly maintenance fees, as well as fees for using your PIN during transactions, etc. | Fees include late, return payment, balance transfer, cash advance and/or foreign transaction fees, etc. |
| Do I need a credit check? | No credit checks | No credit checks | Most credit cards run a credit check to approve the account, determine your credit limit, and set an interest rate |
| Will it help build my credit? | No | No | Yes |
Prepaid card vs. credit cards
Credit cards are different from both prepaid and debit cards due to the fact that when you use a credit card you are borrowing money while hopefully building a solid credit history. Better yet, many credit cards offer rewards in the form of points or cash back that can be redeemed for statement credits, travel, or merchandise. Some people like to use credit cards to purchase groceries, gas, and other everyday needs in order to rack up reward points.
As long as you're not overspending and can pay your bill off in full each month, there's nothing wrong with using this strategy. However, if you struggle with controlling your spending, you may want to steer clear of using credit cards for your daily purchases.
Instead of credit cards, consumers often choose debit cards for everyday spending. Why? Debit is safer than cash, you can monitor your activity online with mobile banking, and you can choose a bank that doesn't have fees.
Prepaid card vs. debit cards
At first glance, prepaid cards might seem just like debit cards. And while they do have their similarities, don't be fooled: prepaid cards and debit cards are not the same.
A prepaid debit card requires that you load the account associated with the card with money before you make a purchase. A debit card, on the other hand, charges you immediately after you make a purchase and deducts the amount spent from your bank account. In short, debit cards are connected to your bank account, and prepaid cards only allow you to spend what you've loaded onto them.
An alternative to a prepaid debit card is a secured credit card
If you have bad credit history or no credit history, you might consider a secured credit card. These credit cards help establish or rebuild credit history without allowing you to live beyond your means. The amount of cash you deposit as collateral becomes your credit limit. For example, if you put $500 on a secured credit card, that's how much you can spend. It differs from a prepaid card as your charges don't draw directly on your cash deposit, but on a credit line that you need to pay off regularly.
What is the best card for you?
If you're not going to be using cash 100% of the time, odds are you'll need one of these three cards.
Some people start with a prepaid card, but most choose a debit card that's connected to a checking account for easy access to their money. Still, others prefer a credit card, especially if it offers perks and rewards.
You can choose to use more than one card! Just find the best solution for you.
We'll leave you with this thought: you may want to consider using two or all three of these cards for different types of spending. The bottom line: the best option is the card that works best for your spending and lifestyle habits.