Your credit score affects everything from loan approvals and new credit applications to rental applications. It matters! 
If you're currently using or considering signing up for our secured credit card, the Chime Credit Builder Visa® Credit Card,¹ find out how it may help build your credit. Let's jump into the basics: how it works, what we report on, and what you could expect.
Chime® Credit Builder Secured Visa® Credit Card
A New Way to Build Credit
No Credit Check to Apply1
No Annual Fees
Learn More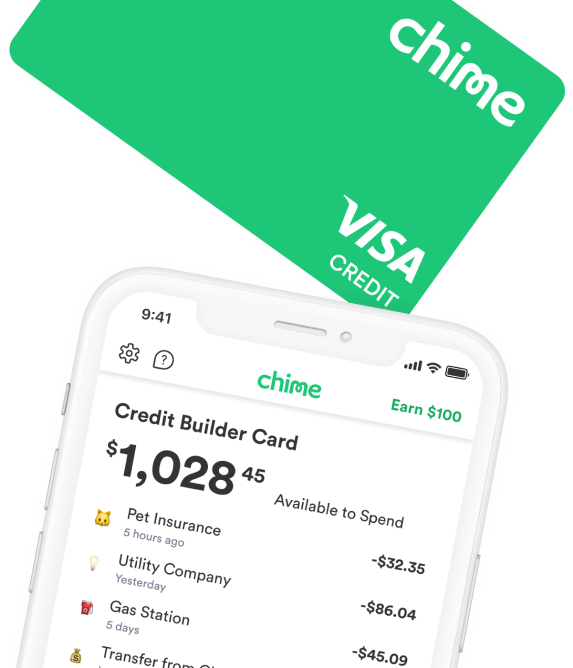 How Credit Builder works
Set your available to spend 
To start, simply move money into your Credit Builder secured account. The money you add will set the available to spend on your card.
Make purchases
When you make a purchase using your Credit Builder card, we subtract that amount from your available to spend on your card. That way, you won't spend more than you have in your secured account. And there's always money set aside to make payments on your card!
Pay balances
The total amount you spend with your Credit Builder card is your balance. At the end of the  month, you can then use the money set aside in your secured account to pay your monthly balance.
If you choose to turn on the Safer Credit Building² feature, Chime will automatically use the money set aside to pay off any outstanding balance. This way, you always pay on time. On-time payments are an important part of building credit. (Go to Settings > Credit Builder Card > Safer Credit Building to turn on this feature.)
If you choose to pay manually, you'll receive a notification to pay your statement every month.
How is my credit score determined?
Your credit scores are determined by credit bureaus. Every month, credit card companies and lenders will report your activities to credit bureaus, who then update your credit score based on the activities reported. Chime reports to all three major credit bureaus, Experian®, Transunion® and Equifax®, to help you build credit history over time.
How is your credit score calculated?
Although there are few different types of credit scores, FICO® scores are used by 90% of top lenders.³ They are calculated based on the following five factors:
Payment history (35%)
Credit utilization (30%)
Credit age (15%)
Credit mix (10%)
Inquiries for credit (10%)
Now that you know some factors that impact your score, let's dive into how Credit Builder does reporting differently.
What does Chime report on?
Now that you have the basics, let's break down what Chime reports on:
Payment status
Your payment status is a reflection of whether or not you paid last month's balance.
Pro Tip: If you have the Safer Credit Building² feature turned on, then the money that you previously moved into Credit Builder will automatically be used to pay your monthly balance. That way, you'll always pay on time, a key factor for building credit.
Amount past due
This is the balance not paid off from the prior month.
Reminder: Every time you make a purchase, that amount is set aside and held in your secured account — so you never have to worry about not having enough at the end of month to pay your monthly balance!
Account age
The number of months you've been with Credit Builder. In general, the older your account, the better! Your account age proves you've been a trustworthy card holder over time.
Current balance
This is the amount you have spent since the last statement plus any amount past due.
Note: It's normal to have a current balance.
What doesn't Chime report on?
Because Credit Builder is different than traditional credit cards, there are a few items Chime doesn't report on:
Credit limit: Since you can set how much you want to spend on Credit Builder, the Credit Builder card does not have a pre-set limit.
Card utilization: Credit Builder doesn't report credit utilization to the major credit bureaus because it has no pre-set credit limit. Spending up to the amount you moved to Credit Builder will not show a high-utilization card on your credit history.
Score change: What to expect
Credit Builder offers features that help you stay on top of key factors that impact your credit score. Consistent use of Credit Builder can help you build posItive payment history and increase the length of your credit history over time.
If your credit score dips a bit from opening a new account, don't get discouraged: by simply making regular on-time payments, your credit score can improve. That's why it's helpful to turn on the Safer Credit Building² feature, so you can continue to make regular payments on time and start building credit.
While Credit Builder can help you build credit, stay on top of your financial activities and accounts you use outside of Chime. Don't give up: learn how long it takes to build credit history from scratch.