Building credit can feel like a catch-22 – the only way to build credit is to use credit, but if you don't have a credit history, it's tough to get approved for any type of credit account in the first place. 
Luckily, there are numerous ways to build your credit if you're just starting out. The most common way is to open a credit card, but if you can't get approved for that, there are plenty of other ways to build credit without a credit card, including:

Getting a secured credit card
Becoming an authorized user
Getting a credit-builder loan
Reporting rent and utility payments
Chipping away at student loans
Maintaining smart credit habits
Read on to learn the best ways to build credit, whether you just started your credit journey or need to boost your current score.
Get a secured credit card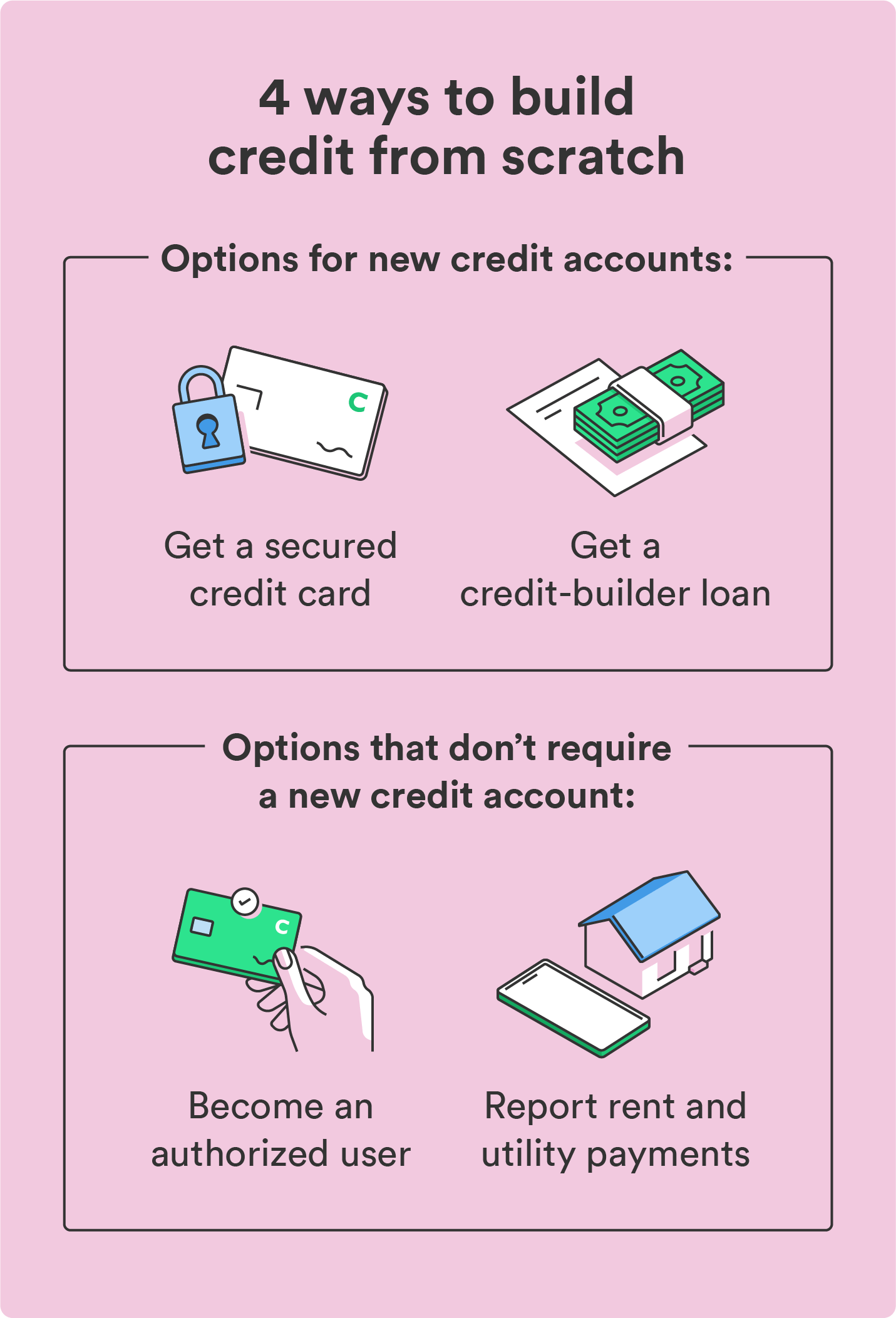 A credit card is a great place to start if you're building credit from scratch. By regularly using your credit card for everyday purchases and making on-time payments each month, credit cards allow you to build a positive credit history – if used responsibly. 
If you're new to building credit and can't get approved for a standard credit card, you'll likely need a secured credit card. You'll use it just like a regular credit card, but you'll pay a security deposit upfront, which is used as collateral as you use the card. If you ever default on the card, you won't receive your deposit back. 
Before you get a credit card, assess your financial habits and whether you can manage them responsibly. Americans' credit card debt increased by over 40 billion dollars last year – and credit card debt peaked at a whopping 887 billion dollars in the same quarter.¹
Be sure you're prepared to use a credit card as a credit-building tool, which means not maxing out your card and paying your bills on time and in full every month. These simple steps can help you establish your credit as you build up a history of responsible credit management.
Become an authorized user
If you can't get a credit card in your name, you can ask a friend or family member with a strong credit history to add you to their account as an authorized user. 
When you become an authorized user, you're added to an existing account and get your own credit card.  Becoming an authorized user allows you to make purchases with the card as if it's your own and have the account's payment activity show up on your credit report. 
Assuming the primary cardholder is financially responsible, being an authorized user allows you to reap the rewards of their positive credit habits in your own credit scores.  
The only catch is that as an authorized user, all account activity will show in your credit reports – the good and the bad. If the primary cardholder falls behind on payments or maxes the card out, your credit also suffers the consequences. 
Get a credit-builder loan
If you have no credit or limited credit history, secured loans like credit-builder loans are a great way to build up your score. You won't need proof of good credit to be approved – you'll just need to ensure you can afford to make the monthly payments. 
Credit-builder loans are different from traditional loans in that you're essentially repaying a loan to build credit, and you don't get the loan's proceeds until you repay it in full. That's a reversal from how loans usually work, where you get the money upfront and pay it back later. 
Here's how it works: the loan amount is held in a bank account while you make payments toward it. You'll continue to make fixed monthly payments until the end of the loan term, at which point the lender returns the total amount back to you, plus any interest you paid. 
Since your payment history has the largest impact on your credit (it accounts for 35% of your credit score), a credit-builder loan helps build a history of on-time payments.
Report rent and utility payments
If you lack a credit history but always pay your rent and utility bills on time, consider using a rent-reporting service to add that information to your credit reports. 
These tools can connect to your bank account and add on-time payments for rent, phone, and utility bills to your credit report, making it easy for new credit builders to build a positive payment history. 
Chip away at student loans
While we don't recommend taking out a loan solely to build credit, your student loans can help build credit since they're reported to the credit bureaus. 
Student loans are installment loans, similar to auto loans or mortgages. Assuming you manage them responsibly and make timely payments every month, your student loans can be an easy way to build up your credit history. 
Since student loan payments are currently paused, any payments you make are interest-free. You can chip away at them and work on your credit score in the process.²
Maintain smart credit habits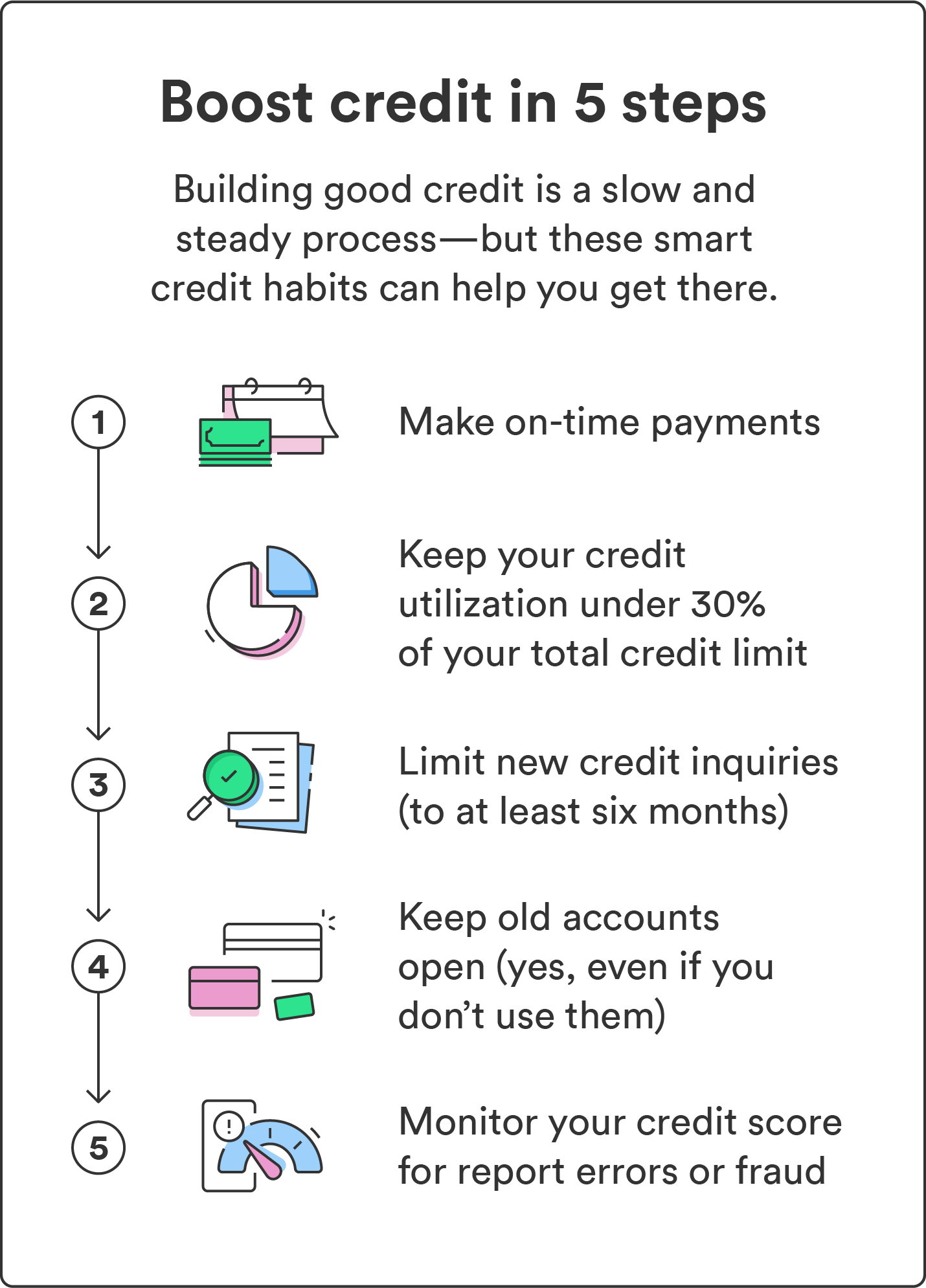 Whatever credit-building method you choose, how you manage it is the key to success. There's no magic bullet to building your credit – it's a long game that requires consistency. 
Keep the following credit habits top of mind to ensure success in your credit-building journey: 
Prioritize on-time payments:

Make all payments on time and in full each month (if not, pay at least the minimum amount due each month.) Set up automatic payments to avoid accidental late payments.

Improve your credit utilization:

Aim to keep your credit utilization (the amount of credit you spend) under 30% of your total limit. 

Don't apply for too many credit accounts at once:

New credit applications can temporarily cause your score to drop. Wait at least six months between new credit applications. 

Regularly monitor your credit score:

Schedule a recurring check-in to review your credit reports for accuracy. You can get your credit report three times a year for free through

AnnualCreditReport.com

. 
Follow the tips above to ensure you reap the rewards of your credit-building efforts.
Building good credit: mistakes to avoid

In addition to practicing smart credit habits, be sure you know what credit mistakes can damage your score. 
Avoid the following habits as you work to build credit:
Spending more than you can afford:

Have a budget in place to ensure you pay off your accounts in full every month to avoid damaging your score (or falling into debt). 

Canceling old credit accounts:

Even if you're no longer using an old credit account, keep it open – canceling old accounts can lower your credit age and in turn, lower your credit score. 

Only making the minimum payment:

Only making the minimum payment on your accounts could extend your repayment timeline and lead to more interest charges. Pay off your balance in full each month. 
While the credit-building process requires some time and effort, your hard work can pay off when your strong credit score gives you access to better credit cards, interest rates, and loan terms. Keep monitoring your score, stay the course, and watch your credit score grow! 
Start building credit with everyday purchases³— apply for a Chime Credit Builder Secured Visa® Credit Card in two minutes without a credit check.

FAQs about how to build credit
Still have questions about how to build credit? Find answers below.
What is the fastest way to build credit?
Your payment history has the most significant impact on your credit score, so prioritize making on-time payments each month to give the biggest boost to your credit score. 
How long does it take to build credit?
You can generally expect it to take at least six months to establish your first credit score. Rebuilding a damaged score can take longer.
How can I build credit if I have no credit?
To build credit from scratch, you can start with a secured credit card, a credit builder loan, or become an authorized user on a friend or family member's account. You can also use rent- and utility-reporting services to have those monthly bill payments factored into your credit score.