In the past couple of years, the COVID-19 pandemic has made it extremely challenging and potentially unsafe to travel, leaving many of us confined to our neighborhoods. But luckily things seem to be looking up. The COVID-19 situation appears to be calming down enough to fulfill our wanderlust needs. This means "revenge travel" is at an all-time high as people want to take advantage of the opportunity while it's here.
So if you've eagerly been saving up for that first post-pandemic trip, finding ways to maximize your savings as you travel can go a long way. Before splurging on flights, hotels, and other services, you may want to look into a travel credit card.
Travel credit cards offer you points or miles for making both travel purchases and everyday purchases, which you can then redeem for rewards. If you plan to ramp up your travel plans soon, a travel credit card could be a smart financial move. 
Chime® Credit Builder Secured Visa® Credit Card
A New Way to Build Credit
No Credit Check to Apply1
No Annual Fees
Learn More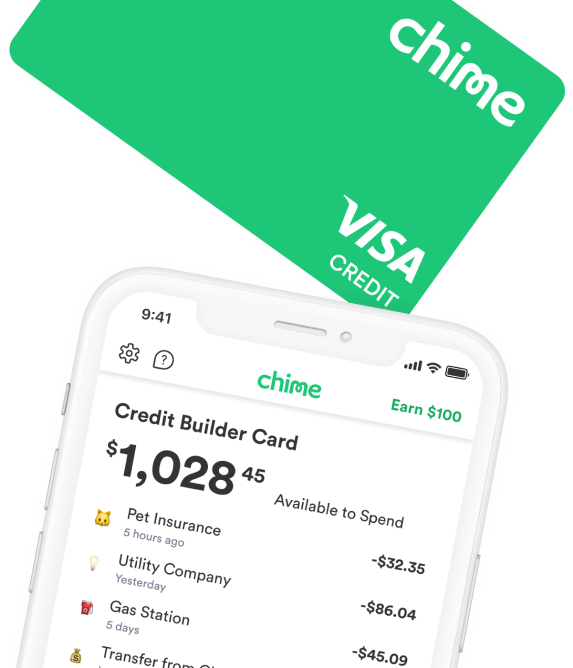 What is a travel credit card?
A travel credit card is a type of rewards card that allows you to earn rewards for certain purchases. You can usually earn rewards on everyday spending such as groceries, gas, and dining and then redeem those rewards for travel-related expenses. The idea is that the more you spend with your card, the more rewards you can collect and put towards your travel needs, like hotels and airfare. Travel credit cards offer rewards in the form of miles or points. Both types of currencies are redeemable for travel and other perks, but miles are generally used in the context of airline rewards, while points are often associated with hotels. 
Types of travel credit cards
Travel credit cards will either be co-branded or non-branded. A co-branded card is essentially a partnership between a credit card issuer and an airline or a hotel chain. These types of cards tend to give higher rewards rates and special perks with a specific airline and hotel brand. Non-branded travel cards, on the other hand, don't favor any particular brand but provide transferable rewards on travel purchases in general.
Most travel credit cards will fall into one of these 5 main categories:
Airline
Airline credit cards are co-branded with an airline and offer miles in the loyalty program of that particular airline carrier. So if you're a frequent flyer with a particular airline, this could be a great option for you, as it will allow you to earn a favorable amount of rewards points fairly quickly. You can often redeem those miles for plane tickets, seat upgrades, priority boarding, discounts on in-flight food, free checked bags, and more.
Hotel
Hotel credit cards are co-branded with a hotel chain. You'll earn points with the hotel's loyalty program, which you can redeem for things like free hotel stays, room upgrades, complimentary breakfast, and late checkouts. You'll often earn more points when you use the card to book rooms at the hotel and participating hotel properties.
General 
General travel credit cards are those that are non-branded and offer greater flexibility in how you can earn your rewards. With these travel cards, you earn points for everyday purchases, plus bonus points for spending in specific categories, like dining and travel. Your points are redeemable for flights, vacation packages, hotel stays, rental cars, and more. Some of these cards even allow you to transfer your points to partner airline and hotel loyalty programs.
Fixed-Rate
Fixed-rate travel credit cards allow you to earn a set number of points or miles for every dollar you spend. Cardholders can then redeem these points at a fixed rate—usually 1 cent apiece—toward travel purchases. Unlike general travel credit cards, there are no spending categories to keep track of, and it's less confusing to earn rewards.
Premium
Some travel credit cards are considered premium or "elite" because they offer more luxury benefits to cardholders. Designed for frequent flyers, these cards typically have a higher annual fee but they also come with more perks. Travel credits, elite status benefits, travel insurance, luxury hotel perks, and airport lounge access are just some of the rewards offered.
What to look for in a travel credit card
In addition to the miles and points you can earn, there are a handful of other factors to consider when comparing travel credit cards. Look for all the ways you can rack up rewards and maximize your savings. Here are some of the ways you can do that:
Look for sign-up bonuses

— These are bonuses offered to new applicants to entice them to open an account. To unlock these bonus points, cardholders will typically have to spend a certain amount of money, within a specified number of months after signup. These bonus points can be worth a lot of money toward free travel, but just make sure the spending requirement is realistic for your budget.
Look for a card with no annual fee

— Not all travel credit cards charge an annual fee, so it might be in your best interest to find the ones that don't. It's worth noting that those that do charge an annual fee typically offset it by offering more perks, so figure out if the perks outweigh the cost of the fee.
Look for no foreign transaction fees

— Some travel credit cards will charge a

foreign transaction fee

when you use the card in another country or with foreign merchants online. If you travel abroad frequently, you should consider getting a credit card with no foreign transaction fees

Look for added perks

— Extra airline perks, like priority boarding, free checked bags, or TSA PreCheck, can make your airport experience much more convenient. And hotel perks, such as discounted rooms and complimentary breakfast, can make your hotel stay a lot more enjoyable.

Look for comprehensive protections and coverage

— Some travel credit cards include travel insurance for things like delays, cancellations, or lost luggage. It's important to use a credit card that includes such protections so that you don't have to shell out a ton of money if things go wrong.
Pros and cons of travel credit cards
To summarize, let's break down the advantages and potential disadvantages that come with opening a travel credit card.
| Pros | Cons |
| --- | --- |
| Travel credit cards are designed to enhance your travel experience, with miles or points that you can redeem toward flights or hotel room upgrades. | Some travel credit cards have high-interest rates, which can negate the value of any points or miles you earn with the card if you don't pay your bills on time and in full every month. |
| Travel credit cards offer frequent travelers an array of features and benefits. | Qualifying for a travel credit card may be difficult if you don't have good or excellent credit. |
| Travel credit cards often offer new members bonuses to help you start earning points from purchases to redeem toward future travel. | There may be booking restrictions if you use a travel credit card that is tied to a specific airline or hotel. These types of cards may only give travel-specific rewards rates if you book directly through the issuer. |
| You typically don't need to change your shopping habits to earn rewards, as most cards can be used for the everyday purchases you'd normally be making anyways. | Some travel credit cards charge an annual fee. |
Are travel credit cards worth it?
When deciding whether or not a travel credit card is right for you, consider your priorities and travel needs. Think about how often you travel. If you're not a frequent flyer or don't think you'd take full advantage of the points or miles offered by a travel credit card, then it might not be worth applying for one. Think about how many of its rewards and benefits you will use, and whether those outweigh any annual fees the card might charge. For those who don't travel as frequently, maybe a travel credit card with no annual fees, but fewer perks is right for you.
FAQs
How do credit card miles work?
Some travel credit cards, such as airline credit cards, reward customers for every dollar spent on eligible purchases in the form of "miles." Miles can often be redeemed for free flights. Typically airline credit cards offer 1 reward mile per $1 spent on everyday purchases as well as bonus credit card miles on certain purchases, such as travel-related ones.
How do I redeem my travel rewards?
The type of travel card you have and its respective rewards program will determine how you can redeem your points or miles for rewards. You can typically redeem your points or miles through the issuer's online portal or by transferring them to the issuer's travel partner. In addition to travel purchases, you may also be able to redeem your rewards for things like cash back, gift cards, account credit, or merchandise. Look at your travel card account and see what your specific issuer offers.
Can I use my travel credit card on non-travel purchases?
Yes, you can use your travel credit card on everyday purchases but keep in mind that travel credit cards often reward you more for travel-related purchases, such as airline tickets. Travel purchases are usually going to be a lot more profitable rewards-wise than other types of spending.
Final thoughts
All in all, travel credit cards can help to significantly reduce the cost of your travel expenses, as long as you budget accordingly and steer clear of bad credit habits. Be sure to pick the best card for you and your needs—the one that will reward you for the type of purchases you frequently make. Remember to weigh the advantages, as well as the drawbacks and potential costs, before landing on any particular travel credit card. 
Good luck on all your future travels and bon voyage!