As you learn more about what credit cards are, one of the terms you'll come across is the annual percentage rate (APR). But what is APR on a credit card, and how does APR work?
Understanding credit card terms like APR can help you know how much a credit card will cost in the long run and how to maintain a healthy credit score.
Keep reading for an overview of the definition of credit card APR, the different kinds of APR, how to calculate credit card interest, and some tips on how to lower a credit card's APR.
How does APR work on credit cards?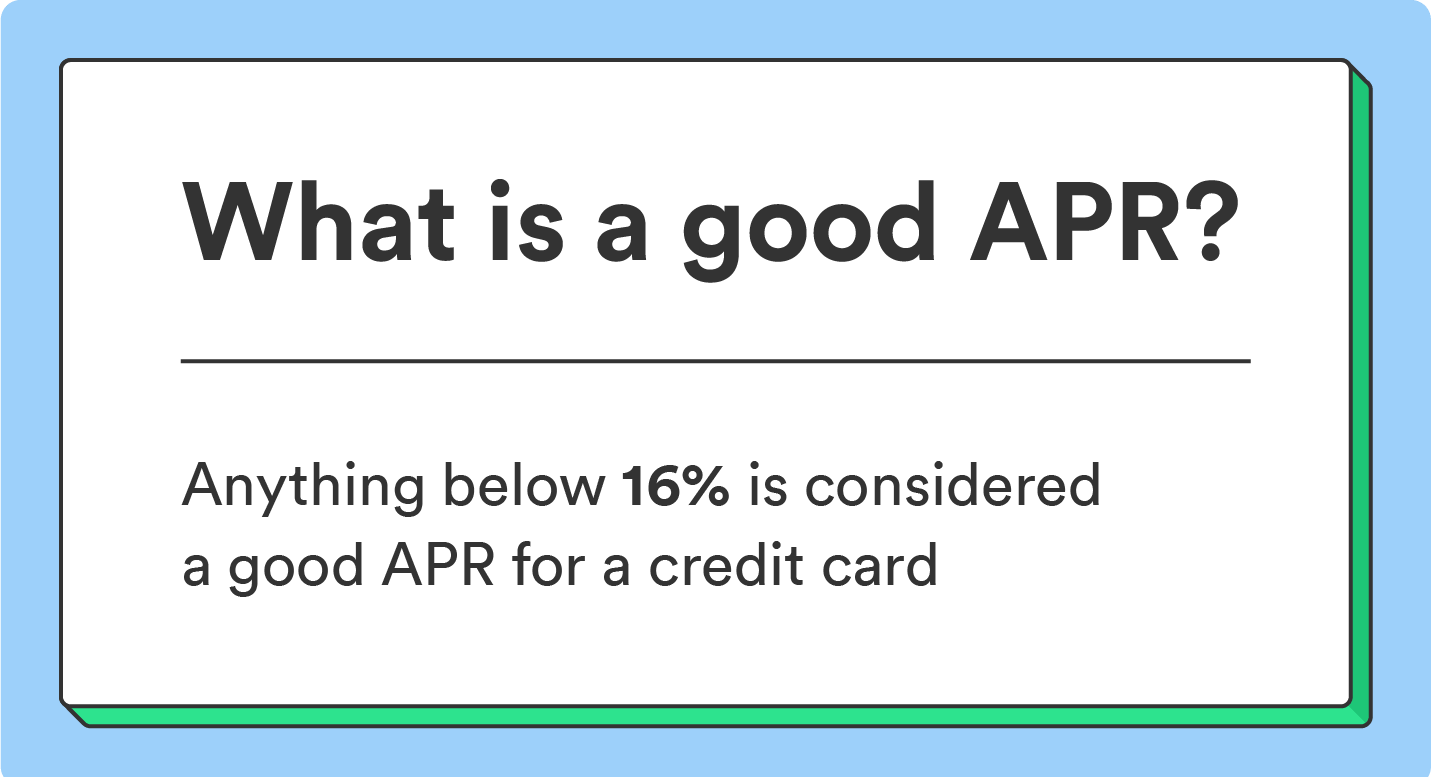 APR stands for annual percentage rate, which is the interest rate you pay for the money you borrow from a credit card issuer. Generally, a good APR is anything below 16%.³
The APR calculates your daily interest rate by dividing your annual rate by 365. Banks calculate interest based on your daily balance and charge it at the end of your billing cycle — only if you didn't pay off the entire balance before your due date.
If you use a credit card only to pay for things you can afford to pay back by the end of the month, you won't need to pay any interest. In addition to not paying interest, paying off debt on time can help boost your credit score and lower your card's APR. 
How to calculate APR for a credit card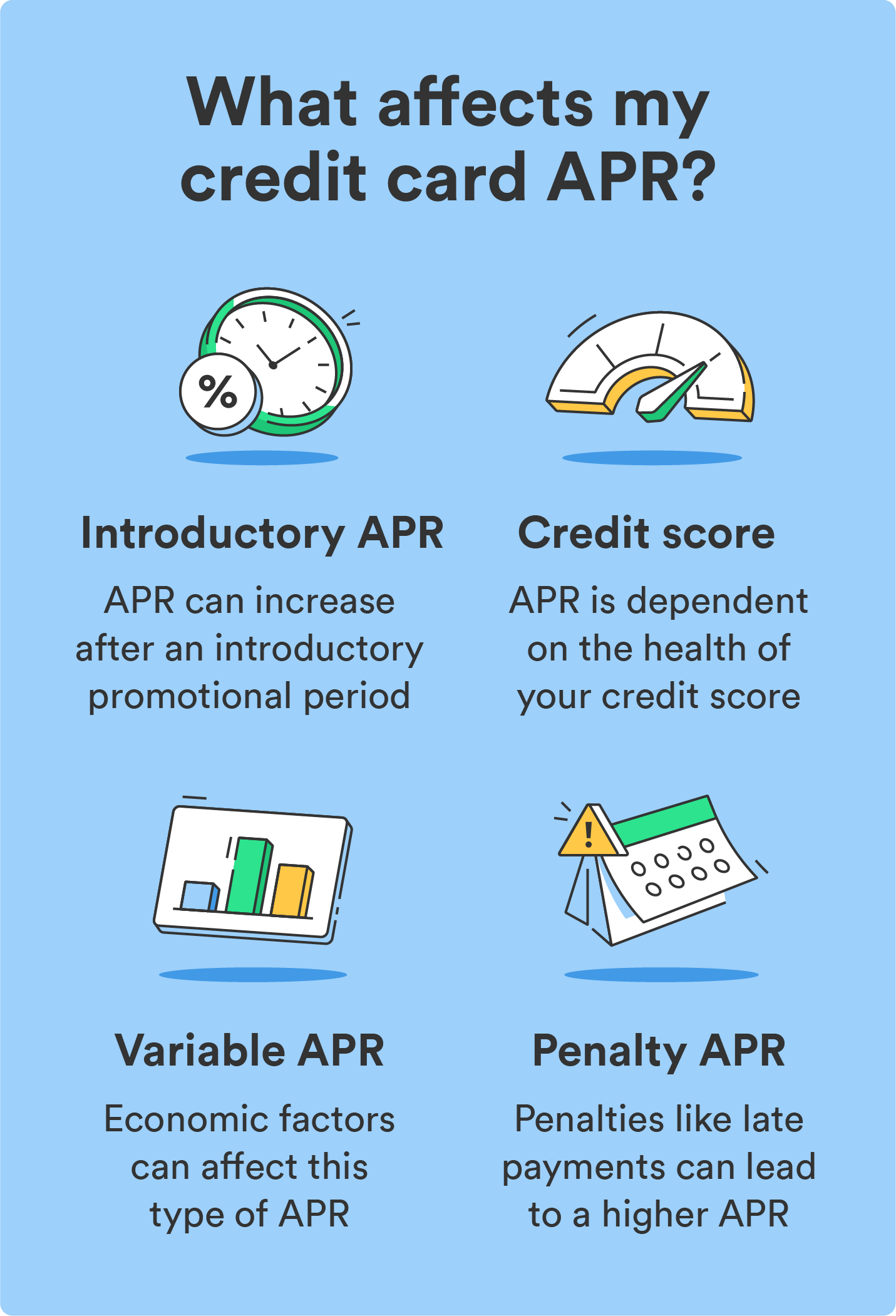 Knowing your credit card's APR and keeping track of your balance will help you keep track of your expenses and plan accordingly.
The first thing you need to do is calculate your daily rate by dividing your APR by 365 days:
Card's Daily Rate = APR / 365 Days
Once you have that number, you'll need to know your average daily balance.
How your balance changes at the end of each day matters most. Calculate your daily balance by adding the balance at the end of each day of your billing cycle and dividing the sum by the total number of days:
Average Daily Balance = (Sum of all balances at the end of each day) / (Number of days in the billing cycle)
Then, determine your interest amount by multiplying the daily interest rate times your average daily balance times the number of days in your billing cycle:
Interest amount = (Card's daily rate) x (Number of days in the billing cycle) x (Average daily balance)
Here's an example using actual values. Suppose your credit card has an APR of 17%, with an average daily balance of $500 in January. Here's what the math would look like:
Step 1: 17% APR / 365 Days = 0.0466%
Step 2: 0.0466% x 31 Days x $500 = $7.22
In this example, you'll need to pay $7.22 for the $500 you spent in January if you don't settle your balance before your card's due date.
Types of credit card APRs
In order to understand the APR meaning of your credit card, let's learn about the different types of credit card APRs. Depending on your credit card use, the issuer can charge different APRs to determine the interest you have to pay. Here are the most common:¹
Potential Interest Rates and Charges

³

Annual percentage rate (APR)

14.49% to 25.49%

APR for balance transfers

14.49% to 25.49%

APR for cash advances

Around 26.24%

Penalty APR (if applicable)

Up to 29.99%
As you can see, the amount of interest you pay also depends on the type of credit card APR. We break down each type below.
Purchase APR
The purchase APR is the APR that credit card companies and banks generally refer to when promoting credit cards. As the name suggests, this is the interest rate you pay on transactions that qualify as purchases, including food, a new phone, or your Netflix subscription.
Transactions that don't count as purchases include cash advances, balance transfers, fees, and refunded purchases.
Introductory APR
Sometimes, to attract new customers to sign up for their credit cards, issuers offer introductory APRs for a limited time. These special interest rates are typically lower than the card's regular purchase APR, allowing you to save on interest if you plan to make a large purchase and carry a balance.
Balance transfer APR
A balance transfer APR is a promotional APR on some credit cards for transferring your balance from other credit cards. Balance transfer APRs can go as low as 0% and can last anywhere from a few months to a year or more.
Balance transfer APRs can help you combine your credit card debt into a single account, making it easier to pay off your debt while saving on interest.
Cash advance APR
When you use your credit card to purchase from stores, your credit provider gets a percentage of that purchase from the vendor through credit processing fees. But if you use your card to withdraw cash from an ATM, they won't receive that percentage fee, so your card provider charges a cash advance APR to compensate for the lost income.
You'll still need to pay the cash advance APR even if you paid your balance before the monthly due date.
Penalty APR
If you missed a credit card payment, your credit provider could charge you a Penalty APR, which can go as high as 30% for at least six months.
If your credit provider did charge you a Penalty APR, you need to make consecutive on-time payments for six months to get rid of this APR under the CARD Act of 2009.
Fixed vs. variable APR
Besides the types of APRs above, which differ in terms of the transactions you make with your credit card, APRs can also be fixed or variable. If you want a stable APR every billing cycle, fixed APRs are for you. However, a variable APR can also lower your credit card interest in the right conditions.
Fixed APR credit cards have APRs that stay the same from when you get your credit card. If your credit provider wants to change the APR, the law requires them to notify you in advance to give you time to react accordingly.
Variable APR credit cards, on the other hand, have annual interest rates that fluctuate with different economic factors and company policies. Some issuers limit how far up or down it can fluctuate.
The type of credit card APR you choose depends on your personal preference and risk tolerance. Fixed-rate APR can be a good choice since you know what you are getting, and it is predictable. However, variable APR is unstable and fluctuating, which can potentially work in your favor.
How to lower your APR
The APR your credit card issuer or bank approves you for largely depends on your credit score. So, if it's your first credit card and you have no credit history, you'll likely have no choice but to apply for a credit card with a modest to high APR and use it to build your credit score. 
To build your credit score and lower your APR, keep three rules in mind:
Never max out your credit card

(aim to use only 30% or less of your total credit).

Always make sure to settle your balance before the due date.
Avoid applying for multiple credit cards at the same time.
Do this consistently, and you'll hopefully improve your credit score.
Once your credit score is good enough (670-739), you can either get a card with better rates or negotiate with your credit provider to lower your current APR.
Now that you can answer "What is APR on a credit card?", consider taking the next steps to lower your APR while building good credit.
FAQs about what is APR on a credit card
Still have credit card APR questions? We've got you covered.
What is a good APR rate for a credit card?
The average credit card APR is around 19.42%, so anything lower than that is  a good APR.³
Will I pay APR if I pay on time?
You won't need to pay Purchase APR if you settle your balance before your monthly due date. However, if you used your credit card to withdraw cash, you must pay the Cash Advance APR even if you paid your balance in full and on time.
What is the difference between the APR and interest rate?
The interest rate is only the cost of a loan, which does not include the different associated fees.
APR, on the other hand, is the "true" cost of the loan, which includes interest and additional associated fees.
Is it better to have a higher or lower APR on a credit card?
A credit card's APR is the interest and other fees you pay your credit provider. The higher the APR, the higher the interest you pay, so it is better to have a lower APR on a credit card.