Third-party brands and companies are mentioned for informational purposes only. Chime does not sponsor, endorse, or partner with any of these brands or companies, and they do not sponsor or endorse Chime.
Whether you want to pay off your debt quicker or work toward a savings goal, side hustles can a be a reliable way to make extra money – just ask the 40% of Americans that currently have one!¹ 
While there's no shortage of ways to make money on the side, the best side hustles capitalize on your existing skills and work with your schedule. 
Below, we cover both easy side hustles and side hustles that require more time and effort upfront (for a potentially larger payoff). Use our list as a starting point to explore side hustles that speak to your goals, schedules, and interests.
Freelance side hustles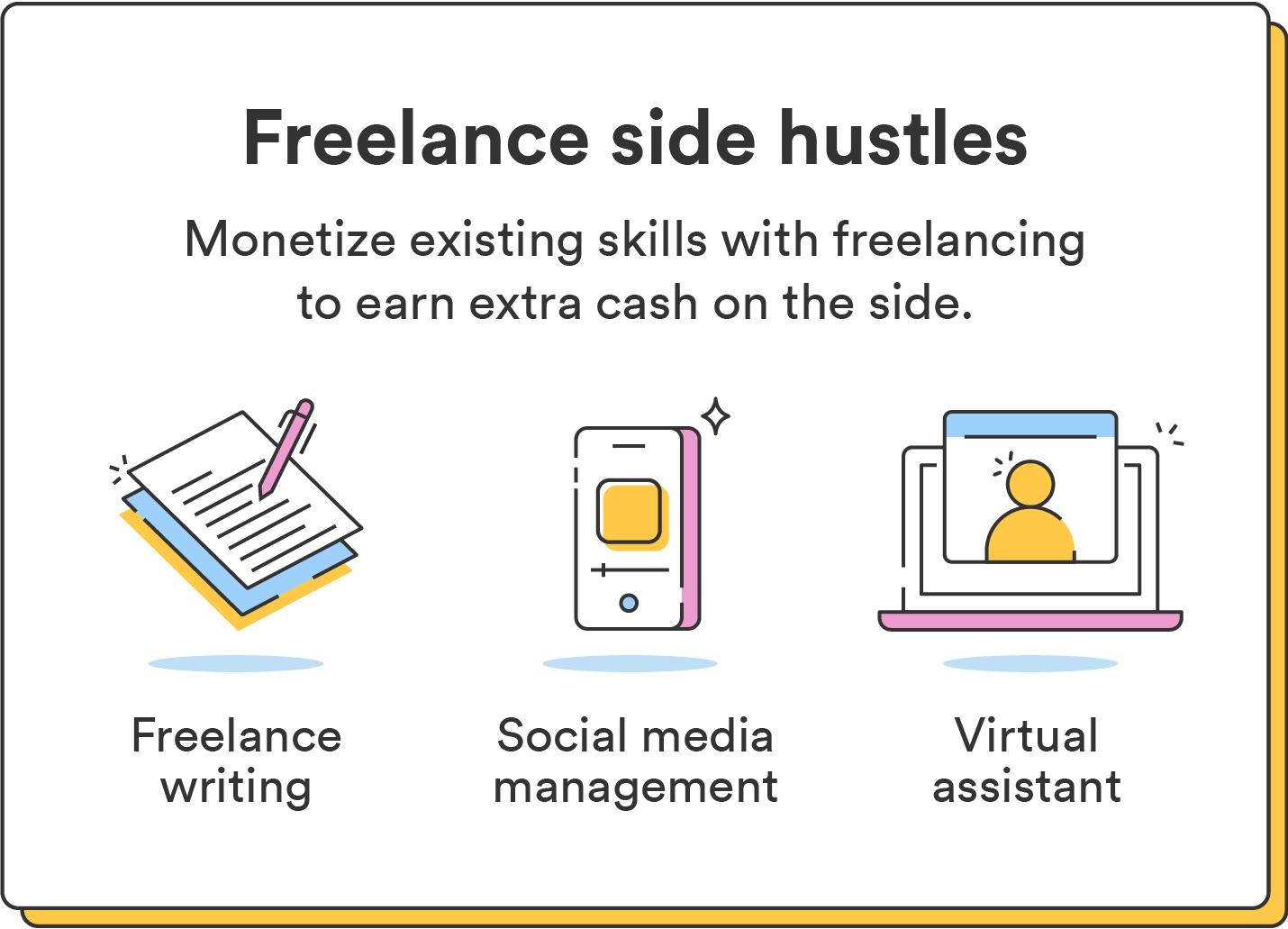 1. Become a freelance writer
Average earnings: $21/hour for beginners
If you enjoy writing, freelance writing is a side hustle idea that can take many different forms, depending on your skills and interests. You can start by exploring niches, like technology, finance, business, or lifestyle. Or, you can choose a particular content format, like long-form blog posts, social media captions, product descriptions, or short SEO articles.
You don't need formal credentials to land freelance writing jobs – a portfolio of work and some experience will help you land higher-paying clients. Even if you don't have formal experience, writing relevant samples can help showcase your skills.
You can find freelance writing jobs on platforms like Upwork or ProBlogger or look for and network with potential clients on LinkedIn. How much you can earn depends on the size of the project (say, a single article or a month's worth of content) and the client's budget. While the average hourly pay is around $21 per hour,² experienced freelance writers can charge upward of $65 an hour.³
2. Offer social media services to local businesses
Average earnings: $25–$100/hour
Social media has become integral to everyday life, especially as a marketing tool for businesses. And as important as social media may be to a business's marketing efforts, many don't have the resources or skill set to implement it. That's where social media management comes in.
As a social media manager, you may offer services like content creation, managing social media accounts, analyzing metrics, and engaging with followers. While plenty of full-time social media positions are available, landing just one or two clients on the side can make a great side hustle.
Your earning potential can vary depending on the type of client you go after and the size of their social media accounts. The average hourly rate for a social media manager is around $25 per hour, and experienced freelancers may charge upwards of $100 per hour.4
3. Offer graphic design services
Average earnings: $30/hour
Many businesses need quality graphic designs for anything from corporate branding assets to images for blog posts and social media content. If you're just starting, you can build up your portfolio by taking on small projects for friends or local businesses – or creating designs for your social media accounts or blog. You can also take online courses or tutorials to improve your skills and knowledge.
There are many outlets to find work as a freelance graphic designer, like the popular platform 99designs or standard freelance platforms like Upwork and Fiverr. Social media can also help showcase your work and attract potential clients.
The average freelance graphic designer pulls in around $30 an hour for their services, but once you get some steady clients, you can consider charging per project or even setting up monthly retainers.5
4. Become a ghostwriter
Average earnings: $25+/hour
If you have excellent writing skills but don't necessarily want the recognition, ghostwriting is a side hustle idea to consider. Ghostwriters write books, articles, speeches, social media posts, and more. They typically earn more in exchange for not having a byline.
Think about different niches and subject categories you might be interested in, such as medical, academic, business, or even political. While you won't be using your name as a ghostwriter, you'll want to have a portfolio of work with your byline attached to showcase your skills and experience. You can market yourself on LinkedIn or online job boards like Upwork.
Ghostwriters earn $25 an hour on average, but rates can vary widely depending on your qualifications and project scope and complexity.6 As you gain more experience and build your portfolio, you can increase your rates and attract high-paying clients.
5. Offer copyediting services
Average earnings: $30–$100/hour
Do you have a sharp eye for detail and enjoy the written word? Copyeditors are always in demand to review all forms of written content to ensure it's grammatically correct, well-organized, and easy to read.
You can use online job boards like Upwork and ProBlogger to find copyediting jobs. The average pay for a freelance copyeditor is around $30 per hour, but experienced copyeditors can pull in $50–$100 per hour.7 Copyediting can be a lucrative and rewarding side hustle with dedication and consistency – though it may take time to build a client base and reputation.
6. Become a virtual assistant
Average earnings: $21/hour
If you have administrative skills, consider putting them to work as a virtual assistant. Virtual assistants handle digital tasks for individuals or businesses like appointment management and scheduling, bookkeeping, data entry, travel booking, and more.
As a virtual assistant, you can work from home, choose your clients, and manage your workload accordingly. To find gigs, you can use apps like TaskRabbit or Upwork and spread the word in your network or on career networking sites like LinkedIn.
You'll also need to decide on your rate structure, which could be hourly or project-based. The national average hourly rate virtual assistants earn is $21/hour, but how much you can earn depends on your location, skill level, and experience.8
Online side hustles

7. Start a YouTube channel
Average earnings: $2,400 to $4,000 per month with 100K subscribers 
YouTube sees close to 95 billion users every month, so it's no wonder starting a YouTube channel is a popular side hustle for many content creators.9
To monetize a YouTube channel, you have to apply to become a YouTube Partner. To be eligible, you'll need at least 1,000 subscribers with 4,000 hours of watched videos per year or 1,000 subscribers with 10 million public Shorts views in the last 90 days.10 With acceptance, you can monetize your channel in several ways. 
The most common way to monetize a YouTube channel is through paid ads that play before or after your videos. You can also earn money through sponsorships, merchandise sales, or by promoting affiliate products. 
According to CreditDonkey, a recent study revealed that YouTube creators with 100,000 subscribers and who share two new videos per week could make around $2,400 to $4,000 per month in ad revenue.11 YouTube can be fruitful if you consistently share helpful content and gain a decent following. 
Chime tip: Check out YouTube's support page for tips on establishing and growing your audience.
8. Sell stock photos
Average earnings: $100–$500+/month12
Stock photography refers to images that can be licensed for free online or licensing them to companies, publishers, or individuals to use in their projects and marketing materials. So, selling stock photography could be a viable side hustle idea if you have photography skills.
You can price and post your stock photos on photo sites like Shutterstock, Getty Images, and iStock and earn a portion of the sale anytime someone downloads your photo. 
How much you can earn depends on your skills, the demand for your subject matter, and how many downloads your photos get a month. Most stock photographers earn around $0.10–$10 for every download. Consistent posting and recurring photo downloads are key. Building your portfolio to earn a significant amount each month will take time and effort, but you could earn $100–$500 per month on average.12
Chime tip: While there's a high demand for stock photos, the competition is high. Focus on a certain niche and photography style that can help you appeal to more specific audiences.
9. Publish e-books
If you have a penchant for writing, publishing e-books is a side hustle idea to consider. Whether you want to write creative short stories or technical "how-to" explainers, it's easy to self-publish e-books on platforms like Amazon's Kindle Direct Publishing or Barnes & Noble Press. 
You can monetize self-published e-books by earning royalties whenever someone buys or borrows your book. Your earning potential will vary depending on the quality of your book, the demand for the genre or niche, and your marketing efforts. 
That said, Amazon offers two royalty programs: 70% and 35%.13 To qualify for the 70% program and earn 70% of the royalties on your sales, your e-book must be priced at least $2.99 and be copyrighted. 
To earn a decent side income from publishing e-books, you may need at least 40–50 downloads per month. If you price your ebook at $10 and sell 50 a month, you could passively earn $175 per month on the 35% royalty program or $350 on the 70% royalty program.
10. Become a transcriber
Average earnings: $20.95/hour
If you're wondering how to make extra money from home, consider becoming a transcriber. A transcriber converts audio or video recordings into written documents, making for a flexible side hustle that allows you to set your own hours. 
You'll need transcription software to get started, although depending on who you're working with, they might provide it to you. You'll also need a working computer. You can find clients on sites like TranscribeMe, GoTranscript, and Rev. 
The average earnings for a freelance transcriber is around $20.95 an hour.14 If you worked one 8-hour day per week, you could pocket $670.40 in a single month.
11. Become a virtual bookkeeper
Average earnings: $10–$25+/hour 
Virtual bookkeepers manage various accounting tasks from data sheet entry and balance sheet preparation to organizing financial records. This is a great side hustle opportunity if you're tech- and finance-savvy and want to work from the comfort of your home. 
Companies of all sizes hire virtual bookkeepers, including small businesses, startups, and large corporations. You can find opportunities on freelance platforms like Upwork or sites like LinkedIn and Craigslist. To increase your chances of success, consider doing basic bookkeeping training and getting relevant certifications, such as a QuickBooks certification.  
The average hourly rate for an entry-level bookkeeper is around $10 per hour, and it's likely easier to land these types of jobs even without much experience – having basic data entry skills is likely enough.15 Higher-earning bookkeepers are typically more skilled in accounting and make closer to $25 per hour.
12. Start a dropshipping business
Average earnings: Varies by product and pricing
Dropshipping is a way of starting an online store without keeping inventory. Instead, you partner with a supplier who ships products directly to your customers, so you don't need to handle the products yourself. With dropshipping, you don't have to worry about stocking the products, managing inventory, or fulfilling orders. 
To get started, choose a niche and the types of products you want to sell. You should confirm your idea can be profitable by researching market demand for different products. Then, choose a vendor to supply the products you want to sell. 
You should plan how you'll market your store and promote your products. While pricing partly influences your earning potential, much of your success depends on how many people you can reach online.
Chime tip: Be sure to factor in any overhead costs that may require a monthly payment, like hosting your website or running online ads.
13. Create an online course
Average earnings: $100–$1,000+/month
Do you have expertise in a particular area you want to share with others? The e-learning market is expected to reach close to $400 billion by 2026, making online course creation a viable and in-demand side hustle idea.16
Once you've researched and chosen a topic, you can create your course on platforms like Udemy, Skillshare, and Teachable. These platforms let you upload your course materials, set your pricing, and manage your students. 
How much you can make selling online courses depends on your ability to drive traffic to your course. You'll need a marketing plan, whether through an email newsletter, social media, paid ads, etc. The price of your course also determines your earning potential. Courses may be priced as low as $20 to as high as $100+. 
Let's say you charge $20 for your course. If 1,000 people see your course each month and 20 of them purchase it, that 2% conversion rate translates to $400 per month. The more conversions you capture, the higher your earnings will be, which is why marketing is crucial.
14. Try affiliate marketing
Affiliate marketing means earning a commission by promoting other people's or company's products or services. By promoting a product or service on your website, social media platform, blog, or other channel, affiliate marketing allows you to earn a commission on each sale. 
As a side hustle, that could mean finding products you believe in to promote on whatever channel you choose or already have a following on. You'll need a strong online presence to be successful with affiliate marketing, so creating valuable content related to your affiliate products is vital to this side hustle. 
Affiliate marketing earnings can vary widely depending on how much effort you're willing to put in. You could earn anywhere from a few hundred dollars a month to thousands or even millions depending on your niche and reputation online.17
15. Create and sell digital products
Average earnings: Varies by product
Digital products include anything from ebooks, courses, and templates to printables, calendars, and craft patterns. And since they don't require a brick-and-mortar location or physical inventory, there's also the potential to make a higher profit if your products succeed. 
You should research the market demand for your product and consider the competition. From there, you can create and sell your product on platforms like Etsy and Amazon or create your own digital storefront on platforms like Shopify. 
Suppose you don't already have an online presence that gets traffic. In that case, you'll want to consider how to market your products, whether through social media, email marketing, or collaboration with other niche creators. 
The potential earnings can vary depending on the product and the demand, but you could earn anywhere from a few hundred dollars a month to a few thousand.
Chime tip: If you need a loose baseline for how to price your products, think about your ideal hourly rate for the work you're putting in.
16. Develop a mobile app
Average earnings: $18–$39/hour
If you have coding or programming skills, consider putting them to work in the growing mobile app industry by developing apps in your spare time.  
There are a variety of ways to generate income through app development. You can take on freelance projects developing apps for other businesses or create and develop your apps to sell on app stores. 
Mobile app developers typically earn around $18–$39 per hour on average.18 Choose a profitable niche such as finance, health care, or IT and logistics to increase your earning potential.
17. Become a user tester for apps and websites
Average earnings: $10+/test 
Businesses and software developers always look for feedback on websites and apps to ensure they're fully functional before going live. As a user tester, you can get paid to use apps or websites and provide feedback to help developers improve their software. 
Becoming a website or app tester is simple and requires no previous skills or knowledge. You can sign up on platforms like UserTesting and Userlytics to connect with developers seeking user testers. 
The average pay for a website or app tester is around $10 per test, but the pay per test can vary between $3 and $60.19 This can become a lucrative side hustle if you qualify for enough tests in a given time frame and can build up a consistent stream of work.
18. Start a podcast
Average earnings: $300–$500/episode (for episodes with 10,000 downloads)  
If you're passionate about a particular topic or just want to use your voice to share your ideas with others, podcasting can be a fun and lucrative side hustle option. While starting a podcast doesn't take much, earning money will require building up a sizeable following over time. If you enjoy the podcasting process, it could be a fun project for your spare time that could pay off down the line. 
You can earn an income from podcasting in a few different ways. One of the most common is through sponsorships and advertisements, where companies pay for an ad to air on your show. You may need to spend time growing your listener base before you can find sponsorships. 
How much you earn depends largely on how many listeners download your episodes. You likely won't bring much money in when you're just starting, but with the right marketing strategies and consistently publishing episodes, you can start earning $300–$500 for episodes with 10,000 downloads.20
19. Start a blog
Average earnings: $100/month for the first 6-12 months
If you enjoy writing and sharing your thoughts and ideas with others, starting a blog could be a side hustle idea. The basic idea is to create a website where you regularly publish posts about a particular niche that interests you. Then, as your blog grows in popularity, you can earn money through advertising, sponsorships, affiliate marketing, and other monetization strategies.
The amount of money you can earn from blogging varies widely, depending on your niche, the size of your audience, and your monetization strategy. Some bloggers earn just a few hundred dollars a month, while others make six or even seven figures yearly. 
As a beginner, it may take some time to build up your audience and earn significant income, but with consistency, blogging can be a lucrative side hustle. You could expect to earn $100 per month in your first six to 12 months.21
20. Get paid to take surveys
Average earnings: $50–$250/month
Taking surveys or joining a focus group is a simple way to make extra cash. Market research companies need consumer feedback to improve their products and services, and they pay individuals to take surveys that gather this feedback. 
Start by signing up with a reputable survey company like Survey Junkie, Swagbucks, or Pinecone Research. Paid surveys are usually very specific, and your profile will be reviewed to see whether you qualify for topics. Fill out your profile thoroughly to qualify for surveys related to your interests. 
Surveys typically take between 5 and 30 minutes to complete, and you can take them on your own schedule. You'll usually be paid per survey completed, and earnings typically range between $0.25 to $5.00.22 Given this, you'll need to complete a lot of surveys per day to make more than a few bucks a day. That said, you'd only need to earn $3.33 daily to pocket an extra $100 a month.
Side gigs and services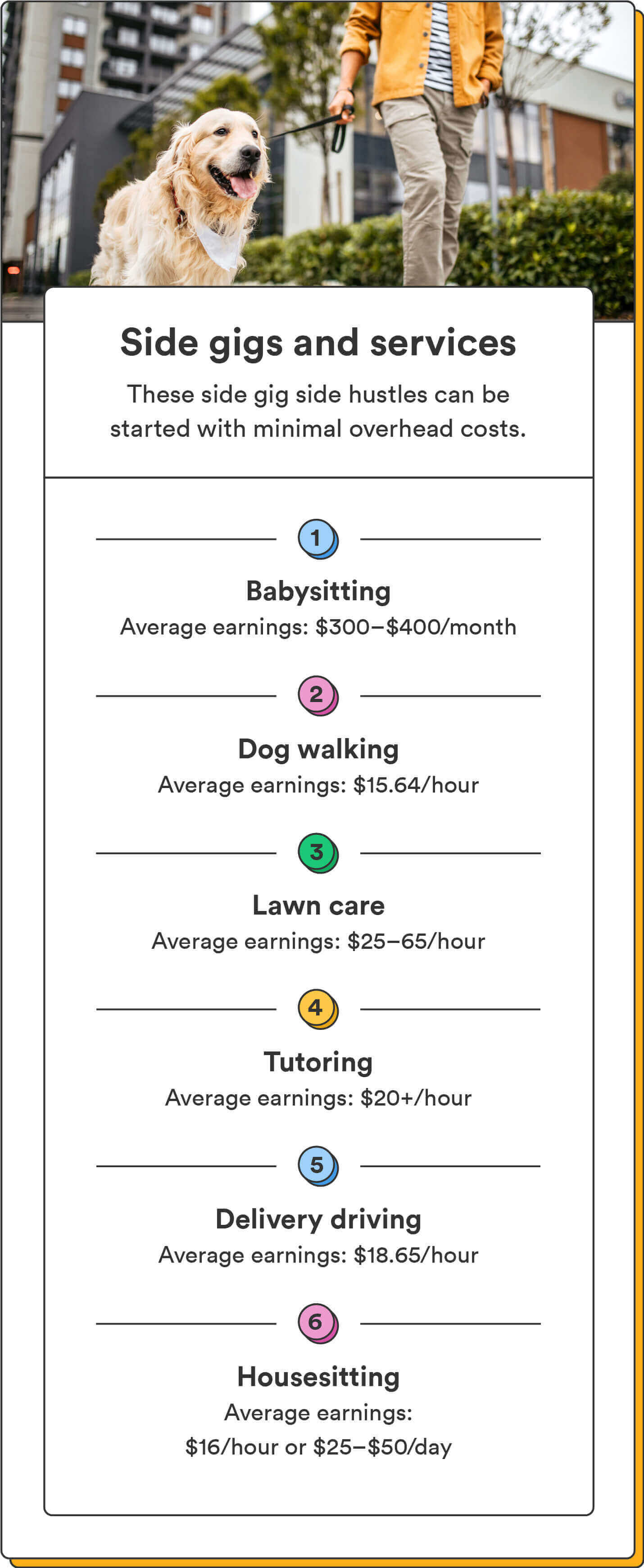 21. Babysit on weekends
Average earnings: $300–$400/month
If you enjoy children, babysitting is a low-cost side hustle idea that can be both enjoyable and profitable. With an increased demand for child care, average earnings are on the rise – the average babysitting rates in the U.S. increased by 9.7% in the last year, even outpacing inflation.23
There are plenty of families with young children who need babysitters. You can start by letting friends and family know you're available for child care to find potential gigs. You can also use sites like Care.com or Sittercity.com to connect with families actively looking for child care.
The amount you can earn from babysitting depends on how many families you work with, the hours you work, and your hourly rate. That said, the national average babysitting rates are $22.68/hour for one child and $25.37/hour for two children.23 Even working for just one family, you could potentially earn $300–$400 a month if you babysat for four hours one day a week.
22. Become a dog walker
Average earnings: $15.64/hour
If you love dogs, why not make extra cash as a dog walker? A dog walking service requires no upfront cost, and you can flexibly work it into your schedule.
To get started, you can share your dog-walking services on social media or post flyers around your neighborhood. You can also find gigs using sites like Rover or Wag! (just keep in mind that these sites take a cut of your pay).
You'll also need to decide on your rate and whether you'll charge per walk or per hour. The average hourly pay for dog walkers is $15.64/hour, but earnings vary greatly by location.24 You can often earn more if you live in a densely populated urban area with higher demand. You can also increase your earnings over time by adding services like grooming or overnight boarding.
23. Rent out your room
Average earnings: Varies significantly by location 
This side hustle idea is a potential moneymaker if you've got a spare room you aren't using. You also get to set your nightly rate and enjoy the flexibility of choosing which dates your room is available to rent.
You can list your room on rental sites like Airbnb or Vrbo to get started. You'll need to take photos of your space to feature on your listing and carefully consider any ground rules you'll set. Rules may include smoking restrictions, whether or not pets are allowed, and what areas guests can access.
How much you can earn depends on your location, the size of your space, and local demand in your area. Review the local rental market in your area to get a feel for what others are charging. If the average price is lower than what you hope to make, don't pursue this side hustle idea.
Chime Tip: Take time to check the local laws and regulations in your city to make sure you're permitted to rent out your room or home through a vacation rental website.
24. Start tutoring
Average earnings: $20+/hour
Tutoring is a terrific side hustle opportunity if you have a well-rounded understanding of a particular academic subject matter and solid communication skills. Tutors are always in demand for students of all ages covering everything from grade-level math to college-level chemistry.
To get started, you can market your skills or sign up on a site like Chegg.com to find in-person or online tutoring opportunities in various subjects.
The average hourly pay for tutors is $21.55, but how much you can make depends on your chosen subject matter, your experience level, and local demand.25 You can consider specializing in high-demand subjects such as STEM or standardized test preparation to increase your earning potential.
25. Become a delivery driver
Average earnings: $18.65/hour
To make money with your car, consider becoming a delivery driver. Food delivery services like Uber Eats, Grubhub, and Door Dash are all popular platforms where you can find steady food delivery gigs.
When you sign up, you'll likely have to provide proof of car insurance and have a clean driving record. In some cases, you'll also have to complete a background check.
How much you can earn as a delivery driver depends on local demand, how many hours you want to work, and how far you're willing to travel. That said, the average hourly pay for delivery drivers is $18.65 per hour.26
26. Rent your parking space
Average earnings: $150-$300 per month in major U.S. cities
If you've got an empty parking space or driveway on your property, one lesser-known side hustle idea is to rent it out for cash. Especially if you live in a densely populated city or near popular venues, convention centers, or sports arenas, it's possible to charge a higher rate for a parking space in a busy metropolitan area.
You can list your parking space on platforms like JustPark or SpotHero or post an ad on Craigslist or Facebook Marketplace. How much you can earn depends on location and local demand. According to the parking spot rental platform Spacer, renters earn around $200 per month for renting out their driveway.27
If you live in a busy city or near popular venues and central locations, renting out an unused parking space could help you pocket some extra cash each month.
Chime tip: Be sure to check the local laws and regulations in your city to ensure you're permitted to rent out your parking space.
27. Rent your bike
Average earnings: Varies by location
Do you have a bike gathering dust in your garage? Consider renting it out to people who need it. Platforms like Spinlister, Rent a Bike, and Bike Rental Manager connect bike owners with people looking to rent a bike, like tourists visiting a new city.
Most peer-to-peer bike rental platforms will also handle payments, insuring your bike, and liability requirements. Once you sign up on one of these platforms, simply create your bike listing with photos, a description, and your price.
How much you can earn renting your bike depends on location, the type of bike you have, and how many days per month you rent it out, but you could earn anywhere from $5 to $20 per hour.  Just consider: If you set your rate at $15 per hour and rented your bike out for four hours every Saturday for a month, you'd pocket $240.
28. Sell handmade goods on Etsy
Average earnings: $100/month
If you've got artistic skills, you can try your hand at selling goods on Etsy. Etsy is an online marketplace of many unique handmade items, and sellers can set up a shop, list items, and manage sales on the platform.
Sellers on Etsy can make money by selling various handmade goods, such as jewelry, clothing, home decor, art, and more. Success on Etsy mainly depends on the type and quality of your products and how well you market your shop, but your overall earning potential depends on the amount of time and effort you put into your shop.
While there are uber-successful Etsy sellers who have made upward of $9,000 per month, those sellers tend to approach their Etsy shop as a full-time endeavor. On the other hand, 65% of sellers make around $100 per month.28  This benchmark is more realistic for a passive seller turning to Etsy as a side hustle. Ultimately, the sky is the limit depending on how much effort you decide to devote to your shop.
29. Flip furniture
Average earnings: $100–$500+/month 
If you've got a creative design eye, flipping furniture could be a lucrative side hustle. It involves sourcing old furniture from thrift stores, online marketplaces, garage sales, or flea markets and reselling it for a higher price.
You'll need to devote some time, effort, and creativity to sprucing up your furniture finds – that may involve reupholstering, staining, painting, or other cosmetic upgrades. You'll need to factor in the cost of supplies and tools used to upgrade your furniture and choose a final selling price that ensures you earn a profit. Your earnings will also depend on how fast and often you flip furniture items. Generally, though a furniture flipper makes between $100 to $500 per month.29
30. Offer lawn care services
Average earnings: $25–65/hour 
There are plenty of people who have no interest in doing their own lawn care, so offering lawn care services is an easy way to earn some extra cash. Whether mowing lawns or doing other yard work like raking, trimming hedges, or leaf-blowing – lawn care services are the perfect side hustle if you enjoy working outside.
You can check out local landscaping companies for seasonal or part-time work or advertise your services on sites like Thumbtack or TaskEasy.
The average pay for lawn mowing services is between $25 and $65 per hour, so if you mow three lawns for two hours each, you could earn $150 on a weekend on the low end and $390 on the high end.30
31. Participate in clinical trials
Average earnings: Varies by study
Participating in clinical trials involves testing new drugs or medical treatments to determine their effectiveness and potential side effects. This side hustle is for you if you want to contribute to medical research and get paid at the same time, but beware that you should consider your overall health and the potential side effects before signing up.
You can find clinical trials to participate in on clinical trial recruitment websites or by contacting local research centers in your area to inquire about any open studies. Most clinical trials have specific qualifications you'll have to meet to be eligible, and you'll likely undergo a screening process before participating.
How much you can earn depends on the study and its length, but many trials compensate you between $50–$300 per day. Studies can pay anywhere from $100 to several thousand for highly specialized studies.
32. Become a tour guide
Average earnings: $14–$20/hour ($25+/hour for experienced guides) 
Offering your knowledge of a particular area can be a fun and rewarding side hustle idea. Whether you're a history buff or just want to brag about your hometown, a tour guide side hustle is perfect for extroverts looking for a fairly simple way to make some extra cash.
Start by researching tour companies and attractions in your area to see what's in demand in your city. If you don't want to apply to an existing company, you could also offer tour guide services as a freelancer – just be prepared to plan how you'll market yourself to land jobs.
The average pay for a tour guide is somewhere between $14 and $20 per hour, and your earning potential will depend on your location, experience, the types of tours you give, and how many hours you work.31 If you worked four hours on Saturdays and Sundays every weekend, earning $15 per hour, you'd pocket $480 by the end of the month.
33. Offer housesitting services
Average earnings: $16/hour or $25–$50/day 
If you enjoy staying in different places, consider offering housesitting services. As a housesitter, you help maintain people's property while they're away. This could include caring for plants, watching pets, collecting mail, or tidying the home.
The average pay for housesitting is $16 an hour, but this can vary depending on demand and location.32 It's also a matter of finding the right clients – some clients pay by the day, say, $25 per day. Other clients may also want you to stay overnight, which could increase your pay.
You can create a professional profile on sites like TrustedHousesitters, HouseSitter.com, and MindMyHouse to find housesitting jobs. To stand out, you'll want to thoroughly describe your experience, skills, services, and references. People aren't quick to hand their keys over to strangers, so take the time to present yourself professionally.
34. Offer maintenance services
Average earnings: $60–$75+/hour
A side hustle as a maintenance person involves performing general home repair and maintenance tasks. You can command a higher rate for more specialized services since fewer people know how to do them – seriously, you'd be surprised how many people need help with things that come easily to you, like properly mounting a TV or installing a ceiling fan.
Once you've chosen your services, you can start finding clients. You can list your services on sites like Craigslist, TaskRabbit, Angie's List, and Nextdoor, where you'll find people actively seeking handyperson services. You can also hang flyers around local hardware stores and spread the word to family and friends.
The average pay for a handyperson is $60–$75 per hour, but this varies depending on your location, local demand, and how specialized a given project is.33 Plumbing work, for example, typically comes with a higher rate than simpler tasks like unclogging a drain.
Chime tip: Check your state's laws regarding any license and liability requirements, as some jobs may require certifications or insurance.
35. Become a secret shopper
Average earnings: $24/hour
If shopping is something you already enjoy, why not check it out as a paid gig? Secret shoppers anonymously evaluate the shopping experience at stores and report on details like cleanliness, product availability, and quality of staff.
You can find secret shopper gigs online and get matched with assignments from different companies based on your preferences and location. Once assigned a job, you'll visit the assigned store, make observations, and provide detailed feedback about the experience.
Payment for secret shopper gigs varies based on experience and location, but the average hourly pay is $24 an hour.34 If you can find a steady stream of secret shopping assignments, this fun side hustle idea can bring in a decent side income.
36. Offer housecleaning services
Average earnings: $13–$20+/hour
Cleaning houses is an ideal side hustle if you enjoy cleaning and have a keen eye for detail. This type of side hustle is flexible and can be done on your own time, making it a great side hustle if you have other commitments or responsibilities to balance.
You can start offering housecleaning services by posting on sites like Thumbtack, Angi, or Nextdoor. Word-of-mouth can help you find clients since people want to hire a housecleaner they can trust. You'll need to determine your availability each week and establish a cleaning schedule that works for you and your clients.
How much you can make as a housecleaner depends on your location, the specific service you offer, and your quality of service. The average hourly rate for housecleaning services is $13.46, but that may be on the lower end of your earning potential.35 Once you establish client relationships, you may be able to raise your rate for a regular cleaning schedule.
Chime tip: Factor in the cost of cleaning supplies and transportation to and from clients' homes, which can impact your overall earnings.
Coaching and consulting side hustles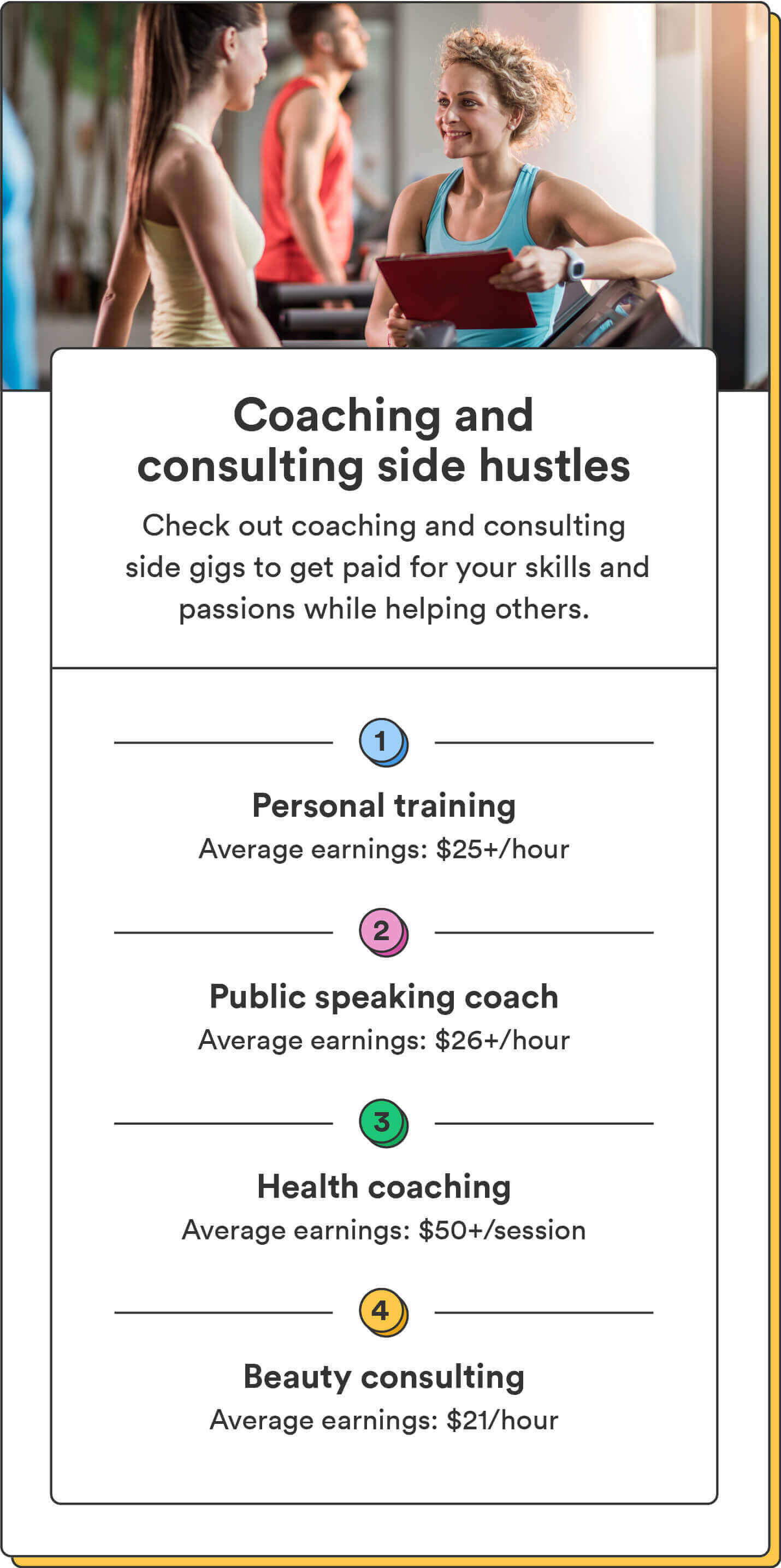 37. Become a personal trainer
Average earnings: $25+/hour
Personal training can take many forms depending on who you want to help and your preferred training method. You may choose something sports-specific, offer only weight training programs, or focus on corrective programs for mobility and rehab. Do some research to see what's in demand in your area. 
To earn money as a personal trainer, you'll likely need to get certified by organizations like the National Academy of Sports Medicine or the American Council on Exercise. While not technically required, this will boost your credibility with potential clients. You can launch a training business and market yourself on social media or explore partnerships at local fitness studios and gyms. 
Personal trainers earn around $25 per hour on average, but as you build your experience and client base, you can command higher rates.36
38. Become a public speaking coach
Average earnings: $26+/hour 
Maybe you took a public speaking class in college or are an experienced public speaker. If you want to use your skills to help others, consider becoming a public speaking coach. 
You can start by creating a website to showcase your services and expertise. You can also network with local organizations and offer services to local schools, businesses, and community groups. Offering a free consultation can also be an effective way to attract potential clients and demonstrate your value.
The average hourly pay for a public speaking coach is $26, but you can earn far more if you gain experience in a particular niche and build your reputation over time.37
39. Become a health coach
Average earnings: $50+/session 
A health coach can work with clients in many different ways, from nutrition and diet to mental health and even sleep hygiene. But to build credibility with potential clients, you should have a strong background in health and wellness, whether through formal education or certifications—the National Society of Health Coaches and ACE Fitness are popular certifiers. 
To build up that clientele, you can market yourself online and on social media, which may appeal to you if you want to offer virtual coaching sessions or consultations. You can also offer services through local health and wellness companies or organizations, such as gyms, spas, or health food stores. 
As a beginner, you may start out earning around $50–$75 per session, but seasoned coaches may charge upwards of $300+.38 If you book weekly $50 sessions with a client who works with you for six months, that's $1,200 for the lower end of the pay range! 
40. Become a beauty consultant
Average earnings: $21/hour
Maybe you didn't pursue cosmetic school as your full-time career, but you can still put beauty skills to work as a freelance beauty consultant on the side. Beauty consultants provide personalized recommendations to clients based on their individual needs. Whether you focus on makeup, skin care, hair, or all three, it's a means to share your knowledge and passion while helping others. 
You'll need to market yourself to find clients, and you can start by creating a simple website or social media profile to showcase your skills and services. Social media tends to be important since clients want to see examples of your work on real people. 
Beauty consultants earn $21 per hour on average, but this varies depending on your services and rates.39 If you can build up a strong client base and establish yourself among your target audience, you can generate a nice side income after a few months of getting your practice up and running.
Tips on choosing a side hustle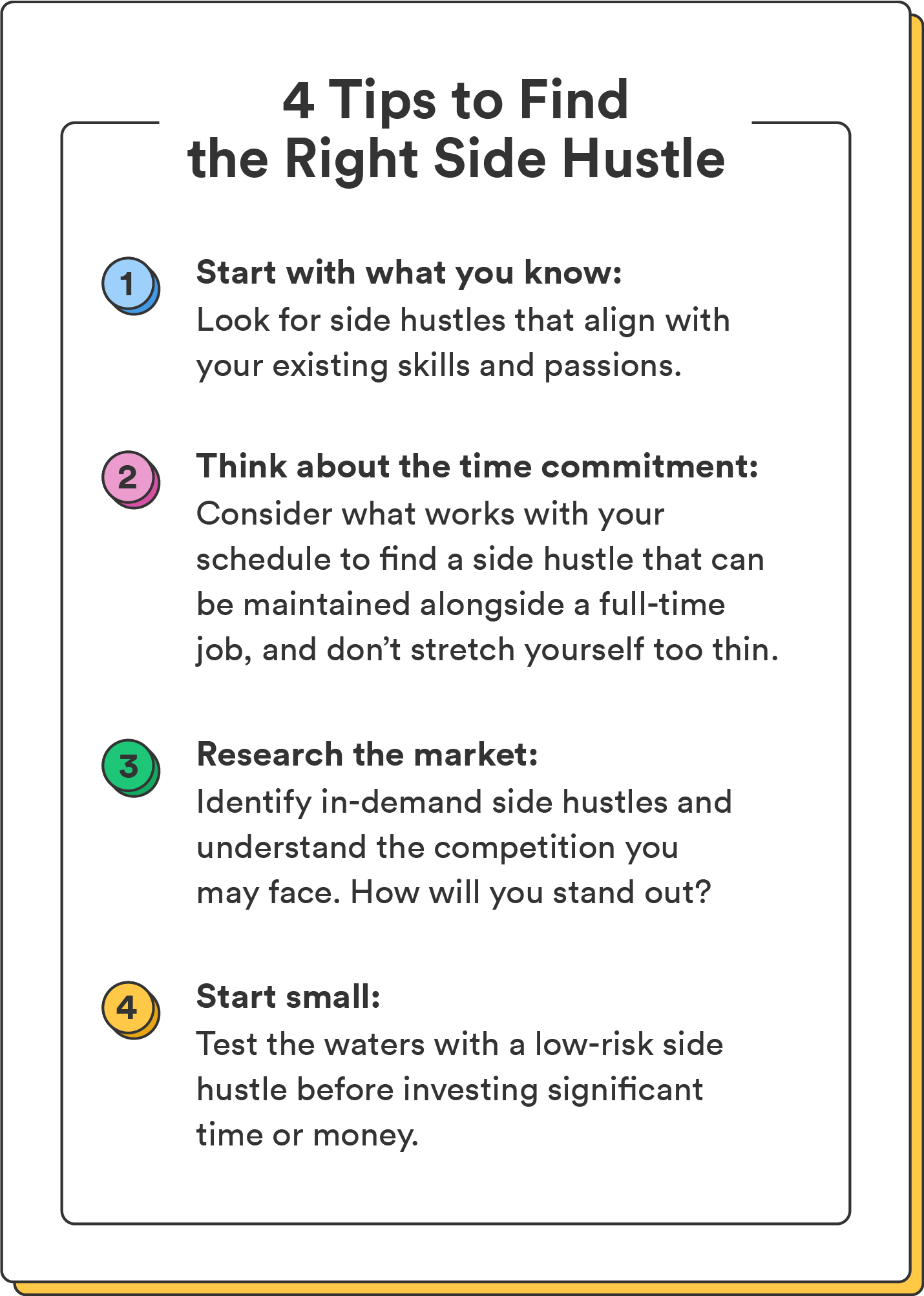 Choosing a side hustle can feel overwhelming with so many options to explore. The tips below can help you get started. 
Start with what you know:

Choose a side hustle that aligns with your strengths and interests to ensure you enjoy what you're doing and are more likely to succeed. 

Decide how much you want to earn:

Choose a side hustle that can provide the financial return you need, and consider the long-term earning potential of the opportunity. Alternatively, consider how long you need to work to meet your earning goal. 

Think about the time commitment:

Choose a side hustle you can manage alongside your existing job or other commitments. Be realistic about the available time and the demands of the side hustle you are considering.

Research the market:

Identify in-demand side hustles and understand the competition you may face. 

Start small:

Start with a low-risk side hustle that you don't have to invest much in upfront. This way, you can test the waters before committing your time and money. 

Leverage your network:

Utilize your network to jump-start your side hustle search and find opportunities you might not have considered. 

Stay open-minded:

Be open and experiment with different side hustles until you find the one that best suits your goals, schedule, and interests. 
Make money on your own time
Whether you just want to supplement your income, reach an important savings goal, or pay off debt, taking on a side hustle can help you reach your financial goals. Stay committed, manage your time wisely, and have fun with your new venture!
FAQs about side hustle ideas
Still have questions about the best side hustle ideas? Find answers below.
How can I make an extra $500 a month?
To make an extra $500 a month, consider side hustles such as freelance writing, pet-sitting, or driving for a ride-sharing service.
Can I start a side hustle with no money?
Yes, it's possible to start a side hustle with no money. You could offer services such as dog walking, freelance writing, or babysitting, which require minimal to no startup costs. 
Do I need to pay taxes on my side hustle income?
If your net earnings from a side hustle come to $400 or more, you'll need to pay taxes on that income.40 You'll want to keep track of your earnings and expenses and report them accurately when filing your taxes.40
How do I manage my time between my day job and my side hustle?
Creating a schedule and prioritizing tasks can help you manage your time between a day job and a side hustle. You may also need to set boundaries and communicate with your employer about your availability outside of work hours.