If you're one of the millions of Americans who find themselves out of work every year, remember you're not alone, and you can get through it.¹ The reality is that it takes most people more than eight weeks to find a new job after they're laid off.² 
Since unemployment benefits (sometimes called unemployment insurance) last for 12 to 26 weeks, job seekers have help to get back on their feet. Read on to learn how you can apply for unemployment benefits.
Who can apply for unemployment?
Anyone who legally held a job in the U.S. and recently lost it can apply for unemployment benefits in the state where they worked. But you'll likely only receive benefits if you lost the job through no fault of your own and you're actively searching for new work. That said, eligibility guidelines are different from state to state.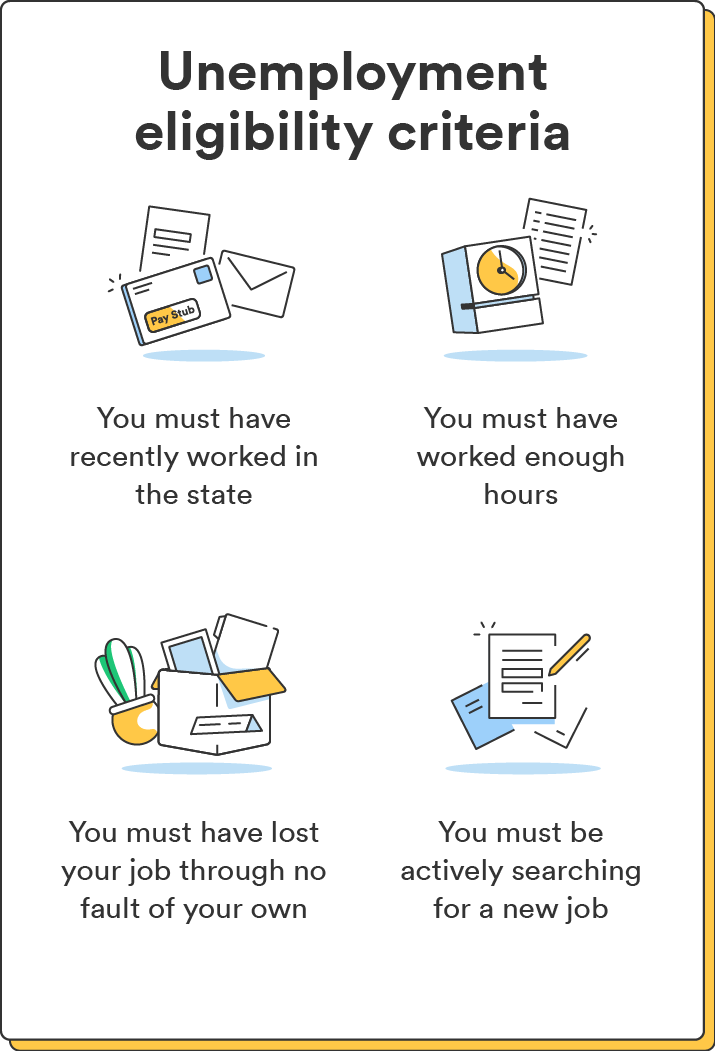 Here are a few criteria that you'll have to meet in most states:
You recently worked in the state:

To qualify for unemployment benefits, you have to have worked in the state where you're filing – usually for one to two years – unless you were serving in the military or working for the federal government. 

You worked enough hours:

You usually have to work between 500 and 700 hours during the base period (in most states, the base period includes the four most recent quarters in the last calendar year

³

) in the state where you're applying for unemployment before you qualify for benefits. 

You lost your job through no fault of your own:

This usually means you had to be laid off, quit for a covered reason like a hostile work environment or workers' rights violations, or were discharged from the military. You probably won't be eligible for unemployment benefits if you were fired for cause or were involved in a strike.

4
You are actively searching for a new job: You can only get unemployment or reemployment benefits if you register with your state's unemployment office and are looking for a new job. That means you also need to be legally and physically cleared for work.
What is the unemployment maximum by state?
Each U.S. state has different unemployment filing requirements and application processes. You'll find those guidelines below, along with details about the maximum weekly amount each state can pay for unemployment and how long you can receive funding.
The government may temporarily raise the maximum amount if unemployment rates increase. Your state could also extend the length of time you can collect benefits in cases like these. 
Also, read your state's qualification specifics to understand nuances like how much money you qualify for if you do or don't have dependents.
Sources for each state's maximum weekly benefit and term lengths can be found in disclosures 5 through 80.
What documents do you need to apply for unemployment benefits?
To apply for unemployment benefits, you need to have your Social Security number (SSN), driver's license number, mailing address, list of past employers, and usually your bank account's routing number. This information will help the government verify your identity, approve your unemployment application, and send payments on time.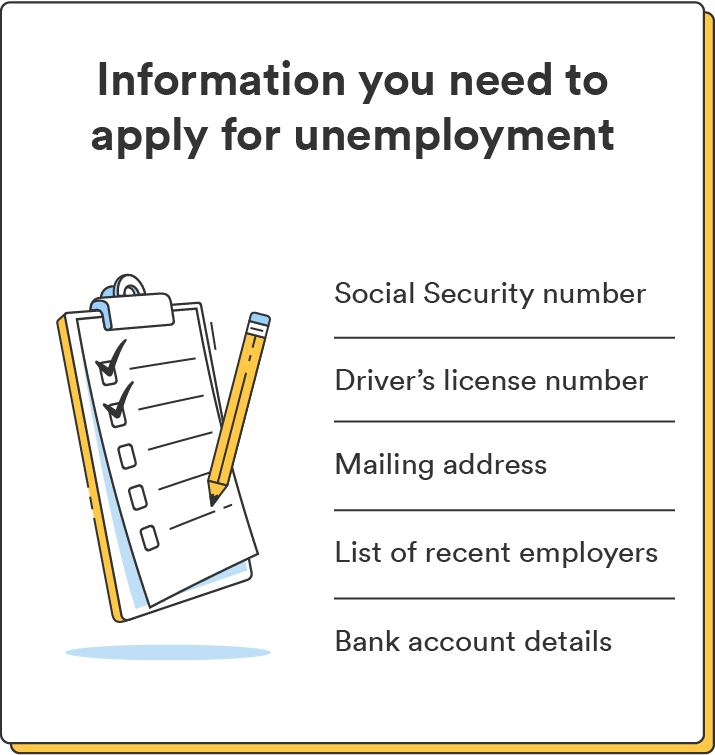 Have the following documents available to avoid submission delays:
Birth certificate

Social Security card

W-2(s) (from the last one to two years)

Pay stubs

Bank statements
How to file for unemployment in 5 steps
Filing for unemployment can seem overwhelming if you haven't done it before. Luckily, you can file online or over the phone in most cases. Processes vary by state, but in general, you can expect the unemployment filing process to include these steps: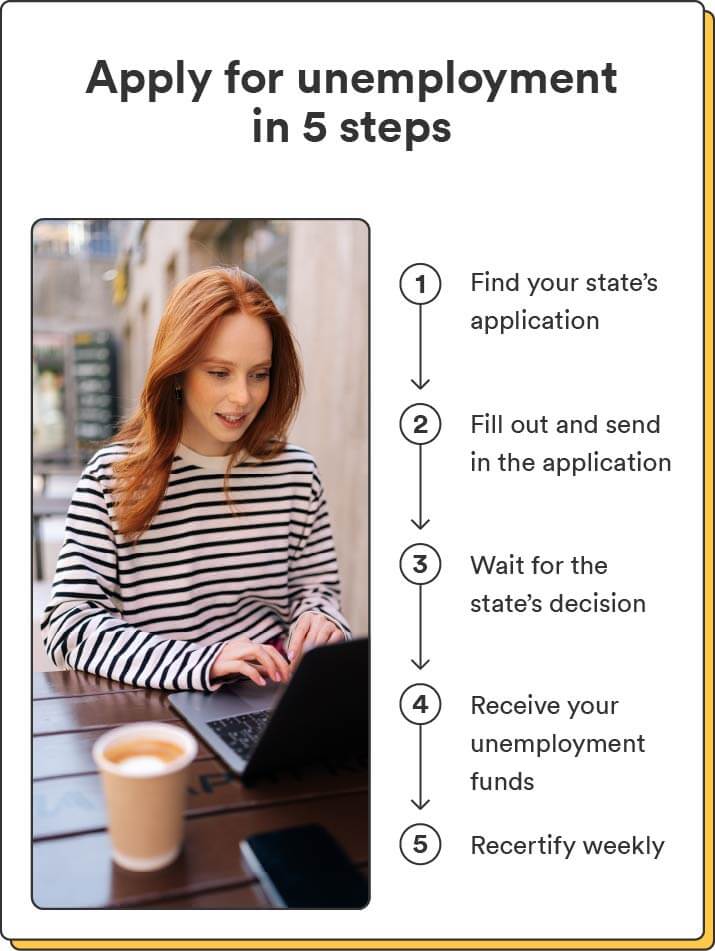 Step 1: Find your state's application
When you're ready to file for unemployment, visit your state's official unemployment website to find the application and state-specific guidelines. Or, you can open your state's link in the table above. 
Once you're on the official unemployment webpage, look for words like "Apply for benefits," "Apply online," "File a claim," "Unemployment benefits application," or similar wording to open the application portal. 
Step 2: Fill out and send in the application
Once you find the correct application, you can fill it out. Double-check your application and correct mistakes like misspellings and incorrect dates before submitting. 
During this step, enter some or all of the following details:
Identifying information,

like your full name, claimant ID, birth date, address, work authorization status, and Social Security number. 

Contact information,

like your phone number and email address. 

Qualifications,

like your education, work experience, training, licenses, and certifications. 

Work history,

including where you worked, your position, earned wages, and time worked. 

Job loss information,

like your reason for separation, current job if applicable, and plan to find a new job. 
Step 3: Wait for the state's decision
Some states will approve your unemployment application in a few days, while others take weeks. File as soon as you lose your job to avoid cash flow interruptions. You can look into other resources like renter's assistance, food banks, and nonprofit aid if you're waiting for approval, your benefits run out, or your application is denied. 
If you're approved,

the next step is to get an unemployment debit card to access funds. 

If you aren't approved,

you can look into alternative aid or submit an appeal to the relevant office in your state. 
Step 4: Receive your unemployment funds
Most states deposit money on unemployment debit cards instead of mailing out checks. They work just like any other bank card, making it easy to buy essentials at the store, pay your bills, and withdraw cash from ATMs. The only difference is that they're prepaid and don't connect to your bank account. 
Often, states that don't use prepaid unemployment cards will deposit the funds directly into your bank account. Some states offer both options. Either way, you'll receive funds weekly unless there's a delay, like a holiday or a missed unemployment certification.  
Step 5: Recertify weekly
Once you're approved and receive your unemployment card, all you have to do is recertify every one to two weeks. If you don't, the state may suspend your payments, and there might be legal consequences. 
Fortunately, recertifying is a simple process: 
Let the state know that you still haven't found work, usually through the state website portal. 

Show proof that you're looking for work – usually by submitting copies of applications, a job search log, or a list of hiring events you've gone to. 

Report income fluctuations from sources like freelance work or earnings from social media.
Keep your finances flexible while you're out of work
If you find yourself suddenly out of work, you may want to tighten your belt until your financial situation improves. Doing so will help ensure you can pay all of your bills on time and allow you to focus on finding a new job that suits your goals and needs. 
Read more to learn how to create a budget.
FAQs about unemployment
Still have questions about how unemployment works? Find answers below. 
Can I get unemployment if I'm still working? 
You can collect unemployment in many states if your employer reduces your hours to less than 30 per week. Remember, you won't qualify for benefits if you earn over a certain amount and your state enforces an earning cap. 
Also, you will only receive partial unemployment benefits if you still have a job. 
Can I get unemployment if I was given a severance package? 
This depends on your state's regulations. Most states will grant unemployment benefits if severance pay is a company policy. However, you may not qualify for unemployment if you negotiated the severance pay amount. 
If you are eligible, you may still have to wait before receiving funds. 
Will contract work impact my benefits? 
Yes, if you freelance or accept contract work, you must report that income during unemployment recertification. Your income can result in reduced benefits. 
Some states may also consider it an indicator that you're unavailable for full-time work, which can disqualify you from receiving unemployment insurance. 
How can I avoid unemployment scams? 
Sometimes, scammers will attempt to trick job seekers into sharing private information by pretending to be a legitimate state unemployment office. Here are a few ways to identify and protect yourself against these scams:
Visit official government websites. In most cases, they will end in

.gov

. 

Never pay to file for unemployment. 

Don't click links or texts in emails that claim your debit card was deactivated. 

Verify the sender's contact information before replying.