Revolving credit is a type of credit that automatically renews as you pay off existing debts. It's "revolving" because you can repeatedly access funds up to a set limit, repay, and use it again. 
Credit cards are one example of revolving credit you're likely already familiar with. Any open-ended line of credit you can regularly borrow from is considered revolving credit. This type of credit differs from an installment loan, which you can't use on an ongoing basis. 
Below, find out how revolving credit works and how to use it wisely to make the most of this flexible form of borrowing.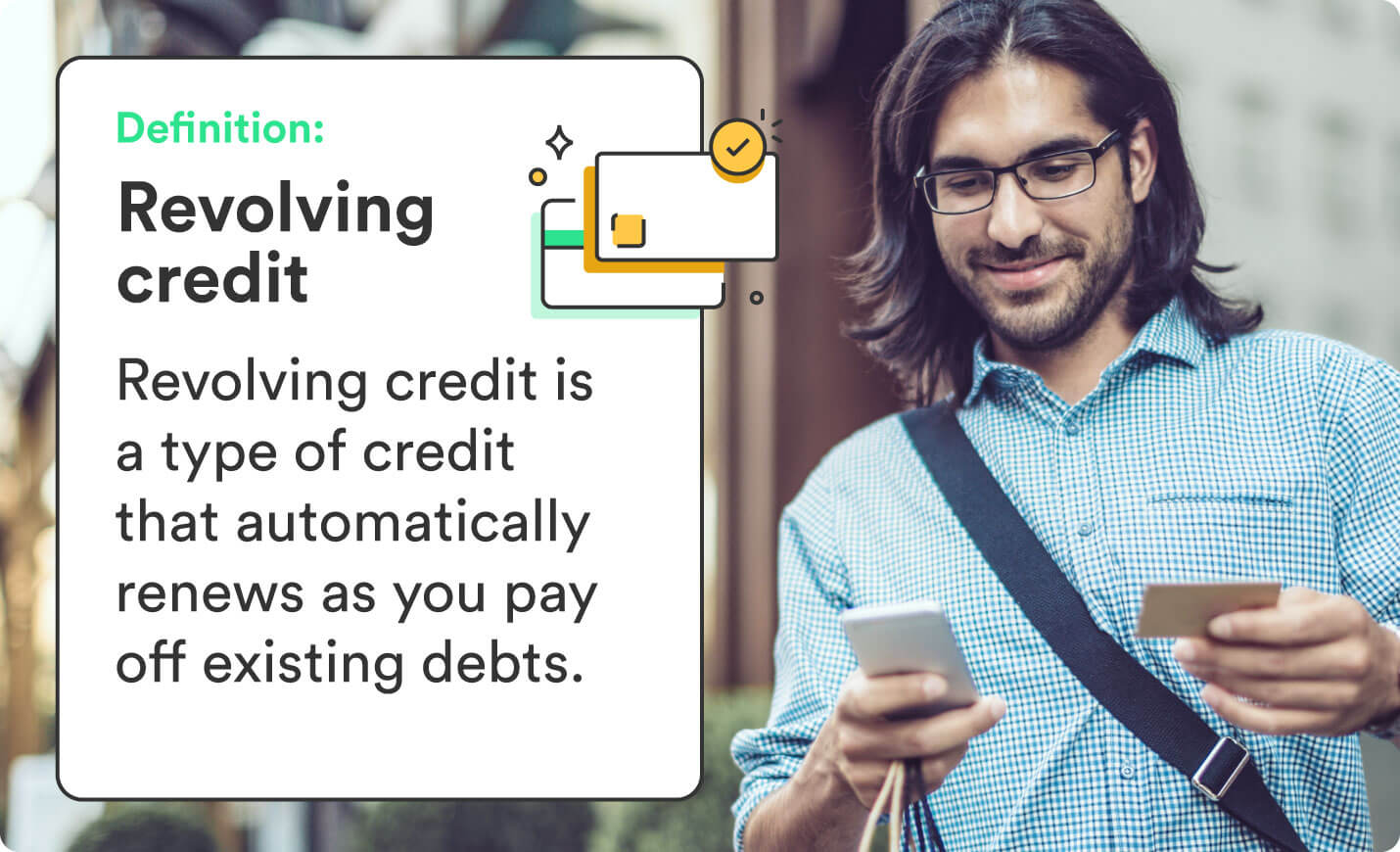 How does revolving credit work?
When you open a revolving credit account, like a credit card or a personal line of credit, you'll receive a credit limit. This limit is the maximum amount of money you can use at any given time. You'll get a statement showing how much you owe (or your balance) at the end of your monthly billing cycle. Remember to make at least the minimum payment toward your balance each month. 
From there, you can either carry over the rest of your balance to the following month or pay it off in full to avoid paying extra interest charges. If you only pay the minimum payment, the remaining balance you carried over may come with additional interest that you have to repay on top of your balance.
Types of revolving credit
Credit cards, personal lines of credit, and home equity lines of credit (HELOCs) are all common examples of revolving credit.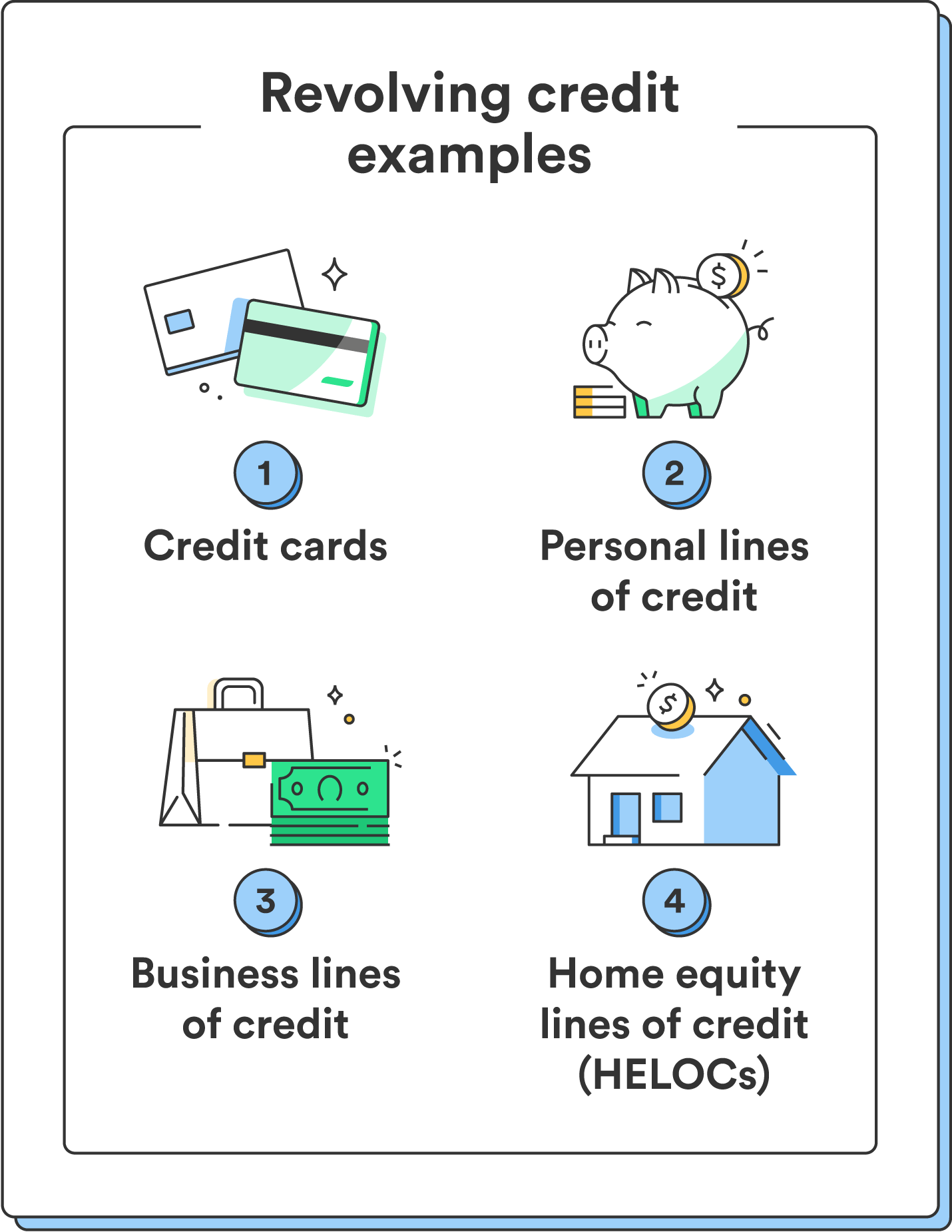 Types of revolving credit include: 
Credit cards:

A

credit card

gives you a line of credit that you can use to make purchases up to your credit limit, with the flexibility to pay back what you spend in full or make minimum payments while carrying a balance.

Home equity lines of credit (HELOCs):

HELOCs allow homeowners to tap into the equity in their homes. You'll receive a credit limit based on your home's value, and you can borrow against it for home improvements, debt consolidation, etc. HELOCs are a type of

secured credit

since the collateral of your home backs funds. That means if you default on the account, your collateral (in this case, your home) is at risk. 

Personal lines of credit:

Personal lines of credit

are like an open-ended loan where you receive a specific credit limit. You can draw funds from this line of credit as you need them, and you only pay interest on the amount you borrow.

Business lines of credit:

Business owners can access a line of credit to manage cash flow, cover expenses, or pursue opportunities for their companies. In practice, these are like a personal line of credit for businesses. 
While each type of revolving credit can cater to different financial goals, they all share the same "revolving" nature, unlike installment loans.
Revolving credit vs. installment loans
The difference between installment loans and revolving credit is that you don't use funds in an installment loan on an ongoing basis. With an installment loan, you receive a lump sum that you pay back in a fixed number of payments over a specific period. 
Examples of installment credit include things like car loans, student loans, or a mortgage.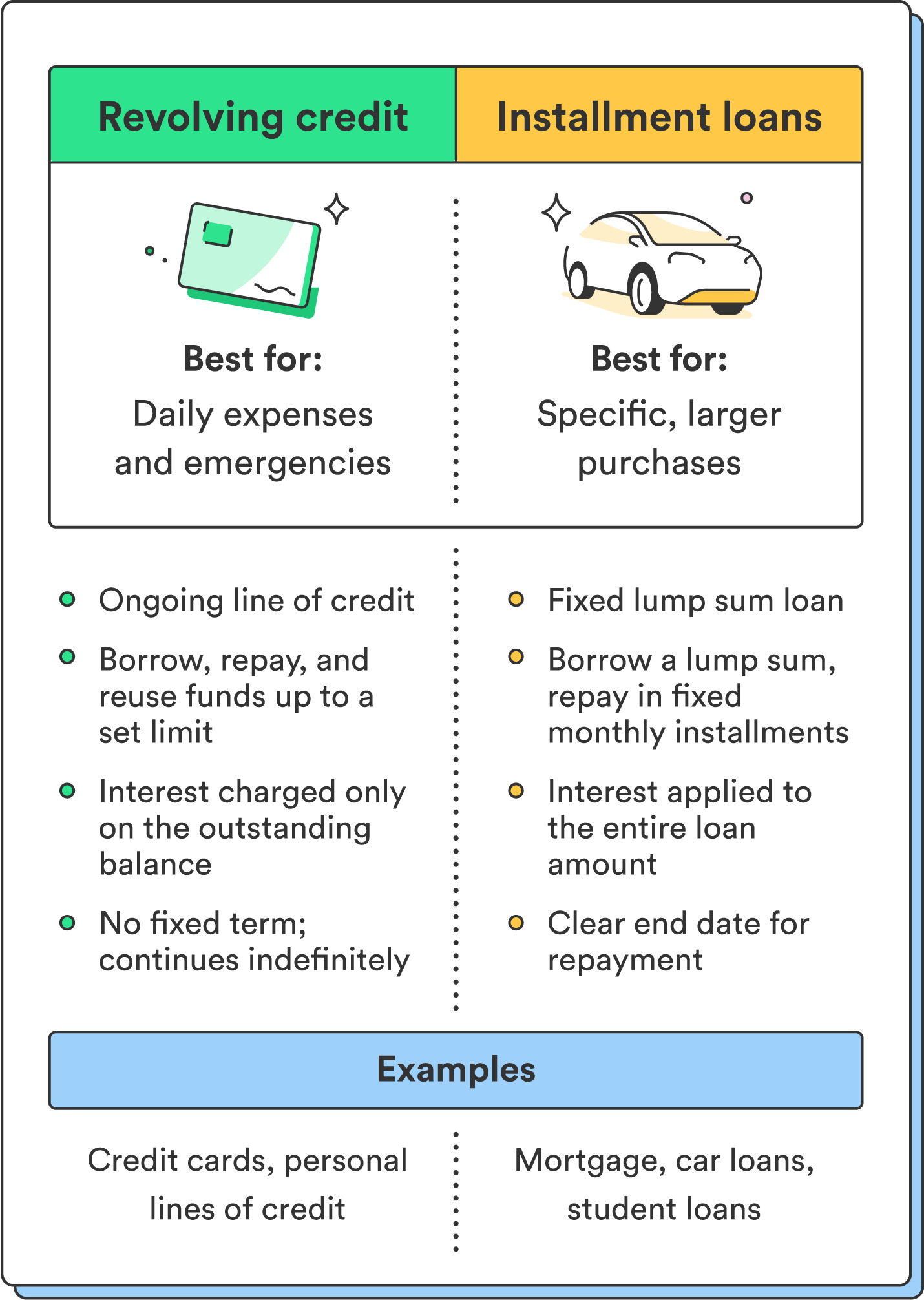 On the other hand, revolving credit only requires a minimum payment and can be used continuously. It's generally more flexible and ideal for everyday expenses or emergencies. Installment loans are best for a specific, one-time expense, as the account is closed once you pay off the full loan. 
Benefits and considerations of revolving credit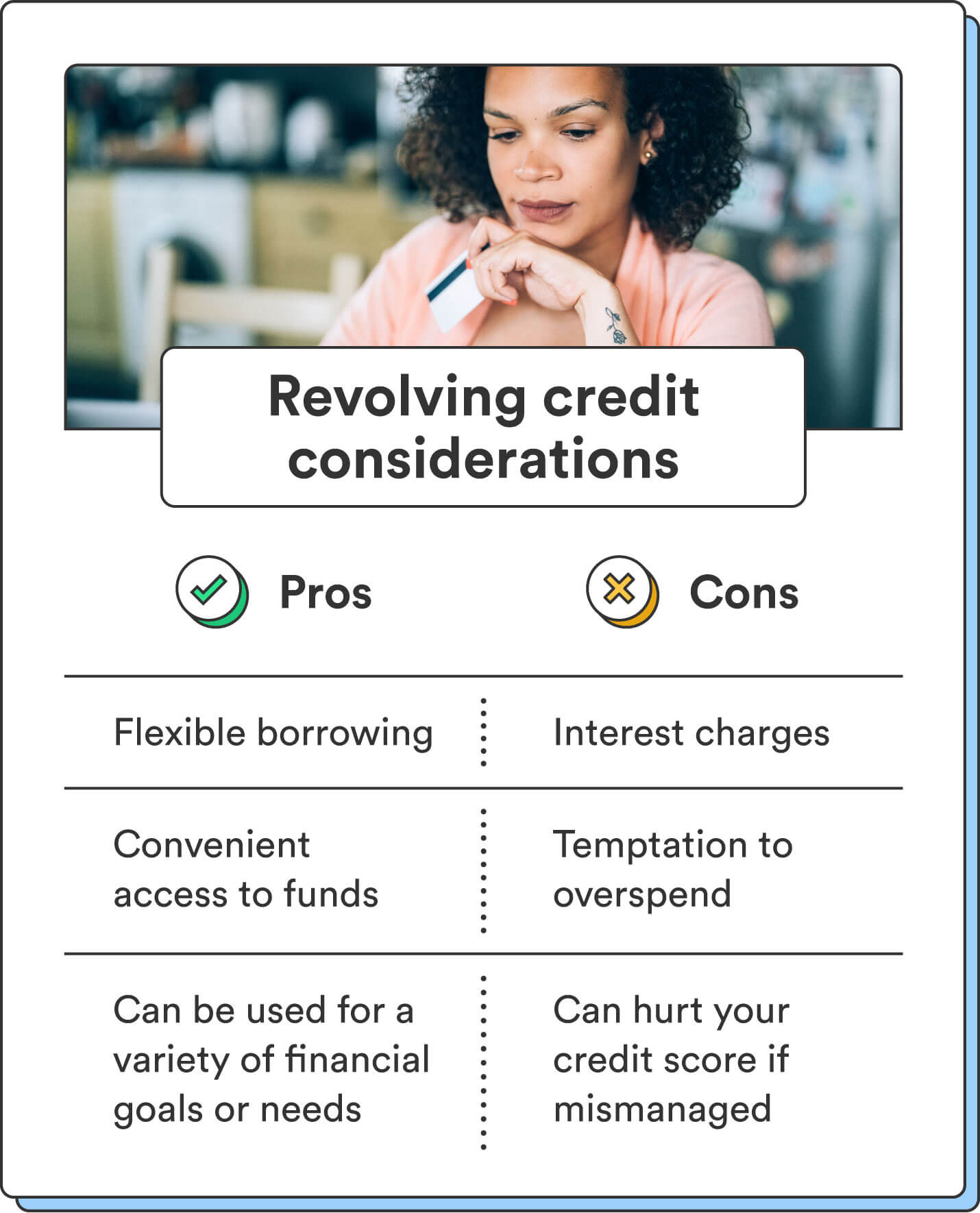 As with any type of credit, revolving credit has pros and cons. It may improve your credit score with responsible use, but it can also hurt your credit score if you mismanage it. 
Here are the main benefits of revolving credit: 
Flexibility:

Revolving credit can provide a flexible cushion of available funds, helping you manage unexpected expenses or emergencies.

Convenience:

Revolving credit offers quick access to money without the need to apply for a loan.

Versatility:

You can use revolving credit for daily expenses and larger purchases.

Builds credit history:

If used responsibly, revolving credit can help build or improve your credit score, which can then help you secure lower rates and better terms for other types of credit. 
While revolving credit offers many advantages, it can also come with drawbacks: 
Interest rates:

While revolving credit allows you to carry a balance from month to month if you make your minimum monthly payment, carrying over your balance can lead to interest charges. 

Temptation to overspend:

With easy access to funds, revolving credit gives you access to more than you may be able to afford. If left unchecked, overspending can lead to accumulating debt. 

Credit score risks:

Mismanaging revolving credit can damage your credit score if you miss payments or have a high credit utilization ratio. 

Fees:

Revolving credit can come with different fees, like annual fees for credit cards or origination fees for lines of credit, which can add to the overall cost.
Understanding these pros and cons can help you make the most of revolving credit and avoid any damage to your credit score.
Tips for managing revolving credit
The tips below can help you take advantage of revolving credit while staying in control of your finances and credit score: 
Make a budget:

Create a monthly budget to keep track of your expenses and avoid missing any payments on your revolving credit accounts. 

Make on-time payments:

Make timely payments every month to avoid late fees or negatively impacting your credit score. 

Pay more than the minimum payment:

While minimum payments are a requirement, paying more than the minimum or your full balance can reduce the overall interest you'll pay and the time it takes to repay your debt.

Monitor your credit utilization:

Your credit utilization is how much you owe compared to your total credit limit. Aim to keep it below 30% to maintain a healthy credit score.
Following these tips and practicing smart credit habits can help you manage revolving credit responsibly.
Revolving credit as a valuable financial tool
Revolving credit offers convenient, quick access to funds and the ability to manage your finances flexibly. As with all types of credit, responsibly managing your account can help you avoid falling into debt or damaging your credit score. 
You can take advantage of revolving credit while avoiding the potential downsides by understanding how it works, making timely payments, and using it as a tool that aligns with your financial goals. 
Ready to get started with your first revolving credit account? Learn more about how credit cards work.
FAQs about revolving credit
Still have questions about revolving credit? Find answers below. 
Is it good to have revolving credit? 
Revolving credit can be beneficial if you use it responsibly. It offers financial flexibility and can help build a positive credit history, but it's essential to manage it wisely to avoid accumulating debt.
What happens if I miss a payment on my revolving credit account?
Missing a payment on your revolving credit account can lead to late fees, increased interest charges, and a negative impact on your credit score. You can avoid these consequences by making at least the minimum payment on your account each month. 
Is revolving credit suitable for emergencies or unexpected expenses?
Yes, revolving credit, like a credit card, can be a useful and convenient way to cover unexpected expenses or emergencies. It provides quick access to funds when needed, but don't open a revolving credit account unless you can repay what you borrow promptly to avoid high interest costs.