If you have bad credit or no credit, your loan options can feel limited. Most lenders have certain credit requirements to approve applicants for a loan. Don't be discouraged if you need to secure some cash quickly. Even if you have bad credit, personal loans aren't an option to count out. 
You may need a loan to consolidate debt or cover unplanned expenses. Even if you have a low credit score, here's what you can do to secure a personal loan.
What is a personal loan?
A personal loan consists of money you borrow from a bank, online lender, or other financial institution. Personal loans can be used for different purposes, whether to pay for debt, outstanding bills, car repairs, or home projects. Lenders give you these loans as a lump sum, and you must repay the lender in monthly installments (or more frequent payments, depending on the loan agreement). 
On average, repayment terms can last anywhere from a few months to five or six years. Interest factors into each personal loan payment, so you'll ideally want a lower interest rate. Low interest rates aren't always possible when you're considering personal loans for bad credit. Every lender has its own loan requirements and terms. 
Most personal loans are unsecured, meaning there's no collateral requirement. Instead, lenders will look at your credit, income, and other factors to qualify you for a loan. 
Learn more about personal loans in our 101 guide. 
What is a good credit score?
Your credit score is one of the most important factors lenders will look at to approve you for a personal loan. A good credit score tells lenders that you'd be a reliable borrower and pay back your loan on time. 
It's harder to lend something to a friend or even a stranger when you're not sure you'll get it back on time. We get it; life happens, and sometimes paying every bill on time isn't realistic. Still, knowing a good credit score range can help you set a target if you're looking to improve your score.
Credit scores range from 300 to 850. According to Equifax, a good credit score is anything between 670 to 739. A credit score in this range tells lenders that you pay most of your bills on time. It also means that you keep your debt utilization below 30% of your total credit limit, have few hard inquiries, and hardly any negative or collection accounts.
Lenders see credit scores below 670 as taking on additional risk, especially if the credit report shows that bills haven't been paid on time or paid at all in the past. Someone might have a lower credit score if they've missed credit card payments or payments on other debts, have outstanding medical bills that have gone into collections, or have had to file bankruptcy.
Another cause for a lower credit score is limited credit history. If you're new to credit and have no bills or loans in your name, your credit score won't be that high. Lenders won't have much to go on when pulling your report. 
Chime® Credit Builder Secured Visa® Credit Card
A New Way to Build Credit
No Credit Check to Apply1
No Annual Fees
Learn More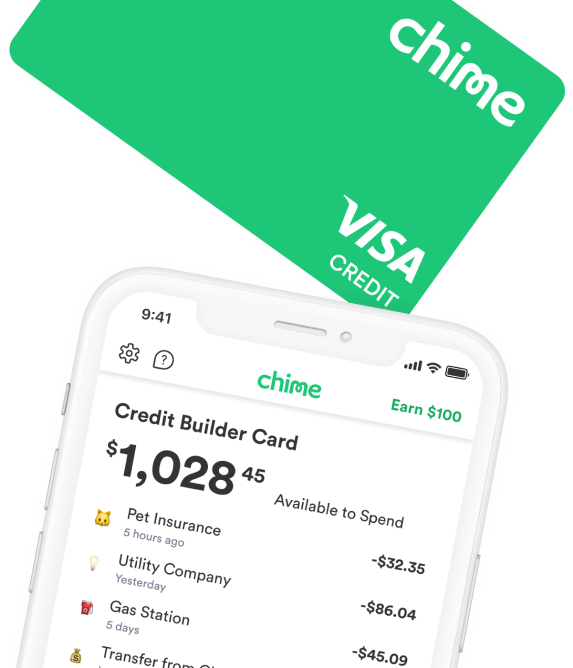 How can low credit affect a personal loan application?
So how hard is it to get a personal loan with bad credit? It can be challenging, but not impossible. Bad or 'subprime' credit can affect your ability to get approved. There are fewer options if you're trying to get a personal loan with bad credit. 
Some lenders won't accept credit scores under a certain threshold, no matter the circumstances. You could miss out on benefits like low interest rates, higher loan amounts, and flexible loan terms. 
Certain bad credit loans are designed for people with lower credit scores. However, these loans are usually subject to higher interest rates, more fees, and, sometimes, lower borrowing limits or collateral requirements. 
Pro tip: Check your credit score before applying for a personal loan. Review your full credit report using AnnualCreditReport.com and obtain a copy of your FICO and Vantage scores. If you have a credit card, you may even have access to your credit score for free. Knowing your credit score will help you understand where you are and what options to seek out.
Where can I apply for loans with bad credit?
More and more loans for bad credit are becoming available through reputable online lenders and credit unions. 
Online lenders
Online lenders may let you borrow up to $50,000 or more, even if you have bad credit. Some lenders accept scores as low as 300. Interest rates may range from 5% to 35%.
The best part about using an online lender? You can apply online and prequalify by filling out a short form. Prequalifying allows you to peek at interest rates and loan terms to shop around without hurting your credit score. 
You'll see a soft credit pull when you try to prequalify, but the lender won't run your credit officially until you apply. If approved, you can also receive your funds pretty quickly, typically by the next business day.
Personal loans for bad credit with online lenders come with more fees like a high origination or administrative fee. A personal loan with these online lenders will cost you more, but the interest rates are not as bad as no-credit-check loans or payday loans. 
Credit unions
Try talking to a bank or credit union to see if they have personal loans for bad credit. Some credit unions offer secured and unsecured personal loans with rates starting around eight percent. You may also be able to apply with a co-borrower or use a savings account or Certificate of Deposit (CD) as collateral for a secured personal loan. 
With any lender, ask about credit requirements, fees, and terms, and see if you can prequalify first with a soft credit pull. Prequalifying will allow you to review rates and terms before agreeing to anything to ensure the personal loan fits your situation.
How to get personal loans for bad credit
Knowing what to expect when applying for a personal loan with bad credit makes the process much smoother. Luckily, the process is similar to getting a personal loan with excellent credit. Here are five steps to follow.
1. Check your credit score and reports
Maybe you know there are negative marks on your credit, but you haven't requested a report recently. Take a few minutes to check your credit score and go through your credit report with a fine-tooth comb. 
See if there are any errors and any accounts or hard inquiries that should have fallen off. You can write the credit bureaus with any requested changes or file a dispute online at Experian, Equifax, or TransUnion's website.
Are there any small debt accounts you can pay off or catch up on before applying for a loan? Make sure you're up-to-date on your credit history so lenders don't blindside you when you try to get a personal loan.
2. Review your financial situation
Personal loans are convenient and help you get fast cash when you need it. Before you try to get a loan, it's helpful to assess your financial situation. Getting a loan that's too expensive to repay on time could negatively impact your credit score. Also, if you're planning on using collateral for a secured personal loan, you don't want to give up a valuable asset like a car.
Consider how many other debts you have, your income, and how much you can realistically afford to pay each month. You might lower the amount you decide to borrow and cut expenses in other areas of your budget to make things work. 
Realize that getting the money you need is only half the battle. To truly win, you need to ensure you can repay the loan. 
3. Start shopping around and get prequalified
Avoid applying for multiple personal loans at once, since this could result in multiple hard inquiries. Get prequalified with an online lender that caters to people with bad credit to save time and tension. 
Call local credit unions to see if they have any personal loan options with lenient requirements. Look at fees, borrowing amounts, and term lengths. Make sure the loan details meet your needs. You can ask:
Does the lender have any pre-payment penalties if you decide to pay your loan back early?

What is the minimum credit score requirement, and are there income requirements?
Can you use a co-signer, or is there an option for a secured personal loan?
How much would your monthly payment be, and is it affordable?
4. Gather financial documents and apply
Once you've settled on a solid personal loan option, submit a formal application and gather your financial documents. Lenders will want to see proof of residency, proof of income, a driver's license, and maybe a bank statement. 
Try to promptly respond to requests for additional documentation to speed up the loan process. 
5. Review terms before accepting a loan offer
If you get approved for a personal loan, take a moment to review the loan terms and read through the agreement. If something doesn't make sense, ask the lender for clarity. Doing this ensures you fully understand and accept the loan terms. 
Once you agree, the lender will fund your loan, and you'll receive the money you borrowed in one lump sum within a few business days.
FAQs
Are there no-credit-check loans that won't affect my credit?
Yes, you can forego the credit check altogether when you know your credit score is low and you need a personal loan. No-credit-check loans don't run your credit as part of a requirement to apply for a loan. Instead, they consider your income and level of job security to qualify you for a loan.
The major downside of no-credit-check loans is that they often include many fees. These loans can be predatory, especially if lenders are targeting bad credit borrowers just to make them pay a boatload in interest rates and fees. 
What are the best online payday loans?
Payday loans are short-term loans that you can qualify for based on your income rather than your credit.
These loans are meant to repay your balance by your next pay period. The big catch is that the interest is usually 300% to 400%. For every $100 borrowed, you'll pay an extra $15 to $30 in fees. 
Payday loans are a last resort, and there aren't any 'best' options. They are very expensive and could lead to additional debt and financial strain if you rush to pay back your loan and the inflated interest. According to the Consumer Financial Protection Bureau, some states have even outlawed payday loans, which tells you they're not the best financial option.
A personal loan is possible with bad credit
You can secure a personal loan even if you have bad credit. Your credit score is a quick way for lenders to determine how risky it is to loan you money. Although a lower score is seen as riskier, there are plenty of lenders and alternative options geared toward people with bad credit. 
Bad credit is not permanent. You can work to improve your credit score to qualify for better personal loan terms in the future. 
Chime wants to help you on your credit journey. Whether you're new to Chime or already have a Chime Checking Account, you can sign up for Credit Builder in just a few minutes to start building credit history for future loan applications.²