A personal loan is a fixed amount of money borrowed from a lender, typically a bank or online lender, that you pay back with interest in monthly payments. 
There are many reasons to get a personal loan, including personal expenses like home improvements or unexpected medical costs. They also can help you consolidate debt, cover a major expense, or get ahead financially. 
But are they the best way to borrow money? Here's how to decide if one is right for you.
How does a personal loan work?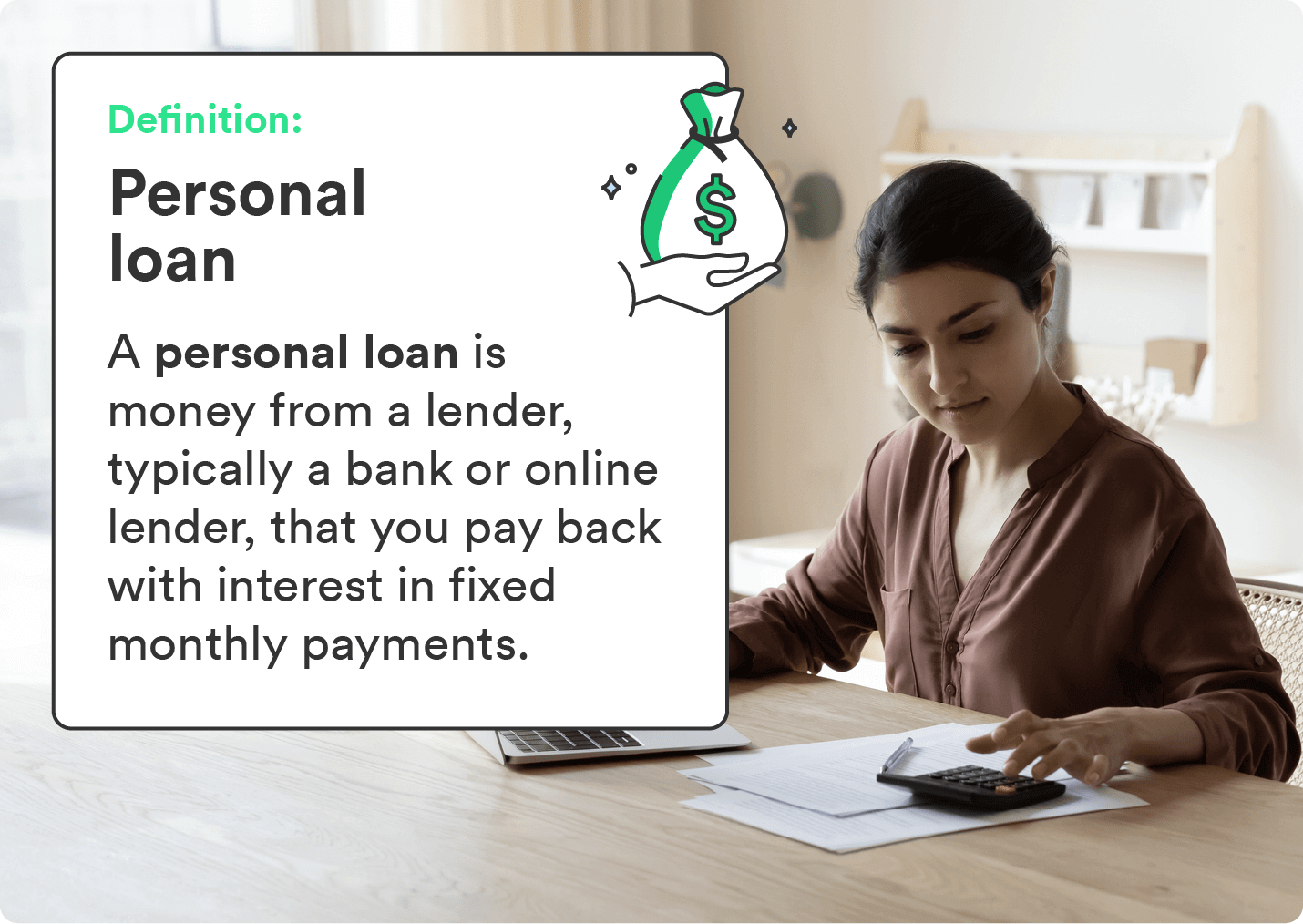 A personal loan is a type of bank loan you agree to repay over a set period, typically ranging from a few months to several years. The loan amount, interest rate, and repayment term are established during the application process and outlined in the loan agreement. 
When you decide to get a personal loan, you'll start by applying with a lender of your choice. The lender will send the funds to your checking account if your loan is approved. Afterward, you'll start making monthly payments on the loan. 
Each payment consists of principal (the amount you borrowed) and interest (the cost of borrowing). The interest rate depends on your credit score, financial history, and current market rates. Take the time to learn how interest rates work, as they significantly affect the overall cost of loans.
The repayment term, or the time over which you repay the loan, is agreed upon during the application process. Shorter terms usually mean higher monthly payments but less interest paid overall, while longer terms result in lower monthly payments but potentially more interest paid. Common repayment terms range from one to seven years, depending on the lender and the loan amount.
What personal loans can be used for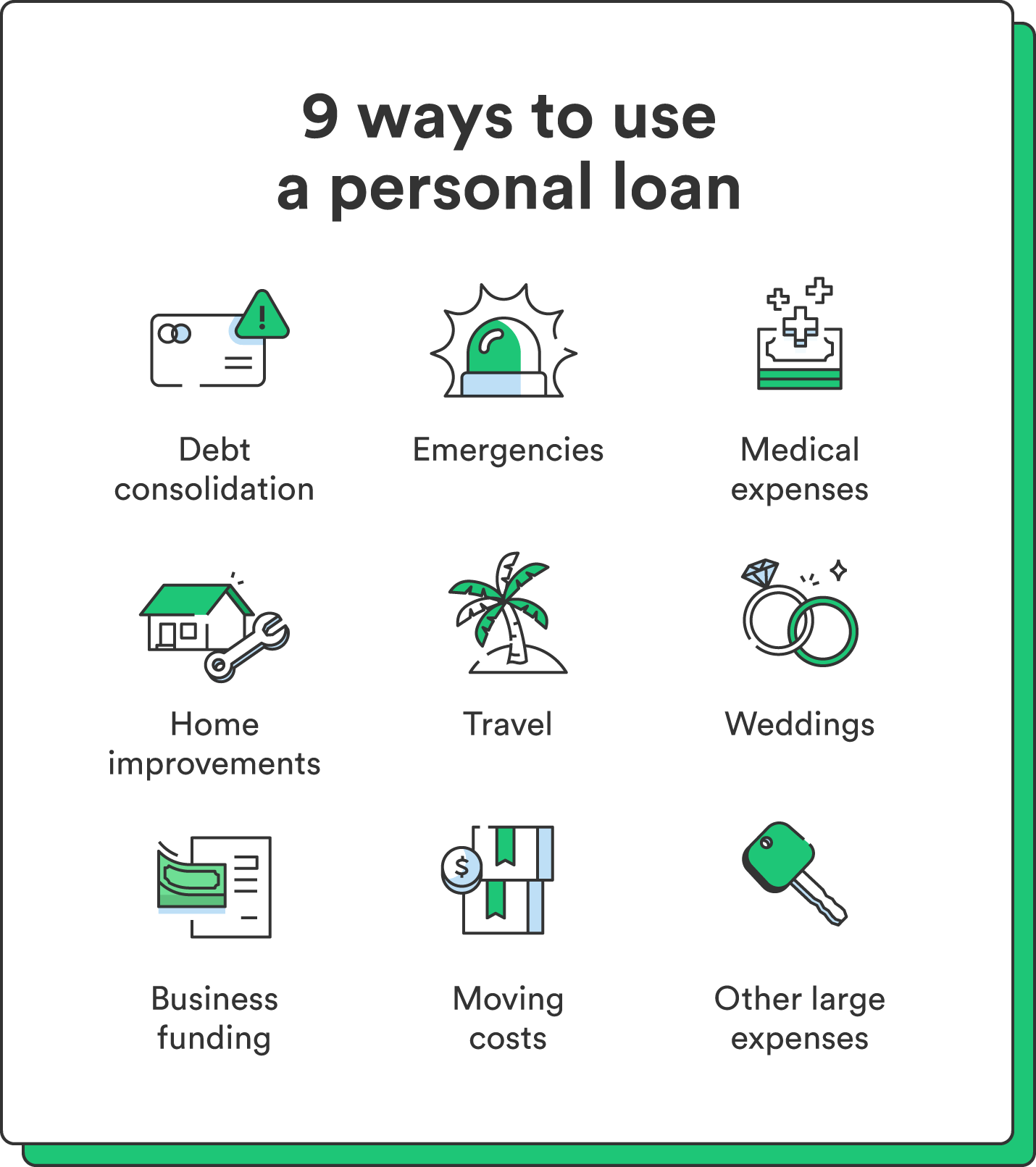 Personal loans can address a wide range of different needs. Here's an overview of common ways you can use personal loans: 
Consolidating debts:

You can use personal loans to consolidate high-interest debts like credit card balances or medical bills into a single, more manageable monthly payment. 

Emergencies:

A personal loan can provide quick access to funds when faced with unexpected emergencies, like car repairs or urgent home repairs. However, an

emergency fund

can help you avoid taking out a personal loan for unexpected expenses.

Medical expenses:

A personal loan can cover unforeseen medical bills or elective medical procedures, allowing you to manage your health-related expenses.

Home improvements:

Personal loans can help fund home renovation or repair projects, like upgrading your kitchen, fixing your roof, or enhancing your backyard.

Travel and vacations:

If you want a dream vacation but need upfront funds, a personal loan can be a solution to finance your travel plans.

Weddings:

Weddings can be expensive. A personal loan can help cover venues, catering, and other wedding-related expenses.

Business funding:

Entrepreneurs and small business owners can use personal loans as initial capital or to cover operational expenses.

Moving costs:

Whether you're relocating for work or personal reasons, personal loans can help cover moving expenses, like transportation, movers, and settling-in costs.

Other major purchases:

If you're planning a significant purchase like new furniture, appliances, or electronics, a personal loan can help.
Personal loans can be used for various financial needs, making them a flexible option to fund your unique goals.
Types of personal loans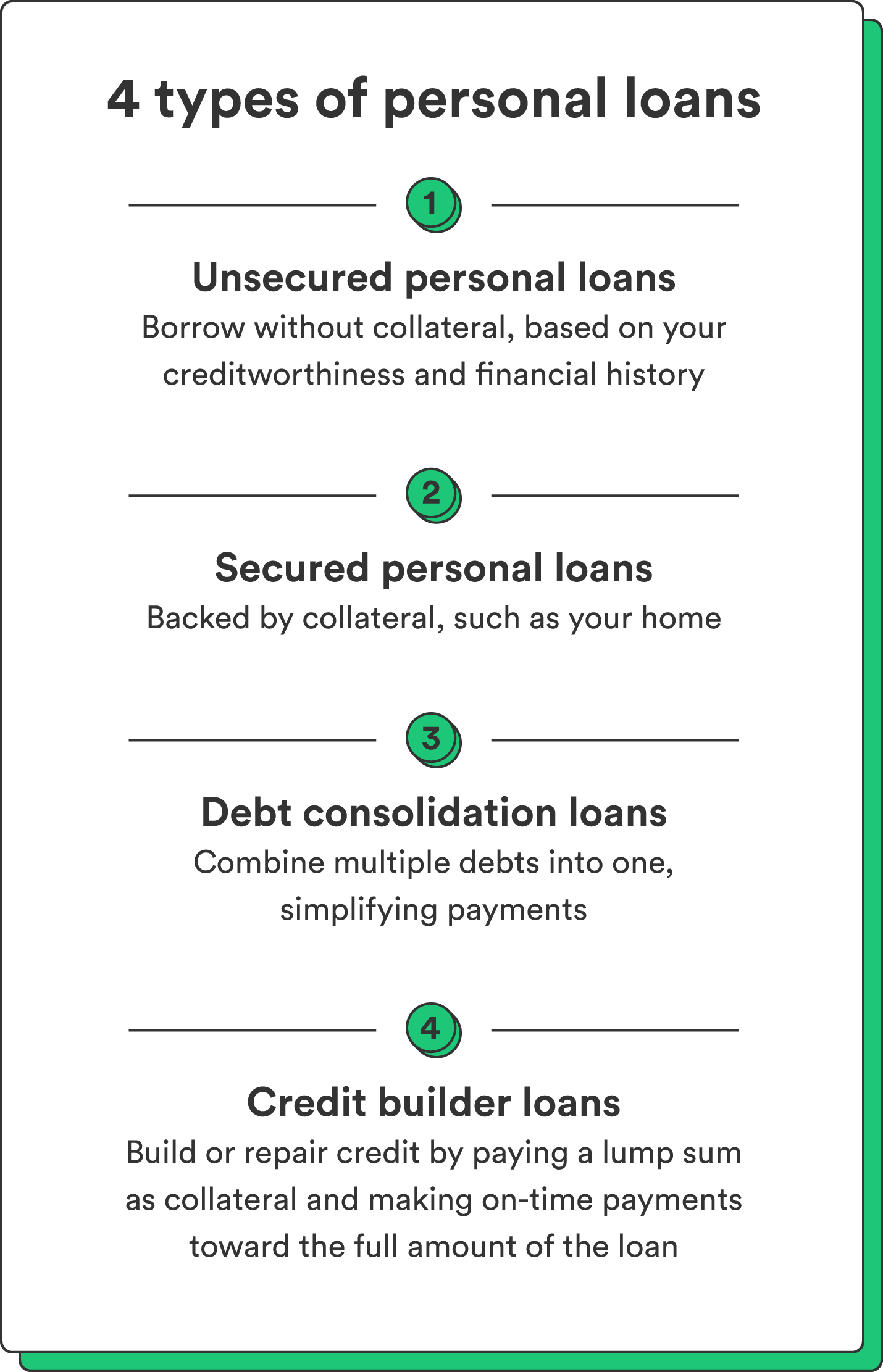 There are a few types of personal loans for different financial needs and circumstances. There are two broad categories of personal loans: secured and unsecured loans. Here's an overview of the different types of personal loans: 
Unsecured personal loans:

Unsecured personal loans are typically higher since they don't require collateral, like a home or car, as security. Lenders assess your creditworthiness based on your credit score, income, and financial history.

Secured personal loans:

Secured personal loans are backed by collateral, which means you put down a valuable asset like a car or your home to qualify instead of cash. Collateral reduces the lender's risk, often leading to lower interest rates. However, the lender can claim the collateral if you fail to repay the loan.

Debt consolidation loan:

Debt consolidation loans combine multiple debts into a single loan with a potentially lower interest rate. They make it easier to

fit debt payments into your monthly budget

and save you money over time.

Credit builder loans:

Credit-builder loans are best for people with limited or poor credit history. How they work: Your lender sets aside a predetermined amount of money for you to pay off, typically in monthly payments. Making these payments on time builds a reputable credit history that the lender reports to credit bureaus. Once you've paid off the agreed amount, you receive access to the full loan.
Some lenders specialize in specific types of personal loans, like medical loans for health care expenses or education loans for tuition and related costs. These lenders may offer specialized terms and benefits for those specific needs.
A good credit score will improve your approval odds if you're after a standard, unsecured personal loan. We'll discuss how to get a personal loan below.
How to get a personal loan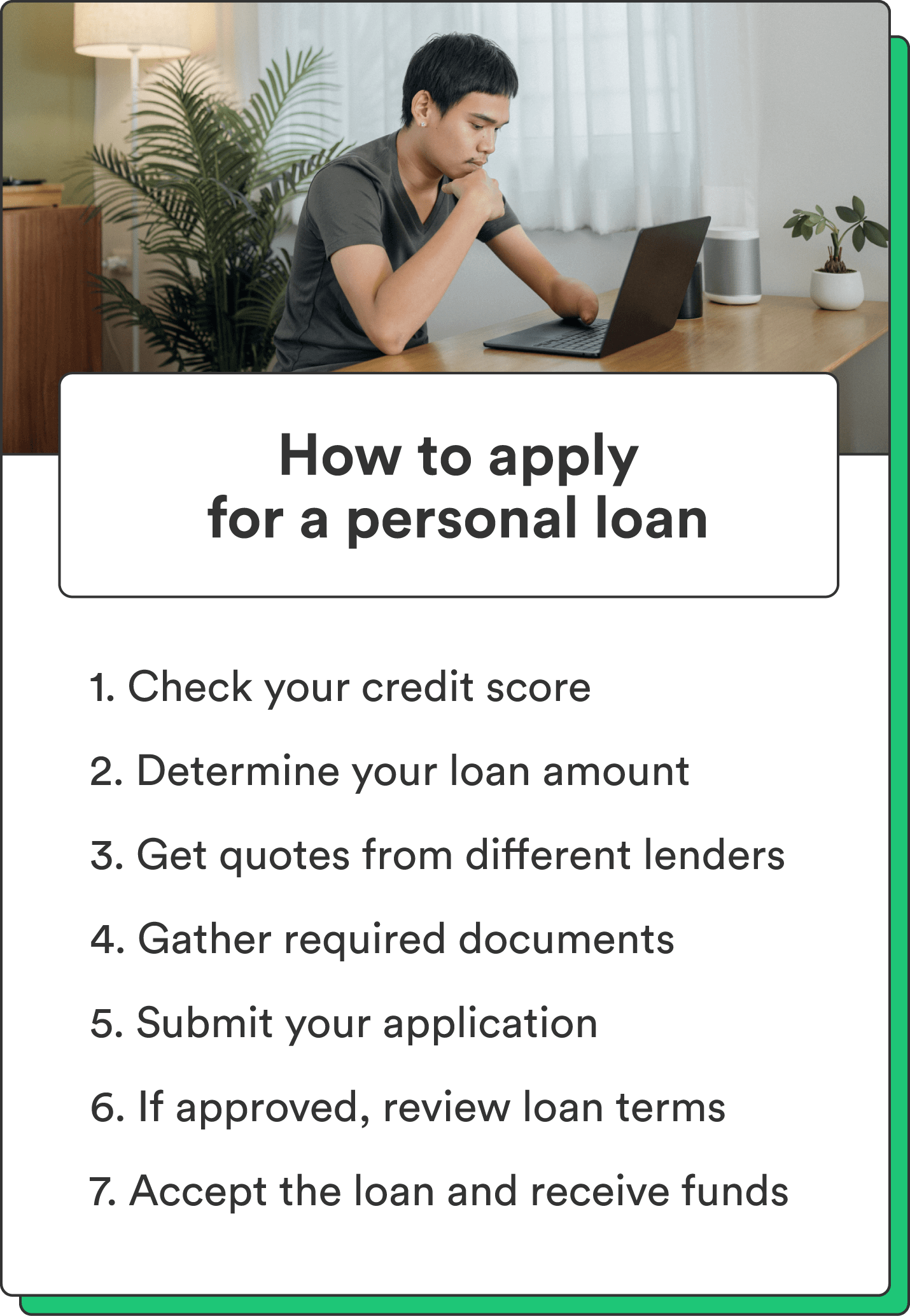 When you're ready to apply for a personal loan, here's how to do it: 
Check your credit:

A higher credit score will increase your odds of getting approved with better loan terms and interest rates. Review your credit report to see where you stand, and take steps to

improve your credit score

before applying if needed.

Determine loan amount:

Calculate the amount you need to borrow and make sure it fits your budget.

Compare lenders:

Research different lenders and compare their interest rates, fees, and customer reviews. Some lenders may perform a hard inquiry on your credit to provide you with a quote, potentially lowering your score a few points. To avoid this, look for lenders offering

prequalification

, which provides estimates without a hard credit check. 

Gather required documents:

When you've chosen a lender, gather what they require, like identification and proof of income ( pay stubs and tax returns).

Apply:

Once you have the required documents, fill out and submit the loan application. Provide all the necessary information about yourself and your financial situation.

Review loan terms:

If your application is approved, carefully review the loan terms provided by the lender. Pay attention to the interest rate, repayment schedule, and any fees associated with the loan.

Accept the loan and receive funds:

Accept the offer if you're satisfied with the terms. After accepting the loan offer, the lender will disburse the funds to your bank account, which can take a few business days.
Once you receive the funds, make the monthly payments on time according to the repayment schedule. Missing payments could result in penalties that negatively impact your credit score.
How to choose a personal loan
Pay attention to a few key factors to choose the best personal loan for you:
Interest rate:

The interest rate significantly affects the overall cost of the loan. Look for a competitive interest rate – lower rates can save you money over the life of the loan.

Repayment term:

Choose a term that balances manageable monthly payments with reasonable interest payments. 

Fees:

Review the loan's fee structure. Common fees include origination fees, prepayment penalties, and late payment fees. Look for loans with minimal fees and extra charges.

Funding time:

If time is crucial, look for lenders with a reputation for quick approval and disbursement.

Repayment flexibility:

Check if the lender provides flexible repayment options. Some may offer the choice of monthly, biweekly, or other payment frequencies. Flexible repayment can help you

keep your budget on track

. 
With these details in mind, you can choose a personal loan that aligns with your financial goals and circumstances.
Personal loan alternatives
While personal loans can be a valuable financial tool, there are other options available. Depending on your circumstances, you might consider these alternatives:
Credit cards:

Credit cards offer a flexible source of credit for smaller expenses. They can be handy for short-term financing needs or everyday purchases.

Home equity line of credit (HELOC):

If you're a homeowner, a HELOC allows you to borrow against the equity in your home. It may also provide a lower interest rate compared to personal loans.

Home equity loan:

Similar to a HELOC, a home equity loan allows you to borrow against your home's equity. It provides a lump sum with fixed monthly payments.
Take the time to review the interest rates and terms. This way, you'll be fully aware of the cost of borrowing and how it can impact your finances.
Is a personal loan right for you?
Personal loans can help you consolidate debt or cover a major expense, but do your research and consider your budget. Ensuring you understand how much you're borrowing, what you'll pay in interest, and how much your monthly payments will work out can help you decide if a personal loan fits into your financial plan. 
If you need a personal loan but have a low credit score, read about how to get a loan with no credit and learn about your options.
FAQs about personal loans
Still have questions about how personal loans work? Find answers below. 
Can anyone get a personal loan? 
While personal loan eligibility varies among lenders, you'll likely need a steady income, a good credit score, and a history of responsible financial behavior. Meeting these criteria can improve your approval odds. Research and compare lenders to find one that matches your financial profile.
What is the typical interest rate for a personal loan?
The typical interest rate for a personal loan can vary based on factors like your credit score, the lender's terms, and prevailing market rates. Generally, personal loan interest rates can range from around 6% to 36%, but shopping around and maintaining a strong credit score can help you get a more favorable rate.¹
Are there any prepayment penalties for paying off a personal loan early?
Some lenders may impose prepayment penalties if you pay off your loan early. Read the loan agreement and ask about prepayment penalties before accepting the loan. Find a lender that offers penalty-free early repayment terms to avoid prepayment penalties altogether and potentially save money in the long run.