Are you one of the 19 million adults without a credit score? Although having credit history helps, you can still apply for a credit card or learn how to get a loan when you have no credit.¹
That's right – whether you're a student or someone entering a new financial chapter, you still have loan options with no credit in 2023. 
Ready to start exploring your options? Here's how to get a loan with no credit in seven steps.
Explore your no credit loan options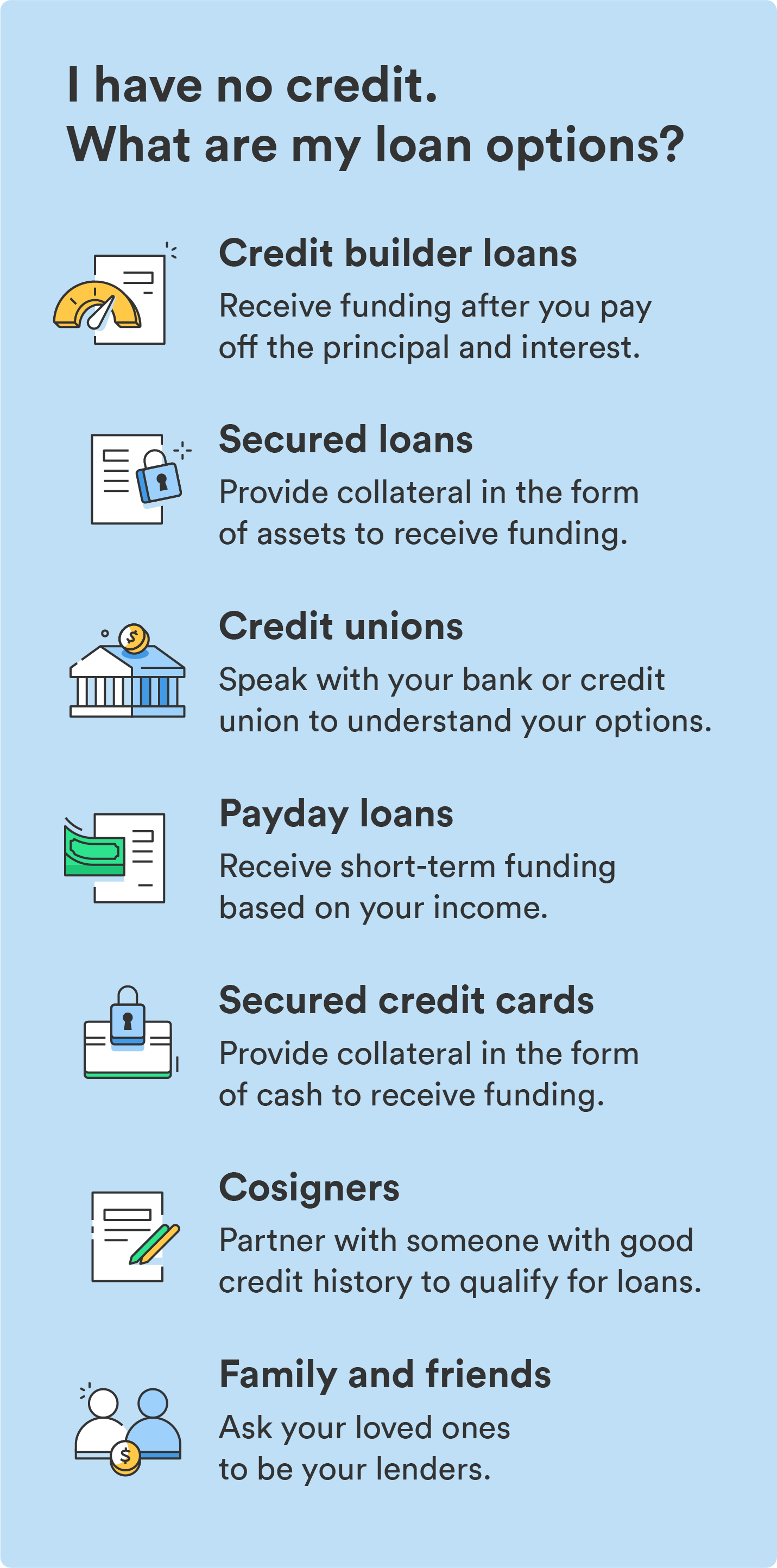 The right loan strategy will depend on your financial health and the reasoning behind getting a loan in the first place. Not only can you get a loan with no credit, but you also have several options. Check out these loans to see which one works best for you.
Credit builder loans
A credit builder loan is an excellent option if you aren't rushing to secure financing. This type of loan helps people with no credit get access to funding. You match with a lender and can only access the funds after paying off the principal and interest. The lender will hold your funds in an account and report your payments to credit bureaus.
Secured loans
Instead of a credit score, a secured loan requires collateral to provide funding. Collateral can be real estate, vehicles, and stocks. Lenders get to keep your collateral if you can't make loan payments. Secured loans are popular funding options for individuals with bad or no credit but have access to other assets.
Credit unions
Financial institutions like credit unions and banks can offer tailored services to meet your funding needs. Even with no credit, a credit union can help you explore options and show you which loans you qualify for. They also have financial advisors ready to show you how to build credit to qualify for larger loans.
Payday loans
Payday loans are short-term loans that you can qualify for based on your income rather than your credit. These loans exist to help with emergency expenses, which you have to pay back by your next pay period. The big catch is that the interest is usually 300% to 400%. For every $100 you borrow, you'll pay an extra $15 to $30 in fees. 
Payday loans are a last resort; even the 'best' options are expensive. Because of the cost, payday loans could lead to additional debt and financial strain if you can't afford to pay back your loan. 
According to the Consumer Financial Protection Bureau, some states have outlawed payday loans, which tells you they're not the best financial option.
Secured credit cards
Secured credit cards work similarly to secured loans. Instead of putting up assets as collateral, a secured credit card requires cash upfront as insurance against you defaulting on your loan payments. A secured credit card can also help you build credit while accessing an alternate funding source.
Start building credit with everyday purchases¹ — apply for a Chime Credit Builder Secured Visa® Credit Card in two minutes without a credit check.
Co-signers
Partnering with a co-signer can potentially increase your approval odds when applying for a personal loan. The co-signer's credit score can help you access loans that require a credit history. Whoever you apply with should understand that their credit score can be affected if you make late payments or default on the loan.
Family and friends
If you have a trustworthy relationship with family members and close friends, consider asking them to be your lender. 
Out of respect for the lender, draft a loan proposal that includes the following:

Funding range:

Share a minimum and maximum amount of possible funding

Collateral options:

Provide asset options for collateral

Payback time:

Share how long it will take you to pay them back

Interest amount:

Calculate how much interest you will pay them
Although you do not have to sign a contract, doing so protects you and your loved one.
Review your financial situation
Consider how many other debts you have, your income, and how much you can pay each month. You might lower the amount you decide to borrow and cut expenses in other areas of your budget to make things work. 
Also, if you plan on using collateral for a secured personal loan, you don't want to give up a valuable asset like a car. Realize that getting the money you need is only half the battle – you need to ensure you can repay the loan.
Shop around and get preapproved
Browse for loans that meet your financial goals. Since applying for multiple loans can negatively impact your credit, try to only apply for one loan at a time.
Call local credit unions to see if they have any personal loan options with lenient requirements. Look at fees, borrowing amounts, and term lengths, and make sure the loan details meet your needs.
Ask these questions while shopping around:
Does the lender have any prepayment penalties if you decide to repay your loan early?
What is the minimum credit score requirement, and are there income requirements?
Can you use a co-signer, or is there an option for a secured personal loan?
How much would your monthly payment be, and is it affordable?
If you can move forward with these offers, see if you can get prequalified. 
Choose a loan offer
After you get prequalified, you can choose a loan offer to apply for. Remember, you only want to apply for one loan at a time since the application process can temporarily negatively affect your credit report.
If you are partnering with a co-signer or loved one, now is the time to review your agreement's structure and ensure everyone is on the same page. Knowing this information will help you know which documents to gather next.
Gather necessary documents
You should have your personal information nearby while completing the loan application. Source these documents before filling out the application:
Proof of residency:

Share recent rent or mortgage payments.

Proof of income:

Provide proof of consistent funds coming into your account.

Driver's license:

Share a copy of your license or passport.

Bank statement:

Provide samples of recent bank statements.
Try to respond promptly to requests for additional documentation to speed up the loan process. 
Apply for a loan
Now that you are confident in your loan option and have the necessary documents, you're finally ready to complete your loan application. If you are working with a co-signer, apply while you are with them.
In general, you can apply for a loan online. Depending on your loan option, it is possible to apply and receive an answer on the same day. 
A hard inquiry will have a temporary presence on your credit report even though you have no credit history. Consider factoring in loan payments into your monthly budget.
Review terms before accepting a loan offer
Only complete a loan application with a full grasp of the agreement between you and the lender. Doing this ensures you fully understand and accept the loan terms. 
Once you agree, the lender will fund your loan, and you'll receive the money you borrowed in one lump sum within a few business days.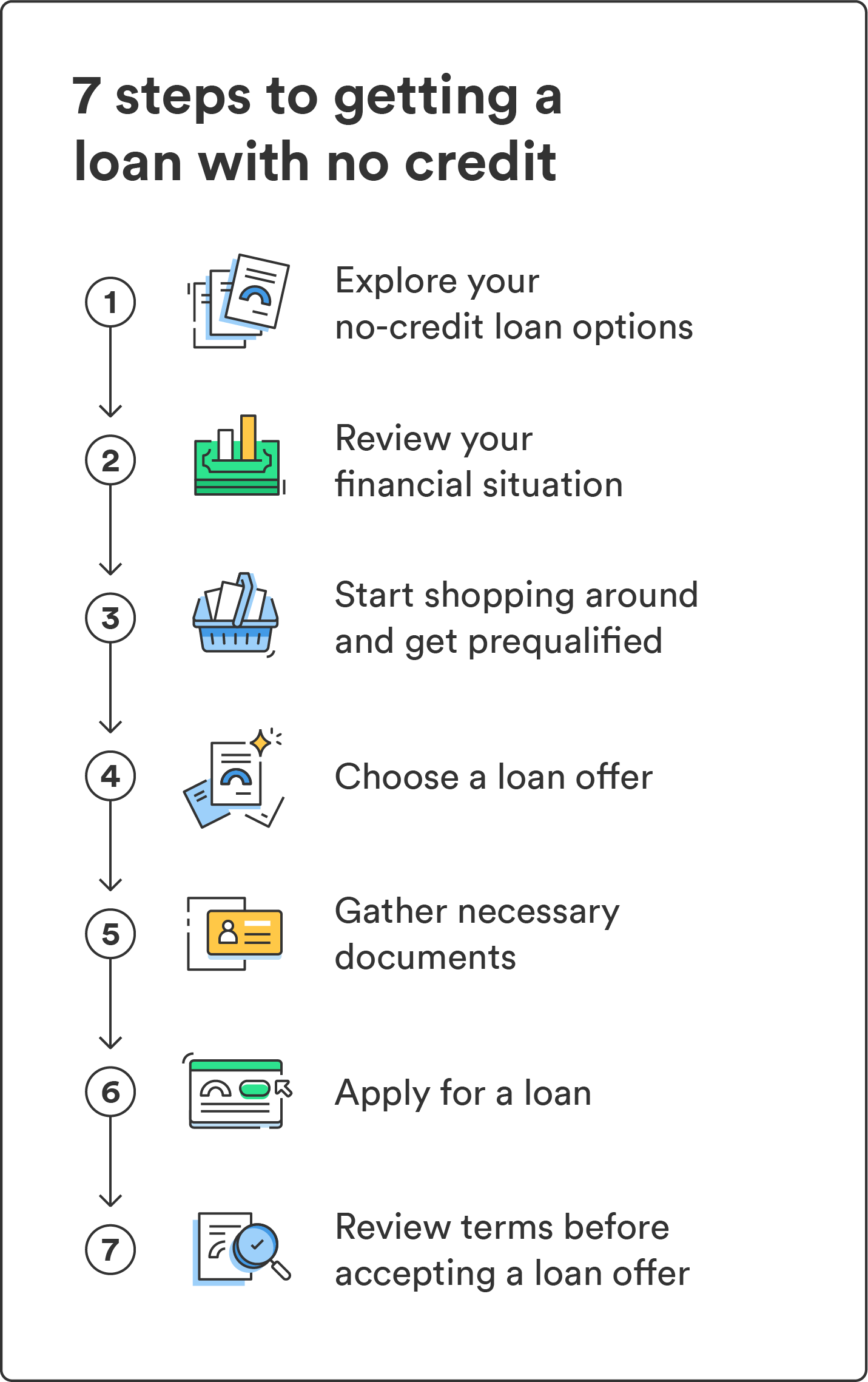 Now that you've learned how to get a loan with no credit, you know the funding options at your fingertips. If you're ready to level up your funding opportunities, our credit-building guide can help you get started!
FAQs about how to get a loan with no credit
Still have questions about no-credit loans? We've got answers.
Is it possible to get a loan with no credit?
Yes, it is possible to get a loan with no credit. Credit unions and traditional lenders are available to individuals with no credit. While co-signers and loved ones also serve as alternative options.
How big of a loan can I get with no credit?
In general, getting a credit loan of up to two thousand dollars is possible. They may also have higher interest rates and short repayment terms due to the applicant's lack of credit history.
What is a personal loan?
A personal loan consists of money you borrow from a bank, online lender, or other financial institution. On average, repayment terms can last anywhere from a few months to five or six years. Most personal loans are unsecured, meaning there's no collateral requirement. Instead, lenders will look at your credit, income, and other factors to qualify you for a loan. 
What is a good credit score?
Credit scores range from 300 to 850. Equifax says a good credit score is anything between 670 to 739. A credit score in this range tells lenders you pay most of your bills on time. It also means that you keep your debt utilization below 30% of your total credit limit, have few hard inquiries, and hardly any negative or collection accounts.²
How can low credit affect a personal loan application?
Some lenders won't accept credit scores under a certain threshold, no matter the circumstances. You could miss out on benefits like low interest rates, higher loan amounts, and flexible loan terms. 
Are there no-credit-check loans that won't affect my credit?
Yes, there are no credit loans that will not check your credit score or affect your credit history. The major downside of no-credit-check loans is that they often include many fees. 
These loans can be predatory, especially if lenders are targeting bad credit borrowers just to make them pay a boatload in interest rates and fees.