When you're in your 20s, you're just beginning your financial life.
This may mean getting your first big paycheck, applying for a new credit card, and managing your checking and savings accounts. Yet, another important aspect of your financial life in your 20s is building your credit and establishing a good credit score.
Your question now may be: What is a good credit score and why is this important? Read on to learn how a good credit score can help you when you're in your 20s.
Chime® Credit Builder Secured Visa® Credit Card
A New Way to Build Credit
No Credit Check to Apply1
No Annual Fees
Learn More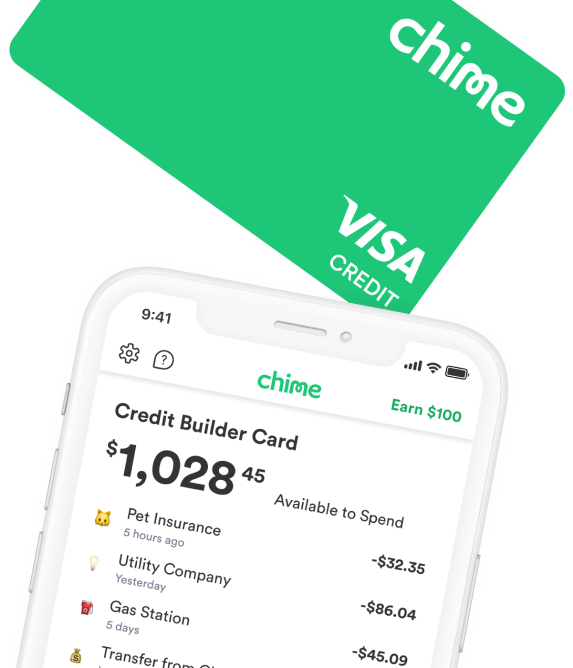 What is a credit score?
A credit score is a three-digit number that represents how creditworthy you are. In other words, this number tells lenders how likely you are to repay your loans and if you're a responsible borrower.
There are many different types of credit scores but the most popular is the FICO credit score. The FICO® credit score range is from 300-850. The lower the score, the worse your credit is. If your credit score is high, your credit is in good shape.
View this post on Instagram
What is a good credit score?
Now that we've reviewed credit score basics, your next question may be: What constitutes a good credit score? According to credit bureau Experian, a good credit score is 700 or above.
But if you're in your 20s and just starting out, a score of 700 or higher may be tough as you're just establishing your credit history. In fact, according to Credit Karma, the average credit score for 18-24 year-olds is 630 and the average credit score for 25-30 year-olds is 628.
FICO has different categorizations for credit scores and a 630 is deemed as "fair". A "good" credit score based on FICO's criteria is 670-739, a "very good" score is 740-799 and an "exceptional" score is 800-850.
So, given the fact that the average credit score for people in their 20s is 630 and a "good" credit score is typically around 700, it's safe to say a good credit score in your 20s is in the high 600s or low 700s.
Keep in mind that when you're in your 20s, you're still establishing your credit history and your credit score takes into account the length of your credit history. Only time can help that part, so if you maintain good financial habits, the hope is that your score will elevate as you get older.
Average credit score by age
Your credit scores can differ drastically by age and the stage of life you're in. Many factors such as your credit history and experience with credit will determine what your average credit score should be.
In general, when you're in your 20s your credit score will be on the lower end because you're just starting out. In your 30s your credit should start seeing some upward movement as you've now had more time to build upon the credit you opened in your 20s. After your 30s your credit should continue to rise. 
According to Experian, the average credit score by age in 2021 was:
Age 76+: 760

Age 57-75: 740

Age 41-56: 705

Age 25-40: 686

Age 18-24: 679
Factors that affect credit scores
While age is not a factor in calculating your credit score, length of credit history is. The longer you have a line of credit open, the better it is for your credit score (just as long as you made on-time payments). 
The five main factors that help to determine a person's FICO credit score include:
35% of your score is based on payment history

30% is based on your amounts owed

15% is based on the length of your credit history

10% is based on inquiries for new credit

10% is based on the types of credit you're using (i.e. loans and credit cards)
Why is a good credit score important?
Let's be real, your credit score can seem pretty arbitrary. But it's nonetheless important when it comes to getting your first apartment or applying for your first credit card.
Why is this? Because your credit score can make or break whether you get approved for an apartment. It can also determine whether you get approved or denied for a credit card. It can even affect the interest rate you get. This is crucial to understand because, if you take out a loan, interest can cost you a lot of money over time. Even the difference between a few percentage points can potentially cost you hundreds or thousands of dollars in interest.
So, having a good credit score can help you save money, and help you get better interest rates.
How can you improve your credit score?
What if you don't have a good credit score quite yet? Or, perhaps you want to maintain your good credit and keep it in good standing?
There are a few simple rules to live by to boost your credit. Take a look:
The most important rule is to make all your payments on time. Your payment history determines 35 percent of your credit score, so it has the biggest impact.
The second rule of thumb is to make sure your credit utilization makes up 30 percent of your score – or less. Your credit utilization is how much of your total credit you use. Maxing out your cards each month can signal the alarms for lenders and make you look like a risk.
Lastly, try not to open too many new lines of credit.

Doing so

in a short period of time can look risky to lenders and lower your credit score.
Chime is here to help you build your credit
Another great way to build your credit is with Chime's Credit Builder Credit Card. Chime's Credit Builder is a no fee, 0% APR secured credit card that helps you build your credit. Each month, Chime reports payments to the major credit bureaus so everyday purchases like gas, groceries, bills, and subscriptions can all count towards your credit score. There are no fees, no credit check, and no minimum security deposit required to apply!
Take responsibility for your credit score
As you can see, taking action and being responsible in your 20s can help you build your credit over time. So, refer back to this guide and start improving your credit score now. And, just think: This will help you land that apartment, buy a new car, or get your first rewards credit card.
Are you ready to improve your credit score in your 20s and start adulting?