When it comes to your money and improving your financial situation, you may wonder: What's a credit score?
Your credit score is a three-digit number that lenders use to measure how responsible you are when it comes to managing your money. While the Fair Isaac Corporation (or FICO®) Scores are the most widely used credit scores, some lenders also look at VantageScores when you apply for a loan or upgrade from a debit card to a credit card. 
Regardless of which scores lenders use, it's helpful to know exactly how your credit score measures up. Read on to learn all you need to know about credit scores. 
Chime® Credit Builder Secured Visa® Credit Card
A New Way to Build Credit
No Credit Check to Apply³
No Annual Fees
Learn More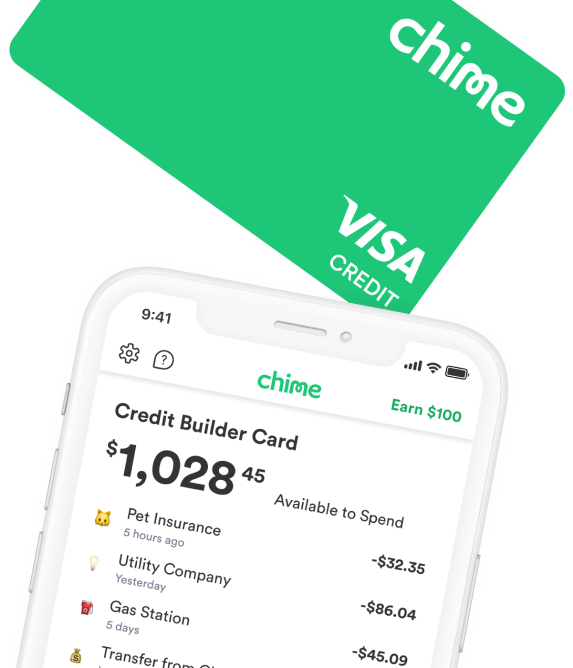 What are credit score ranges?
In simple terms, a credit score range represents all the possible credit scores you have, based on a particular scoring model. Credit score ranges have a high end and a low end, with the remaining scores landing in the middle. 
Both FICO Score and VantageScore 3.0 use the same range for personal credit scores. The lowest credit score you could have with either scoring model is 300. The very highest score you could achieve with either one is 850. 
It's worth noting that with FICO Score and VantageScores, there's more than one score model that could be used. 
For example, there's FICO 8¹, which is widely used by lenders for credit card and loan decisions. But there are other versions of FICO Scores that are industry-specific. So if you're applying for a car loan, for instance, the lender might use a version of FICO Score that's just for car loans. Likewise, a mortgage lender might use FICO versions 2, 4, or 5. With these alternate FICO Scoring models, the credit score range can go from 250 to 900. 
Credit Rating Scale: What is a good credit score range?
Within the range of possible credit scores, there are different divisions. These cutoff points essentially tell lenders whether your credit is great, terrible, or somewhere in-between. 
Both FICO Score and VantageScore have their own guidelines for what makes the cut as excellent or good credit and what doesn't. Here's a side-by-side look at how they compare:
  FICO Score
VantageScore

Exceptional

800+

 

Superprime

781-850

Very good

740-799

Prime

661-780

Good

670-739

Near Prime

601-660

Fair

580-669

Subprime

500-600

Poor

Below 580

Thin & Young

Below 600
As you can see, the two scoring models don't align exactly the same way. Read on to learn why your FICO Score and VantageScore might be different and how each scoring model weighs its scores differently.
What is a good FICO Score?
According to FICO®, a good FICO Score that most consumers should aim for is between 670 and 739. In general, FICO scores place more emphasis on payment history.
FICO creates different types of consumer credit scores. There are "base" FICO Scores that the company makes for lenders in multiple industries to use, as well as industry-specific credit scores for credit card issuers and auto lenders.
The base FICO Scores typically express a consumer's creditworthiness as a number between 300 and 850. FICO's industry-specific credit scores have a range of 250 to 900. 
What is a good VantageScore?
According to VantageScore, a good or  "prime" credit tier is between 661 and 780. In general, VantageScore looks more at how much of your credit limit you're using and what types of credit you have, than FICO Scores do. 
Like FICO Score, VantageScore uses the same credit report data from the 3 credit bureaus to produce a consumer score. 
VantageScore's first two credit scoring models had ranges of 501 to 990. The two newest VantageScore credit scores (VantageScore 3.0 and 4.0) use a 300 to 850 range—the same as the base FICO Scores.
What is the average credit score in the U.S.?
Factors that affect your credit score
If you're curious about how your credit scores are calculated, the numbers are based on what's in your credit report.
FICO Score factors:
With FICO Scores, there are 5 key factors that affect your credit scores. They are: 
Payment history – 35% of your score

Credit utilization – 30% of your score

Credit age – 15% of your score

Credit mix – 10% of your score

Inquiries for new credit – 10% of your score
VantageScores factors:
VantageScores are based on these 5 factors:
Total credit usage, balance, and available credit

Credit mix and experience

Payment history

Age of credit history

New accounts
VantageScore doesn't specify exactly how much weight each one carries when it comes to scoring. But overall, total credit usage, balances, and available credit are most influential. New accounts have the least influence. 
How to improve your credit score
If you haven't checked your credit score, that's something you should do. 
You can check your credit report for free at Annual Credit Report.com. Once you know where you stand score-wise, you can work on raising your score to move up to the next scoring range. 
Some of the most effective ways to do that include: 
Paying your bills on time every month

Keeping the balances on your credit cards low

Not applying for new credit unless you absolutely need it

Keeping older credit accounts open

Using different types of credit, such as loans or credit cards
For FICO Scores, payment history, and maintaining low balances are the most important things to work on. One way you can ensure that you're paying bills on time each month is to set up automatic payments from your checking account. With Chime, you can also set up direct deposit and get paid up to 2 days early².
VantageScores tend to focus more on how much you owe compared to your total credit limit. Your best bet there is to avoid maxing out your cards and pay off your balance in full each month, if possible. 
Why knowing your credit score range matters
Your credit score can affect your financial life in multiple ways. The biggest is borrowing money. 
If you need a car loan, want to open a credit card, or even buy a home, lenders are going to look at your credit score. Now, those aren't the only things they consider. Your income, debt, assets, and employment history can also come into play. But credit scores can trump those things when it comes to getting approved for a loan or credit card. 
Not only that, but your credit scores can also influence the interest rates you pay to borrow. A higher credit score can translate to a lower interest rate and vice versa. When you're borrowing, even if it's a small amount of money, you want the lowest interest rate possible. This keeps more of your money in your pocket since you're paying less in total interest over time. 
Credit scores can also affect other parts of your financial life. For example, if you're trying to rent an apartment, the landlord might perform a credit check. A poor credit score could be a deal-breaker for getting a lease.
In addition, you might have to undergo a credit check if you're trying to get a cell phone or utility services in your name. Employers can also pull your credit, with your permission, if you apply for a job. 
A second chance banking account can always help with improving your credit and help you get back on track financially if need be
FAQs
What are the highest and lowest credit scores?
The current credit scoring models from both FICO Score and VantageScore use a score range of 300 to 850. That means 850 would be the highest possible credit score, while 300 would be the lowest. 
There are some exceptions to this. For example, the FICO Auto Score is a special variation on the FICO Score designed for use in the auto financing industry. FICO Auto Scores are generated by making additional adjustments to standard FICO Scores, but they use a different score range, 250 to 900. Like the Auto Score, the FICO Bankcard Score, customized for use by credit card issuers, also uses a score range of 250 to 900.
Is there only one credit score?
Your credit scores are calculated using information from your credit reports, which you can get from the 3 major credit bureaus — Equifax, Experian and TransUnion. Because there are multiple credit reports, there are also multiple credit scores.
There are a few reasons why your credit reports are different, one being that each credit bureau only has the information that gets submitted to it. Not all creditors report account information to all 3 bureaus, so credit bureaus can have different information. Also, there are many different credit scoring models used by credit bureaus, so it's common to have different credit scores across all 3 bureaus.
Why do credit scoring models have so many variations?
There are a few reasons why FICO Score and VantageScore models have many variations:
Scoring models have versions tailored to specific purposes.

In addition to providing generic scoring models, both FICO Score and VantageScore have specialized models that assess the risk of providing auto loans, mortgages, and bank cards, for example.

The models get updated from year to year.

Both FICO Score and VantageScore have released updated versions of their models over the years. FICO Score has released 9 updates of their basic scoring model while VantageScore has 4. The older versions of these models are still used by many lenders.
Final thoughts
The more you know about credit, the better off you'll be.
Getting some savings under your belt can help you use credit wisely and avoid adding to your debt in an emergency. If you don't have a savings account yet, consider opening one with Chime. This way you can also use automatic savings deposits to grow your emergency cushion in no time.