Chime is a financial technology company, not a bank. Banking services provided by The Bancorp Bank or Stride Bank N.A.; Members FDIC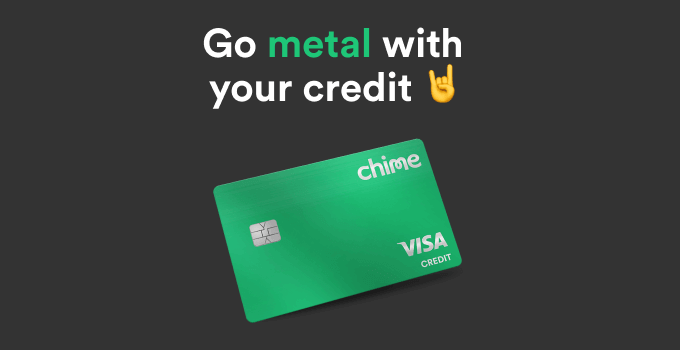 Terms and Conditions: In order for a Chime Member ("Member") to receive a Limited-Edition Metal Chime Visa® Credit Card ("Metal Card"), the following conditions must be met: Must receive an announcement email with subject line [Credit Builder] Want a Metal credit card? Look inside ("Email") regarding the Metal Card Challenge ("email") and must make a total of forty (40) qualifying transactions of at least $1.00 using the Chime Credit Builder Visa® Credit Card ("Credit Card") within 60 days from receiving the Email ("Promotion Period"); with a maximum of five (5) qualifying transactions in a calendar day based on Member's local time zone. The qualifying transaction is a debit of $1.00 or more to your Credit Builder Account using your Credit Card number; excluding transfers to, from, or through services such as PayPal, Facebook Pay,  Apple Pay, GooglePay, Cash App, or Venmo. Payment of your Credit Builder balance, adding money to the Credit Builder Secured Deposit Account, or credits, cash advances, refunds or transactions using your Credit Builder account number are not qualifying transactions. If Member makes more than five (5) transactions a day, any additional transactions will not count toward the total of forty (40) qualifying transactions.  Each Member who meets the conditions will be awarded a Metal Card. Metal Card offer is valid only during the Promotion Period. The Metal Card will be shipped within approximately ten (10) business days after completion of the forty transactions. The Metal Card will take up to approximately fourteen (14) business days from shipping to be delivered. We'll email you when your card is shipped! Member receiving the Metal Card will keep the same card number but its expiration date and security code (CVV) will be different. Member must provide this updated information to merchants to ensure auto-payments and recurring payment activity continues uninterrupted. Upon its expiration or if the Metal Card is lost, stolen, or damaged, Member will receive Chime's standard replacement card. Chime reserves the right to cancel or modify the terms of this offer, or terminate Member's eligibility, at any time with or without prior notice.
Only purchases and payments with Credit Builder Credit Card count towards the forty (40) transactions.  Paying your Credit Builder monthly statement balance or adding money to the Credit Builder secured account will not count toward the required transactions.