Signing up takes 2 Minutes!

Scroll to the bottom for details on SpotMe¹, early pay day² and fees³.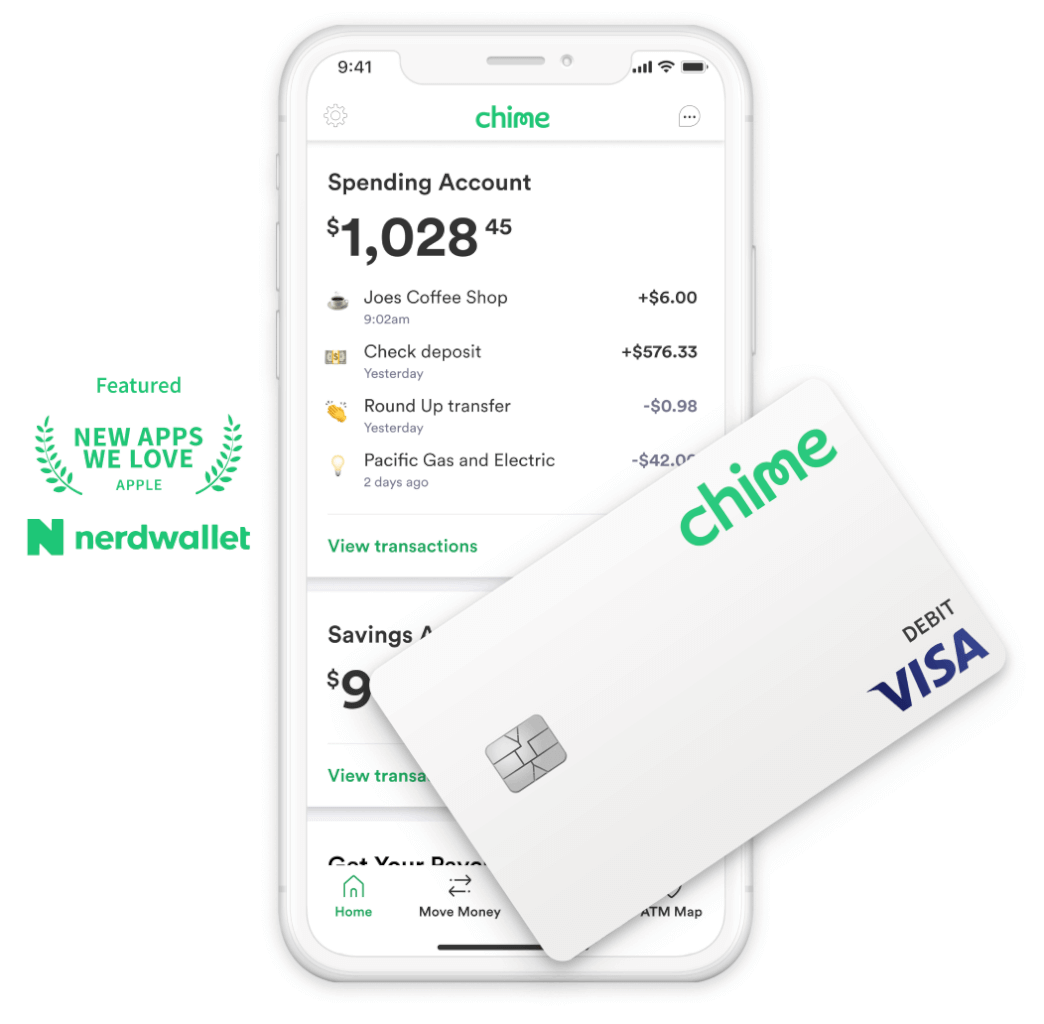 Banking Services provided by The Bancorp Bank or Stride Bank, N.A.; Members FDIC
250,000+ 5-Star app reviews
"WILL NEVER TURN BACK!"
With Chime you get updates via notifications every time you spend, you get PAID TWO DAYS EARLY, and they never let you overdraft.
Grace S
, App Store Review
"Best bank account I've ever had"
I love the savings account, the roundups, and the 10% savings from each check. Chime is the best bank account ever I swear!
"Best App & Best Bank Account"
Amazing. The best part about this app is that I get paid two days early. My coworkers didn't believe me when I told them!
Gr8ness25
, App Store Review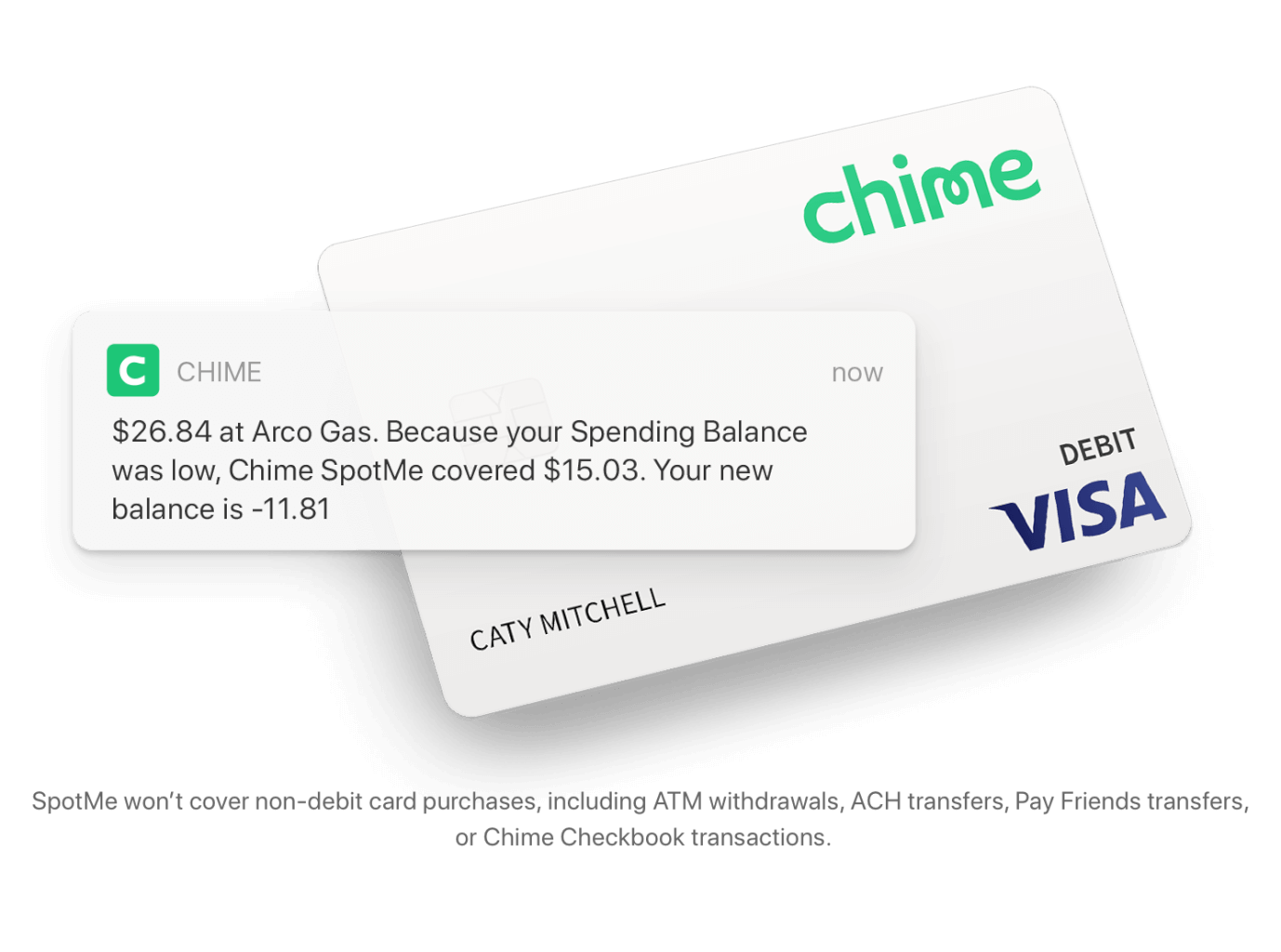 Fee-free Overdraft
Traditional banks took $11 Billion in overdraft fees in 2019.⁴ At Chime, we do things differently. We will allow you to overdraw up to $100¹ on debit card purchases without charging a fee.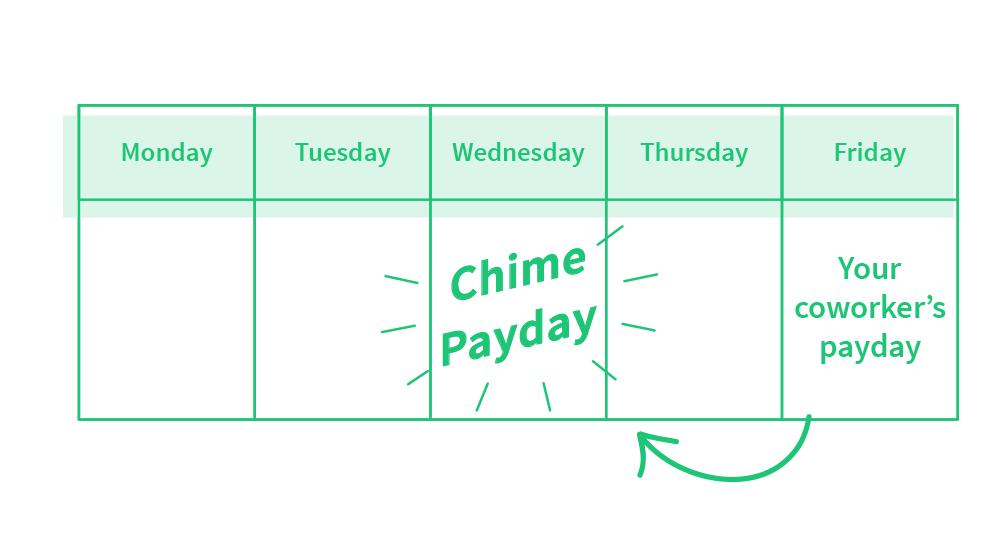 Get your paycheck early.
Set up Direct Deposit and receive your paycheck up to 2 days earlier than your co-workers!2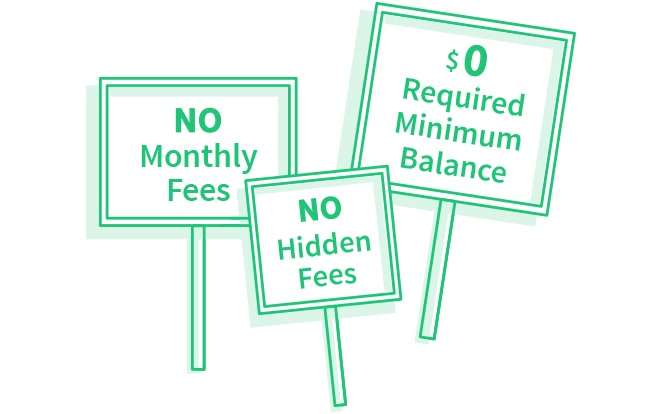 Say goodbye to unnecessary bank fees.
No overdraft fees. No minimum balance requirements. No monthly service fees. No foreign transaction fees. No transfer fees. Over 38,000 fee-free MoneyPass® and Visa® Plus Alliance ATMs.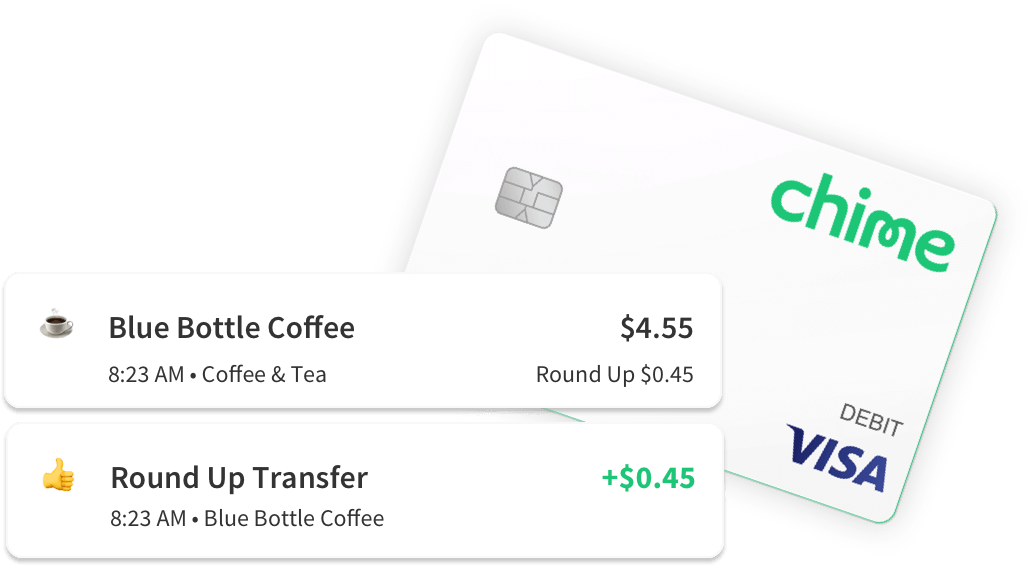 Grow your savings, automatically.
Reach your goals faster by saving money automatically. Our Automatic Savings features help you save money any time you spend or get paid.
Security and control on the go.
Chime's mobile app makes branchless banking a breeze. Manage your money and account on the go, wherever you go.

Your deposits are insured up to $250,000 through The Bancorp Bank or Stride Bank; Member FDIC.

Visa's Zero-Liability Policy protects all unauthorized purchases.5

Over 38,000 fee-free ATMs and 30,000 cash-back locations.

Real-time alerts for every banking transaction.

Automatic Savings takes the effort out of saving.

No minimum, monthly, or overdraft fees.
Banking Services provided by The Bancorp Bank or Stride Bank, N.A., Members FDIC. The Chime Visa® Debit Card is issued by The Bancorp Bank or Stride Bank pursuant to a license from Visa U.S.A. Inc. and may be used everywhere Visa debit cards are accepted. Please see back of your Card for its issuing bank.
¹ Chime SpotMe is an optional, no fee service that requires you receive $500 in direct deposits a month to qualify to overdraw your account up to $20 on debit card purchases. Chime, in its sole discretion, may allow you to overdraw your account up to $100 or more based on your Chime Account history, direct deposit history and amount, spending activity and other risk-based factors. Your Limit will be displayed to you within the Chime mobile app. You will receive notice of any changes to your Limit. Your Limit may be increased or lowered at any time by Chime.
² Early access to direct deposit funds depends on timing of payer's submission of deposits. We generally post such deposits on the day they are received which may be up to 2 days earlier than the payer's scheduled payment date.
³ Out-of-Network cash withdrawal fees apply. Third-party and cash deposit fees may apply.
⁴ June 2020 Overdraft Fees Report https://www.responsiblelending.org/sites/default/files/nodes/files/research-publication/crl-overdraft-covid19-jun2019.pdf
⁵ You must notify your financial institution immediately of any unauthorized use. For specific restrictions, limitations and other details, please consult your issuer
© 2013-2020 Chime. All Rights Reserved.