Chime Free Mobile Payment App
Pay Friends. Always Free.
Pay Friends is a payment app feature that is built into your mobile bank account.  Instantly send money to your friends, family, or roommates when they open a Chime Spending Account.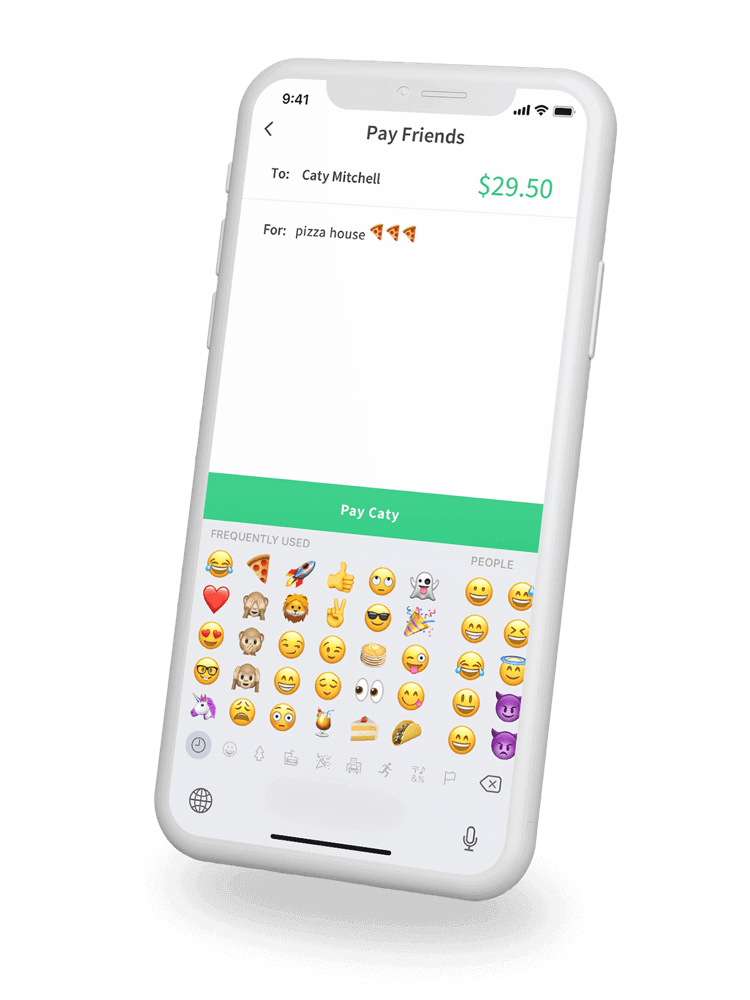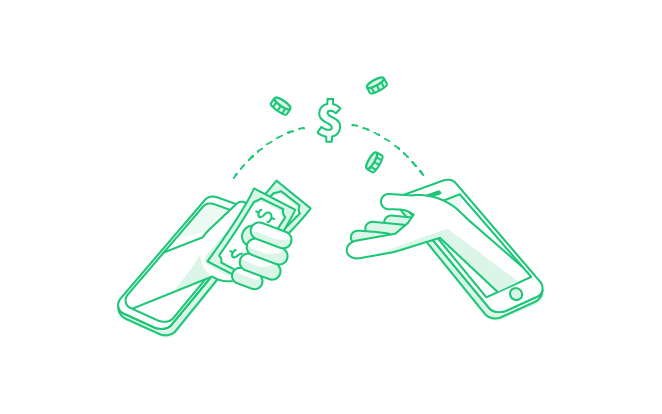 Mobile Payments Done Right.
That starts with no fees. Ever. We believe sending money should always be free, so we do not charge the common wire fees charged by other mobile payment apps, because you can transfer money for free between Chime bank accounts. Just like our commitment to providing you a Spending Account with no hidden fees, when you pay friends, family, or anyone, there will always be no fees.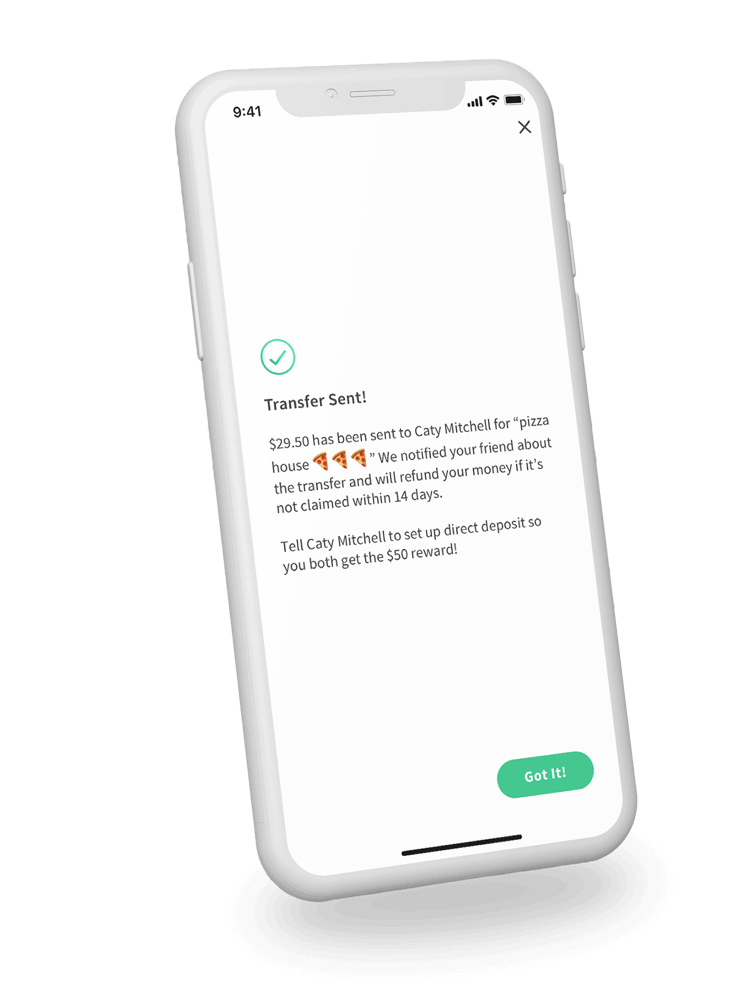 Access Your Money Instantly from other Chime Members.
Pay Friends is different than other Peer 2 Peer (P2P) payment apps because Pay Friends is connected to your bank account. No need to worry about connecting your Chime Spending Account to yet another money transfer app, simply use Pay Friends with total convenience.

Mobile Payments on iPhone® & Android™
Pay Friends is available on both iOS and Android and can be used to transfer money to friends regardless of which device they use. Pay Friends will automatically pull in your contacts from your contact list to help you find and pay friends quickly.  You can also pay friends or family using their phone number or email address.
What Our Members Are Saying About Pay Friends
I like being able to instantly send money to fellow chime members without extra fees or transferring through the bank, etc. you just hit send and it is immediately available to the person on their card without any further action
Eboni B.
, Member since 2018
I really appreciate how easy it is to send money to my family and friends and also the benefits of getting paid two days early* thank you
Drucilla W.
, Member since 2018
I love the fact that I can send money to my daughter instantly.
Cekeithia P.
, Member since 2016
I love how it works! I can also pay friends and family immediately from my card to theirs.
Wanda G.
, Members since 2017
Love how easy it is to use and send money to family.
Christina T.
, Member since 2017
You guys give the best customer support. I recommend my girlfriend to make the switch and she likes it. easy to send money to her when I'm away. Chime thank you!
Marshall C.
, Member since 2015
You can send money to your friends in less than a minute at any time
Alma L.
, Member since 2016
Chime has made it much easier to send money back and forth between myself and others. Plus I get paid two days before payday.*
Sarah K.
, Member since 2018
Chime is the most user-friendly bank [account] on the planet. No hidden fees, easy transfers, and easy check payments. Also—the card and app are so cute!
Dayna M.
, Member since 2017
Ease of use with the app and flexibility with mobile payments.
John B.
, Member since 2018
Chime is an amazing money app.
Eric W.
, Member since 2017
Easy to use for p2p payments. Prefer it to other mobile payment apps.
Anthony P.
, Member since 2017
4 Reasons to Use Pay Friends vs. Other P2P Apps
Get money into your bank account instantly. Money is instantly deposited into your Spending Account for transfers between Chime Members

No need to wait days for money to arrive in your Chime Spending Account or pay to cash out. Other apps you may use to send money typically make you wait to at least 1 business day.

No fees charged to transfer money to friends or to access the funds from the mobile payment. Many P2P platforms charge a fee to get your money instantly. Fees can range from a flat fee of .25 cents to 1.5% of the total amount.

Funds in Chime accounts are FDIC insured through The Bancorp Bank or Stride Bank; Member FDIC, which means your money is protected.
Here's how our Pay Friends transfers compare to other payment apps:
Chime Pay Friends Payments
Cash App¹
Venmo Payment App²
Standard Transfer Time to Your Bank Account with No Fee
Instant for Chime Members
Fees for Expedited or Instant Transfers
FDIC-insured Spending Account
Yes, Bancorp Bank or Stride Bank; Member FDIC
Accurate as of January 2019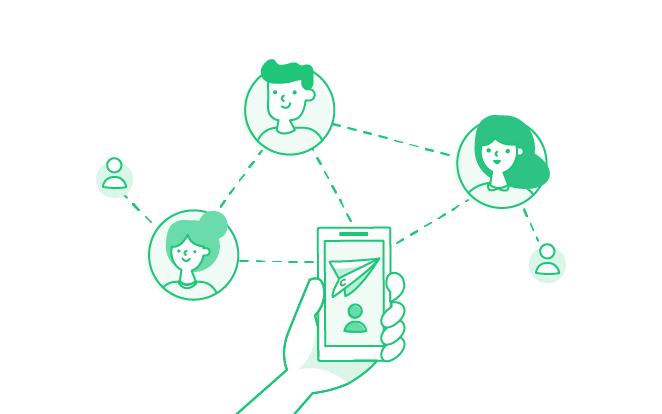 How to Start Mobile Paying Your Friends
Send money in a snap:
Open the Chime mobile app and tap 'Pay Friends'.
Input your friend's email or phone number or select them from your contact list.
Enter the amount of money you want to transfer and click 'Send'
Your friend will receive a message with directions on how to sign up for a Chime Spending Account and claim the money if they don't have Chime. Remember, Chime mobile payments are always free!
Get Started Today
Applying for an account is free and takes less than
2 minutes with no impact to your credit score.