The next time you're whipping out your debit card to buy a comfy sweater or an exercise bike or a couch online, look closely. 
You might see the option to "pay in installments," meaning: pay in equal chunks across a series of weeks or months. Sometimes this comes with no interest or fees. 
Sounds pretty sweet, right? Well you're not the only one who thinks so.
These so-called point-of-sale installment loans, aka "instant financing" or "buy now, pay later," have exploded in recent years. You'll see installment plans offered on sites from Anthropologie to Wayfair, and everywhere in between. In 2018 alone, the lender Afterpay saw its sales transactions increase by 140% — to $5.2 billion — and its user base grow to 5.2 million. 
But how, exactly, do installment plans work? And are they a good idea? Keep reading to find out.
What are installment plans? 
Installment plans allow you to finance a purchase by paying for it over a set period of time — generally anywhere from a few weeks to a year. They're basically a modern version of the layaway, with the big difference being that you get the product after your first installment. 
Much of the growth in the installment plan industry can be attributed to millennials and Gen Z-ers, who view installment plans as a welcome alternative to credit cards. In Australia, 70% of Afterpay's users are under 34, reported Financial Review, and in the U.S., the average user age is 33. 
Courtney Ranstrom, a certified financial planner and founder of Trailhead Planners, doesn't think that's a bad thing. 
"I like installment plans, particularly for younger people who are still building their credit," she says. 
"When people are able to plan for expenses that may be slightly out of reach with cash flow or savings — but affordable with an installment plan — I think they make more sense than using a credit card." 
That may be because installment plans often have lower interest rates: Whereas the average credit card APR hovers around 17%, many installment plans don't charge any interest at all. 
How do point-of-sale installment plans work? 
You'll most often encounter a point-of-sale installment plan when checking out of an online retailer, where it'll be listed as a payment option. 
Here's a sample transaction I did at the fancy-schmancy sheets company Brooklinen. You'll see Affirm, the lender, listed underneath the credit cards, PayPal, and Amazon Pay.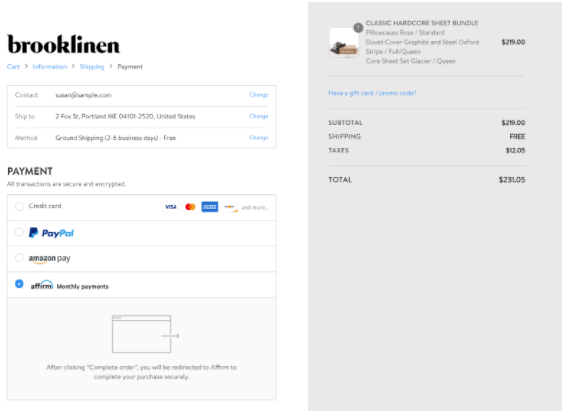 After clicking on "Complete order," you'll be taken to an Affirm page that asks you to verify your phone number. Once that's done, you'll enter your birthdate and the last four digits of your Social Security number. Within 15 seconds, Affirm will complete a soft credit check (which doesn't hurt your credit scores), and present you with an offer. Or, if you have poor or limited credit, it may decline your application.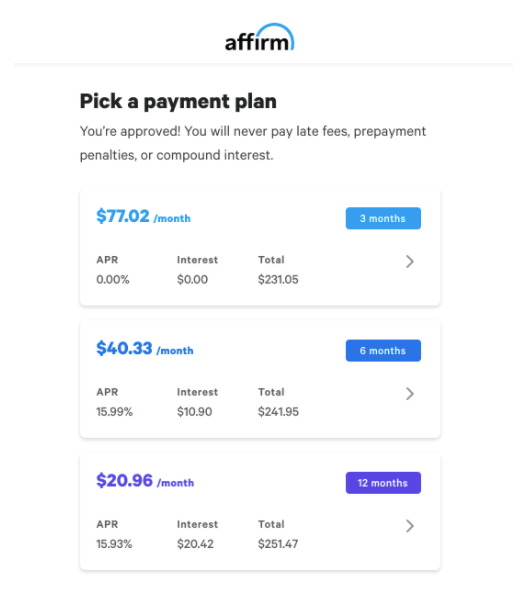 When it comes to paying back your loan, each company works slightly differently. Affirm installments, for example, can be paid over three, six, or 12 months, and include interest (sometimes 0%) but no fees. Other companies divide your purchase into four even payments — and charge fees but no interest.
With any of the lenders, you'll receive your purchase after making your first payment. For the next installments, you can opt for automatic or manual payments — just don't miss one, as that can trigger late fees (and potentially damage your credit scores). 
Another way to use installment plans is to sign up for a "virtual credit card." In most cases, you'll download the lender's app and enter the dollar amount of the purchase you'd like to make. The lender then generates a disposable credit card number that you can use to pay on any merchant's website.
4 installment plan services you should know about
Among the major installment plan services, Affirm is one of the only companies that allows you to choose the terms of your loan. It's also one of the only companies to charge interest, though it says one-third of its loans are issued at a 0% rate. 
Three of the other big players work similarly: After paying 25% up front, the remaining 75% of your purchase is divided into three equal payments, which are charged to your credit or debit card every two weeks. 
You can also check if your credit card issuer offers an installment plan, such as Pay It Plan It from American Express or the soon-to-launch My Chase Plan, both of which charge fixed monthly fees rather than interest. 
Name
Loan Lenght
Interest Rates
Fees
Virtual Card?

Affirm

3, 6, or 12 months

0%-30% (average is

17%

)

None

Yes

Afterpay

6 weeks

0%

$8 per late payment (or 25% of product's value,  whichever is less)

No

Klarna

6 weeks

0%

None
Yes

QuadPay

6 weeks

0%

$1 per installment paid by card (free via check), plus $7 per late payment

Yes — which you can also use at brick-and-mortar retailers
As you'll see, most of the plans don't charge anything if you pay on time — they make their money on kickbacks from the store, rather than the shopper.
Why would retailers agree to this? Because consumers (read: YOU) spend more money when presented with installment plans. 
Klarna, for instance, claims that 44% of its users say they would've abandoned their cart if installments weren't available — and that, on average, shoppers order 68% more when paying with installments. 
Good for the store… not so good for your wallet. 
Tips for making the most of installment plans 
Calculate your total amount:

Before signing on the dotted line, make sure you know exactly how much the loan will cost over its lifetime. If you have a credit card, compare it to the total you'd pay if you financed the product that way (or with a 0% APR card). 
Understand the terms and conditions:

Even if you're using a lender with whom you've done business before, terms can vary depending on the retailer. So be sure to read the fine print. 
Automate it:

Most of the point-of-sale installment loan companies allow you to set up

automatic payments

, which will help you avoid missing due dates. If you're worried about overdrafting, you can sign up for payment reminders instead (or just become a Chime member and enjoy

fee-free overdrafts

!). 
Remember that installment plans can complicate returns:

Don't want that new couch after all? If you purchased it with an installment plan, you may need to continue paying your installments until the lender gets confirmation that you returned the item. 
No matter what, Lazetta Braxton, a certified financial planner and founder of Financial Fountains, says it's imperative to only accept a loan if you have a plan for paying it off. If, for instance, the loan is $799 spread over 11 months (Affirm's average loan amount), you should know exactly where that $72 is coming from each month. If you don't have that figured out — and if you don't qualify for a 0% interest rate — she'd recommend avoiding installment plans altogether. 
Are installment plans a good idea?
There's no doubt about it: Installment plans can sometimes provide an affordable alternative to credit cards. But that doesn't mean you should make them a habit. 
"I don't think these plans should be used frequently," says Ranstrom of Trailhead Planners. 
"If you've just moved and need to buy a new couch or bed, then they may be the most effective option. Or, if you've just finished school, are starting a new job, and are buying work clothes, they can be a good way to spread out payments over time for something that you need." 
And that right there is the key: only use installment plans when you're buying something you truly need. Otherwise, installment plans can provide a dangerously convenient way to spend more than you can afford. 
The bottom line: Proceed with caution. While installment plans can provide a "good backup" in certain situations, Ranstrom says the best plan, of course, is to "save up for something" and then buy it outright. 
---
This page is for informational purposes only. Chime does not provide financial, legal, or accounting advice. This material has been prepared for informational purposes only, and is not intended to provide, and should not be relied on for financial, legal or accounting advice. You should consult your own financial, legal and accounting advisors before engaging in any transaction.