A good credit score comes with a variety of benefits, such as making it easier to borrow money and getting better interest rates. 
But building good credit can take time and patience, especially if you're trying to recover from a negative credit history. 
There are simple steps you can take toward raising your credit score and improving your credit history. Read on for some credit-building tips. 
What affects your credit score?
To understand how to rebuild credit, it first helps to know what can hurt (or help) your scores. Most lenders use your FICO® (Fair Isaac Corporation) Score, which is based on 5 key factors: 
Payment history (35% of your score)

Amounts owed (30% of your score)

Length of credit history (15% of your score)

Credit mix (10% of your score)

New credit (10% of your score)
Taking all of these factors into account, here's what can damage or lower your credit score: 
Missed or late payments 

High credit balances 

Relying heavily on multiple forms of credit
Your credit score may also be low if you have a short credit history or don't have any credit accounts yet. Starting your credit journey is different from rebuilding your credit. You're starting with a clean slate vs. working to undo damage to your credit score. 
Timeline to rebuilding your credit
Building your credit from scratch could happen in as soon as a month. However, rebuilding damaged credit can take much longer. Paying down credit accounts, showing a history of on-time monthly payments, and other credit-building practices take time. It may take 12 – 18 months, or longer, for you to repair your credit score. 
Ultimately, how long it takes to raise your credit score depends on your current financial situation, how much damage has been done to your credit, and what steps you're able to take now to get back on track. 
Chime® Credit Builder Secured Visa® Credit Card
A New Way to Build Credit
No Credit Check to Apply1
No Annual Fees
Learn More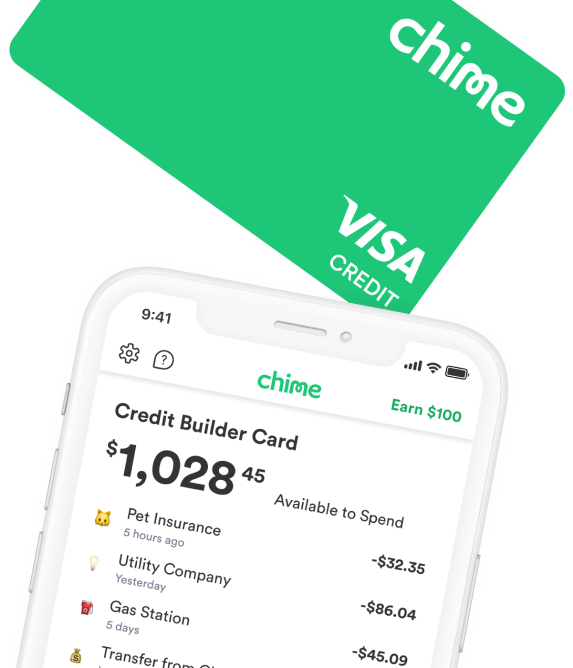 Start simple: Pay your bills
The first step you can take toward repairing your credit is paying your bills on time. And, bring past-due accounts up-to-date. If you've struggled with paying bills on time in the past, then you need to get a system in place for staying on top of them if you want to rebuild your credit. For example, some of the things you can do include:
Creating a

monthly budget

and tracking your spending 

Setting up direct deposit so you can get paid up to 2 days earlier

Creating bill due date alerts through an online bank account so you know when bills are due

Scheduling automatic payments from your checking account

Setting up automatic savings deposits to help build an emergency cushion for unexpected expenses 
Those are all simple ways to keep up with your bills and build a positive payment history. In some cases, you might be in a tougher financial situation. Figure out what's within your means and makes the most sense for your money obligations. 
Get to know your credit utilization ratio
Aside from just knowing your credit score, dive in a little deeper and check out your credit utilization. If you're not sure what your credit utilization ratio is, there's a simple way to figure it out. Simply divide the balance on your credit card by your credit limit. 
Example: A $1,000 credit limit with a $700 balance equals a credit utilization of 70%. In other 
Ideally, you should be aiming for a utilization ratio of 30% or less if you're trying to rebuild credit. Aiming for 10% or less is even better. There are different ways to improve your credit utilization, including paying down your balance. The key here is not making additional purchases and, instead, paying off what you can. 
Take a look at your entire credit picture and consider how changes would impact your overall score. For example, closing out a credit card may sound appealing, but it could increase your credit utilization and decrease your credit age, ultimately hurting your credit score. 
Consider new credit accounts
Depending on what forms of credit you already have going, opening up a new credit account could help you bring your score back up. For example, opening a new credit card can improve your credit utilization and give you the chance to build a history of timely payments. 
However, keep in mind that applying for a credit card can result in a hard inquiry on your credit report. This can knock your score down a few points. You also have to consider how you'd use the account. You don't want to end up with a large credit card balance and additional payments you're not ready to take on. 
If you have poor credit, be aware that you might not be able to qualify for a traditional credit card. You may have to choose a secured credit card instead, which. Ultimately, this option could be helpful, but isn't the best for everyone. 
Don't be afraid to ask for help
While rebuilding credit is something you can do on your own, it can sometimes be overwhelming. If you find yourself needing help rebuilding credit, there are several things you can try, including:
Credit and debt counseling

Debt management programs

Debt consolidation or refinancing

Reaching out to family and friends
Credit repair services are another possibility, but it's important to do your homework. Many of these organizations charge a fee. While they can save you time, they won't save you money. And in some cases, credit repair companies may simply be scams. 
Again, it also pays to stay in touch with your creditors and lenders during tough financial times. They may have options to help you get past-due accounts caught up so you can work on building positive credit history going forward. 
And it also pays to be vigilant in monitoring your credit report for potential errors or suspected fraud that could result in credit score damage. 
Rebuilding your credit FAQs
How long does it take to raise your credit score?
You could potentially raise your credit score in 1 – 2 months. However, it depends on your current score, your financial situation, and how much you want to raise it. For those rebuilding damaged credit, it could take much longer.
How long does it take to repair your credit after paying off debt?
Paying off debt doesn't mean your credit will automatically improve. In some cases, you may see your credit dip before improving over the next couple of months after the debt is paid off. Keep in mind, credit utilization and credit history play a role in building and maintaining credit. 
How can I rebuild my credit fast?
Repairing damaged credit takes time. But, there are steps you can take right away to get back on track. Pay your bills on time, make the necessary payments on past-due accounts, pay down accounts with high balances, and be careful about opening up too many new accounts. 
Bottom line
As you can see, the process to address and nurture your credit takes time. Pay your bills on time, maintain low balances, and keep a pulse on how many credit accounts you have open and when you use them.
With the right effort and good money habits, you can boost your credit score. Then, you'll be able to borrow money when you need it and secure great rates. You may not see the results right away, but remember, slow and steady wins the race.