Nine years ago, Chime member Kristen had nothing but a backpack to her name and a history of overdrafting. Today, she is nine years sober, owns a house and Mustang convertible, has adopted four rescue dogs, helps her mom with her bills, and even has custody of her niece.
Kristen was kind enough to share her journey to sobriety and financial stability with us. Her story demonstrates the importance of family, perseverance, and second chances.
Turning her life around
We first met Kristen on the Chime Blog a few weeks ago when she shared her experience of growing her family. She and her partner Cassie are currently trying to get pregnant through IUI (intrauterine insemination). In the meantime, they've also grown their family by adopting dogs in need, taking in multiple nieces, and applying to become foster parents.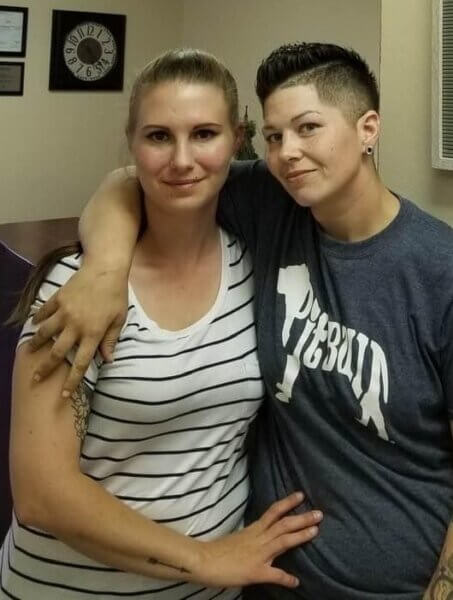 Kristen (right) and Cassie (left).
Along the way, Kristen has relied on Chime's features to keep her going. Most recently, Chime helped her rescue her newest pup, Xia, when Kristen wouldn't have otherwise had the funds for the adoption fee until her upcoming paycheck. Read more about Kristen's journey to motherhood.
But Kristen was not always in a place emotionally and financially where she could own a house, drive a Mustang, take care of four dogs, and have children of her own. So how did she get here?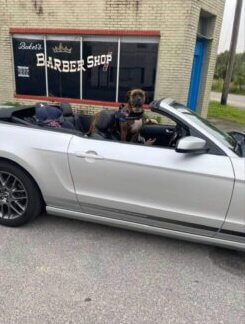 Kristen's gentle giant, Malakhi, enjoying a ride in her Mustang.
Kristen says the first step toward turning your life around if you're struggling with addiction is getting away from everything that leads you down that path.
"If anybody is struggling out there, any Chime members … seriously, get help. Get away from people, places, and things, because that helped me so much," Kristen shared. "Moving from New Jersey to Florida was a winner for me. You got to get away from all those old things because that is what keeps bringing you back."
A story of second chances
Kristen's move from New Jersey to Florida got her away from what originally pulled her into addiction at 16 and kept her there for years.
But as Kristen will tell you, it takes a village. Before she could ever afford to move out of state, Kristen's mother and grandma had to bail her out of jail multiple times. Her mom once sold her home to cover the cost of her bail.
"She's the most amazing mom out there," Kristen shared.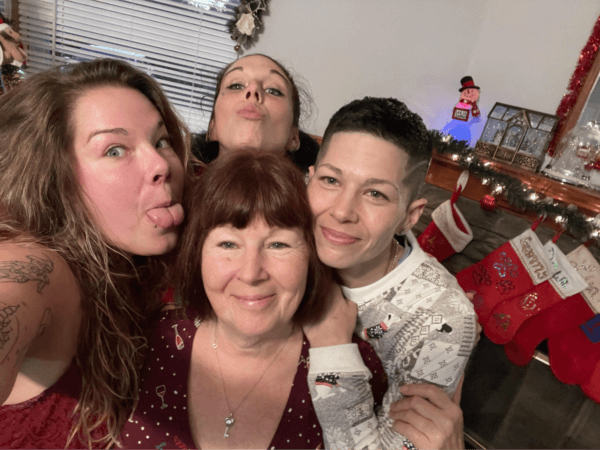 Kristen (right) with her mom (center) and two of her sisters, Taryn and Erin.
And now that Kristen is nine years sober and has achieved financial independence, she can help her mom, who is sick, with her bills. "I'm actually able to be there for my family instead of taking from them, like I used to. It's just rewarding," she said.
Second chance banking
Kristen owes her recovery and success to more than just the second chances from her mother. Addiction had genuine financial implications for Kristen that were difficult to overcome on her own.
"When I was in addiction … I would go to bank accounts, open bank accounts, would overdraft, and not pay them back," she explained. Over time, that caught up with her, and as she got clean, she struggled to convince banks to take another chance on her.
Enter Chime. "Back when I did open Chime, I couldn't open anything else," Kristen explained. "Chime helped me get that sense of security back where I didn't have to carry cash around all the time."
Chime offers second chance banking for people who have struggled with their accounts in the past. No credit check and no monthly fees to navigate as you get back on your feet — and signing up only takes a couple of minutes. We understand that everyone has a past; we give our members the tools to build a better financial future.
"I think Chime is awesome. I really do. They've always had my back, even with the [fee-free] overdraft.1 That's amazing in itself."
Building credit
Achieving home ownership in Florida was an essential part of Kristen's recovery. But it wasn't easy.
Kristen says she saved every single penny for six months just to come up with a down payment. And while she deserves major kudos for her diligence, she also admits that her family made it all possible. Her uncle helped her buy the house, and her mom let Kristen move in for four months while she saved up. "I definitely got lucky that I have a great family."
Building her savings was just one part of the equation. Following her history of delinquent accounts, Kristen had to work hard to repair her credit score. It took Kristen half a year to pay off her credit card debt, and she had to resist the temptation to swipe her card for even longer to keep her credit utilization low.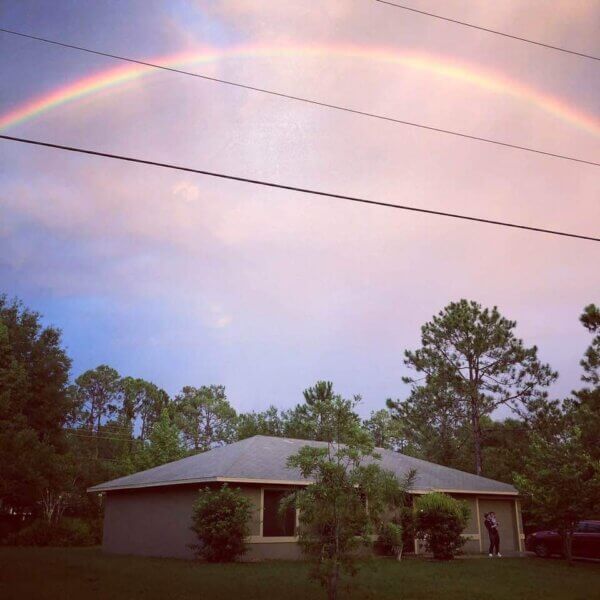 Kristen posing in front of her new home.
And while repairing her credit score made it easier to buy a house, her score took another hit immediately after moving in. "When I bought my house, my credit score dropped drastically because [of] all that debt you now have," Kristen explained. "When I got that Credit Builder card, my score went up like 40-something points. And then I was able to pay off my credit cards."
Kristen's not alone. On average, members see a 30-point increase2 in their credit scores by using the Chime Credit Builder Secured Visa® Credit Card. We report to all three major credit bureaus, and there's no annual fee, no interest,³ no credit check to apply, and no minimum security deposit.4 We like to think of it as a new – and easier – way to build credit.
At first, Kristen wasn't sold on the card; a 30-point increase sounded too good to be true. "I was kind of iffy about that card because everybody was saying it makes your score go up. But it really does."
The importance of family
A strategic move, rehab and recovery meetings, a bank account, and a secured credit card that helped her rebuild her finances – these were all crucial parts of Kristen's journey to sobriety.
But what's kept Kristen sober for nine years now is her family.
Kristen is fiercely loyal to the family in her life, especially her mother, grandma, sisters, nieces, and partner Cassie. Staying sober so she can continue to care for and bring joy to the people (and dogs!) in her life is immensely important to Kristen.
In 2019, Kristen lost her sister, Robin, to addiction. Kristen carries Robin with her every day, with her photo on display in her kitchen. The memory of Robin motivates Kristen to stay on the right path for her family.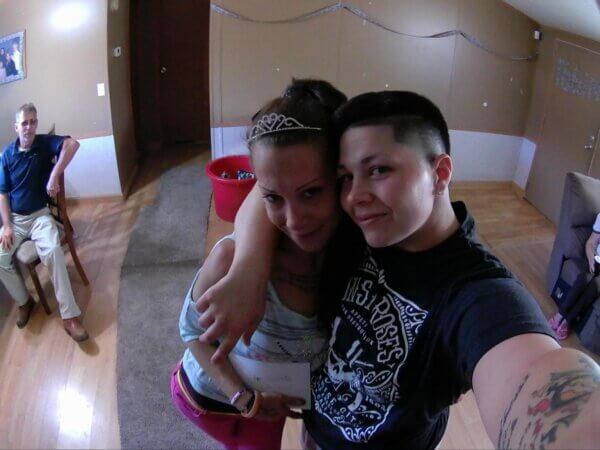 Kristen (right) and Robin (left), whose memory Kristen cherishes each day.
A message of hope
Kristen's upward journey is a story of perseverance, strength, kindness, and second chances. We give her major kudos for sharing such a personal story in the hopes of helping other Chime members.
"I think I could give [hope to] certain people who have experienced the things I've experienced — losing somebody so close to addiction, being an addict themselves, having to carry that and still staying clean and going through the motions and taking care of other people," Kristen said.
"I just want people to know that you can do it too."
Real members. Sponsored content.