Safety and security are top priorities at Chime. Our members can stay on top of their money and feel confident that they're protected with features like two-factor authentication and real-time transaction alerts.
Still, we live in a world where scammers exist and rely on old-fashioned tactics to get information that isn't theirs. The good news is you can protect your accounts with a few layers of security and the inside scoop on how to spot Chime money scams. Know which scams are out there so you can easily avoid them and be your own strongest defense (and get better sleep).
Sweepstakes scams
Who likes to win free stuff? 🙌 Everyone! But because fraudsters know the impact of a prize, they'll promote fake winnings to get people's personal information. If you win a Chime sweepstakes, you'll automatically see your winnings in your Chime account. Boom. That's it. We never ask you to verify any information if you've won.
It's a huge red flag if you get a "You've won!" message via social media asking you to verify your email address, log into a third-party site, or provide personal information like your address or password. 
Just remember: Chime social media accounts are verified and all have the handle @Chime. And you'll know if a Chime sweepstake or promotion is authentic because it will be advertised across our official social profiles.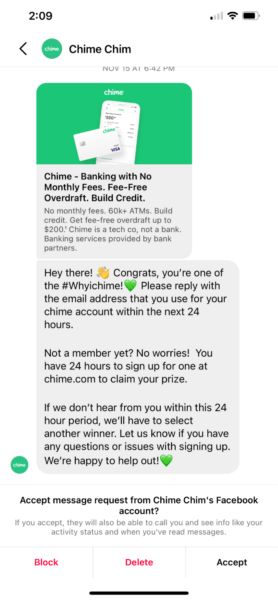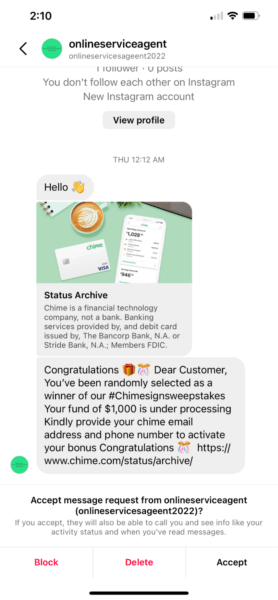 Random accounts asking for your info? Hit the "Block" button. 
How to avoid it:
✓ Don't click on any suspicious third-party links  
✓ Watch out for odd misspelled words and capitalizations
✓ Check the URL (Chime's will always be Chime.com)
✓ Check for our verified social handle @Chime   
✓ Don't give out any personal information 
"Unauthorized transaction" SMS and phone call scams
Have you received a call or text claiming there's been an unauthorized transaction on your account? And in order to get your "new card," you'll have to verify some account details? Scammers love this one. 
Whether over the phone or via text, scammers may pose as a Chime member services agent and request personal information or try to have you download an app that gives them access. Nope! Don't go there. 
If some form of fraud or risk is suspected on a Chime member's account, here's what really happens:
The transaction will be declined

or the card will be disabled, and you won't be able to make purchases. 

Chime will send declined transaction push notifications

or banners/messages

within the app

. You should check the app if their transactions are declined for any reason. 

Chime will send an SMS text

to the member to confirm the transaction, but it will read exactly like this:

"Did you try to use your Chime card ending [LAST 4] for $[AMOUNT] at [MERCHANT] on [DATE]? Reply Yes or No." 
If you reply "YES", Chime asks you to retry the transaction and unlocks your card for one hour. If you reply "NO", Chime continues to decline transactions, and you are told to reach out to Chime to replace your card. Not the other way around.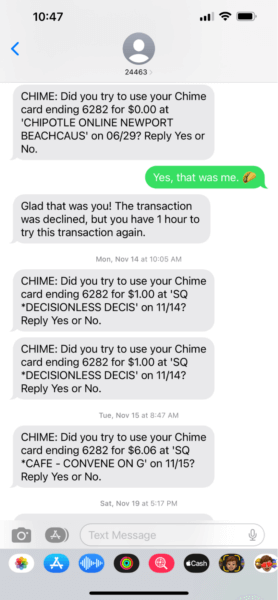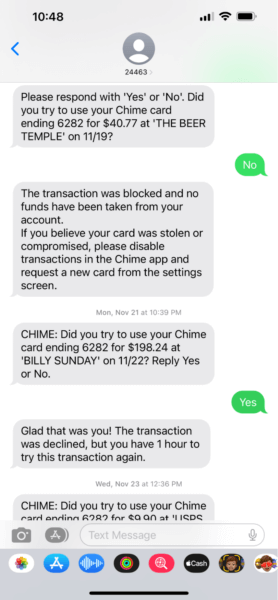 These texts are actually from Chime.
In scam SMS messages, you'll notice some false names and phrases used, such as "Chime Bank" and "Chime Bancorp". We've also seen texts claiming to be from "Chime Banking," which is also fake. Often, these scammers will follow up with a call, which is also indicated in one of the examples below. You'll never receive a call from Chime, and no Chime agent will ask you for login or account information.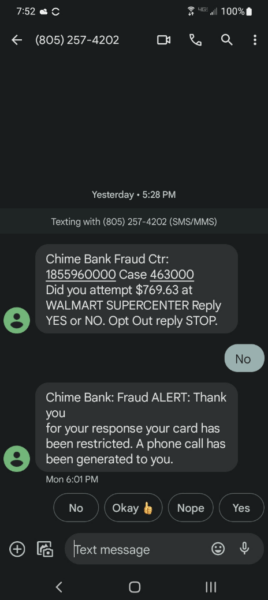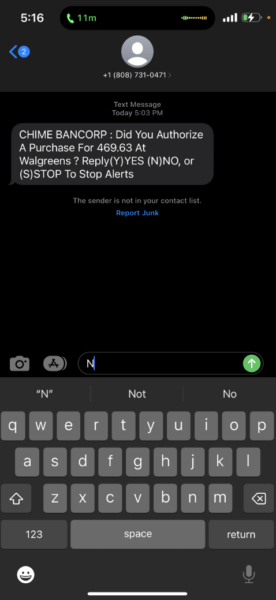 These texts are scams! Beware!
How to avoid it:
✓ Check the app to ensure everything is status quo 
✓ Look for false phrases or names
✓ Notice odd misspellings and capitalizations 
✓ Block the number and delete the messages
✓ Call Chime directly if you have questions
One of the best ways to protect your money is with Chime security features, like two-factor authentication, real-time transaction alerts, and the ability to freeze your debit card if lost or stolen.
Fake customer support scams
Imitation can be a form of flattery, but we really wish scammers would stop trying to impersonate us online. In these Chime fraud cases, they tend to use social media, creating fake Chime profiles (even fake Chime websites and email addresses). They pose as our customer support representatives and target followers asking for help. 
Whether they tag you in a comment or direct message you, scammers will say things like, "Customer support isn't helpful, reach out to [this other person] for help", and direct you to a random account. They may ask for your username and password, card details, transaction history, or even your social security number – again, a sure sign of a scam. We've also seen them take an account recovery approach, offering to help members "recover" suspended, closed, or hacked accounts.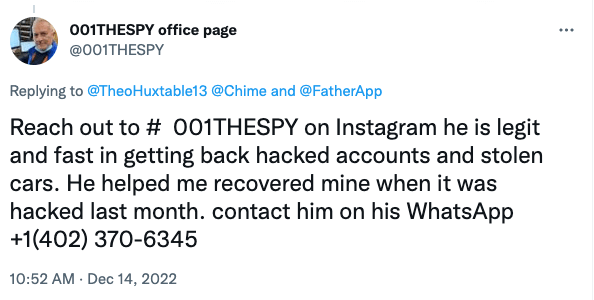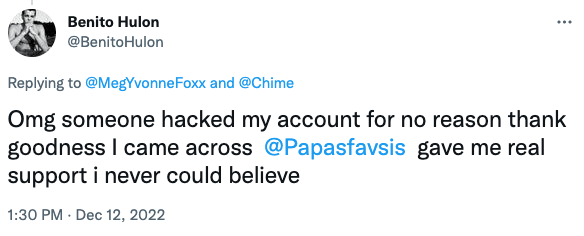 Scammers being sus online. 001THESPY is not going to help you.
There's a reason we have a customer support team: we take member security seriously and are here to help. That's what we do. Only trust our verified social accounts with the @Chime handle, and you can visit our homepage to click the social media icons at the bottom just to be sure. We don't have Chime "ambassadors" or "representatives" on social media who speak on our behalf. 
We've intentionally made it easy for members to directly contact Chime Customer service, and our reps are available to help 24/7 via our live chat, phone call, or email. Whether you're concerned about the security of your account or have a simple technical issue, we're here for you.
How to avoid it:
✓ Only trust comments from verified Chime social accounts
✓ Check email addresses – ours will always end in @chime.com
✓ Don't answer any questions or click any links to third-party sites
✓ Contact Customer Support directly via chat, phone, or email
FAQs
How do you know if a sweepstakes is real?
If you win legitimate sweepstakes from a sponsor, you'll likely be notified by the company directly and should never be asked to pay service fees to participate or win a prize. Charges of any kind are sure signs of a scam. Like many real sweepstakes sponsors, Chime automatically puts your winnings in your Chime account – we'll never ask you to verify information if you've won. Also important to note: government agencies are not involved in sweepstakes of any kind.
Why did I get a message from Chime?
Don't worry – Chime will only ever send you an SMS text in the case of suspected fraud. You may receive messages via the app or email only if you already reached out to support yourself. Again, no Chime agent will ever ask you for login or account information. 
Is Chime.com a scam?
No! Chime.com is not a scam. You can visit our official website at www.chime.com. However, you should always check the URL when online, and only trust the verified Chime social accounts with the @Chime handle. 
How does Chime handle scams?
Although we strive to shut down fake accounts as quickly as possible, new ones continue to appear. We encourage you to guard your personal information carefully – and if you see a scam, let us know ASAP. You can do so by contacting us directly through live chat, email, phone, or social media.
Keep calm and stay vigilant
We do what we can to catch scammers and prevent any kind of disruption for our members, but stay vigilant and know that Chime will never call, email, or text you to ask for personal information or passwords. Call us if you have questions or concerns.
Chime scam prevention checklist: 
Never write any identifying information, especially your PIN, on your debit card

Never share your personal information, including your account number, username, password, or Social Security number, with strangers or on unsecured websites

Enable push notifications in the Chime app so you're immediately alerted of suspicious activity

When you're not planning to use your card, you can even block all

debit

and

Credit Builder

card transactions; all it takes is a quick toggle in the Chime app

Watch out for increased scammer activity

during the holidays

and

tax season

 

If you think your information has been compromised, change your password immediately 

If you think you've been a victim of a scam, we've outlined

a few specific steps you should take to protect yourself

 
Payment apps and digital wallets are becoming a go-to method of payment for folks today. When using Chime's payment app, Pay Anyone, follow our tips for avoiding top P2P money scams.