Whether you're entered to win a million dollars or a pack of gum, reading the words "Congratulations! You've won!" will always come with a rush of satisfaction and hope. After all, everyone wants to be a winner!
But the unfortunate truth is that there are scammers out there that want to take advantage of your trust, and will try to trick you into giving out your personal information. Since we host our fair share of sweeps here at Chime, we wanted to give you some tips and tricks to avoid getting scammed for a Chime sweepstakes. 💪
THE BOTTOM LINE: If you win, you will see your winnings in your Chime account. We will NEVER ask for your email address to verify if you've won!
Scammers, Begone! ❌
1. Someone asking you to verify your email address? 💻


Scam! We'll never ask you to do that. Thanks to $ChimeSigns, we will add money to your account automatically—without needing your email address confirmed.

As your financial services provider, we know who you are, and you can rest assured that we'll make winning as seamless as possible! 😌
Scam Example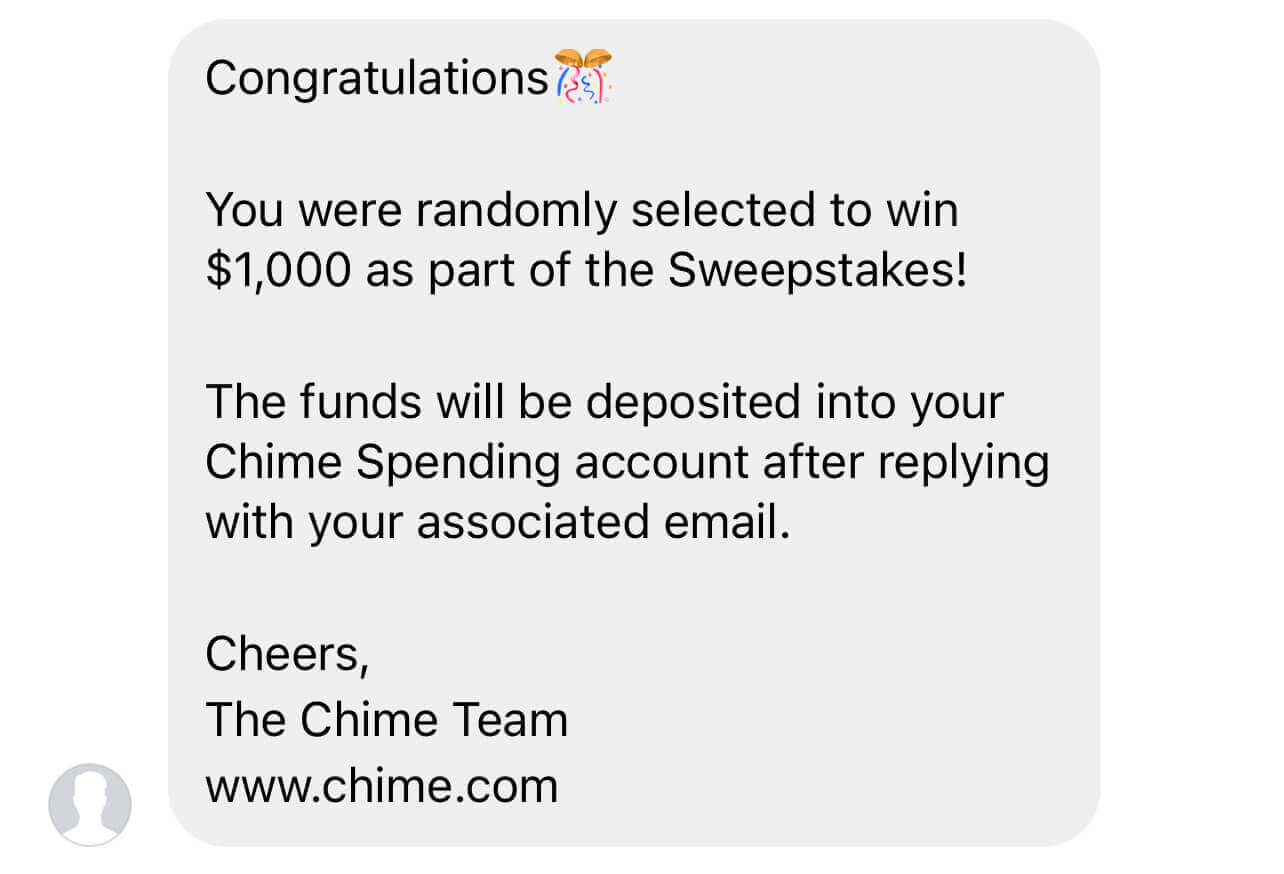 2. Someone asking you to login to a sketchy website? 🌐


No, thank you. We're an official company with an official website, and we'll never send you to a third-party website if you've won a Chime sweeps. Beware of weird, misspelled messages, and always, ALWAYS check the URL! 🔗 As a best practice, avoid clicking on links in messages from accounts claiming you have won sweeps. If you do and end up on a third-party website, exit immediately and DO NOT provide any personal information. 
3. Someone asking you for personal info? 👎


I don't think so. If anyone reaches out to ask you for your full name, address, password, or pin, they're trying to scam you. Because Chime uses $ChimeSigns to verify winners, you'll never have to give out any personal information if you've won.💲
Scam Example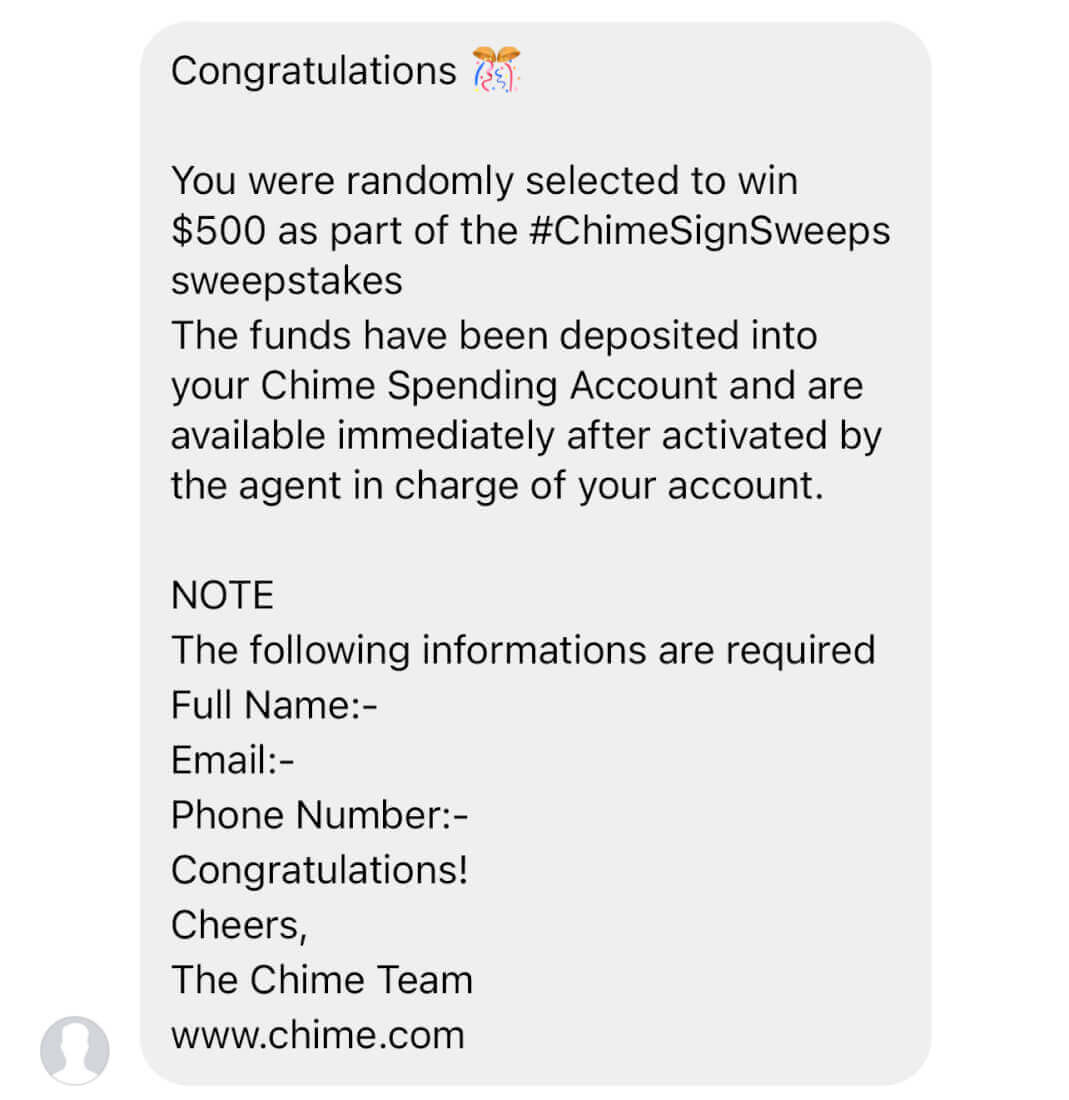 4. Someone with a sketchy username? 👋


Just say no. @ch1m3 and @chime_sweepstakes_123 are not "just reaching out to congratulate you," they're out for your money! Also, avoid messages from accounts seeming to be from "Chime agents" like @chimesweepsagent or @chimesupportagent as they are not affiliated with Chime.

There's only one real @Chime on Instagram, Twitter and Tiktok, and we're verified with a big, blue checkmark. When it comes to fake accounts, the rule is to block and ignore. 🚫
Verified Chime Account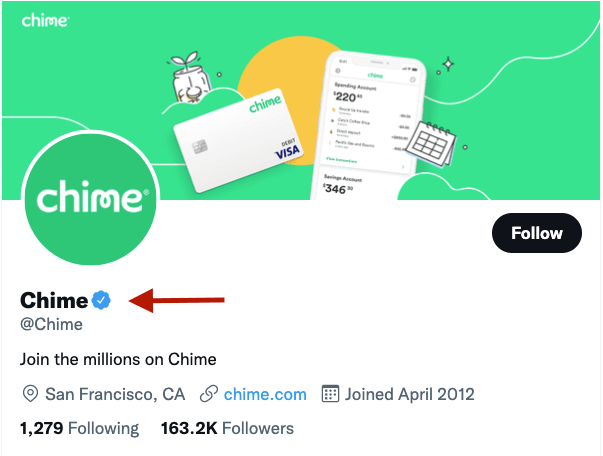 Scam Example

Stay Smart About Sweeps 🤓
At the end of the day, Chime sweeps are meant to make our customers' days just a little brighter. We want everyone to win, and by staying smart about scammers, even the people who don't win the official sweeps can avoid getting scammed.
Remember! You'll know if you win because your winnings will appear in your Chime account. We'll never ask for more info, or send you to another website, or whatever else these scammers come up with. Stay safe out there Chime fam, and we'll all be winners for it. 💚