Navigating the world of personal finance can feel like a puzzle sometimes, but that's where a financial advisor comes in. 
Whether you want to start investing, plan for retirement, or pay off debt, a financial advisor can be a trusted source of guidance to help you navigate the complexities of personal finances. Here, we'll walk through five steps for how to choose a financial advisor, including:
We'll cover what they do, how they charge for their services, and the smart questions to ask to help you make confident choices about your money.
1. Understand your financial goals
Before you start the search for a financial advisor, you need to identify your financial goals and needs. You'll want to be able to explain what areas you'd like support in when you first meet with a potential advisor. Financial advisors can specialize in certain areas of financial planning, so knowing what you need can help narrow your search. 
Maybe you need help for short-term needs like saving for a trip, paying off a credit card, or consolidating your debts. Or you may want support in areas like retirement planning, investment portfolio building, or long-term wealth management. 
This clarity will help you find a qualified financial advisor who matches your needs.
2. Know the different types of financial advisors

Look for a financial advisor who operates under a fiduciary duty. This means they are legally obligated to put your best interests first. 
Advisors who don't follow a fiduciary standard may have other motivations, like earning commissions from financial products they recommend. These are called commission-based financial advisors, whose recommendations are not required to be in your best interest. They might favor products like investment funds or insurance policies that benefit them financially. 
Chime tip: The title "financial advisor" can be misleading, as it doesn't always reflect specific qualifications or credentials. When searching for a financial advisor, focus on concrete credentials. For example, Certified Financial Planner (CFP) and Chartered Financial Analyst (CFA) hold weight in the industry, demonstrating a commitment to ethical practices.
Here's a breakdown of the common types of financial advisors: 
Fee-only fiduciary financial advisors

are committed to acting in your best interests. They charge fees for their services and do not earn commissions from selling financial products. This eliminates potential conflicts of interest so their advice helps you

achieve your financial goals

.

Certified financial planners (CFPs)

are professionals with education in financial planning  who can provide comprehensive advice on investments, retirement, taxes, estate planning, and more. CFPs are held to high ethical standards, have a fiduciary duty, and are often fee-based or fee-only.

Registered investment advisors (RIAs)

are professionals or firms registered with the U.S. Securities and Exchange Commission (SEC) or the state. They have a fiduciary duty to act in their clients' best interests. RIAs offer personalized investment advice and portfolio management services, often charging a fee based on a percentage of your investments. 

Robo-advisors

are automated investment platforms that use algorithms to create and manage investment portfolios for you. They consider your risk tolerance and goals to make investment decisions. They're best for a more hands-off approach to investing and may have lower fees than traditional advisors.
Each type of advisor has its advantages and disadvantages, so take time to research which option is best for you.
3. Identify your advisor needs
There are a range of services that financial advisors can provide, and some may have specialties
Here are some of the different areas a financial advisor can assist in: 
Retirement planning:

Advisors can help you strategize for a secure retirement by estimating expenses, setting goals, and helping you maximize retirement accounts like a 401(k) or Roth IRA. 

Investment advice:

Advisors can offer advice to build a diversified investment portfolio for your risk tolerance and financial goals. They can also recommend specific investments and help you rebalance your portfolio periodically. 

Debt management:

Advisors can help create strategies to manage and reduce debt effectively,

fit debt payments into your monthly budget

, and guide you to financial stability.

Insurance planning:

Advisors can help you choose the right insurance products and level of coverage that fit your needs.

Saving and budgeting:

Advisors can help you establish effective saving habits and create a realistic budget to manage expenses and reach

savings goals

. 

Tax planning:

Advisors can offer strategies to minimize your tax liabilities, making the most of available deductions and credits while staying compliant with tax laws.

College planning:

Advisors can assist in education expense planning by helping you

save for college

and exploring financial aid options.
By understanding the areas where a financial advisor can provide guidance, you can identify the expertise you need to navigate your finances. 
4. Consider how much you can afford to pay your financial advisor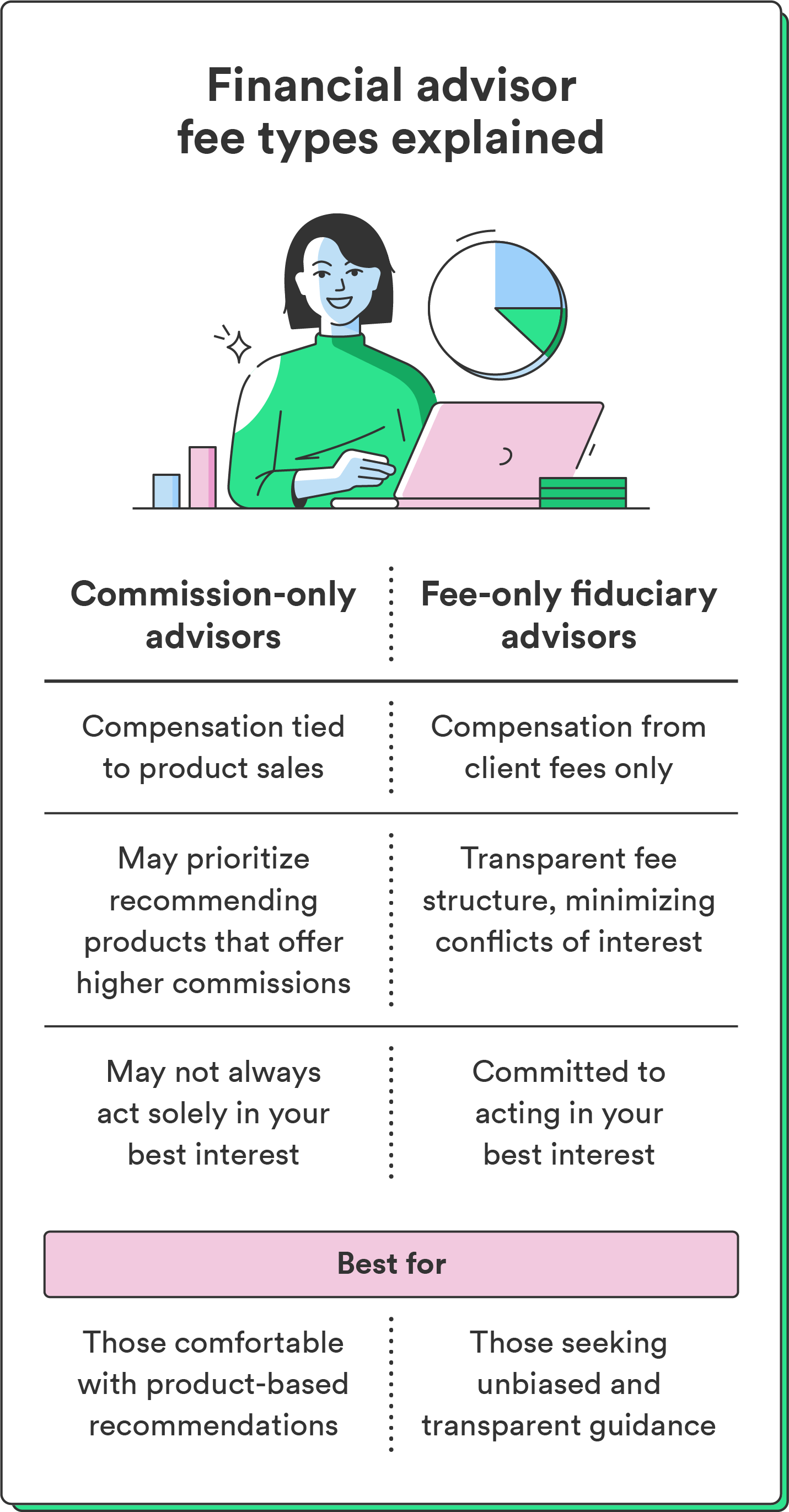 Part of your search for a financial advisor will be checking your budget to see how much you can afford to spend. In general, there are two broad categories of financial advisor fee structures: commission-based advisors and fee-only advisors. 
Commission-based advisors earn commissions from selling financial products like investments or insurance. Their compensation is tied to the products they recommend, which can potentially create conflicts of interest. 
Alternatively, fee-only advisors charge clients directly for their services. They don't earn commissions from product sales, promoting transparency and minimizing conflicts. Fees can be hourly, fixed, or a percentage of assets under management.
Here's an overview of different cost levels across the types of financial advisors: 
Fee-based advisors:

Fee-based advisors receive both fees for their services and may earn commissions on certain product sales. This hybrid model combines elements of both fee-only and commission-based compensation.

Assets Under Management (AUM) advisors:

These advisors charge a percentage of the assets they manage for you. This fee structure matches their compensation with your investment performance, incentivizing them to grow your portfolio.

Hourly rate advisors:

These advisors charge clients based on the time spent advising them. This structure suits those seeking specific advice or assistance on particular financial matters.

Retainer-based advisors:

Retainer-based advisors charge an ongoing fee for continuous advisory services. This arrangement provides access to ongoing advice and support as needed.
Knowing how much to spend on a financial advisor depends on both your budget and your financial needs. If you just want to get a small investment portfolio up and running, a robo-advisor can help you at a lower cost than an in-person advisor. 
You may need a financial advisor offering more robust services if you have a complex financial situation or need help creating a strategy that accounts for many factors like taxes, retirement, and estate planning.
5. Compare and vet potential advisors
Once you have an idea of the type of financial advisor you want, it's time to start your search. Recommendations from friends, family, or colleagues who have had positive experiences with advisors are a helpful place to start.
You can also use online databases for finding an advisor, like: 
Once you've gathered a list of potential advisors, look carefully into their credentials, backgrounds, and fee structures (check for that fiduciary background). 
Schedule initial consultations with advisors to understand their approach, expertise, and style. Ultimately, look for an advisor with the necessary expertise you're after that lines up with your financial aspirations and values.
15 key questions to ask a financial advisor

Once you've scheduled an initial consultation, make the most of your meeting by asking the right questions. Here's a list of questions to ask to get you started: 
Fiduciary status and general information: 
Are you a fiduciary? 

What are your credentials and experience? 

What documents and information will you need from me to create a comprehensive financial plan?
Client profile and experience:
What types of clients do you typically work with?

Do you have experience assisting clients in situations similar to mine?
Available services:
What specific financial planning services do you offer?

Can you explain how these services will address my financial goals?
Compensation and fees:
How do you get paid for your services? 

Can you provide a breakdown of all the fees I might be charged?

Are there any minimum account requirements to work with you?
Financial planning style: 
What is your approach to financial planning?

What is your investment philosophy? 

How will you tailor your approach to my goals? 
Meeting frequency: 
How often will we meet to review and adjust my financial plan?

What's your preferred mode of communication for ongoing updates?
Planning these questions will ensure a productive meeting and help you find the right advisor.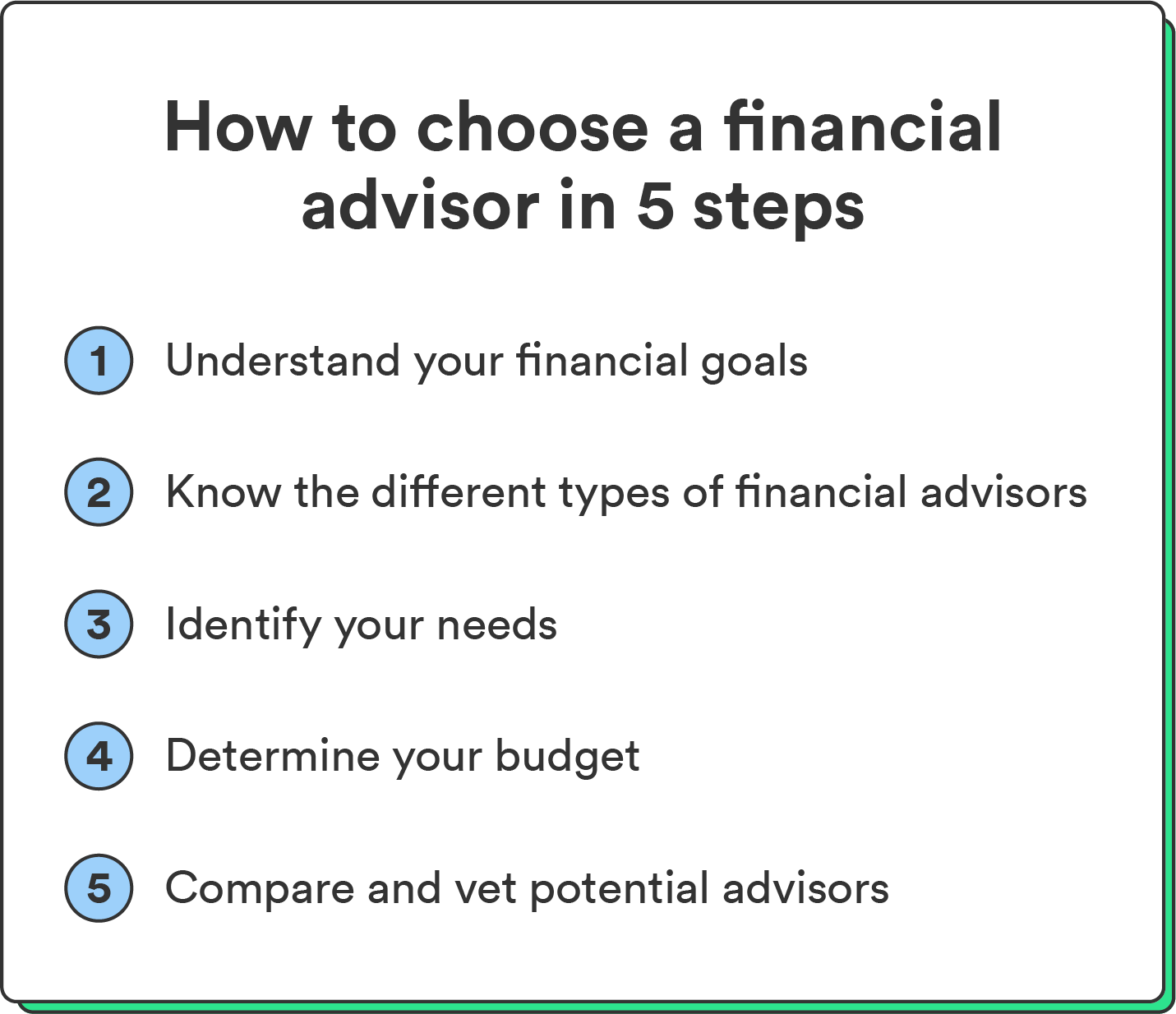 Make informed decisions for your financial future
Finding the right financial advisor may feel daunting, but a little research goes a long way. As you consider potential advisors, ask thoughtful questions that address your concerns and goals. 
You can confidently navigate this process by understanding your financial goals, exploring the different types of advisors, and researching fee structures. 
Now that you know how to choose a financial advisor, learn how to start a financial plan before your first meeting. 
FAQs about how to choose a financial advisor
Still have questions about how to choose a financial advisor? Find answers below. 
When should I start seeing a financial advisor? 
You might start seeing a financial advisor based on major life events or specific financial goals requiring professional guidance. This could include preparing for retirement, starting a new business, getting married, starting a family, managing debt, or any other changes in your personal or financial circumstances.
How do I balance the cost of hiring a financial advisor with potential benefits?
Consider a financial advisor's expertise, potential investment returns, and the peace of mind from having a solid financial plan. Compare the cost of an advisor to the potential gains and long-term financial security to decide if their services are worth your investment. 
What is the difference between a financial advisor and a financial planner? 
While the terms are often used interchangeably, a financial advisor is a broader term that includes various roles, including financial planners. Financial planners focus on comprehensive financial planning, including budgeting, retirement, and estate planning. An advisor may have a specific area of expertise, like investment management, while financial planners offer holistic advice covering multiple aspects of your financial life.