Getting into debt can happen gradually. Maybe you open a credit card or two and take out a personal loan. Throw in your student loans and a car payment; before you know it, you've got more debt obligations than you can manage.
It's easy to get overwhelmed, but there is a possible solution: debt consolidation.
What is debt consolidation, and how does it work?
When you consolidate your debts, you combine multiple debts into one payment. You can do this by taking on a new loan or credit card with a high enough credit limit to cover all your existing debts.
Consolidating your debt can be an effective strategy to simplify your debt repayment process. Rather than trying to remember when to pay multiple debts with different payment deadlines and interest rates, you can focus on making one payment. You also pay one interest rate, which can be fixed or variable depending on how your debts are combined.
The goal is to secure a new loan or credit card with a lower interest rate than you are currently paying, which can allow you to lower your monthly debt payments.
When trying to qualify for a consolidation loan, you'll find that different lenders have different qualification criteria. However, some of the main factors lenders will look at include:
Credit score: When applying for new credit, lenders will review your credit score to see if you meet the minimum requirements. They will review your credit report and credit history to determine if they'll lend you money and how much interest they will charge.
Income: To qualify, lenders want to see that you earn enough income to take on a consolidation loan or credit card.
Debt-to-income ratio: Your debt-to-income ratio (DTI) measures how well you can manage debt based on your income. It's another way lenders determine your ability to repay your borrowed money.
Assuming you're not adding to your debt, debt consolidation can be a smart strategy to help you pay off your debt quicker and get ahead financially.
5 ways to consolidate your debt
There are several debt consolidation options. Every method has its benefits and risks. Before proceeding with any debt consolidation plan, ensure you understand how it works.
Get a balance transfer credit card
Best for: those with a good credit score (690 or higher) who can pay off the transferred debt in full before interest rates kick in.

Balance transfer credit cards allow you to move the balance you owe on one credit card to another credit card. Ideally, you'll shift the balance to a card with a 0% annual percentage rate (APR).
A balance transfer credit card can be a helpful debt consolidation method if your credit score allows you to qualify for the best transfer promotions. Many offer 0% APR for a set period, anywhere from 12 to 20 months. The best-case scenario is to pay off your transferred debt in full during the 0% APR period to avoid paying any interest.
When comparing balance transfer credit card promotions, check your credit score to know which cards you can qualify for. Then, review the terms of the promotional offer so you know what the APR is and how long you can enjoy an interest-free period. Be sure to also consider the following before opening a balance transfer credit card:
Will the total debt you transfer be lower than your current credit limit?
Have you read the fine print so you're aware of any fees?
Does the APR also apply to new purchases made on the card, or is it higher than the balance transfer APR? If it is, be prepared to pay more for any new purchases.
Can you pay off the balance before the 0% APR period ends? If not, will the new APR following the promotional period be lower than the APRs of any other cards you're currently paying?
Asking yourself these questions will help make sure you don't end up paying more by opening a balance transfer credit card. If you're confident you can pay off the balance in full during the promotional period, a balance transfer might be right for you.
| | |
| --- | --- |
| Pros | Cons |
| Can help you save money on interest | You may have to pay a balance transfer fee |
| Can allow you to switch to a card with more favorable terms | The low interest rate only lasts for a set time |
Get a debt consolidation loan
Best for: those with good or excellent credit scores.
Debt consolidation loans can be used to pay off student, medical, and credit card debt. If you can get approved for one with a better interest rate than what you currently pay, you can reduce your debt by paying less interest.
If you're paying 20% interest on your current debt but get approved for a debt consolidation loan with a 15% APR, you'll save more money in the long run.
That said, you generally need a good credit score to qualify for the perks of this method. If your credit score is 600 or less, finding a lender willing to work with you is still possible, but you may have difficulty qualifying for the best rates.
Shop around and compare different loan offerings. Pay attention to the repayment terms, service fees, and general terms of service so you know the stipulations up front.
Pros
Cons
Fixed monthly payments
Requires a good credit score to secure the best rates
Lower interest rates
May require account fees
Reduced total amount of debt owed
Sign up for a debt management plan
Best for: those seeking support with unsecured debt like credit cards and personal loans.
Debt management plans (DMPs), not to be confused with a debt settlement program, help you pay down your debt by working with your creditors for you. Offered by nonprofit credit counseling firms, DMPs are meant for people dealing with unsecured debt like credit cards or personal loans — they don't cover other types of debt like student loans, auto loans, or mortgages.
A debt management program can be helpful if you don't want to take out a loan or transfer a credit card balance. Ideally, the debt management company you work with can negotiate a lower interest rate or waive certain fees.
Here's what a debt management plan looks like:
You give the debt management company information about your current financial situation, including the amounts owed and minimum monthly payments.
The debt management company negotiates new monthly payment terms, interest rates, and fees with your creditors.
The debt management company becomes the payer on your accounts.
You make one single payment to the debt management company each month.
The debt management company uses that money to pay your creditors on your behalf.
The process is repeated each month until your debts are paid off.
If you choose this method, you must stop new credit applications, as adding new debts during the program can disqualify you.
| | |
| --- | --- |
| Pros | Cons |
| You only need to make one monthly payment | You can't use it for secured debt like student loans, auto loans, or mortgages |
| You'll get outside financial guidance | You may have to close your credit card accounts |
| You'll have someone else to negotiate with creditors on your behalf | Creditors don't have to agree to the plan, and not all will participate |
Take out a home equity loan
Best for: homeowners with equity in their home who have the discipline to repay the loan in full.
If you're a homeowner and have equity in your house, you may be able to take out a home equity loan or line of credit (HELOC) to get cash and use it toward your other debts. Just be aware that your home is used as collateral for the loan.
Since your house secures the loans, you'll likely get a lower interest rate than you would find with a personal loan or balance transfer credit card. However, you can also lose your home if you don't keep up with your loan payments, making this one of the riskiest debt consolidation methods.
When considering this method, determine whether your total debt is less than half of your income before taxes. Doing this can help you determine how much risk you'd be required to take on. If it's more than half, it's likely not worth putting your home on the line if you can't repay it.
| | |
| --- | --- |
| Pros | Cons |
| Lower interest rate than credit cards or personal loans | Your home is used as collateral |
| Lower monthly payments | Risk of losing your home if you default on payments |
| Possibility for tax-deductible interest payments | Can have long repayment terms |
Take out a retirement loan
Best for: a last resort in financial emergencies.
If you participate in an employer-sponsored retirement account like a 401(k), you can borrow that money as a loan and use the funds to pay off your debts. Generally, you can borrow up to 50% of your balance for up to five years for a maximum of $50,000.1 Essentially, you're borrowing from yourself and paying yourself back over time.
These loans typically have low interest rates, and the interest you pay goes back into your account. Unlike most other debt consolidation methods, no credit check is required, so it won't affect your credit score.
The amount you're eligible to borrow and your specific repayment terms will vary depending on your employer's plan. Be sure to read through what your plan offers so you're aware of what you're eligible for.
While this can be one debt consolidation method if you're running out of options, it's best saved as a last resort since it requires dipping into your retirement savings. If you can't make your loan payments, the amount you withdraw could be taxed, and you might have to pay an early withdrawal penalty.
| | |
| --- | --- |
| Pros | Cons |
| Low interest rates | Unable to contribute to your 401(k) while carrying a loan balance |
| Interest paid goes back to your own account | Borrowing against retirement savings means missing out on additional growth |
| No credit check required | Subject to tax penalties if you default on payments |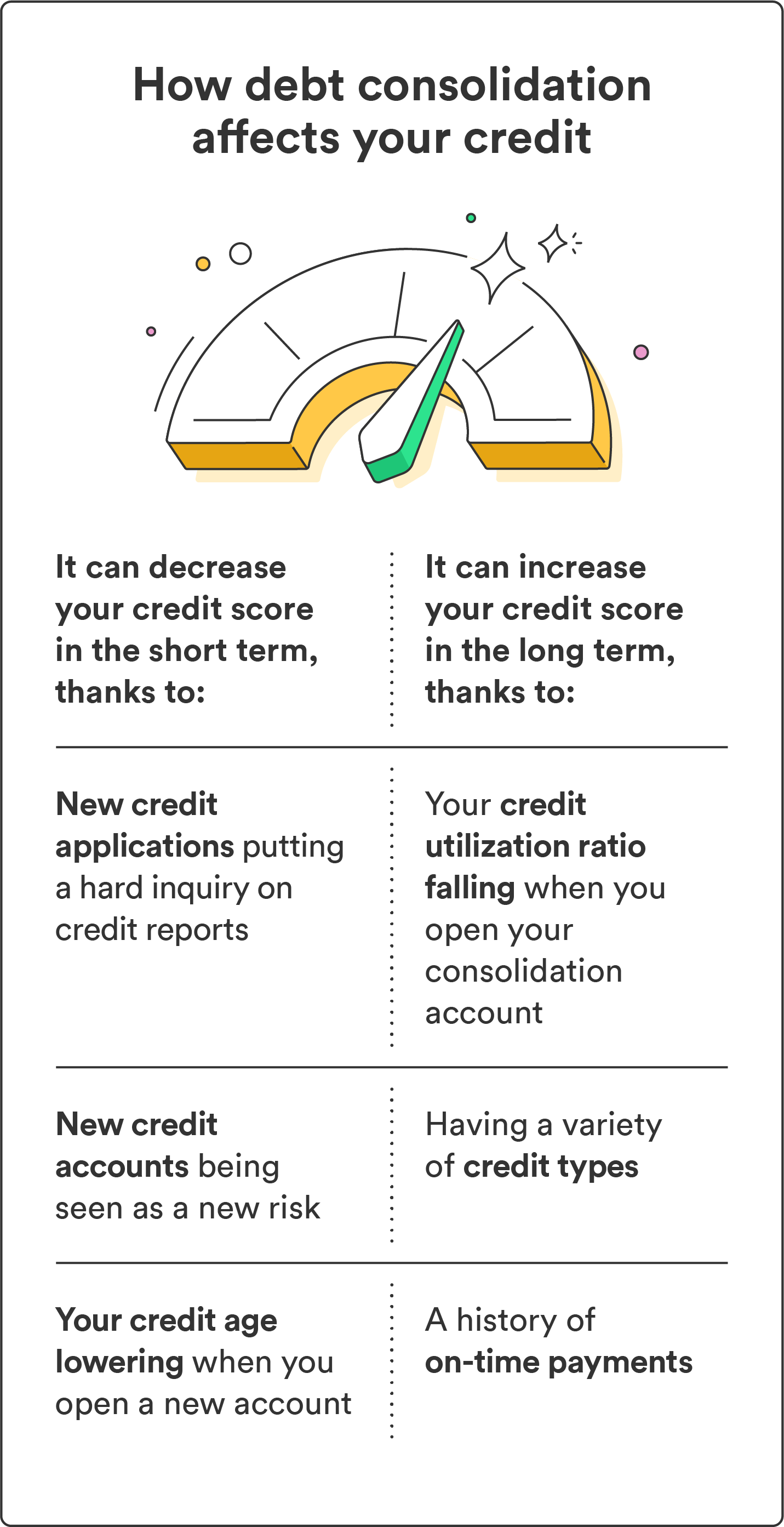 Is debt consolidation a good idea for you?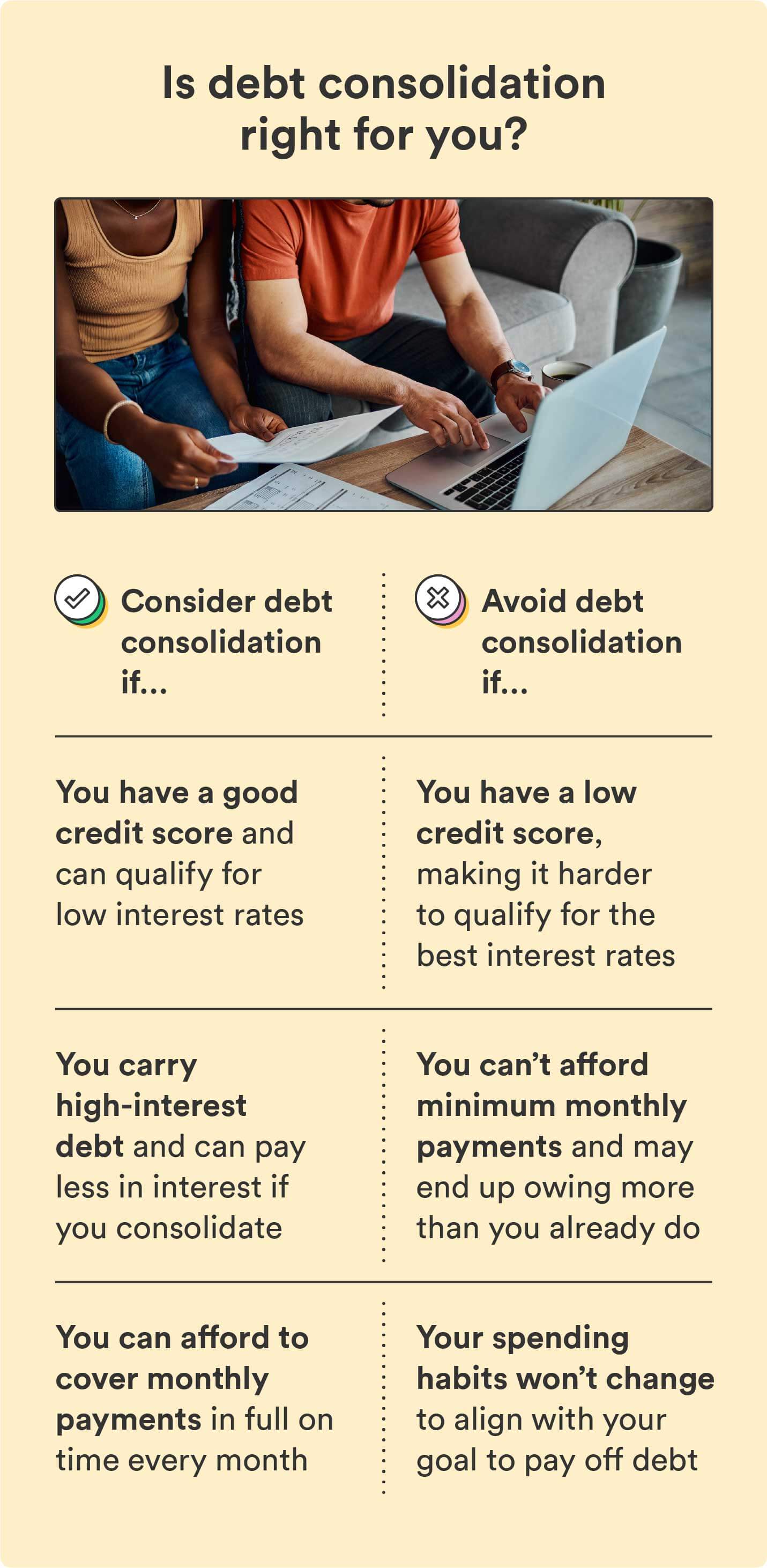 Whether or not debt consolidation is right for you depends on your financial situation and the type of debt you have. Make sure you weigh the pros and cons of debt consolidation before deciding if it's right for you.
That said, here's when debt consolidation could be a wise move:
You have a good credit score: A good credit score allows you to qualify for credit cards with 0% interest or low-interest loans.
You carry high-interest debt: Debt consolidation is often well suited for those with high-interest debt, as it can help reduce how much you pay in interest.
You have enough cash flow to cover each monthly payment: You should only consolidate debt if you can afford your monthly payments and pay them on time every month.
And here's when debt consolidation may not be advisable:
You have a low credit score: A poor credit score makes it harder to qualify for better interest rates and loan terms.
You can't afford the minimum monthly payments: If you don't have enough income to make your monthly minimum payments, you'll owe more than you already do.
You're not ready to change your spending habits: Successful debt consolidation requires sticking to the plan and adjusting your budget and spending habits.
Debt consolidation can benefit certain people, depending on their circumstances. Do your research to understand what debt consolidation can and can't do for you.
Debt consolidation alternatives
While debt consolidation can be smart for some, it isn't always the best option. Here are some alternative solutions that don't require applying for a loan or balance transfer credit card:
Create a budget (and stick to it!): Sometimes, all you need to get out of debt is a change in your current spending habits. Revisit your budget if you have one, or create one from scratch by subtracting your non-negotiable monthly expenses from your monthly income. Once you know how much you have left over each month, commit to putting as much as possible toward debt payments.
The debt avalanche method: This approach prioritizes paying off high-interest debt first, then working your way down to smaller debts. Start by listing out all of your debts in order of highest to lowest interest rate, and pay the minimum balance on all of them. Put any extra funds you have for the month toward the highest-interest debt. Once you pay it off, move on to the next debt on your list until they're all paid off.
The debt snowball method: This approach focuses on reducing the number of debts you carry as fast as possible. Start by listing out all of your debts in order of the lowest balance to the highest. Pay the minimum balance on all debts, then put any extra funds toward your lowest-balance debt. The idea is that paying off your smaller-balance debts sooner can create momentum that motivates you to keep working through all your debts.
Now that you know how to consolidate debt, consider whether or not it could work in your favor. Responsible debt consolidation can help you save money, pay off debt, and improve your credit score — but it's not a magic fix. You'll still need a plan for how to repay your debts for any method you choose.
Learn how to save more money so that you can pay off your debt faster and reach your financial goals.