For most, a mortgage is the key that opens the door to homeownership. That said, getting a mortgage can feel confusing if you're unfamiliar with the process. 
From choosing the right mortgage and researching lenders to knowing the difference between preapproval and prequalification, it's certainly not the quickest process. So, let's make sure you know exactly what to expect through each of the steps to getting a mortgage—let's dive into how to apply for a mortgage.

Assess your finances
Before you learn how to get a mortgage, it helps to understand exactly what mortgage lenders are looking for. Here are the factors they'll assess: 
Income and job history:

While there's no minimum income you have to earn to qualify for a mortgage, lenders assess your income to ensure you have a consistent cash flow to cover your mortgage payments. They'll also look at your employment history. 

Credit score:

A low score could indicate that you aren't a dependable borrower, and lenders will be warier of approving your application. A higher credit score can widen your access to more lender options and help you secure better interest rates. 

Debt-to-income ratio (DTI):

Your DTI tells lenders what you pay towards monthly debts compared to how much you earn. Most lenders recommend keeping your DTI below 43%.

1
Overall, lenders want to know if you're a dependable borrower and how likely you are to pay back the mortgage loan on time. Understanding this upfront is important to a smooth mortgage process. 
Assessing your finances upfront can also help you determine how much house you can afford and if you're financially prepared for homeownership. Here's what to look at:
Monthly income and expenses:

Knowing how much money you have coming in and going out each month is crucial to determining how much you can afford to spend on a mortgage payment. 

Monthly mortgage payments:

A good rule of thumb is to keep your housing expenses, including your mortgage, insurance, and taxes, at no more than 30% of your monthly income. Use a mortgage calculator to help you determine your monthly payments based on the price of the home you're considering.

Mortgage interest rate:

Your interest rate will impact your monthly payments, so i shop around and find the best rate possible.
Take an honest look at your finances. Do you have a good credit score? How much debt do you have? Lenders will consider all of these factors when deciding whether or not to approve your mortgage application. 
Chime tip: If you have a low credit score or a high amount of debt, you may be subject to higher interest rates or have a hard time getting approved. Work on building your credit score before applying for a mortgage to increase your chances of getting approved and avoid paying sky-high interest rates.
Choose the right mortgage
There are many different types of mortgage loans available, each with its own requirements and benefits, so choose the right one for your financial situation. Here are some of the most common types of mortgages:
Conventional loans

are mortgages that are not backed by the government. These loans typically require a higher credit score and a larger down payment than government-backed loans. However, they often have lower interest rates and more flexible terms.

FHA loans

are a type of government-insured loan designed for first-time home buyers, and require a lower down payment than conventional loans. 

VA loans

are government-insured loans only available to veterans and active-duty military personnel, and they do not require a down payment.

USDA loans

are a type of government-insured loan for low- to moderate-income borrowers in rural areas and don't require a down payment.

Jumbo loans

are typically used to finance high-end properties and often have stricter credit requirements and higher interest rates than other types of loans.
When comparing mortgage options, you'll also want to consider the following factors: 
Fixed vs. adjustable rates:

With a fixed-rate mortgage, the interest rate stays the same for the entirety of the loan. Adjustable-rate mortgages have a lower initial fixed-rate period that can fluctuate over time based on market conditions. Homeowners who plan to sell their homes before the initial fixed-rate period ends may choose an adjustable rate to save money.

Mortgage term:

This is the length of time over which you repay a mortgage loan. A 30-year mortgage is the most common type of mortgage and offers the lowest monthly payments, but the total interest paid over the life of the loan is typically higher compared to shorter-term mortgages. Shorter-term mortgages, like 10- or 15-year mortgages, have higher monthly payments but lower total interest costs because they are paid off in less time.

Down payment:

This is the amount of money you pay upfront toward the purchase price of your home. Different mortgage options may require different down payment amounts, with some lenders requiring as little as 3% and others requiring up to 20% or more. A higher down payment typically means lower monthly payments and may make you more attractive to lenders.
Choosing the right mortgage can impact your monthly payments, mortgage interest rates, and overall cost of homeownership. Do your research and work with a trusted lender to find the right mortgage for your financial situation.
Research mortgage lenders
Once you decide on the type of mortgage you want, it's time to research mortgage lenders. Many lenders have specific qualifications – like a minimum credit score or down payment amount – that you must meet to work with them. Find out if you meet any potential lender's minimum qualifications upfront to narrow your search. 
Also consider how you'd like to communicate with a potential lender. Do you want a non-person experience, or are you fine with communicating over the phone or online? 
There are many different types of lenders to choose from, including banks, credit unions, mortgage brokers, and online lenders:
Banks and credit unions:

Banks and credit unions are traditional lenders that offer a variety of financial products, including mortgages. They may offer competitive interest rates and have a physical location where you can meet with a loan officer in person. Your  financial situation can be a smart place to start your lender search.  

Online lenders:

Online lenders have become increasingly popular due to their convenience and potentially lower fees. Working with an online lender tends to streamline the

mortgage process

. Since the entire mortgage application process is completed online, they may offer faster turnaround times and the ability to compare multiple loan options quickly. Online lenders are a good choice for tech-savvy borrowers who want a streamlined

mortgage process

. 

Mortgage brokers:

Mortgage brokers work with multiple lenders to find the best loan for your needs. You might consider a mortgage broker if you need more support navigating the

mortgage process

, have a unique financial situation, or want to compare multiple loan options.
Each type of lender has its advantages and disadvantages, so find one that aligns with your needs. 
Get preapproved for a home loan
Before you start house hunting, you'll want to get preapproved for a mortgage. A preapproval is a document that specifies how much a lender is willing to loan you for a home purchase. 
Preapproval matters because it gives you a clear idea of your budget and allows you to confidently make an offer on a home. It also signals to sellers and real estate agents that your lender has verified you to afford the property you're interested in.   
When you apply for preapproval, lenders will look at your credit score, income, debt-to-income ratio, and other factors to determine how much you can afford to borrow.
To apply for preapproval, provide the lender with documentation of your income, assets, and debts. This typically includes recent pay stubs, bank statements, and tax returns. Once the lender has reviewed your application, they'll issue a preapproval letter outlining how much you're approved to borrow and the loan terms. 
Preapproval is not a guarantee of a loan, and you'll still need to go through the underwriting process once you've found a home to purchase.
Chime tip: Know that preapproval is not the same as prequalification, which is a less formal process that estimates how much you may be able to borrow for a home. It's based on self-reported information about your income, assets, and debts.
Submit your mortgage loan application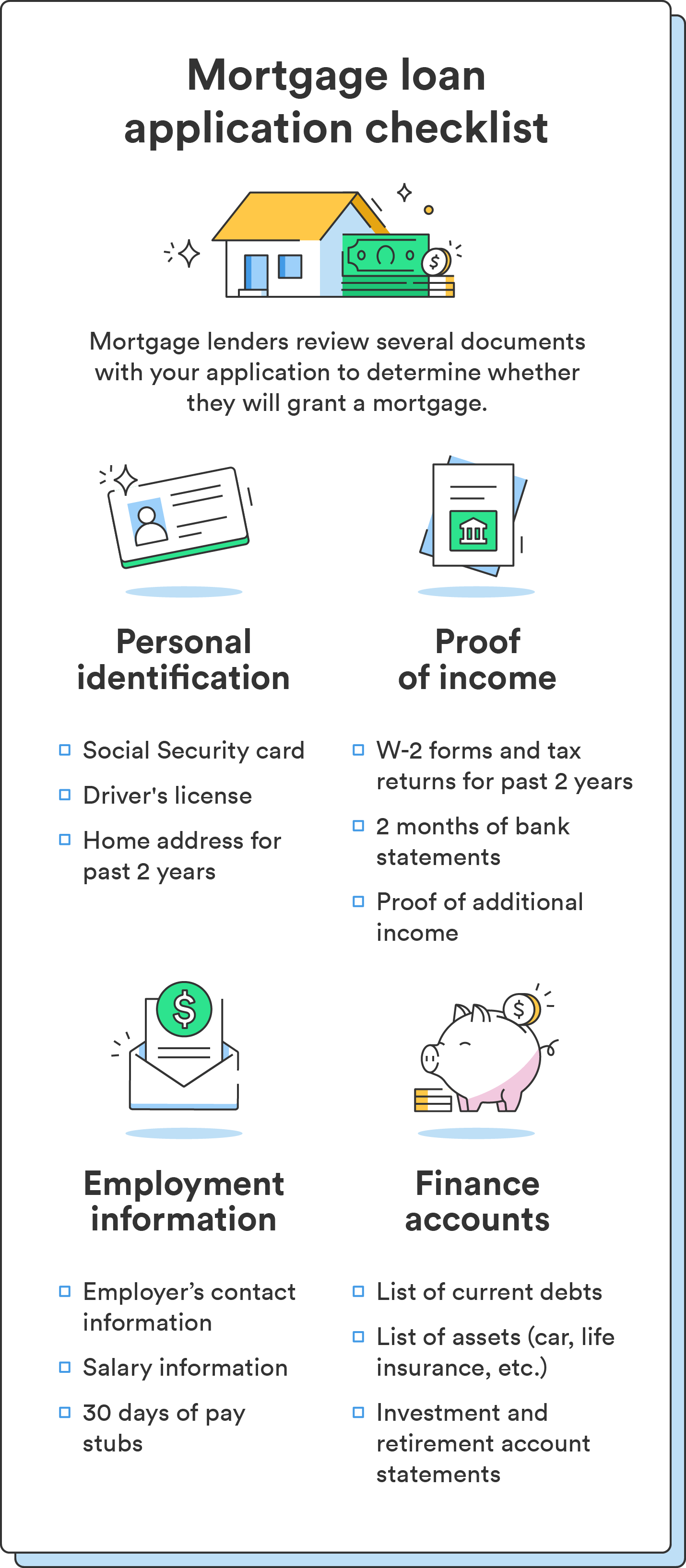 Once you're preapproved and find a home you're interested in, you can submit your mortgage loan application. The process is quite similar to the preapproval process, and you'll need to submit many of the same documents when you apply for your loan. 
Here's what you'll likely need for your mortgage loan application: 
Personal identification

including your Social Security number, driver's license or passport, and home address

Current employment information

including your employer's contact information and salary information 

Proof of income

including W-2 forms for the past two years and your most recent pay stubs

Proof of any other assets

,

such as investments or real estate

Information about the property you're purchasing

,

such as the address, purchase price, and property description

Recent bank statements

and other financial information such as your credit history, debt, or additional sources of income 
You'll also need to pay an application fee, which covers the cost of processing your application and performing a credit check. From here, your lender will draw up a loan estimate based on the information in your application. 
Start the underwriting process
After you submit your mortgage loan application, the lender will begin the underwriting process. The lender reviews your financial information, credit history, and the property you're purchasing to determine if you qualify for the loan.
During the underwriting process, the lender will evaluate a variety of factors, including:
The underwriter will also verify the information you provided in your loan application, such as your income, assets, and employment status. They may request additional documentation or clarification on certain items to ensure everything is accurate and current.
The underwriting process can take several weeks to complete, depending on the complexity of your financial situation and the property you're purchasing. During this time, avoid making any major changes to your financial situation, like applying for new credit or changing jobs, as this could impact your loan approval.
If your loan is approved, you'll receive a "clear to close" letter, which means you're ready to move forward with closing on the home. If there are any conditions you need to meet before closing, such as providing additional documentation or paying off certain debts, you'll need to do so before you can close on the loan.
Get ready to close on your home
Once your mortgage loan is approved, you're almost ready to close on your home! There are just a few more steps to complete the mortgage process. 
This phase will involve attending a closing meeting at your title company's office where you'll review and finalize all the necessary paperwork and last steps. If you opt for a virtual mortgage process, you'll review and sign your paperwork remotely.  Generally, this means you need to:
Purchase homeowners insurance
Purchase your lender's title insurance 
Complete a final walk-through of the home
Review your closing disclosure form
Arrange how you'll pay for the total amount due at closing

(this typically includes the down payment, closing costs, and other fees) 

Sign all documents including the mortgage agreement, the deed of trust, and the promissory note
One of the most essential pieces of paperwork in this process is the closing disclosure form – the document that outlines all of the costs associated with your mortgage loan. It includes your loan terms, interest rate, monthly payments, and closing costs. 
Review this document carefully to ensure everything is correct, and compare it with the loan estimate you received earlier in the process. You'll receive the closing disclosure form at least three days before your scheduled closing, giving you time to review it and ask questions. If there are any discrepancies or errors, work with your lender to resolve them before proceeding with the closing.
Once you've worked through these steps with your lender and paid any remaining closing costs, you'll receive the keys to your new home! 
Chime tip: Carefully review all the documents before signing so you can ask questions about the loan terms or the closing process. Be prepared for the additional expenses, like title insurance, appraisal fees, or property taxes, that come with getting a mortgage.
Final considerations for how to get a mortgage
Applying for a mortgage can be a complex and challenging process, but by understanding the different components and taking the time to prepare, you can navigate it confidently and successfully. 
Evaluate your financial situation, consider the different types of mortgages available, and research potential lenders. Take the time to understand the underwriting process and carefully review your closing disclosure form before signing on the dotted line. 
By following these steps, you can move closer to achieving your dream of owning a home.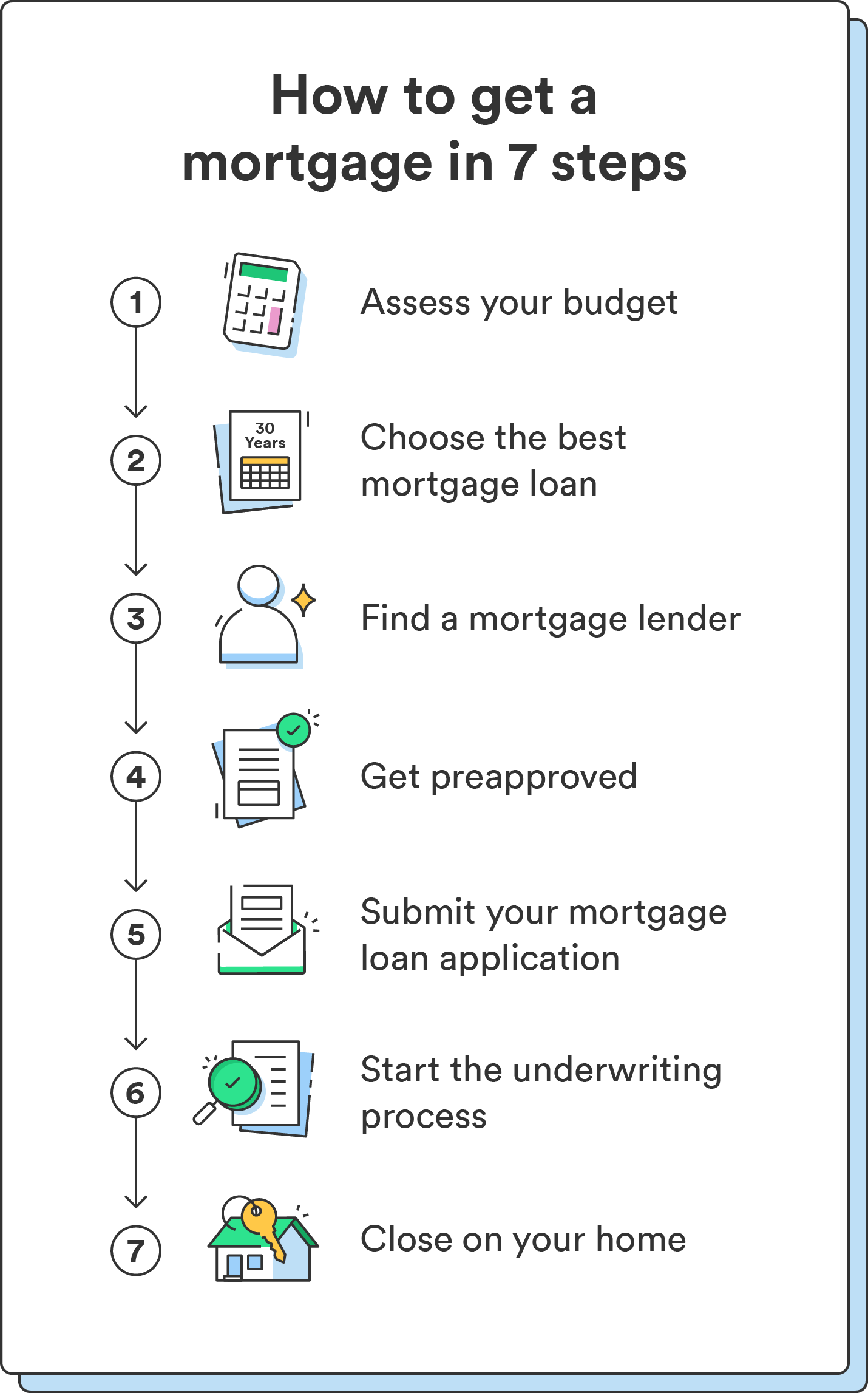 FAQs about how to get a mortgage
Still have questions about how to get a mortgage? Find answers below.
What type of mortgage is easiest to get?
The easiest mortgage type may vary depending on your financial situation and credit history. In general, a government-backed FHA loan may be easier to qualify for than a conventional loan.
What income do you need to get a mortgage?
The income required to get a mortgage depends on various factors, like the lender, loan type, and debt-to-income ratio. Generally, a steady and sufficient income that meets the lender's requirements is necessary.
What credit score do you need to get a mortgage?
Credit score requirements for getting a mortgage also depend on the lender and type of loan, but a credit score of 620 or higher can increase your chances of approval and lower your interest rate.
What documents do you need to get a mortgage?
When applying for a mortgage, you typically need to provide documents such as tax returns, W-2 forms, pay stubs, bank statements, and a list of debts and assets.
How can you increase your chances of getting a mortgage?
To increase your chances of getting approved for a mortgage, you should maintain a good credit score, save for a down payment, reduce your debts, and have a stable income and employment history.
Is it hard to get a loan for a house?
Getting a loan for a house can be a complex process, but it is not necessarily hard if you have prepared your finances, have good credit, and choose a lender and loan that suits your needs and financial situation.