What's a good credit score to buy a house?
A good credit score to buy a house depends on the type of mortgage you want. Generally, a conventional mortgage usually requires a score of at least 620, while those who want government-backed mortgages may be fine with a lower score.
Need a mortgage to purchase a home?
Aside from determining how much house you can afford, you need to prove to lenders you are financially responsible enough to handle a mortgage. That's where a solid credit score comes in — it's a major factor determining whether you'll be approved or rejected for financing.
As you're getting ready to make one of the most significant purchases in your lifetime, find out what credit score is needed to buy a house.
Chime® Credit Builder Secured Visa® Credit Card
A New Way to Build Credit
No Credit Check to Apply1
No Annual Fees
Learn More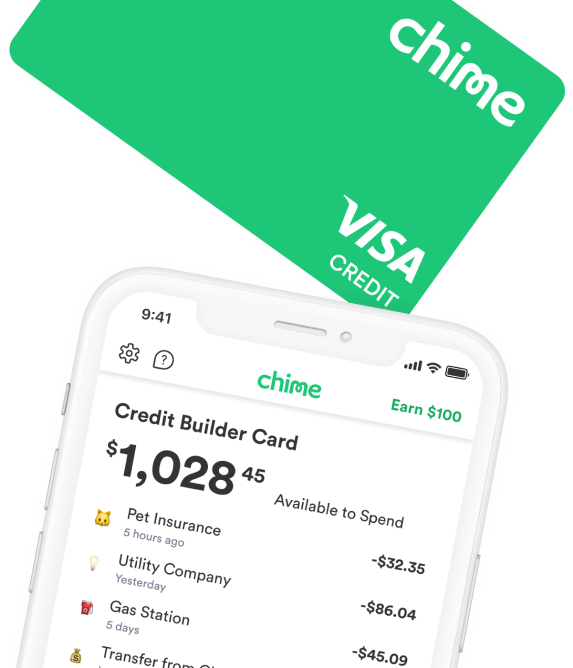 Why do I need a credit score to buy a house?
A credit score is the main factor lenders use to assess a borrower's risk. This three-digit number, ranging from 300 to 850, gives lenders insight into your borrowing behavior, such as your payment history, loans, and more.
Generally, these are the credit score ranges you can fall into as a borrower, depending on your credit score:
Excellent —750 and up
Good — 700 – 749
Fair — 650 – 699
Poor — 550 – 649
Bad — 550 and below
The higher your credit score, the more responsible you appear to lenders, as you have proved you can pay back loans on time. Quite a few perks come with having a high credit score, including qualifying for low-interest rates on your mortgage loan.
Home mortgages tend to be quite large — often in the six-figure range — so a small change in your rate can make a big difference in your monthly payments and the amount of interest you'll pay over the life of the loan.
If you have a low credit score, lenders may scrutinize your application more closely since they will have to rely on other aspects of your profile to qualify you for the loan.
What is the minimum credit score to buy a house?
A conventional mortgage is one of the most common types of mortgages, and the minimum credit score you'd need to qualify is typically 620. An FHA loan has more lenient requirements as the Federal Housing Administration backs it, so you may be able to get this type of loan with a lower score, typically 500-580.
Other types of loans include:
VA loan: Backed by the U.S. Department of Veterans Affairs. VA loans are a great financing option for veterans, those married to veterans, or qualified service members. VA lenders choose their own credit score requirements, though a good rule of thumb for borrowers is to aim for a credit score of 580 or above.
USDA loan: Backed by the U.S. Department of Agriculture and designated for those who live in a qualified rural area. Similar to VA loans, USDA loans don't have a set minimum credit score to buy a house. Lenders can require their own score minimums, though most will require you to have a minimum of 640.
Jumbo loan: Jumbo loans are typically used to finance properties deemed too expensive for a conventional loan. Because of the high loan amount, jumbo loans are riskier for lenders, so many lenders will require that borrowers have a minimum credit score of 680, and sometimes as high as 720.
Other factors mortgage lenders consider
Aside from your credit score, mortgage lenders consider some of the following factors:
Income: Lenders prefer borrowers who have steady and predictable income. Mortgage companies also consider your capacity to take on another loan with your income. Your debt-to-income ratio (DTI)1 calculation measures how much of your income is already going towards debt. The higher your DTI, the more it could seem you're not in a financial position to take on a mortgage.
Assets or savings: The more assets you have, the less risky you may appear to lenders because you may be able to afford a larger down payment and make on-time payments.1
Down payment: Though some government-backed loans don't require a down payment, others (like a conventional loan) do. If your down payment is less than 20%, lenders may require you to purchase private mortgage insurance (PMI) to compensate for the additional risk.1
Employment history: Most lenders like to see that you've worked at the same job or industry for at least two years.
How to increase your credit score to buy a house
The following suggestion can help you build credit and improve your chances of being approved for a mortgage.
1: Pay your bills on time
Paying your bills on time each month is the best way to improve your credit score — your payment history determines 35% of your overall score. When evaluating your creditworthiness, lenders want to see that you are reliable when paying your bills.
2: Resolve any credit issues
Keep an eye on your credit report and check for any errors. You can order one copy of each of your three credit reports — from Experian, Equifax, and TransUnion — for free. Resolving errors could immediately boost your credit score.
3: Pay off your existing debt
Paying any outstanding debt in full brings down your overall debt responsibility, making you a less risky borrower to lenders.
Paying down your debt also improves your credit utilization ratio — the percentage of available credit you use on your credit cards. Credit utilization ratios account for 30% of your credit score.
4: Avoid opening several lines of credit
Opening a new credit card or loan puts a hard inquiry on your credit report. Too many hard inquiries negatively affect your credit score, and running up a large balance can work against you if it results in a higher overall credit utilization.
Build your credit score and save on interest costs
When getting your credit ready to buy a house, try to aim higher than the minimum credit score to buy a home. This may mean putting your goal of homeownership on hold while you work on improving your credit. But, ultimately, saving a significant amount of money on your mortgage will be worth it.
While building credit can take time, some factors can condense your timeline — learn how long it can take to build good credit.
FAQs
How much credit history is needed to buy a house?
There is no definitive number of years of credit history needed to buy a house, but your length of credit history makes up about 15% of your credit score. Some mortgage options exist for people with no credit history — sometimes referred to as "no credit score mortgages" or "no credit mortgages."
Can I get a mortgage with a low credit score?
Even if you have poor credit, you can still get a mortgage, though it may be more difficult. A low credit score indicates to lenders that you are a riskier borrower, and lenders will typically charge higher interest rates.
Can I get a mortgage if I've filed for bankruptcy?
While filing for bankruptcy will damage your score, you can rebuild your credit and still become a homeowner. But you may need to wait for a period of time, depending on the mortgage you're applying for.
What other factors do mortgage lenders consider?
A credit score is just one factor that goes into a lender's approval of your mortgage. Lenders' other considerations include income, down payment, debt-to-income ratio, savings, and employment history.
Is 640 a good credit score to buy a house?
A 640 credit score is typically enough to meet the minimum lender requirements. However, you may not be approved for the lowest interest rates.
Can you buy a house with a 600 credit score?
Though it is possible to purchase a house with a 600 credit score, it will depend on the lender and the type of mortgage you want. You may also not receive the most favorable rates and terms.
What credit score is needed to buy a 300k house?
Minimum credit score requirements vary by lender. For conventional loans, you will typically need a credit score of 620. Lenders consider other factors, including your income and existing debts, when considering if you can afford the payments for a $300,000 house.