While they might not seem common in today's digital world, paper checks still play an essential role in the banking system. Knowing how to write a check is a helpful personal finance skill, as you may need checks to pay your rent, make a financial gift or donation, or handle other bills.
Here's a closer look at how to write a check correctly and tips to protect your own money when handling your checkbook.
From start to finish: The complete guide to writing checks
Now that you're prepared, it's time to get down to business and write your check. Fill in the check accurately and completely so it goes through as expected.
The person writing the check should only write on the front side of the check. The recipient should endorse the check on the back. Learn how to endorse a check for mobile deposit.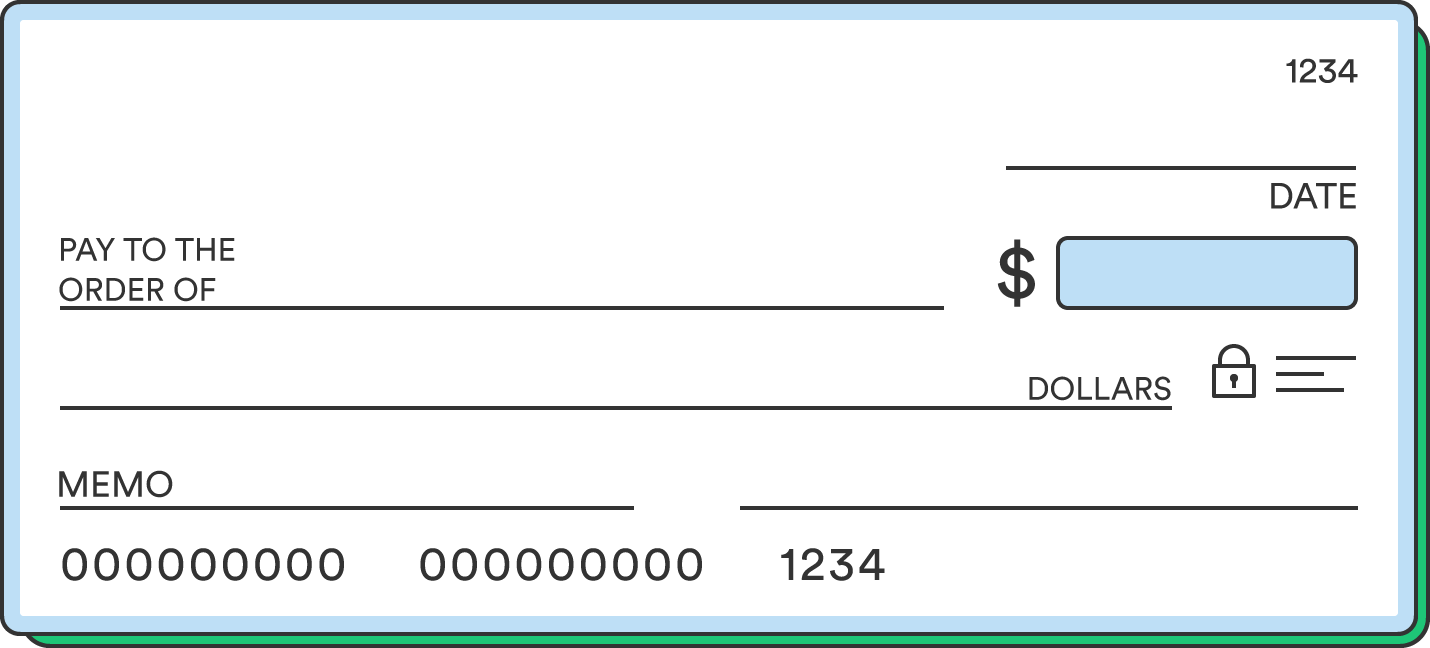 1. Date of the transaction
The date is the first blank space to fill in, typically at the top right of a check near the check number. Write the current month, day, and year. Leaving the date blank or writing the wrong date could cause problems when it's deposited. An example of a properly formatted date for a check would be January 1, 2023, or 1/1/2023. Don't omit the "20" at the start of the year.
2. Recipient's name (payee)
Following the text "pay to the order of," write the name of the person or company you're paying. The recipient's name must match the bank account where it's deposited. Be sure to spell the name correctly so the payee can easily make a deposit.
You can write "cash" in this spot if you don't know their exact name, but doing so puts you at risk if the check is lost or stolen.
3. Numerical representation of the payment amount
The payment amount is written in two ways. First, next to the payee's name is the numerical amount. For example, a check for an even one hundred dollars would be written as $100.00. This should be clearly written and include a decimal and the number of cents, even if it's for a round dollar amount.
4. Written representation of the payment amount
Below the payee's name, you'll write the check amount again but spelled out in words rather than numbers. The written amount should match the numerical amount above. When writing a check for 100 dollars, you would write out the number "one hundred." As for how to write a check with cents, write the number of cents as a fraction over 100. For example, a check for 100 dollars and 75 cents would be written as "one hundred and 75/100." You don't need to include the word dollars, as it's already at the end of the line.
5. The memo line (optional)
While not used by the bank for processing, you can fill in a note regarding what the check is for on the memo line. Some companies ask you to write an account number on the memo line so they know where to credit the payment. You could also put something like "Groceries" or "Registration fee" to remind yourself what the check was for in the future.
6. Your personal signature
Finally, once everything else is filled in accurately, here's a look at how to sign a check. While it's tempting to pay little attention here, try to write your name legibly and consistently. Depending on the circumstances, the bank may compare your signature with past checks or forms to ensure you truly signed it.
Writing a check example
To help you know if you're completing your check correctly, here's an example of what a completed check should look like: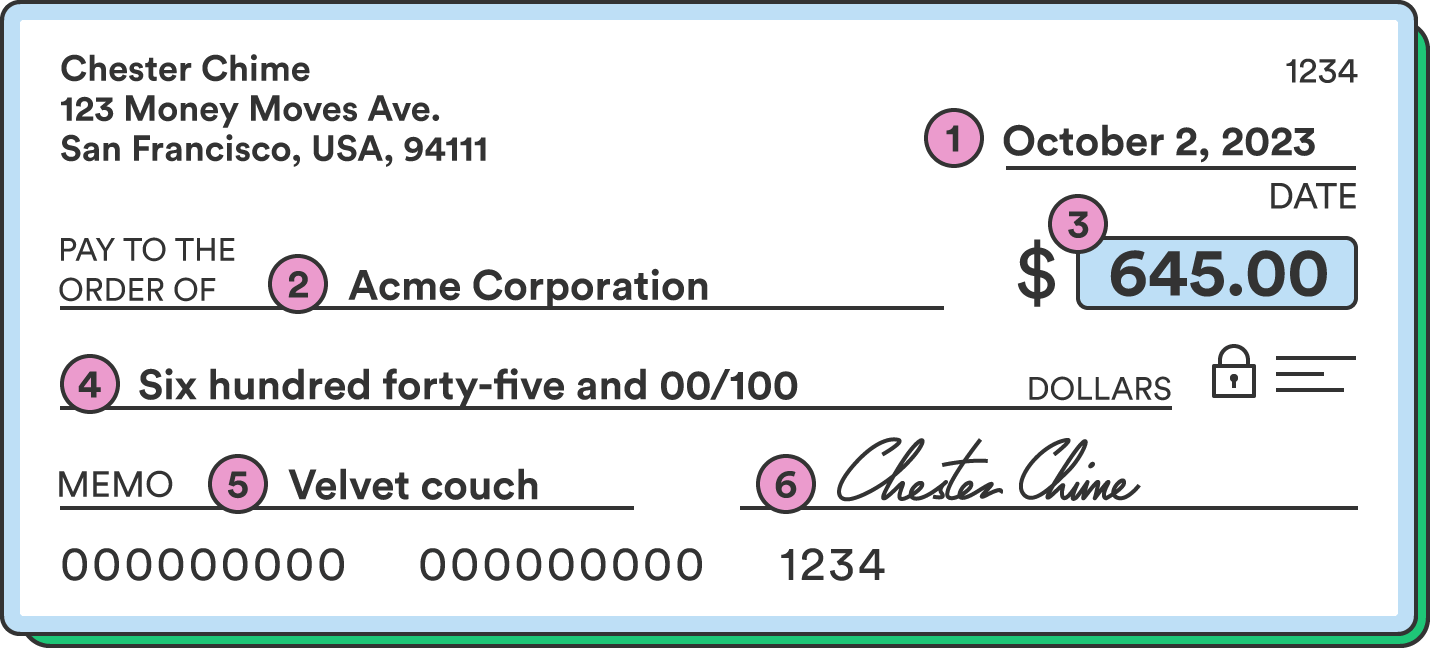 Once you complete your check, you can deposit it through a mobile banking app or at your local branch if offered by your financial institution.
Create a record with the essential information from your check
Once you've completed your check, it's time to record it in your check register or your preferred method of tracking checks. Good record-keeping helps you avoid overdrafting your account and forgetting who you paid. Detailed records can be invaluable if you find an error or inconsistency in the future.
Elements to consider before writing a check
Before writing a check, take a moment to prepare. That includes making sure you have enough money in your checking account. Follow these steps to get ready to write a check:
Consider other payment methods: Checks are generally safe, but it's easier for fraudsters to steal or alter information with checks than other payment methods. According to the Social Security Administration, payment methods like prepaid cards and credit cards can often provide better protection against fraud than checks.¹
Verify funds availability before writing a check: When you know you will write a check, review your account balance to ensure you can cover the funds. If someone tries to deposit or cash your check and there's not enough money, the check will "bounce." When that happens, you may be charged a non-sufficient funds fee (NSF fee) or overdraft fee. At the same time, the person depositing the check may be charged a fee by their bank.
Keep a check register for record-keeping: Using a digital or paper register to track transactions in and out of your account can help you verify the legitimacy of transactions on your monthly bank statement. At a minimum, write down the details of each check for your records.
Grab a pen to write your check: If you write a check with a pencil, someone could erase and change the information, including the amount or payee. Writing with a pen helps ensure the check isn't altered. Use blue or black ink.
Use clear handwriting to prevent misunderstandings: If you write with difficult-to-read handwriting, it's possible for the bank to make an error when processing your check. Clear handwriting helps people and computers more accurately understand the check's details.
How to protect your funds
When writing a check, you can take steps to reduce the risk of fraud and keep your information private. Because a check contains your account and personal information, it can be used for identity theft or to make unauthorized withdrawals from your account. Follow these tips to protect your funds and personal information.
Avoid leaving checks blank to prevent misuse: A blank check gives a fraudster or criminal a pass to attempt to take funds from your checking account. Keep your checks in a secure location, and don't give out blank checks, or you could wind up with an unpleasant surprise on your next bank statement.
Safeguard against unauthorized changes by completing checks fully: Leaving the payee or amounts blank allows others to fill in whatever they want. Filling in the name ensures the funds go where you want, and putting in the amount ensures the recipient can't take more than intended.
Maintain a consistent signature for authenticity: While some people change their signature every time they write their name, keeping your signature consistent is helpful. If you see a check drawn from your account that you don't recognize, the bank can compare signatures to help verify if the transaction was fraudulent. If you don't maintain a consistent signature, it's easier for someone to write an unauthorized check from your account.
Refrain from using "cash" as the payee: Writing a check with "cash" as the payee allows anyone to cash the check. If a check is written to cash and stolen, the criminal can easily get the from your account, and you may have no recourse to recover the stolen funds.
Be cautious with carbon copies that can reveal sensitive information: Some checkbooks come with carbon copies, where a copy of every check is automatically made to help you keep better records. While carbon copies may be convenient, they're another avenue for fraud or identity theft. If you have carbon copies, store them in a safe place.
Review transactions regularly: Review your monthly bank statement for any errors or fraudulent transactions. Spotting fraud early helps prevent future problems. If you spot anything you don't recognize, contact your financial institution right away. You might want to review your accounts more frequently, perhaps weekly or even daily, to make sure nothing unauthorized slips by.
Did you get a check? Learn how to make a mobile deposit.
Always write a check correctly
While checks are less prevalent than in the past, they're still a vital part of finances. Knowing how to write a check properly remains an important life skill.
When using checks, be aware of how they can be misused, and regularly review your transaction history for fraud. When you know how to write a check, you can more confidently manage your money.