Student credit cards serve as a helpful entry point into the world of credit and can allow you to build a positive credit history when used responsibly. Depending on your age, you may need to meet some eligibility requirements to open a student credit card. We'll cover what you need to know below. 
What is a student credit card?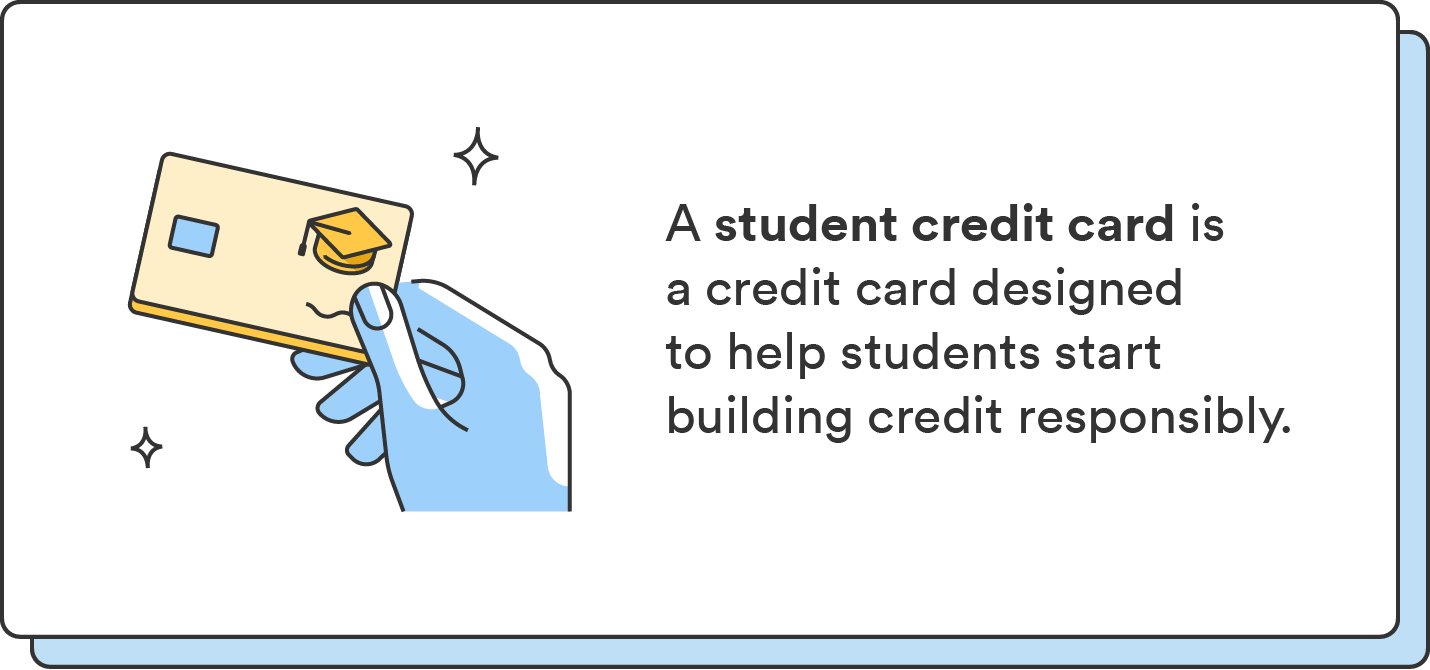 A student credit card is a type of credit card specifically for college students and recent graduates with limited credit history or income. 
Student credit cards often have lower credit limits than traditional credit cards. They may also come with features tailored to students, like no annual fees and rewards for education expenses, like cashback on textbooks or dining.
Student credit card eligibility requirements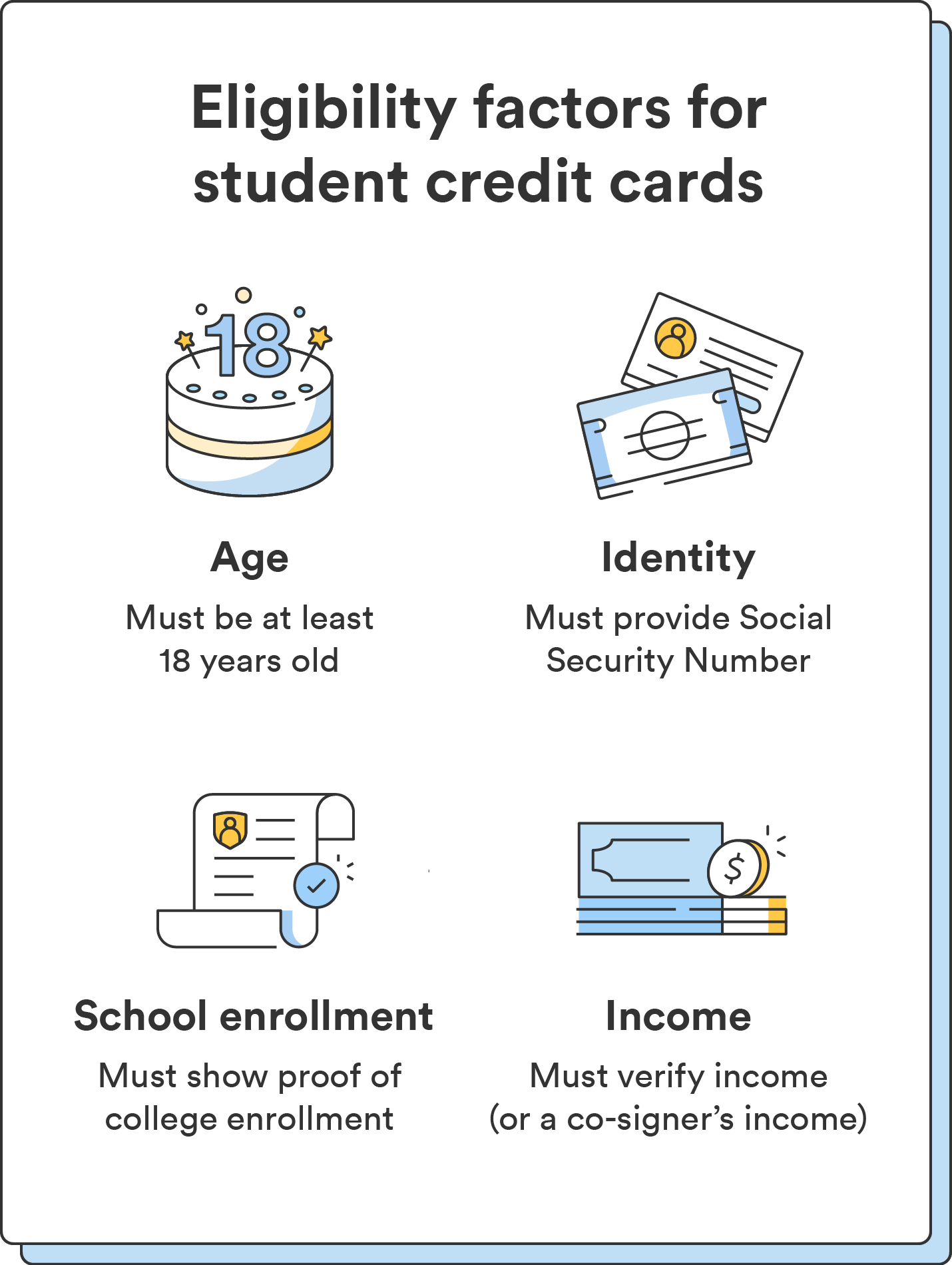 You'll need to meet the card's eligibility requirements to apply for a student credit card. While different credit card lenders may have varying approval criteria, the key factors below are what you can generally expect. 
Age
The Credit Card Act of 2009 requires anyone under age 21 to demonstrate sufficient income to repay any credit card debt.¹ 
If you're under 21 or don't have adequate income, you'll need a co-signer, like a parent or guardian, to be eligible for a credit card. You'll be able to open up a credit card in your own name, but the co-signer is ultimately responsible for all account activity and credit card debt.
Income
To open a student credit card, you or your co-signer must provide proof of income. If you're a student with low (or no) income, your co-signer must state their annual income and provide a pay stub, bank statement, or tax return.
Proof of identity
Most credit card issuers will require your Social Security number to verify your identity. In addition to your Social Security number, this may also include a valid driver's license, passport, or state-issued identification card.
Proof of school enrollment
To get a student credit card, you'll need to prove your enrollment in college. Proof of enrollment may be in the form of an official letter from your school, a current student ID card, or an online portal verification. The type of proof you'll need to provide will depend on your lender. 
Chime tip: Before applying for a student credit card, clarify what counts as a two or four-year college or university with your credit card issuer, as their requirements may vary.
How to get a credit card as a student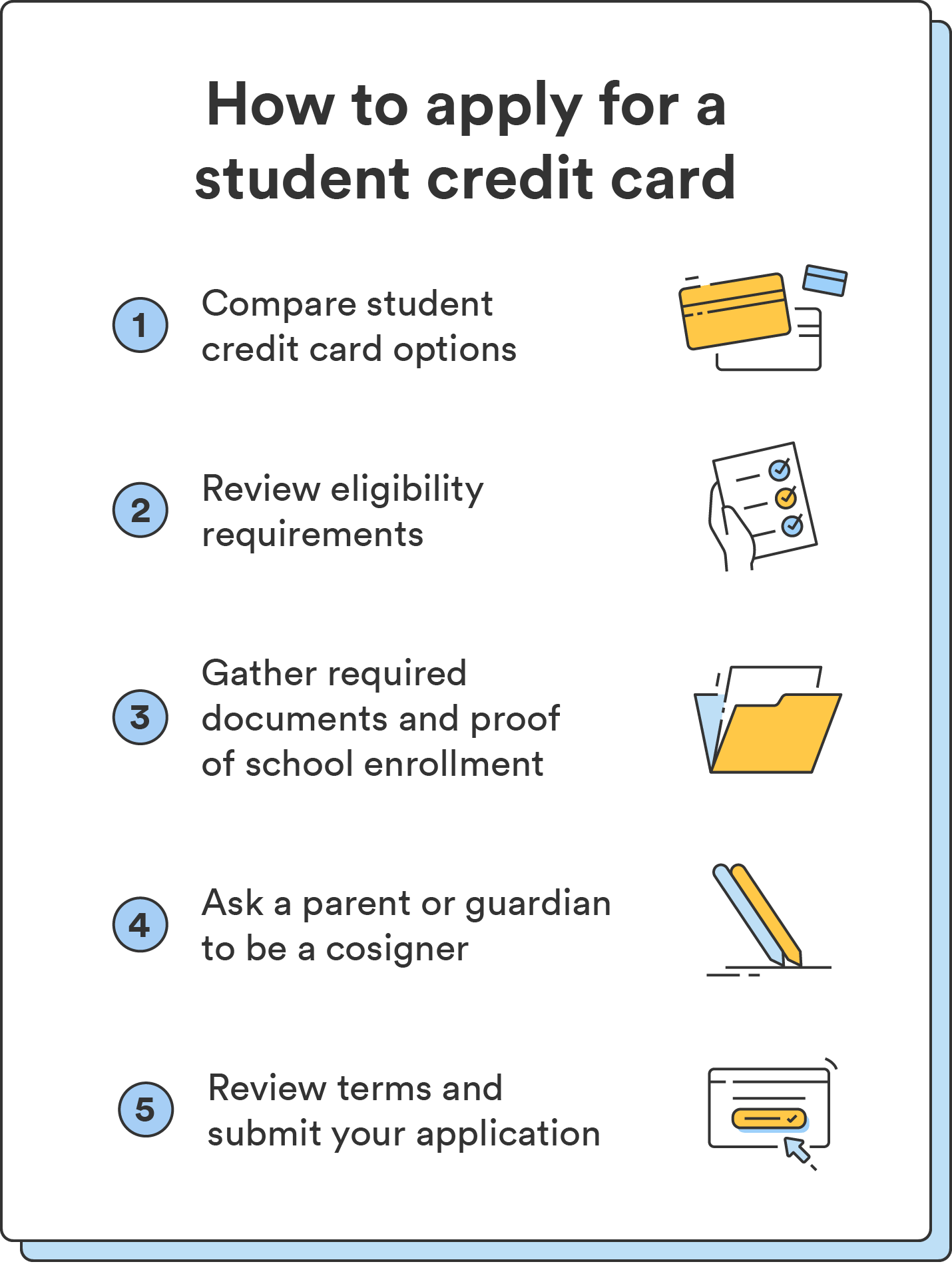 Getting a student credit card is fairly straightforward. Follow the steps below to get started. 
1. Compare different student credit card options
When comparing student credit cards, consider the following factors:
Annual percentage rate (APR):

Look for the lowest APR possible to minimize interest charges on any carried balances. Some cards may come with a 0% introductory APR, which means you won't be charged interest on purchases or balance transfers for a specific time frame. 

Low fees:

Different cards can come with fees like annual account fees or late fees. Look for student cards with few or no fees.

Rewards:

Choose cards that offer rewards or cashback programs aligned with your spending habits. Some cards may provide extra cashback on dining, textbooks, or other common student expenses, allowing you to earn rewards on everyday purchases.

Credit limit and credit-building features:

Consider cards with higher credit limits that give you enough room for essential expenses. Additionally, some cards may offer credit-building features, such as reporting your payments to credit bureaus, helping you build a positive credit history.
There are many student credit cards to choose from, so review your options to select the one that best fits your needs.
2. Review the eligibility requirements
Before applying, review the eligibility criteria for student credit cards, which typically include:
Minimum age requirement (usually 18 years).
Proof of enrollment in college.
Income verification or a co-signer for those under 21.
Proof of identity and U.S. citizenship or legal residency.
Eligibility requirements can vary by credit card issuer, so confirm that you meet the criteria for any cards you're considering. 
3. Gather required application documents 
Once you find a card you want to apply for, review the application and gather required documents. These typically include: 
Personal identification (driver's license, passport, state-issued ID).
Social Security number.
Proof of college enrollment (student ID, official letter, online verification).
Proof of income (W-2 form or recent pay stubs).
Co-signer's information and income details (if applicable).
Prepare the required documents and information upfront for a smoother application process. 
4. Ask a parent or guardian to cosign your application (if needed)
If you're under 21 and don't have an independent income (most college students don't!), choose a co-signer for your application.
Ask a parent, guardian, or other trusted family member who understands the responsibilities of cosigning and is willing to support you in building credit. Ensure they can provide accurate income details for your application and understand their role in opening the account.
5. Submit your application 
Once you've decided on a student credit card and have the required documents, you can apply online or in person. Take time to review the terms and conditions before you submit your application. 
If you apply online, you may receive your approval immediately or have to wait for an approval letter in the mail.
How to use a student credit card (the right way)
Here are some tips to help you make the most of your student credit card while safeguarding your credit and developing smart spending habits:
Pay on time, every time:

Timely payments are crucial for maintaining a positive credit history. Set up automatic reminders or alerts to avoid missing a payment. Late payments can lead to fees and negatively impact your credit score.

Stick to a budget:

Create a monthly

budget

to track your expenses and ensure you can pay off your credit card balance in full each month. Avoid spending beyond your means so you don't end up with high-interest debt.

Don't spend more than you can afford:

Limit credit card use to necessary expenses and planned purchases. Avoid impulse buys or using the card for splurge items.

Review your monthly statements:

Routinely check your

credit card statements

to spot any unauthorized charges or errors. Address discrepancies quickly to protect your financial security.

Understand rewards and incentives:

If your card offers rewards or incentives, read over the program's terms and conditions. Use rewards wisely and avoid overspending to earn rewards.
Using your student credit card responsibly and following these tips can protect your credit and build a positive financial foundation for years.
Future-proof your finances by building credit as a student
Once you've successfully opened your student credit card, you'll be on the path toward responsible credit management and a positive credit history. Every responsible credit card swipe is a step closer to a strong credit score, setting you up for financial success beyond college.
Ready to learn more about building a strong credit profile? Find out what a good credit score is in your 20s and beyond. 
FAQs about how to get a credit card as a student
Still have questions about how to get a credit card as a student? Find answers below. 
Can you get a student credit card in high school?
No. Due to age and educational requirements, high school students aren't generally eligible for student credit cards. Instead, these are typically available to college students and young adults in higher education institutions.  
How does a student credit card build credit? 
When you use a student credit card to make on-time payments and maintain a low credit utilization ratio, your positive credit activity is reported to credit bureaus and helps establish your credit profile. Continued responsible use can lead to a higher credit score over time.
How can I build credit as a student?
To build credit as a student:
Get a student credit card and use it responsibly.

Make timely payments on all credit accounts.

Keep credit card balances low and within the credit limit.

Consider becoming an authorized user on a parent's credit card to help build out your credit history. 

Monitor your credit report regularly for accuracy.
Why is building credit as a student important? 
A positive credit history allows you to qualify for better financial opportunities, like lower interest rates on loans, better insurance rates, and higher credit limits. It can also pave the way for future financial goals, like renting an apartment, purchasing a car, or even buying a home.