Have you ever wondered what the numbers at the bottom of your check mean? Whether you're writing a check or want to transfer money to or from your checking account, these numbers are essential for financial transactions.
Known as a routing number, these unique nine-digit numbers are used to identify the bank or credit union associated with the account.1 Routing numbers are often found next to an account number to identify an individual bank account. Learning how to read the routing number on a check is a simple process.
Locating the routing number on a check
A routing number is sometimes called an ABA (American Bankers Association) number or RTN (routing transit number). It may look like a random nine-digit number, but it's used to identify specific banking institutions in the U.S. with an account with the Federal Reserve.2 A routing number is not the same as an account number since it only identifies the financial institution and not the specific account.
Knowing how to read the routing number on a check is helpful since you may need this information when writing a check to someone, making a mobile check deposit, or signing up for direct deposit. Some companies will request a voided check to confirm your financial institution's checking and routing numbers.
If you're wondering what is my routing number, you'll find it at the bottom left corner of each paper check: it's the first set of numbers. The check layout or format may differ slightly, but the routing number is always the first set of nine digits. Each financial institution has its own routing number.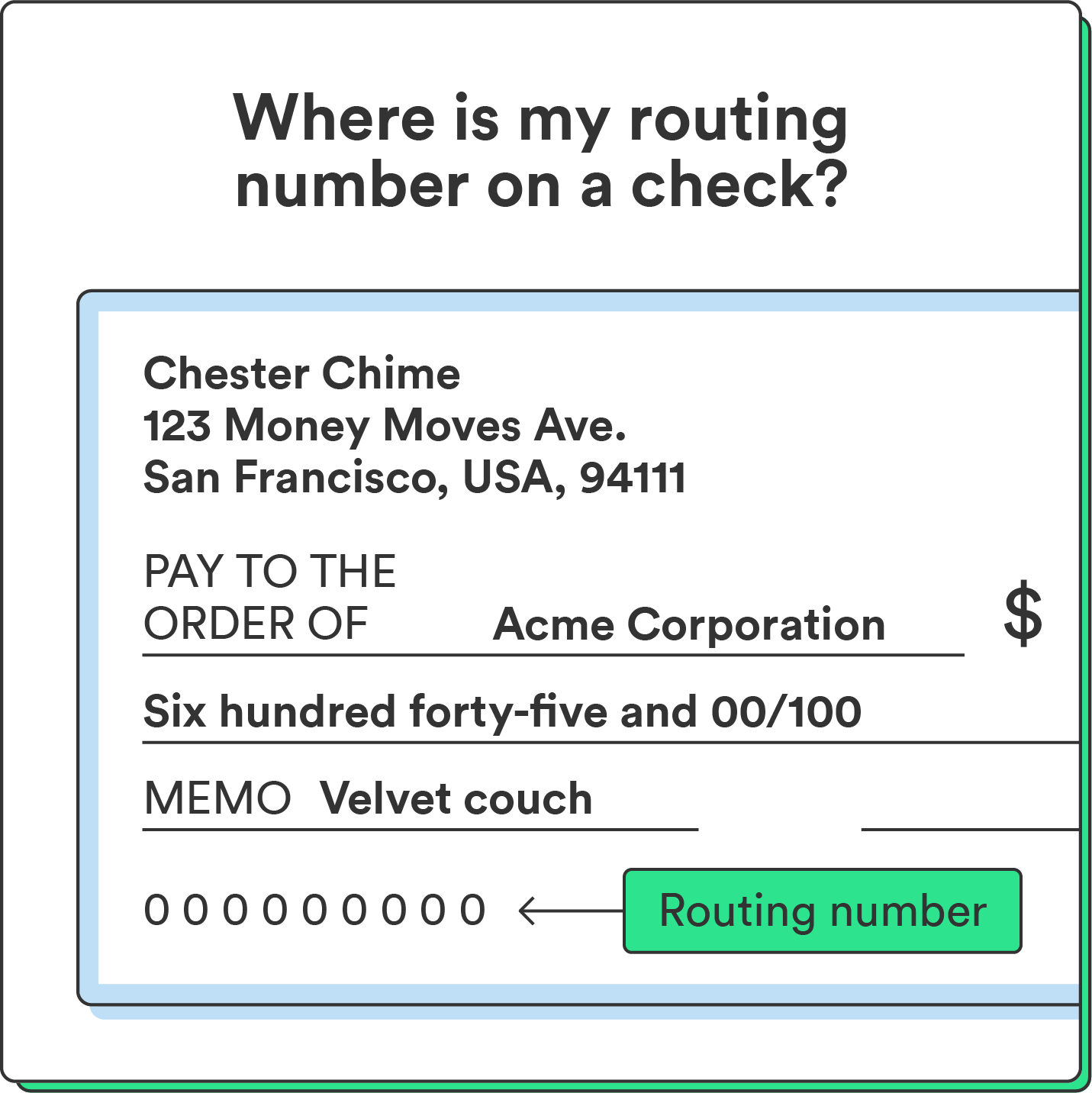 Important check sections to know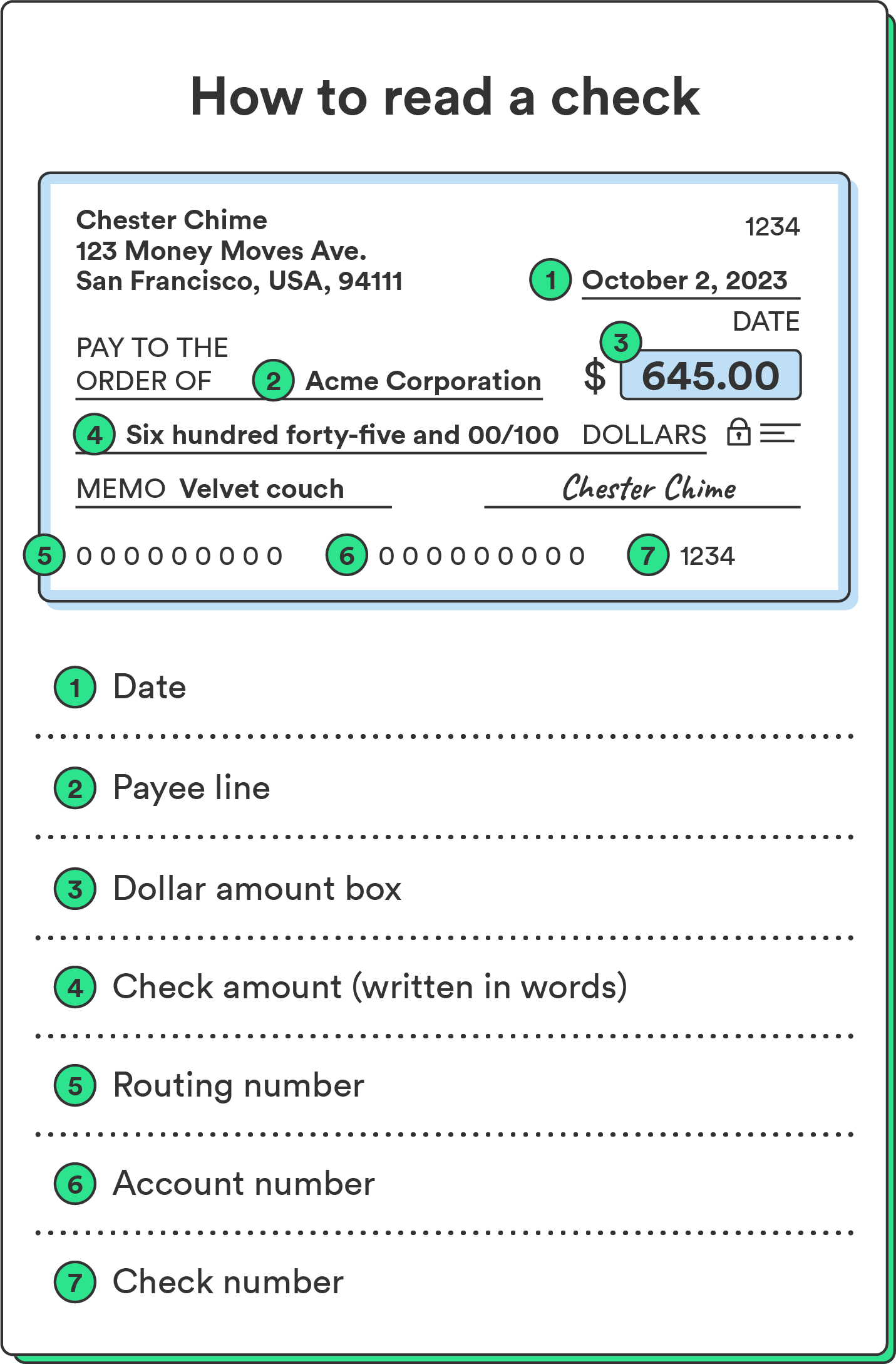 So, where is the routing number on a check? A paper check has several sections, like the endorsement area, and multiple sets of numbers on it. While you'll need to fill out some parts of the check, your routing number and account number for your bank account are already displayed at the bottom of the check.
Account number: The account number is found to the right of the routing number and is usually nine to 12 digits. This number identifies your specific account and lets the bank know which account to take the funds from. While your account number will always be the middle set of numbers at the bottom of a check, you can also find this number at the top of your monthly bank statements.
Check number: The check number can be found at the top right corner of a check and is usually a three or four-digit number. You can use the check number for your record keeping to track the checks you write to pay for different goods and services.
Fractional bank number: Fractional bank numbers are not used as often anymore because they include the same details as your routing and account numbers.3 However, it's written as the denominator of a fraction that may appear at the top of a check.
Payee line: While some check areas are pre-filled, you must manually fill in other areas like the payee line. The payee line usually reads 'pay to the order of.' This is where you write the name of the person or business who will receive and cash the check.
Payment line: Underneath the payee line is the payment line, where you write the check amount in words. If you are writing a check out to pay someone in exact change, you will write the cents as a fraction over 100. So, for example, a check for $45.38 would read on the payment line as thirty-four dollars and 38/100.4
Memo: Your check will also have a memo line, usually found in the lower left-hand corner. This space is optional, but you can use it to note what the check is for as a reminder. So you could write 'September rent' for a check to your landlord. Or for a check to your child's school, the memo could say 'school book fair'.
Locating routing and account numbers without a check
If you don't have your checkbook handy or don't have one at all, you can still find your bank routing and account numbers. Your routing number is unique to your financial institution, and your account number is unique to your account.
Some alternative ways to locate these numbers may include, but are not limited to:
Bank statement: If you have bank statements sent to your address each month, you can see your account number at the top of your monthly statement. If you have paperless banking, you should be able to access your bank statements digitally.
Mobile banking app: Most major financial institutions have mobile banking, which includes an app you can use to manage your account and dashboard access from a computer. You can view your account and routing numbers securely through your mobile banking platform whenever you need to access them.
Customer service: Another way to find your ABA routing number and account number is to call your financial institution's customer service line. The customer service representative should be able to explain how to find your routing number and account number. They may or may not be able to provide this information over the phone, but you'll need to verify your identity if they do. If your bank has a local branch, you can also stop by in person to ask for your routing number.
You may need to confirm your account details when setting up direct deposit for a new job or a tax refund. If you set up automatic payments from your checking account, you will be asked to enter your account and routing numbers. Enter the correct information to send and receive money without issues or delays.
Finding your routing number is simple
Understanding how to read the routing number on a check is necessary for banking transactions. The routing number is a unique set of digits that helps other banks identify a specific financial institution during a transaction.
Routing numbers differ from account numbers, but it's easy to find this information on your paper checks, bank statements, or online with mobile banking. Find out exactly how to write a check step-by-step.