A bank statement is a snapshot of your bank account activity provided digitally or by mail from your bank. It covers all your activity for the month or sometimes quarterly, depending on your bank. Bank statements can help you spot account errors and improve how you manage your personal finances. Here's what to know about these important financial records – and how to use them to make smarter financial decisions. 
Better banking for everyone
Fee-free overdraft up to $2001
No hidden fees2
Get paid up to 2 days early with direct deposit3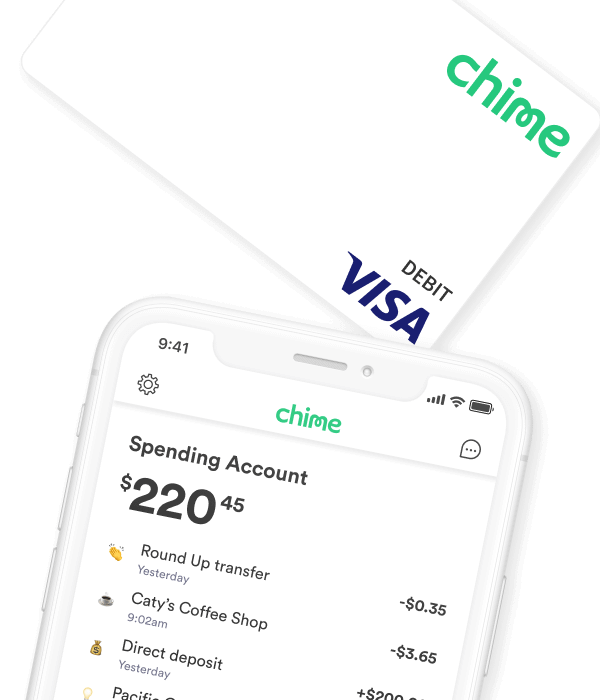 How do bank statements work?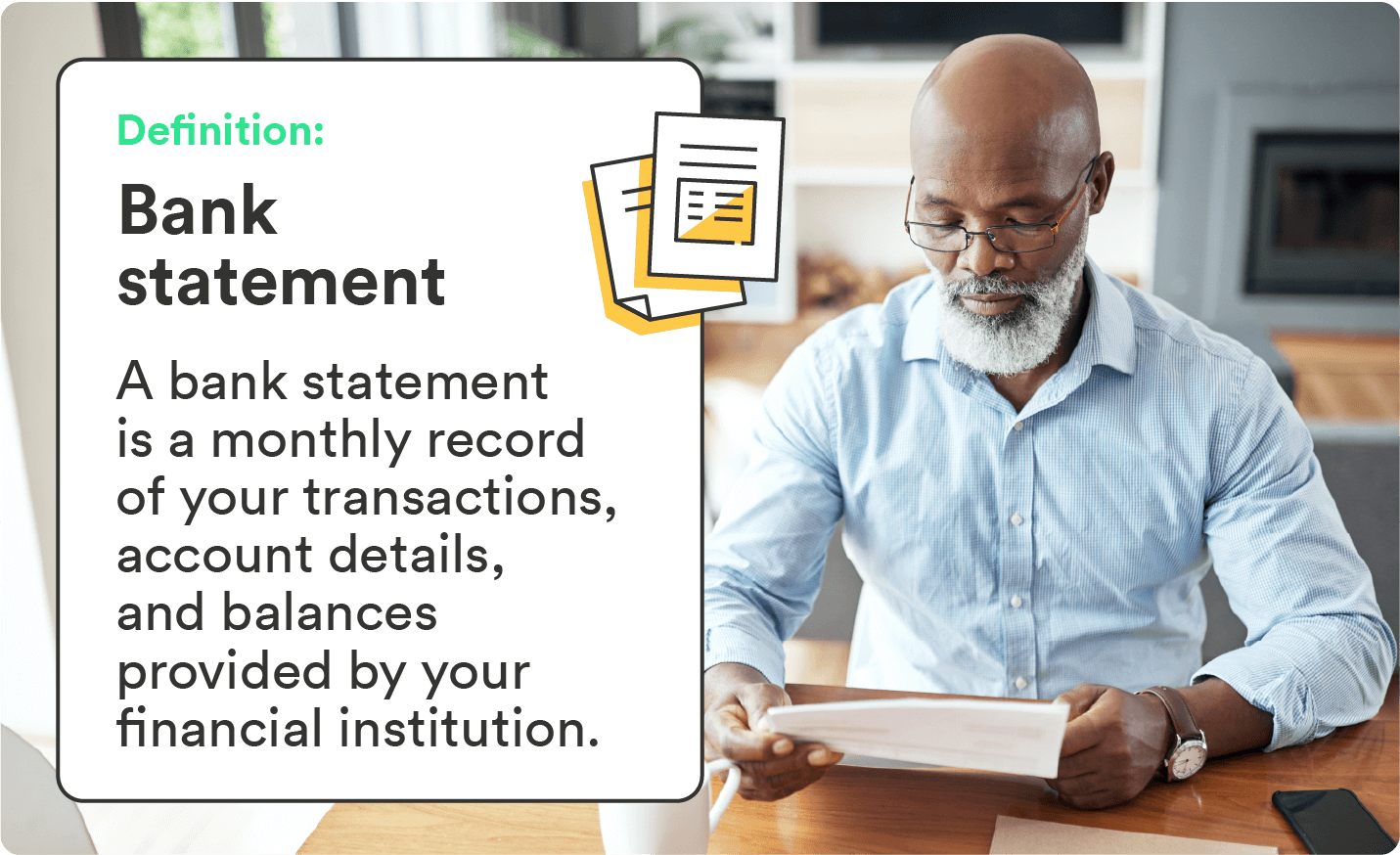 A bank statement is a monthly record of your transactions, account details, and balances provided by your financial institution. Bank statements are commonly used to double-check your personal records against your bank statements to ensure all information is accurate. 
For individuals, the purpose of a bank statement is to record and track all your banking activities – that way, you can monitor all the money coming in and out of your account. 
Bank statements have various purposes, including: 
Regularly reviewing your bank statements can give you a clear picture of your finances, catch any fraudulent charges, track progress toward financial goals, and make more informed decisions about your money.
How to get a bank statement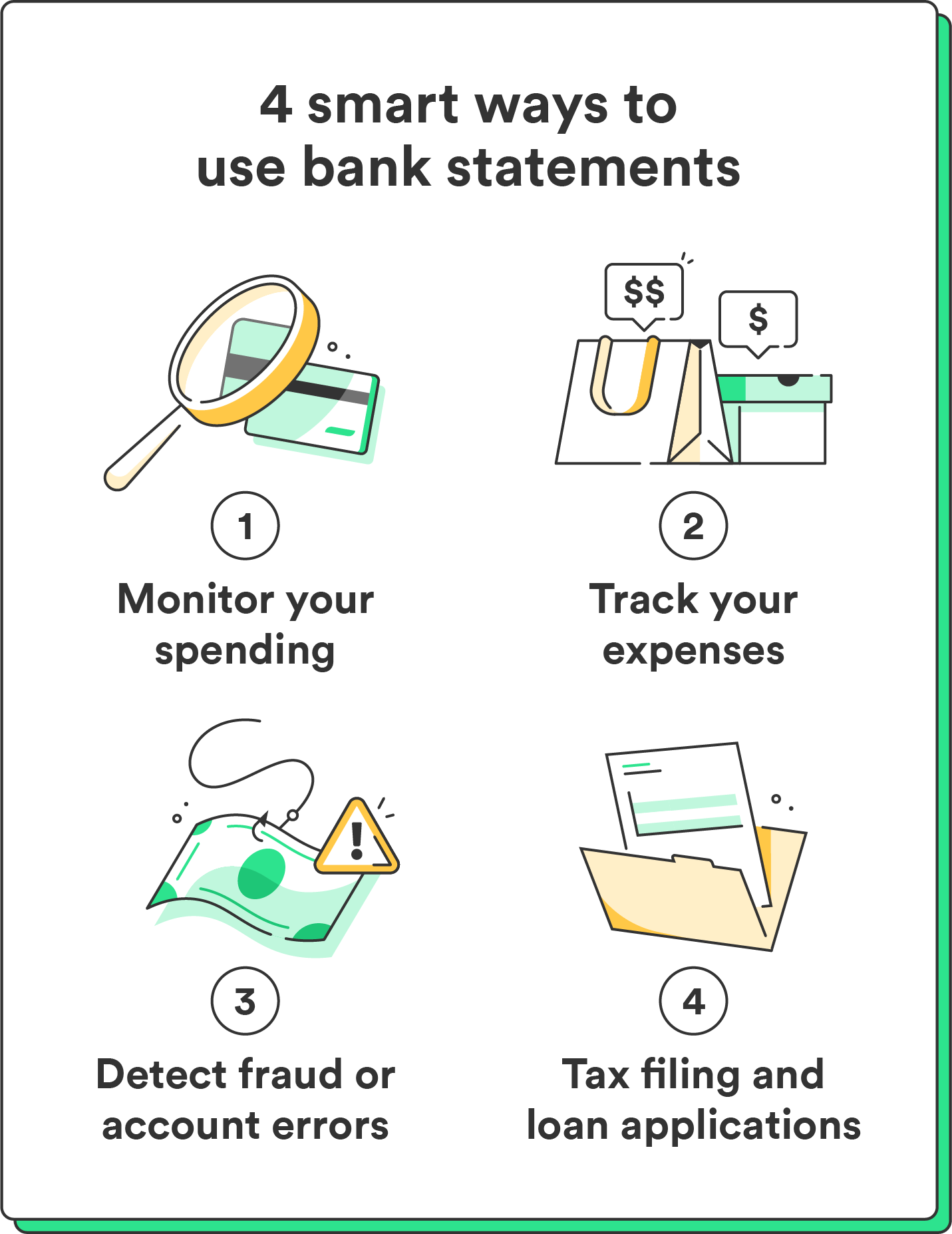 Most banks and financial institutions issue new bank statements every month or quarter through paper mail or email. You can also access it anytime on your online account or mobile banking app. 
Financial institutions aren't required to automatically send you your bank statement  unless you've made at least one electronic funds transfer for the statement period.1 ATM transactions, debit card transactions, online bill payments, and direct deposits all count as an electronic fund transfer.
Most institutions offer this option if you prefer to receive paperless bank statements. Digitally accessing your bank statements can vary depending on your bank's online platform. In general, you can follow these steps to access your bank statements online: 
Log in to your account through the bank's website or mobile app.
Locate the section of the site where bank statements live, typically called "Statements" or "E-statements." It could also appear under "Accounts" or "Services." 
Select the account you want to retrieve bank statements for. 
Select the statement period you want to view.
Review the statement and download it for your records.
Chime tip: If you want to see an older bank statement that's not in your account, you can usually contact your financial institution and request that they email it to you.
How to read a bank statement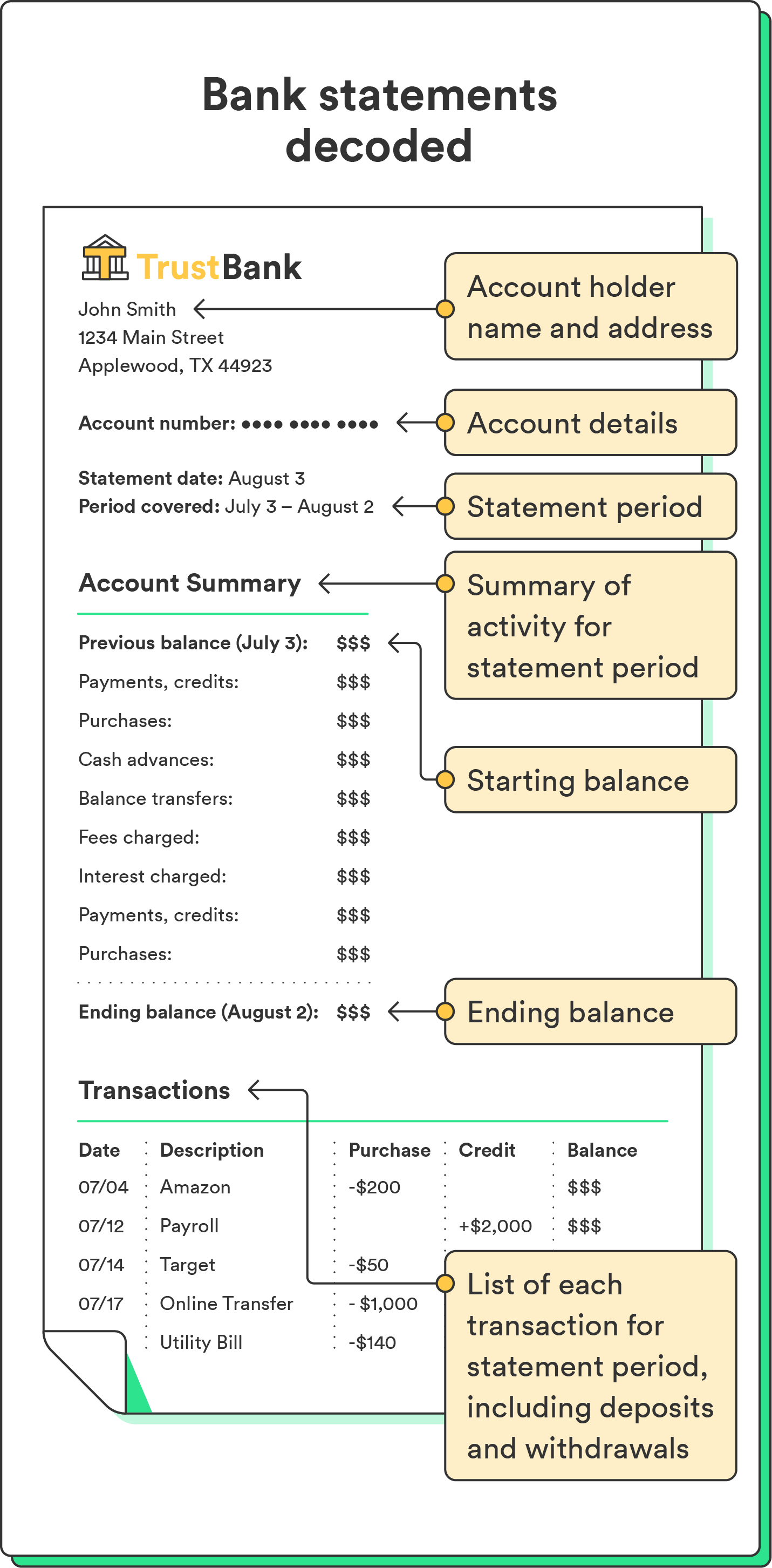 Reading a bank statement is straightforward once you understand what information it has. While the exact information on your bank statement can look different depending on your financial institution, the items below are what you can generally expect to find.²
One section of your bank statement includes your basic information, including: 
Account details:

Information like your account number, name, and account type.

Bank information:

Your bank's contact information, including the address and phone number.

Statement date:

The date the statement was generated.

Statement period:

The length of time the statement covers or the period's starting and ending dates.

Beginning and end balance:

Your account balance at the start and end of the statement period. 
You'll also find a list of individual transactions during the statement period, including: 
Deposits:

This includes money credited to your account, like your paycheck or money transfers into your account.

Withdrawals:

This includes money you deducted from your account, like ATM withdrawals or

electronic payments

or transfers. 

Checks paid:

This includes information about checks you wrote and recipients cashed.

Fees and service charges:

These include charges the bank applied for services or penalties.

Interest earned:

If you have an interest-bearing account (like a

high-yield savings account

), this includes the amount of interest earned for the period. 
If you notice any mistakes or unfamiliar transactions on your statement, call the bank's phone number listed on your statement to resolve them and keep your account in good standing.
Use bank statements to inform your money moves
Understanding what a bank statement is and how it works can empower you to take charge of your finances. By regularly checking your statements, you can track your spending, spot any errors, and build better money habits. Mastering your finances starts with a simple bank statement!  
Now that you know how to read a bank statement, learn more about the four main types of bank accounts to consider.
FAQs about bank statements
Still have questions about bank statements? Find answers below. 
Why are bank statements important?
Bank statements provide a clear record of your financial transactions and account balances. They help you monitor your spending, detect errors or unauthorized activities, and maintain financial control.
What is an official bank statement?
An official bank statement is a document issued directly by the bank, displaying a comprehensive summary of your account activities during a specific period. It is considered an authentic and verified record of your financial transactions.
How often should you check your bank statements?
It's helpful to check your bank statements regularly, like monthly. Regular review helps you keep tabs on your finances, identify potential issues, and ensure your account is accurate and current. 
How long do banks keep bank statements?
Banks typically retain bank statements for a specific period, varying depending on the bank's policies and regulations. In many cases, banks keep statements for at least five years for any deposit over $100.³